Whiz past traffic, save money, and have a good time. Go green and go far with the Stigo B1 seated electric scooter
Walking or taking the bus can be a drag.
Have you ever spent a few hours or a whole day zipping about town running errands on an electric scooter? I have, and at the end of the day, my dogs were barking, my feet were throbbing, and my spirit was crushed. In the spirit of Shark Tank, there has to be a better way!
Stigo B1 has arrived to rescue the day.
A more comfortable approach.
Are you seeking a +20 mph budget commuter scooter to make your commute more enjoyable? The sporty 350W 48V 7.2AH Stigo B1 seated electric scooter is meant to save cost and time while making commuting enjoyable.
I know it's not the most robust, extended-range, or expensive scooter, and that's because it's not meant to be. It's intended to be reasonably priced, competitively powered, and have enough battery capacity to take the urban city dweller across town without a hiccup.
Seated is Easier on the Gluteus Maximus
The Stigo B1 may be touted as the zippy and lightest 20 mph reasonable seated electric scooter since it is neither an e-bike nor a scooter.
Standing electric scooters can be tiring on the feet; the B1 is a good choice if you want to go comfortably and smoothly at moderate speeds. This 20 mph seated electric scooter is now available as one of the eWheels team's budget electric scooters for the 2022 riding season, and they're ready to roll.
Sporty and Stylish Scooter
The B1 is stylish, sporty, and attracts a lot of attention. This lightweight, simple, and reliable electric seated scooter is packed with features to make your commute safe, easy, and enjoyable.
The Stigo B1 has 350W single hub motors and a removable 350WH high discharge battery pack that can carry riders for over 25 miles of exciting long-distance riding.
Stigo B1 Features:
Special Edition 350W/48V Stigo B1: top speed of 20MPH with up the 25 miles of range
Stylish & compact eBike by the Estonian Company Stigo
Simple & convenient rear wheel fold-up design for reduced storage footprint
Comes equipped with front/rear disc brakes, rear shock suspension, intuitive information dashboard, modular battery, fenders, headlight/taillights & kickstand
Customized toothed high-speed light motor
Italian custom saddle, comfortable to sit in
Aviation-grade aluminum frame, strong and wear-resistant
First horizontal folding device shock absorber
Streamlined appearance, air suspension design
The vehicle's IPX5 waterproof design is convenient for rainy days
Chassis and Handling
The B1 is built for comfort and to last. The lightweight and sleek aviation-grade aluminum frame, adjustable narrow handlebars, easy-to-use display/throttle, bright headlights/taillights, mudguards, front/rear disc braking system, and easing rear shock suspension system are all standard features on the 39-pound B1 scooter.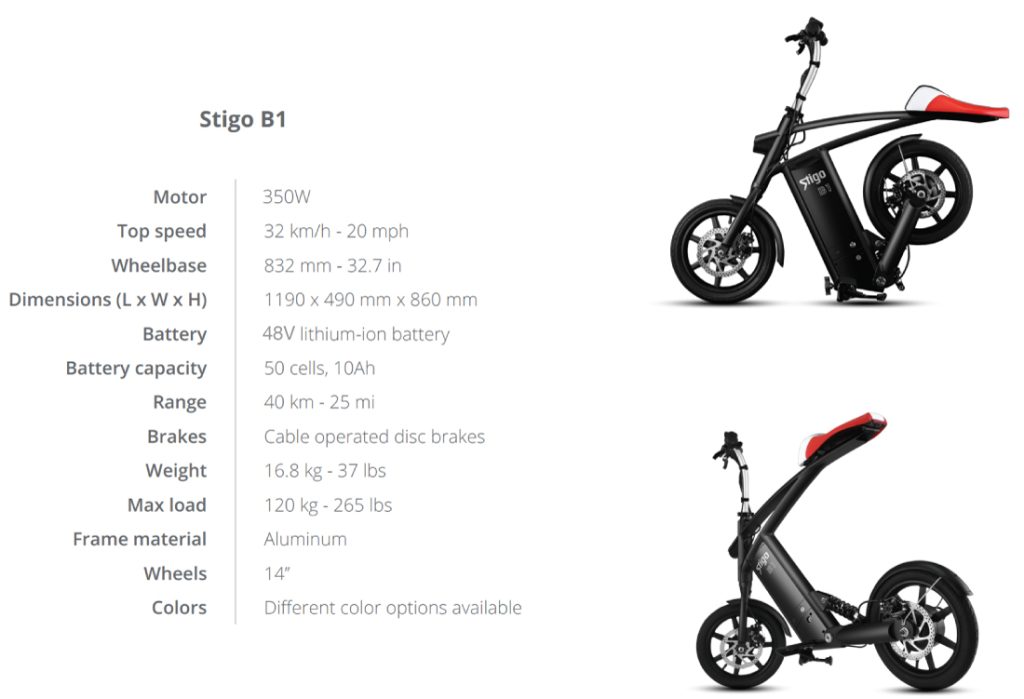 Portability
One of the most critical aspects of micro-mobility is portability. The B1 eBike's quick and easy folding mechanism is one of its main selling points; take out the lynchpin from the bottom suspension joint, and the rear wheel will fold inward, decreasing the storage footprint by 1/3 from the unfolded position. The handlebars also side into the stem, making it tiny enough to fit in a vehicle trunk.
Let's take an even deeper look at the performance, battery capacity, features, and chassis of this $1,050 seated scooter. In the comment section below, let us know if you think these features are worth its $1,050 price tag.
About Stigo
Stigo's S Electric Bike, founded in Estonia by Rainer Nlvak and Skype creator Jaan Tallinn, has received multiple honors for its beauty and innovative design. The B1 is the newest version of eBike, with bigger wheels, improved suspension, and much-improved performance to keep up with bike traffic.
Inventory: eWheels is proud to be the first to provide the B1 with an enhanced specification of 350W (vs. 250W for the European model), 48V to give snappy acceleration, and a top speed of 20MPH.
Hill climbing: A 175 lb rider may anticipate taking on hills of up to 15° with no difficulty thanks to the increased 350W max motor; bigger riders will struggle a little more but should be able to carry you up similar inclines.
Water Rating: The manufacturer recommends avoiding severely rainy circumstances, puddles, and standing water. It is safe to use if the road surface is moist or there is a drizzle.
Reasons to Buy:
Powerful seated scooter for its size
Fully functional mid-range commuter electric seated scooter
Lowest price in the seated scooter lineup
Reasons to Avoid:
Lower capacity battery pack
Not the fastest scooter in the lineup
For the price, other standing scooter models can reach +25 mph
Technical Specs:
Top Speed: 20 mph
Motor: 350W Motor
Brakes: Front and rear disc braking system
Materials: Aviation-grade aluminum frame
Price: $1050
Gradient: 15 degrees
Battery: 48V 350WH detachable Lithium cell battery pack
Charge Time: 5 hours
Max range: 25 miles
Tire Size: 14 inch pneumatic
Suspension: Rear Shock Suspension
Weight: 39 lbs
Max load: 265 lbs
Throttle: Twist throttle
Folding: Rear wheel folding system
Lighting: Headlight/taillight
Open Size: 1190*480*1045mm
Folding Size: 990*480*940mm
Packing Size: 1200*260*700mm
Side Led: n/a
Horn: n/a
Signals: n/a
Display: LCD display
Release Year: 2021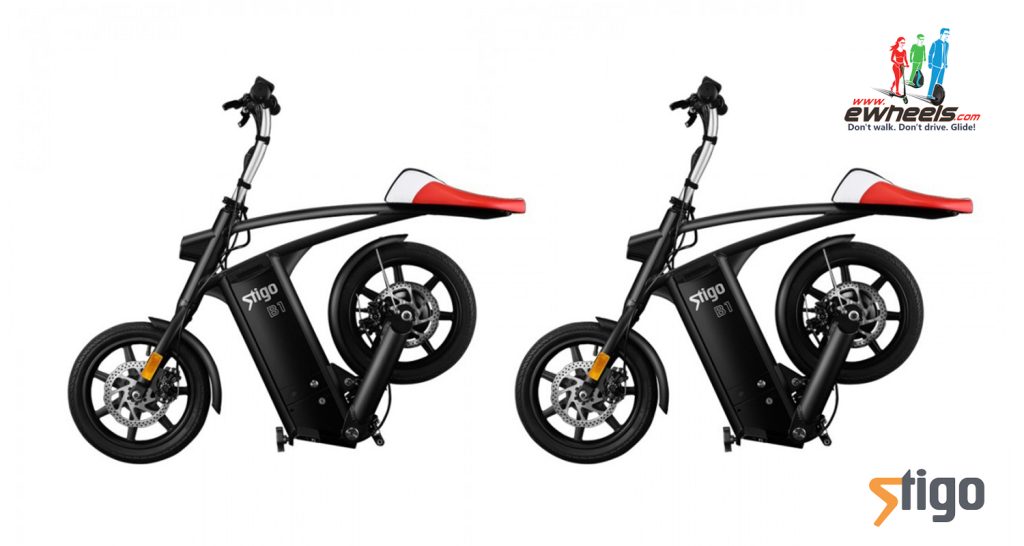 Performance Features
Powerful motor & long battery Life – The 350W electric brushless hub motor allows for speeds up to 20mph. High capacity battery (350WH) with a max travel range of up to 25 miles under specific conditions and max load of 265 lbs
Upgrade your Commuting – Stigo B1 electric seated scooter equipped with 14-inch pneumatic (and full shock absorbers) to provide max comfort, even on rough surfaces or speed bumps.
Safety with Stigo seated scooter – Stigo seated scooter features ultra-bright headlights/taillights.
Perfect for Commute and Travel – Stigo e-seated scooter collapses for easy storage in car trunks and other compact spaces.
Stigo B1 App – Simply connect to the Stigo electric seated scooter's app to lock your seated scooter, to customize the seated scooter's acceleration and ride preferences.
Quality Warranty – Stigo B1 electric seated scooter equipped with more powerful performance, becomes your best commuting or outdoor travel companion. 12-month warranty offered by eWheels
Disclaimer: The information presented in this article is derived from extensive research, user reviews, and publicly available information. Our aim is to provide accurate and up-to-date content; however, it is crucial to understand that the opinions expressed are based on the information available at the time of writing. We strongly encourage readers to conduct their own thorough research and carefully evaluate their individual needs before making any purchasing decisions.
eWheels 2023 Summer Deals and New Launches are here!!!
Cheap, reliable, and powerful! TurboAnt Electric Scooters 2023 Sale!
Hi guys! This post may contain affiliate links, sponsored content, and advertisements. We get a small commission for covering topics that interest us (helps us keep the doors open). For more information, please see our privacy policy and disclaimer. Ride safe yall!
2023 Electric Unicycles:
Coupons & Deals:
Apollo Scooters: Get $50 USD worth of free accessories, upgrades, or spare parts with the purchase of a scooter. Code: VROOOMIN
REV Rides: Save $50 off Scooters and EUC's, Code: VROOOMIN
EVOLV Electric Scooters: Free Folding Lock (worth C$80) for every EVOLV model! Use Code: VROOOMIN-LOCK
To keep the site running and information flowing, Vrooomin.com participates in affiliate linking programs. We're also an Amazon Associate, which means we get paid for referring people to Amazon. Please support the channel by clicking on our links.