Powerful, Compact, and Lightweight
Join the Electric Revolution and Ride the ETWOW GT SE Electric Scooter
When you become involved with electric scooters, you begin to become picky. I was all about saving money at first, then best performance, and now I'm back trying to save money and weight. I recognize it now that I've come full circle. We need mobility and a top speed of 20 mph, and the ETWOW GT SE delivers on those counts.
The Mobility of Scooters is an Important Consideration that Many Novice Riders Ignore
The ETWOW confronts the issue of mobility and performance front-on. The revolutionary 700W 48V 10.5AH ETWOW GT SE electric scooter is meant to save you time and money while making your commute as simple as pie.
Look no further if you're searching for a cheap 48V electric scooter. At a combined weight of 29 pounds, it is easy to understand why the ETWOW GT SE can be touted as the most powerful and lightest budget electric scooter capable of 25 miles per hour.
For the 2022 riding season, the staff at eWheels is now stocking this 25 mph electric scooter as one of its excellent budget commuter electric scooters, and they are ready to ship.
Performance Specs:
High performance at 25MPH electric scooter
The GT is the most powerful E-Twow eScooter, weighs about 29lb
The Samsung 504Wh battery pack provides up to 23 miles of range
Unique in its class, no other electric scooter provides the same power, range & capability in such a small light package
Built to the highest standards, near zero maintenance operation
The ETWOW excels at being very easy to use due to its design simplicity.
This electric scooter is proven and simple in format, but it is filled with functionality that will make your commute more accessible and engaging. It is lightweight and agile.
The ETWOW GT SE has 700W single front hub motor and a 504WH Samsung high discharge battery pack, which allows riders to go over 23 miles with ease while on a long-range ride thanks to its lightweight design.
When it comes to scooters, it's all about their features and how they make life easier. The powerful regen/rear braking system, an easing spring suspension system, and mudguards are all included on the 29-pound GT SE scooter.
Other features include a lightweight aluminum frame, folding handlebars, easy-to-use control modules, bright headlights, taillights, and mudguards.
Let's take a more in-depth look at this scooter's performance characteristics, including its battery capacity, features, and chassis, which cost $998. In the comment section below, please let us know if you believe that these qualities make the product worth the price of $998.
Safety Features
Power: The GT weighs little under 26.5 lb and comes with a 700W motor and a 504Wh battery. There is nothing else like the GT on the market right now.
Quality: ETWOW has a stellar track record of never compromising on product quality. Every aspect has been regularly updated and enhanced; the GT is the culmination of several generations of gradual advances, representing the pinnacle of modern technology.
Maintenance: This is a low-maintenance scooter; you won't have to worry about flat tires or tuning/adjusting the brakes on a regular basis.
Controls: Unlike most other scooters, the accelerator and brake are operated with the thumb; this is a more natural motion than using an extended finger with a typical dashboard interface.
Suspension: The recessed rear spring and movable motor joint provide some of the greatest suspension for a budget scooter and do a fantastic job of smoothing out the ride.
Braking: There's a backup foot brake to bring the scooter to a stop in an emergency and the front motor's automatic regenerative braking.
Mobile App Support
The GT has undergone three model upgrades in less than a year: the original 2019, 2020, and the Smart Edition. The SE now has integrated Bluetooth/App compatibility!
The GT 2022 has a mechanical rear drum brake and a kickstand (all ETWOW scooters may rest upright in the partially folded configuration); otherwise, the GT 2022 is similar in all significant parameters to the original 2019.
The ETWOW GT App allows you to connect to Android and iOS phones to check speed, trip, and battery statistics, set speed restrictions, enable the headlight, change the start behavior, and lock the scooter.
Technical Specs:
Top Speed: 25 mph
Motor: 700W Motor
Brakes: Regen/rear braking system
Materials: Aluminum frame
Price: $998
Gradient: 15 degrees
Battery: 48V 504WH Samsung battery pack
Charge Time: 2.5 hours
Max range: 23 miles
Tire Size: 8 inch solid
Suspension: Spring suspension
Weight: 29 lbs
Max load: 275 lbs
Throttle: Thumb throttle
Folding: 3 step easy latch folding system
Lighting: Headlight/tailight
Side Led: n/a
Horn: n/a
Signals: n/a
Display: New digital display
Release Year: 2022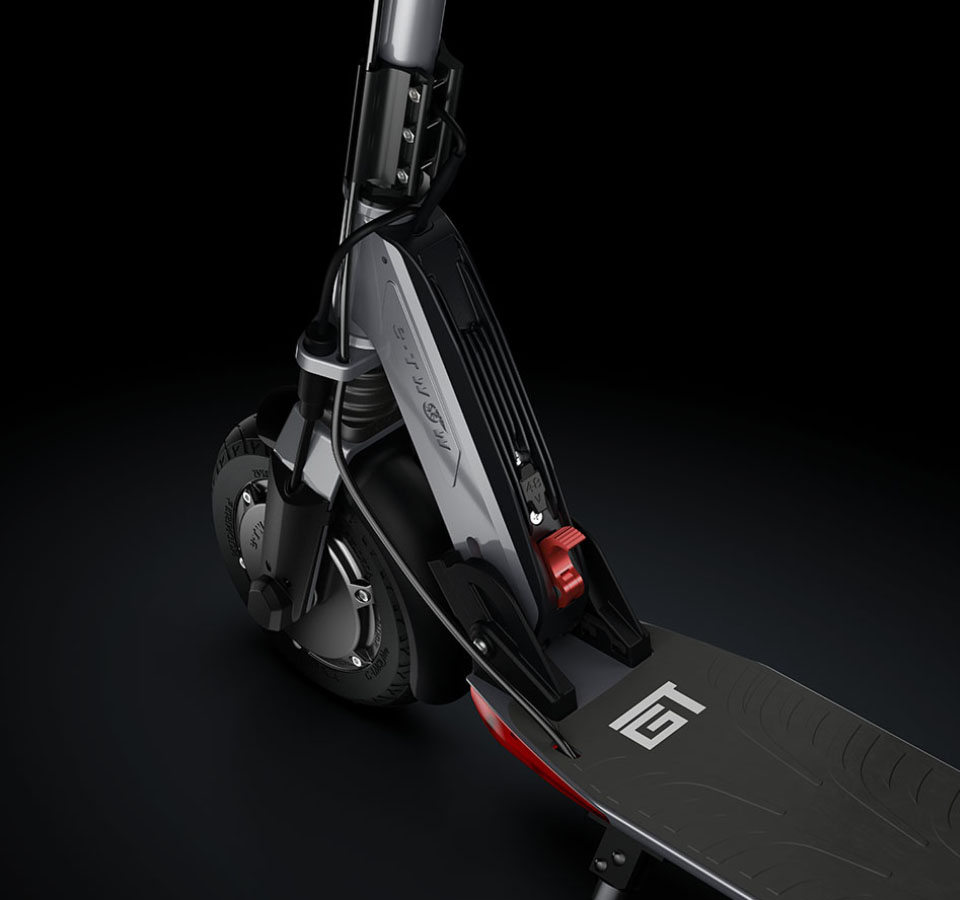 Features
Powerful Motor & Long Battery Life – The 700W electric brushless hub motor allows for speeds up to 25 mph. High-capacity battery (504WH) with a maximum travel range of up to 23 miles under specific conditions and a max load of 275 lbs.
Upgrade your Commuting – ETWOW GT SE electric scooter is equipped with 8-inch solid (and full shock absorbers) to provide maximum comfort, even on rough surfaces or speed bumps.
Safety with ETWOW scooter – ETWOW scooter features bright headlights and taillights.
Perfect for Commute and Travel – ETWOW e-scooter collapses for easy storage in car trunks and other compact spaces.
ETWOW GT SE App – Simply connect ETWOW electric scooter's app to lock your scooter, to customize the scooter acceleration and ride preferences.
Quality Warranty – ETWOW GT SE electric scooter is equipped with more powerful performance, becoming your best commuting or outdoor travel companion. 12-month warranty offered by eWheels
About ETWOW
Their primary focus has been commuting people who need to travel from point A to point B.
There are only two acknowledged brands in the growth sector of eScooters that have been active for more than six years and have a solid track record: Minimotors and ETWOW.
While the Minimotor's scooter line is known for its remarkable +50 mph high-performance capabilities, ETWOW's focus has been manufacturing ultraportable scooters weighing less than 27 pounds.
Best of both Worlds
Riders with more extensive resources may choose to travel faster at the expense of more weight and higher prices.
When deciding on a scooter, the options have been either performance (with a larger 39 lb weight) or lightweight (with weaker performance), but not both. The ETWOW GT is the inaugural scooter to break through this trade-off barrier, providing the greatest of both worlds with excellent performance, outstanding range, and far less weight than competing scooters.
ETWOW scooters are still relatively new in the United States
In Europe, the brand is far more established and controls a substantial part of the eScooter market. ETWOW's focus on detail in every aspect, from the initial idea to the implementation, is one of the brand's primary differentiators. The features, performance, and weight of the scooter have been proven in earlier markets.
These units offer performance but are also minimal maintenance, making them easy to own.
This dedication to meeting the highest quality standards is shown in defect data from other locations, where reported unexpected (e.g., tire changes and other consumables) maintenance rate numbers are < 3% per year, significantly below the industry standard.
Best Electric Unicycles under $2,600
Disclaimer: The information presented in this article is derived from extensive research, user reviews, and publicly available information. Our aim is to provide accurate and up-to-date content; however, it is crucial to understand that the opinions expressed are based on the information available at the time of writing. We strongly encourage readers to conduct their own thorough research and carefully evaluate their individual needs before making any purchasing decisions.
eWheels 2023 Summer Deals and New Launches are here!!!
Cheap, reliable, and powerful! TurboAnt Electric Scooters 2023 Sale!
Hi guys! This post may contain affiliate links, sponsored content, and advertisements. We get a small commission for covering topics that interest us (helps us keep the doors open). For more information, please see our privacy policy and disclaimer. Ride safe yall!
2023 Electric Unicycles:
Coupons & Deals:
Apollo Scooters: Get $50 USD worth of free accessories, upgrades, or spare parts with the purchase of a scooter. Code: VROOOMIN
REV Rides: Save $50 off Scooters and EUC's, Code: VROOOMIN
EVOLV Electric Scooters: Free Folding Lock (worth C$80) for every EVOLV model! Use Code: VROOOMIN-LOCK
To keep the site running and information flowing, Vrooomin.com participates in affiliate linking programs. We're also an Amazon Associate, which means we get paid for referring people to Amazon. Please support the channel by clicking on our links.