Mention Code "VROOOMIN" for possible discounts to your dealer!
Coupon Codes & Deals:
eWheels Spring Sale on electric scooters and electric unicycles
Save $50 off Kaabo and EMOVE electric scooters with Code: VROOOMIN
Save $50 off VSETT, Begode, King Song, Segway with Code: VROOOMIN
Get $50 worth of accessories at Apollo scooters with Code: VROOOMIN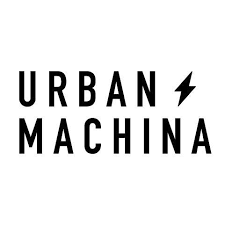 Urban Machina is the leading INOKIM distributor in North America with the best customer service reviews. Check out Urban Machina for your INOKIM scooter needs if you're looking for high-quality scooters, excellent service, and the best INOKIM buying experience!
Move Fast & Freely with the INOKIM QUICK 4 Electric Scooter
You see them all over town, in the office, and even in your neighborhood; these electric scooters are here and ready to rock. The INOKIM Quick 4 was designed to give you more authority over your daily commute and keep you off congested highways. Let's take a deeper look at how this scooter can help you navigate your day.
The INOKIM Quick 4 is Urban Machina's reliable flagship 25 mph commuter electric scooter
Reduce stress, have fun, save money, ride electric.
With a powerful 52V 13AH Samsung system, the INOKIM Quick 4 has some of the most reliable batteries on the commuter scooter market, allowing riders to reach speeds up to 25 mph. Going the distance is accessible on the INOKIM Quick 4; riders can anticipate up to 37 miles of cruising speed, making range anxiety a thing of the past. Decelerating the INOKIM Quick 4 is because it has dual drum brakes that stop riders efficiently and quickly.
INOKIM has a powerful reputation for quality, durability, and aesthetics, and the Quick 4 is no exception.
The INOKIM Quick 4 is an attractive commuter electric scooter option for riders who want the most power, quality, and range for their funds. It's no wonder that riders seek out the INOKIM Quick 4's ultimate commuter package and features, especially when paired with an Urban Machina warranty and customer service.
News & Deals
Is the INOKIM Quick 4 Electric Scooter worth it?
You get what you pay for when it comes to electric scooters. Manufacturers must decide how to budget their materials and components, design, and scale them, which is a difficult balance to grasp for many. The INOKIM Quick 4 is an excellent 25 mph scooter that will get you where you need to go for a reasonable price. It is made of high-quality materials and has a large enough range to get you through the day. This is a great ride to consider if you like the design, look, and feel and Urban Machina's customer service.
Reasons to Buy:
Motors

: Powerful scooter for its size, nice off the line torque

Top Speed: Average cruising speeds will be 15 – 20 MPH, 25 MPH with full charge battery
Battery: Samsung battery packs are quality, similar to Panasonic and LG
Range: Long range battery will get riders 15 to 30 real world miles, if heavier, expect the lower end
Tires: 10×2.5″ tires provide comfy road over rough surfaces
Features: Fully functional beginner commuter electric scooter, has all the ride features to make it a comfortable ride
Brakes: Dual drum brakes powerful and easy maintenance
Portability: Not the lightest, or heaviest 25 mph scooter, reasonable weight for most adults to lift if needed
Package

: Not fastest, but has long range and a quality chassis and electronics

Overall: Great balance of price, weight, power, and quality
Upgrades: Awesome upgrade from $500 scooters
Reasons to Avoid:
More expensive than Amazon $1,000 Scooters
Smaller scooter compared to 40 mph scooters
For riders who want speed, the quick 4 may not offer enough, go with dual motors instead
Not the fastest $1,500 scooter on the market
Not the best scooter for heavy and tall riders
Mechanical and hydraulic brakes are better for stopping power
MiniMotors have stronger scooters available for more speed and range
INOKIM Quick 4 Features:
Ergonomic thumb throttle provides fatigue free riding, compared to trigger throttle systems
Large display for performance data, battery, speed, and more

Handle bars

are easily folding for storage while not in use
Front and rear LED for visibility at night and day
Sporty and reliable silver chassis for long term use

Large 10″ tires and full suspension provide plush ride quality

, soaks up bumps and road vibrations
Large deck for comfort, spacious when compared to smaller lowered powered scooters
Quick and Easy folding with rear carrying handle for transport
INOKIM Quick 4 Electric Scooter Video
INOKIM Quick 4 Development
The INOKIM Quick 4 is the most advanced model in the Quick series, which has won numerous awards. Thanks to its expansive deck and oversized tires, it has the most comfortable ride. Its suspension arms help to absorb the impact of more prominent bumps. It has been road-tested and proven to be dependable and long-lasting in its performance. Enjoy a luxurious riding experience with its large LCD. With the carry handle attached to the end of the deck, it is foldable and portable. The INOKIM Quick 4 will transform your commute and how you travel.
Nimrod Sapir, an industrial designer and the founder of the MYWAY company, created INOKIM's first series, the MYWAY, in 2009. In 2015, an improved version of the MYWAY signaled the beginning of the mass adoption of this last-mile commuter solution, assisting thousands of commuters every day in avoiding endless traffic congestion and saving them thousands of dollars in cab fares.
Technical Specs:
Top Speed: 25 mph
Motors: 1,200W Single Hub Motors
Brakes: Dual drum
Materials: Aluminum 6061 T6 Frame
Price: $1,550
Gradient: 17 degrees
Battery: 52V 16AH 768WH Samsung battery pack
Charge Time: 10 hours
Range: 37 miles
Tires: 10″ x 2.5″ pneumatic
Suspension: Dual spring suspension
Weight: 47 lbs
Max load: 265 lbs
INOKIM Quick 4 Electric Scooter
The INOKIM Quick 4 is an excellent option for riders seeking a quality INOKIM commuter scooter with a top speed of 20 mph. It was not intended to be the most powerful, fastest, or least expensive scooter on the market. It is a reliable commuter scooter with sturdy components.
Summary
The INOKIM Quick 4 is an excellent option for its price because it is quick, entertaining, potent, stylish, and relatively lightweight. You get a maximum speed of 25 mph, a maximum range of 37 miles, a simple folding system, simple riding features, and, most importantly, INOKIM build quality. This electric scooter has been praised by the electric scooter community and is an excellent option for daily commuting.

Similar Models to INOKIM Quick 4
Frequently Asked Questions
Is the INOKIM Quick 4 known to have any flaws or defects?
This model's construction and quality assurance are excellent; The INOKIM Quick 4 has no significant issues. We looked through forum threads, review videos, and scooter groups and discovered that the INOKIM Quick 4 scooter is reliable. The INOKIM Quick 4 is made of high-quality materials that will last you thousands of miles on the road. Riders should expect to perform routine maintenance such as tire changes and brake adjustments regularly. For more information on service timelines, consult the user manual.
What is the INOKIM Quick 4's top speed?
While the INOKIM Quick 4 is rated for a top speed of 25 mph, most riders will be able to achieve this speed. Most riders can expect to travel between 12 and 20 mph on most days. To achieve maximum speed, ensure the battery is fully charged and that you are in a safe location where you can safely ride this scooter at high speeds. The top pace will be slower for heavier riders climbing a steep hill or with a low battery charge. For increased protection, please wear a helmet, gloves, and knee pads.
What is the INOKIM Quick 4's maximum range?
The INOKIM Quick 4 has a range of 37 miles, which is sufficient for getting around town and running errands. Most riders can expect at least 60% of the advertised range in real-world conditions. Riders who are lighter and cruise at a slower speed can achieve a degree closer to the advertised content.
Can the INOKIM Quick 4 support heavy riders?
The INOKIM Quick 4 can hold riders weighing up to 265 pounds. Riders should purchase a scooter with at least a 25-pound buffer in the maximum load, allowing them to achieve the best top speed, full range, and overall ride experience.
Is the INOKIM Quick 4 capable of climbings steep gradients?
The INOKIM Quick 4 1200W drivetrain has a 17-degree climb rating; riders can expect to climb moderate hills easily. Please remember that if the rider is heavier or the battery is low, the acceleration and top speed will be affected.
Is it easy to ride the INOKIM Quick 4?
The INOKIM Quick 4 is a simple scooter to ride, but it does require some practice to operate safely. Before using, we recommend that all riders read the user manual from beginning to end. Before each ride, check the tire pressure, brake calipers, and screws. To begin, riders should use the scooter's lowest performance settings. Press the throttle to accelerate and the brake calipers to slow down the scooter. While riding, practice balancing your weight and being aware of your foot position while riding.
eWheels 2023 Spring Deals and New Launches are here!!!
Cheap, reliable, and powerful! TurboAnt Electric Scooters 2023 Sale!
Hi guys! This post may contain affiliate links, sponsored content, and advertisements. We get a small commission for covering topics that interest us (helps us keep the doors open). For more information, please see our privacy policy and disclaimer. Ride safe yall!
2023 Electric Unicycles:
Coupons & Deals:
Apollo Scooters: Get $50 USD worth of free accessories, upgrades, or spare parts with the purchase of a scooter. Code: VROOOMIN
REV Rides: Save $50 off Scooters and EUC's, Code: VROOOMIN
EVOLV Electric Scooters: Free Folding Lock (worth C$80) for every EVOLV model! Use Code: VROOOMIN-LOCK
To keep the site running and information flowing, Vrooomin.com participates in affiliate linking programs. We're also an Amazon Associate, which means we get paid for referring people to Amazon. Please support the channel by clicking on our links.