With a 28 mph top speed, the Speedway Mini 4 is the "slowest" MiniMotors scooter in their lineup. However, this entry-level scooter is still faster than 70% of the scooters in the market!
28 mph top speed is all you need.
The Speedway Mini 4 Pro is small, but it packs a lot of power for its size and weight. This electric scooter for commuters weighs 36 pounds. This robust, smooth, reliable, and the small electric scooter was made for the inner city and the suburbs. It is small, lightweight, and easy to use. The Speedway Mini 4 Pro has a 48V 15.6AH Panasonic battery pack and a 1,360W rear motor that can reach 28 mph at its highest setting.
Compact Scooter, Big Power, & Big Range
The Speedway Mini 4 Pro is competent with a 30 miles max range, offering riders plenty of trips to work, grocery stores, and even the gym. For safety, the Mini 4 Pro has a Rear Drum Brake (Regen/ABS) and a top speed of 28 mph. This gives riders complete control when they need to slow down or complete their ride. People know Speedway well, and MiniMotors USA has the best warranty and service in the business. For riders who want the best power, acceleration, comfort, and features to make their rides as simple as possible, check out the Speedway Mini 4 Pro's specs.
News & Deals:
Powerful scooter for its size
Fully functional beginner commuter electric scooter
Lowest price scooter in the MiniMotors lineup
Twice as strong and fast as Gotrax, Segway, and Hiboy Models
Motors: Powerful scooter for its size, stronger than most beginner models
Top Speed: Average cruising speeds will be 15 – 20 MPH, 25 MPH with full charge battery
Battery: Upgraded 38V 16AH LG battery pack are quality
Range: Long range battery will get riders 15 to 30 real world miles, if heavier, expect the lower end
Tires: 8″ tires provide comfy road over rough surfaces, and solid tires requires less maintenance
Features: Fully functional beginner commuter electric scooter, has all the ride features to make it a comfortable ride
Suspension: Dual suspension for city riding
Brakes: Rear regen drum brakes powerful and easy maintenance
Portability: Very light weight for 28 mph scooter, easy storage in cars and on train
Package

: Not fastest scooter, but has long range and a quality chassis and electronics

Overall: Great balance of price, weight, power, and quality
Upgrades: Awesome upgrade from $500 scooters and not too expensive for most budgets
Reasons to Avoid:
More expensive than Amazon Scooters
MiniMotors have stronger scooters available for more speed and range
Chassis is a more classic and first generation design
Rear solid tire not the best for comfort, smooth road is fine
Top Speed: 28 mph
Motors: 1360W Single BLDC Hub Motors
Brakes: Rear Drum Brake (Regen/ABS)
Materials: Aluminum Alloy Frame and high-quality electronics
Price: $1,049
Gradient: 27 degrees
Battery: 48V 15.6AH Panasonic battery pack
Charge time: 6 hours
Range: 30 miles
Tires: 8 pneumatic / Rear Solid
Suspension: dual spring suspension
Weight: 36 lbs
Max load: 265 lbs
Colors: Black and White
Speedway 4 Mini Comparison Charts
Speedway Mini 4 Electric Scooter
Similar Models to Speedway 4 Mini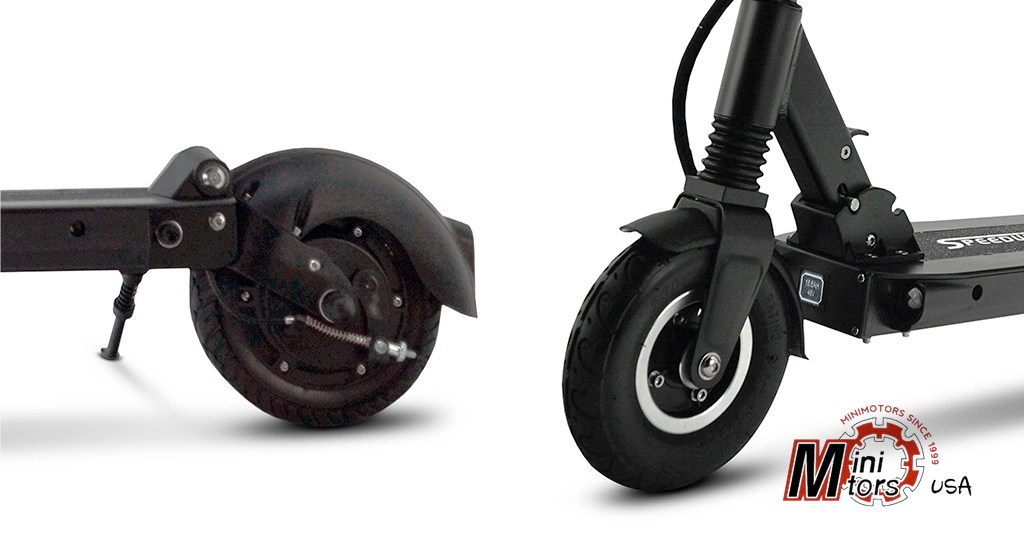 Frequently Asked Questions
Is the Speedway Mini 4 Pro known to have any flaws or defects?
The Speedway Mini 4 Pro does not have any severe flaws. We looked through forum posts, review videos, and scooter groups and discovered that the Speedway Mini 4 Pro scooter is solid. In general, this model's construction and quality assurance are excellent.
The Speedway Mini 4 Pro is made of high-quality materials and will last many miles on the road. Riders can anticipate regularly performing routine maintenance such as tire and brake adjustments. For further information about servicing timelines, consult the user handbook.
What is the Speedway Mini 4 Pro's top speed?
While the Speedway Mini 4 Pro is rated for a top speed of 28 mph, most riders will be able to achieve this speed. To reach optimal speed, ensure that the battery is ultimately charged and that you are in a safe area where you can safely ride this scooter at full speed. The top pace will be slower for larger riders climbing a steep incline or having a low battery charge. For added safety, please wear a helmet, gloves, and knee pads.
What is the Speedway Mini 4 Pro's maximum range?
The Speedway Mini 4 Pro has a 30-mile range, sufficient for getting around town and running errands. Please remember that maximum capacity varies depending on the rider, road conditions, weather, and usage. The content will be reduced for heavier riders who ride in cold weather or have a strong throttle finger. Most riders can get at least 60% of the quoted range in real-world conditions. Riders who are lighter and cruise at a slower speed can achieve a degree closer to the advertised content.
Is the Speedway Mini 4 Pro up to the task of supporting heavyweight riders?
The Speedway Mini 4 Pro is suitable for riders weighing up to 265 pounds. Riders should look for a scooter with a maximum load buffer of at least 25 pounds, as this will help them to get the best top speed, maximum distance, and overall ride experience. To find the right scooter for you, look for one with a chassis that can carry at least 25 pounds more significant than your weight. If you're a heavier rider, look into the best 40 mph, and 50 mph scooters; these heavy-duty dual-motor scooters will easily carry you up hills.
Is the Speedway Mini 4 Pro capable of climbing a steep hill?
The drivetrain on the Speedway Mini 4 Pro 1360W is rated for a 27-degree climb. Riders can anticipate quickly climbing mild slopes. Please remember that if the riders are heavier or the charge is low, the acceleration will be impacted. Check out the top 40 and 50-mph scooters for riders looking for the best high-climbing scooters. These heavy-duty dual-engine scooters will quickly bring you up hills.
Is the Speedway Mini 4 Pro easy to ride?
The Speedway Mini 4 Pro is a simple scooter to ride, but it does require some skill to use securely. Before operating, we recommend that all riders read the user handbook from beginning to end. Before each ride, check the tire pressure, brake calipers, and screws. To begin, riders should use the scooter's lowest performance settings. Squeeze the throttle to accelerate and the brake calipers to slow down the scooter. While riding, practice balancing your weight and being aware of your foot position while riding.
Is the Speedway Mini 4 Pro suitable for daily use?
The Speedway Mini 4 Pro is an excellent commuting solution for your everyday requirements. This lightweight commuter scooter is ideal for short, medium, and long-distance commutes. Because of its size, it's ideal for trips to the supermarket, work, errands, and local parks for fun and relaxation.
Is there a Speedway Mini 4 Pro discount code?
The majority of dealers have set prices for all electric scooters. The Speedway Mini 4 Pro is no exception; to keep the market fair, dealerships all have the exact pricing. When looking for the best scooter, be sure to look here for the best scooter dealers. Saving money is one thing, but having excellent customer service and a warranty on your electric scooter makes all the difference. Some riders have complained about a lack of support, obtaining subpar scooters, or not being able to get spare parts, so do your homework.
Disclaimer: The information presented in this article is derived from extensive research, user reviews, and publicly available information. Our aim is to provide accurate and up-to-date content; however, it is crucial to understand that the opinions expressed are based on the information available at the time of writing. We strongly encourage readers to conduct their own thorough research and carefully evaluate their individual needs before making any purchasing decisions.
eWheels 2023 Summer Deals and New Launches are here!!!
Cheap, reliable, and powerful! TurboAnt Electric Scooters 2023 Sale!
Hi guys! This post may contain affiliate links, sponsored content, and advertisements. We get a small commission for covering topics that interest us (helps us keep the doors open). For more information, please see our privacy policy and disclaimer. Ride safe yall!
2023 Electric Unicycles:
Coupons & Deals:
Apollo Scooters: Get $50 USD worth of free accessories, upgrades, or spare parts with the purchase of a scooter. Code: VROOOMIN
REV Rides: Save $50 off Scooters and EUC's, Code: VROOOMIN
EVOLV Electric Scooters: Free Folding Lock (worth C$80) for every EVOLV model! Use Code: VROOOMIN-LOCK
To keep the site running and information flowing, Vrooomin.com participates in affiliate linking programs. We're also an Amazon Associate, which means we get paid for referring people to Amazon. Please support the channel by clicking on our links.