Apollo's Budget entry level commuter
Great option that will not break bank, 18 MPH top speed
Starting at $799, on sale for $599
On sale now for Black Friday
Apollo's low-cost commuter vehicle will get you around town without breaking the bank.
Getting around town can be costly.
Parking, gas, traffic, and other mundane aspects of driving must be dealt with. The financial and psychological tolls are always added up. That is about to change, thanks to the Apollo Air Pro. The Air Pro, with its 18 MPH single hub motor, 18-mile range battery pack, dual front suspension, and front drum brake, is here to add zest to your short commutes and make running errands fun again.
Apollo Air Electric Scooter Key Features:
Single motor & up to 18 MPH top speed
Up to 18 miles of range for local commutes
38.5 LB weight & 220 LB max load for reliable and easy transport
Dual fork suspension in the front for smooth riding
Front drum brake for easy braking and maintenance
Apollo Air Pro Electric Scooter
Power – 350W
Battery Pack –  36V 10.4AH battery
Top Speed -18 MPH
Range – 18 Miles
Build Quality – Aircraft grade aluminum
Ride Comfort
Price – $599
Weight – 38.5 lbs
Brakes – Front Drum Brake
Warranty & Customer Service – Apollo Scooters
Summary
The Air's 18 mph top speed and lightweight chassis make it an ideal solution for the first and last mile. The Apollo Air was not designed to be the fastest, strongest, or most powerful scooter on the market. It is a low-cost scooter that will meet the needs of the majority of city commuters and those boarding trains, buses, and subways.

For riders who only need to commute short distances, the Air is a great low-maintenance, light-weight, low-cost option that won't break the bank.

Power – 350W will get you up to 18 MPH. Good for flat routes, this scooter will struggle on steep hills
Battery – 36V10AH battery pack is decent for short commutes
Top Speed – 15-18 MPH is all you need for bike lanes, any thing faster needs higher voltage battery and controller
Range – 18 miles in best conditions and lower cruising speed
Build Quality – Good materials for price
Ride Comfort – Decent deck space, comfort for price and size of scooter
Price – Great price for performance
Weight – Good weight for easy storage and transport
Brakes – Decent brakes, good stopping power for price and top speed
Warranty – Apollo is known for good customer service

Often times, riders grow out of the speed of their scooters, and want more. For riders who are traveling further distances at higher seed, check out the Best 30 MPH Electric Scooters, Best 40 MPH Electric Scooters, Best 50 MPH Electric Scooters, and Best 72V Electric Scooters. These scooters are more expensive and more fun, and worth every single penny!

NOTE: All scooters are rated amongst entry level to extreme performance scooters. Including +50 MPH scooters: Rion, Dualtron, Kaabo, Weped and more.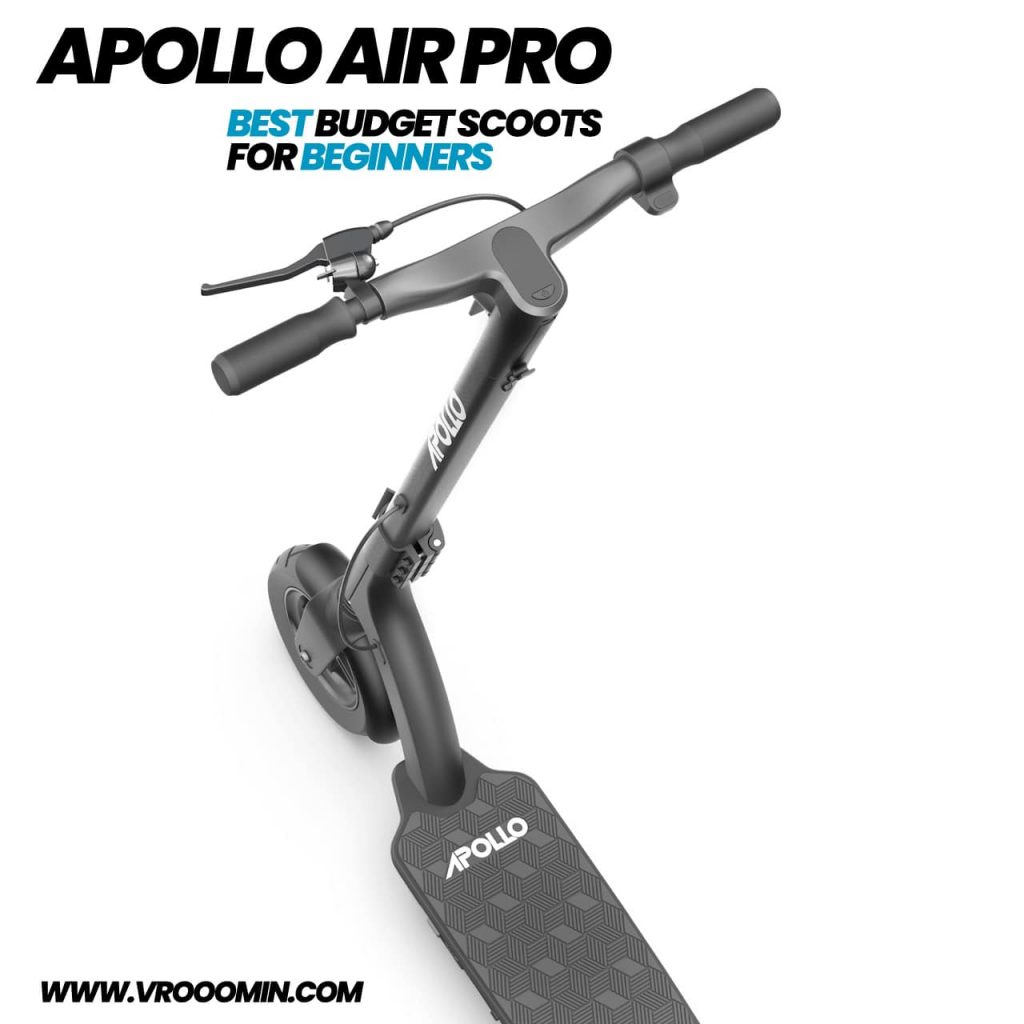 You may also like:
Disclaimer: The information presented in this article is derived from extensive research, user reviews, and publicly available information. Our aim is to provide accurate and up-to-date content; however, it is crucial to understand that the opinions expressed are based on the information available at the time of writing. We strongly encourage readers to conduct their own thorough research and carefully evaluate their individual needs before making any purchasing decisions.
eWheels 2023 Summer Deals and New Launches are here!!!
Cheap, reliable, and powerful! TurboAnt Electric Scooters 2023 Sale!
Hi guys! This post may contain affiliate links, sponsored content, and advertisements. We get a small commission for covering topics that interest us (helps us keep the doors open). For more information, please see our privacy policy and disclaimer. Ride safe yall!
2023 Electric Unicycles:
Coupons & Deals:
Apollo Scooters: Get $50 USD worth of free accessories, upgrades, or spare parts with the purchase of a scooter. Code: VROOOMIN
REV Rides: Save $50 off Scooters and EUC's, Code: VROOOMIN
EVOLV Electric Scooters: Free Folding Lock (worth C$80) for every EVOLV model! Use Code: VROOOMIN-LOCK
To keep the site running and information flowing, Vrooomin.com participates in affiliate linking programs. We're also an Amazon Associate, which means we get paid for referring people to Amazon. Please support the channel by clicking on our links.