Electric Unicycle Research Tips and Shopping Guides
Finding the Right Wheel Should Be Easy! Check out eWheels for the latest machines.
Even though electric unicycles are becoming more popular, they are still used mainly by enthusiasts and people who like to try new things. But as more people learn how good they are, they become more popular. Inmotion, Begode, King Song, and Leaperkim are some of the best brands of electric unicycles. These companies make various models with different specs and features to meet the needs of other riders.
There are a lot of reasons why people love electric unicycles. First, they make traveling fun and exciting. Riders say that riding an electric unicycle feels like surfing or snowboarding. Second, they are small and easy to carry, making them great for traveling in cities or short distances. Third, they are suitable for the environment because they don't cause any pollution and only need a small amount of energy to run. Lastly, they give riders a sense of freedom and independence and a fun way to explore their surroundings.
Even though electric unicycles probably won't replace all other forms of transportation, they could be a good choice in some situations. Electric unicycles may become more common in the future as technology gets better and prices go down.
Beginner, Advanced, Expert Wheels
Top EUC brands for 2023: Begode, Inmotion, King Song, and Leaperkim.
Within the electric unicycle universe, each wheel can be classified into one of three categories: beginner, advanced, and expert. Beginner wheels have a top speed of around 25 mph, advanced wheels have a top speed of about 35 mph, and extreme wheels have a top speed of more than 40 MPH and up to 50 MPH.
It sounds a little crazy. In most cases, however, the faster the wheel, the larger the battery, motor, and shell, resulting in a significantly heavier, less portable wheel. With all of the characteristics of an electric unicycle, there are advantages and disadvantages, as well as a lot of trade-offs.
How Electric Unicycles Work
The electric unicycle is powered by a rechargeable battery, usually inside the unit's housing.
When the rider gets on the unicycle and leans forward, sensors pick up on this and turn on the motor.
After that, the motor turns the wheel, which moves the rider forward.
To turn, the rider leans in the direction they want to go. This turns on the sensors, which change the speed and direction of the motor.
Most of the time, you lean back to stop, which makes the motor slow down or change direction.
Many electric unicycles also have features like LED lights, Bluetooth connectivity, and smartphone apps that track speed and distance traveled.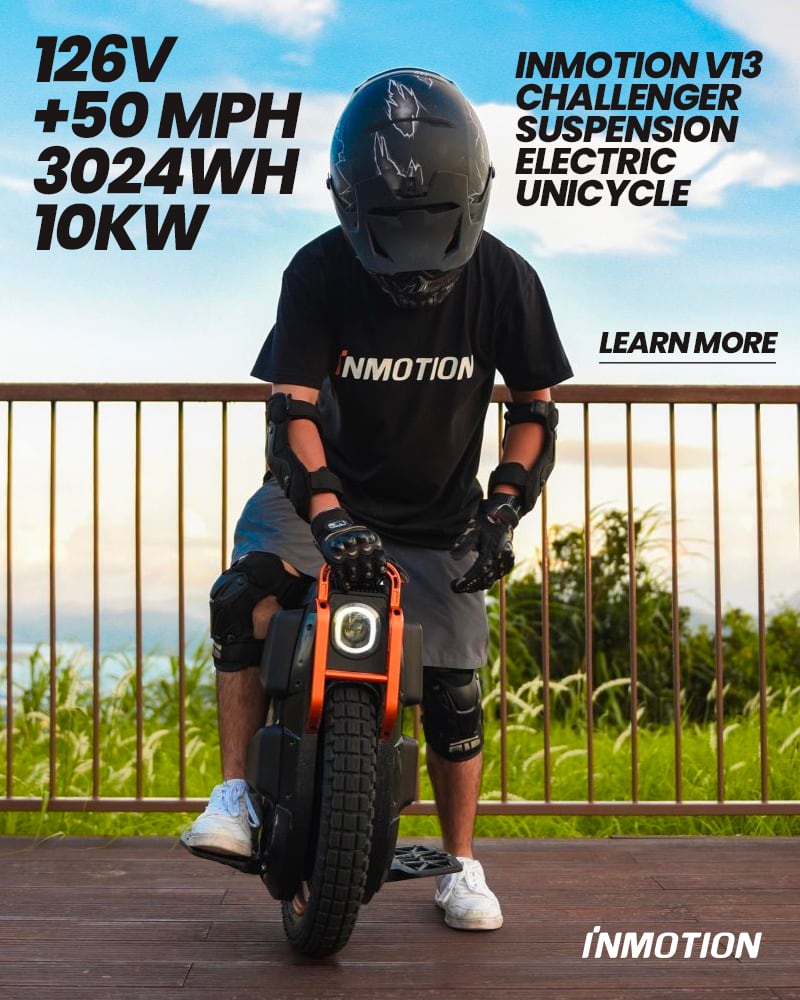 Best Electric Unicycles for Beginners, Advanced, and Expert Riders
Benefits of Electric Unicycles:
It feels like floating and flying!
Speed: An electric unicycle can go up to 30 mph, which makes it an excellent choice for commuting or taking a ride for fun. The fastest ones can go up to 55 mph!
Electric unicycles are usually not too heavy, which makes them easy to carry and move. This makes them an excellent choice for people who need public transportation or to store their car in a small space. You can store them at home or the office.
Size: Electric unicycles are small compared to other ways to get around alone, making them easy to ride in crowded places and through narrow paths.
Portability: Electric unicycles are small and light; the smallest ones can be easily carried in a backpack or other bag, making them easy to move and store.
Fun: Riding an electric unicycle is fun and gives you a feeling of freedom and adventure. Many riders like how easy it is to move through the streets and discover new places. These electric wheels are very fun to play with.
Eco-Friendly: Electric unicycles are good for the environment because rechargeable batteries power them. This makes them a better way to get around than gas-powered cars. On each ride, you'll also save a lot of money.
Low Maintenance: Electric unicycles need less maintenance than traditional vehicles. The batteries are easy to charge at home, and most motors don't need much or any upkeep. On average, tires are changed once a year.
BEST 2022 EUC's by Category – Editors Pick
Electric Unicycles come in various sizes, battery configurations, performance specs, and premium features. Check out the best Electric Unicycles for beginner, advanced, and extreme riders.
Best Beginner Electric Unicycles: Begode MCM5, Begode MTEN3, King Song 16S, Inmotion V8S
Best Advanced Electric Unicycles: King Song S18, Inmotion V11, Tesla V3, Begode Nikola+, Inmotion V10F, Begode RS HT
Best Extreme Performance Electric Unicycles: Begode EX.N, Veteran Sherman MAX, King Song S20, Extreme Bull Commander, Begode RS HS
Beginner Wheels
YouTube and blog forums are excellent resources for first-time riders seeking guidance on their first purchase. Make sure you have your funds ready and a budget in mind before making your purchase because the sheer number of wheels, features, weight, and Power make a significant difference in the value of your investment.
For first-time riders, we recommend picking a 15-25 mph beginning wheel that weighs between 25 and 40 pounds. These entry-level devices are ideal for commuting and last-mile solutions because they are simpler to learn and store. These beginner wheels are excellent backup wheels for more experienced riders.
Power: 550 – 1500W
Top Speed: 25 MPH
Weight: 20 – 40 lbs
Range: 15-35 miles
Cost: $500 – $1,300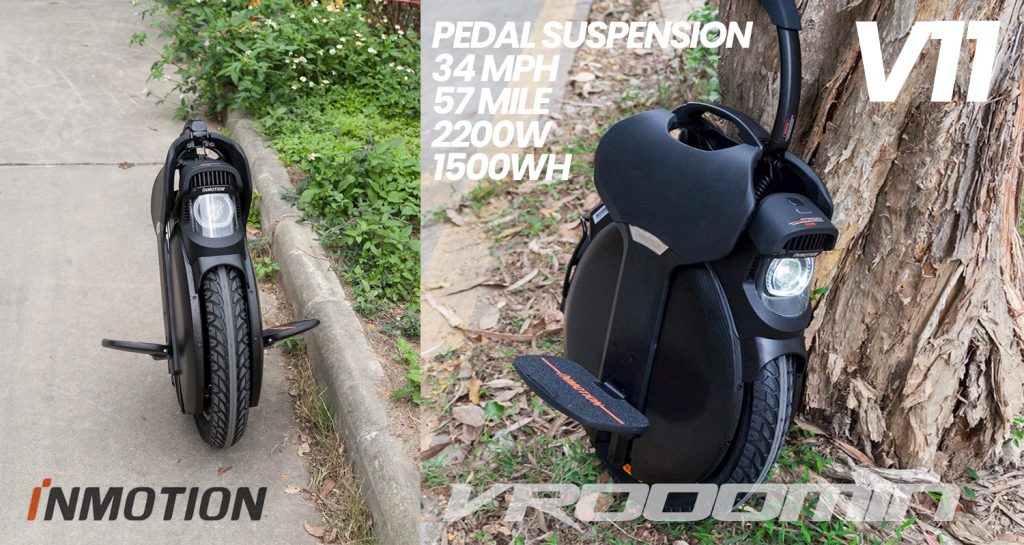 Advanced Wheels
The advanced wheel is an excellent choice for first-time riders who only want one wheel because it balances cost, Power, and portability. These wheels typically go at 28-35 mph and weigh between 40 and 60 pounds.
Advanced wheels are located in the middle of the wheel range and are the ideal middle ground for riders looking for the revolution that is just right. Mid-range wheels are not too slow, powerful, big, or small; they are just right, and they are excellent long-term wheels.
Power: 2,000 – 2,600W
Top Speed: 35 MPH
Weight: 40 – 60 lbs
Range: 30 – 60 miles
Cost: $1,500 – $2,300
Extreme Performance Wheels
Outer wheels are the way for experienced riders who wish to ride at fast speeds, over long distances, and with extreme performance. Outer wheels are distinguished by high torque motors or high-speed motors, enormous 100V battery packs, and weights ranging from 60 to 100 lbs or more in some cases. Expert wheels are beginning to appear on the market equipped with complete suspension systems, allowing them to cross more challenging terrain. On the other hand, expert wheels are only for advanced riders who are confident in their ability to ride them securely. We strongly advise novice riders to begin with either a beginner or an advanced wheel to learn the riding basics.
Power: 2,600 – 3,500
Top Speed: 40 – 50+ MPH
Weight: 60 – 100 lbs
Range: 60 – 150 miles
Cost: $2,300 – $4,000
---
Jason McNeil (eWheels) proposed manufacturer specs standardization around 'speed,' 'range,' and 'power.' The terms offered are found below:
Cruising Speed: The maximum manufacturer-designed Speed on a level, smooth course with a rider weighing 70 kg and no audible warnings. This average Speed should be from 100% to 33% battery capacity.
Max Sustained Speed: Unlike cruising Speed, this is the Speed at which the Wheel can be ridden 'safely' with little risk of power cut-outs, but above the [initial] audible alarm.
Max Speed: the highest Speed at which there is still some margin (e.g., 3kph) before the Power is cut off (same criteria as above). In contrast to the cruising Speed, it can be a 'peak' figure when the battery pack is fully charged. Max Speed does not apply to wheels with pedal tilt-back greater than 15°.
Braking Distance: the distance required for a 70kg rider to come to a complete stop from a speed of 16kph (a speed at which most Wheels should be able to reach)
Range: continuous riding on a level and smooth course with a 70kg rider until the EU generates the "get off now alarm." The manufacturer may choose the Speed at which this test is performed but must declare it on the results.
Sustained Power: the continuous mechanical motor output rating that does not jeopardize the battery, control board, or motor.
Peak power is mechanical motor output for no more than 10 seconds. The battery pack, control board, and motor may experience transient "stress," but no irreversible damage or degradation should occur.
WH Rating: The EU defines usable Wh as the energy available from a fully charged cell down to the cut-off threshold set by the BMS/control board.
Maximum incline: to support a 70kg rider up a 10-meter-high incline (at a minimum).
Charging time: the time it takes to fully charge a battery from a completely depleted state.
ElectricUnicycle.org
Forum.electricunicycle.org is one of the best forums and communities for all things related to electric unicycles. Research, engage, and interact with riders from all across the world. EUC.org also has a Facebook group that allows riders to interact in real-time.
Cut-off or cut-out
There are (at least) two types of cut-offs that can occur with a EUC: the first is what I've referred to as "mainboard induced cut-off," also known as "[motor] shutdown" or "[high/max]-speed cut-out," and the second is the BMS cut-off.
Reset
Resetting a wheel entails turning it off and on again. Many wheels require you to do this after the motor has shut down, though some automatically reset when turned upright after a fall.
RPM (Rounds per minute)
RPM is a measure of the motor's turning Speed, or how many total rounds (turns) the engine performs per minute
MOSFET
MOSFET stands for "Metal Oxide Semiconductor Field Effect Transistor" and is a type of power transistor used in mainboards (usually in groups of 6 or 12) to drive the motor by controlling current flow in the three phases. When discussing the technical details of mainboards or when someone has a burned board, this term is frequently used (one of the most common reasons for a failed board is burned MOSFETs).
Idling
Idling is a term used to describe moving the EUC back and forth while remaining relatively stationary. This is taxing on the motor (constantly changing direction) and quickly depletes your battery, but it can help you wait for a traffic light to change, for example.
Leaning
Leaning is moving your center of gravity and controlling the EUC with your body. To accelerate/decelerate or change direction, you bend forwards and backward. To turn the EUC, you usually lean in the direction you want to turn (left or right), similar to how you would ride a motorcycle or bike at a faster speed, though you can also use your hips to "swivel" around for tight in-place turns, at least at slow speeds.
Out-leaning or over-leaning
Out-lean / overlean is a term used to describe a situation in which the rider leans (usually) forwards so much that the wheel can no longer keep them balanced (inadequate torque), which generally results in the rider dismounting (or falling).
Out-leaning is most common at high speeds or on uphills when the wheel motor cannot produce enough torque to keep the wheel upright as the rider leans forward. It usually happens only after the full tilt-back (but not always, significantly when accelerating quickly, the wheel may not have enough torque to tilt back), so most people shouldn't be able to do it by accident unless it's due to a low battery (if the tilt-back is based on Speed).
Overpower
Overpowering a wheel refers to a situation similar to out-leaning. It is often used as a synonym, but it appears to be more commonly used to describe a situation where the wheel cannot keep you balanced on level ground, such as when hitting a pothole that causes the wheel to tilt too far forward or out-leaning.
Overspeed
The term "Overspeed" refers to the Speed at which the mainboard cuts Power to the motor. This was done (for the most part) with older, pre-2016 wheels. Most wheels nowadays (November 2017) will allow you to push it to the end. Still, once you reach the maximum Speed (which is somewhat dependent on the battery charge state), the voltage difference between the battery and the motor back-EMF (voltage induced by the turning motor) is too small to cause enough current and; thus, torque. The rider ends up overleaning the wheel.
Braking with force
This is an "unofficial" term for braking: you push the wheel in front of you with your legs while simultaneously leaning back and pushing the pedals down to brake as quickly as possible. It takes some practice, but it's not too tricky, and it's a valuable skill to have when you need to stop "on a dime."
But be warned: On rare occasions, this has resulted in the mainboard burning the MOSFETs, though this is no longer common, especially in higher-end power wheels.
Tilt-back
Tilt-back is a safety feature in which the wheel begins to tilt the pedals backward at higher speeds to warn the rider and prevent them from leaning more forward. While it is possible to rely more on and try to gain momentum, doing so may be dangerous because you may overpower the wheel. Most wheels have this (many wheels allow the user to adjust the tilt-back speeds with an app), but some older wheels do not.

At a high level, a EUC comprises four parts: a tire/pedal assembly with a motor in the hub, a mainboard, a battery or batteries, and the shell that holds everything together.
Electric Unicycle Battery
A battery is a component of a unicycle that stores energy to Power the motor and the electronics. Most wheels use a battery pack made of lithium-ion cells (which come in a variety of chemistries, brands, and models), typically 16 (around 48-67V empty or full) or 20 (60-84V) cells in series to achieve the high voltage required to drive the motor. One or more of these packs gain high capacity.
The total capacity of the battery packs is typically displayed in Watthours (Wh), and it appears that an average 10-20Wh is required per kilometer. However, this may vary between EUCs, riders, and riding conditions. EUCs with larger battery capacities (typically achieved by connecting more 16/20-cell series in parallel and using higher capacity cells) not only go for longer on a single charge but also tend to keep their torque high even when the battery is depleted.
The BMS (Battery Management System)
This is a printed circuit board (PCB) typically found within one or more battery packs (although in some cases, like at least some IPS models, it can also be integrated directly into the mainboard). The BMS controls battery charging and cell balancing and has some safeguards (which can sometimes be dangerous).
Firmware
Firmware is a piece of software on the mainboard that contains all of the wheel's logic: alarms, speed limits, tilt-back, motor driving logic, balancing the wheel, communicating with a possible mobile phone app via Bluetooth or other means, various types of monitoring and alarms (Overspeed, overheat, low battery, over-tilt…).
Hall-sensor
Hall sensors are magnetic field detection sensors. Inside the motor, such sensors detect the motor's position and RPM. The mainboard logic requires this information to drive the motor.
Furthermore, the electrical current sensing of the mainboard is commonly done with a chip based on the hall effect, which is also required for certain types of motor driving algorithms, such as Field-Oriented Control, to detect situations where the power output is approaching the limits.
Mainboard
This is the "heart" of the electric unicycle, typically a single printed circuit board (PCB) inside the unicycle, though more than one board may sometimes be present.
The mainboard contains one or more MCUs (MicroController Units, or the "brains" of the wheel), a power feed for the motor, a step-down switching-mode power supply for other electronics, a combined gyroscope/acceleration sensor (often called IMU, Inertial Measurement Unit, or MPU, Motion Processing Unit) for balancing, and usually, something like a Bluetooth-chip for app support, LED control, possible display control,
Pedal
When riding, you place your feet on top of the pedal. Typically made of aluminum or steel, they come in various shapes and sizes (often a little too small for Western feet), and they significantly impact the riding comfort of the wheel (especially on longer trips).
Pedal clearance (height from the ground) is also essential in riding because low clearance can cause the pedal to hit the ground while leaning. The part that connects the pedal to the motor is called the Pedal arm, though other names have been used.
Shell
The shells are the plastic covers that house the other components (mainboard, batteries, tire/motor assembly, etc.). Older wheels had a single shot made of two parts; more modern wheels have four parts to the body, an "inner shell" that usually only covers the motor and to which the batteries, mainboard, and other components are connected, and separate "outer shells" that protect the electronics and batteries.
The difference is that those with separate inner and outer shells are much easier to work with when performing repairs or other tasks. They have better ingress protection (preventing moisture/water from entering the electronics/batteries).
Tire
Usually refers to the tire's outermost rubber part, but it can also refer to the inner tube.
What are electric unicycles?
Electric unicycles are single-wheeled vehicles powered by an electric motor and controlled by the rider's balance. They are a popular way to travel short distances in cities, especially for people who work there. Many people like them because they are small and easy to move around, which makes them great for busy city streets and sidewalks. Also, they offer a fun and exciting way to ride, similar to flying on one wheel.
What are electric unicycles made of?
Most electric unicycles are made up of parts made of metal, plastic, and rubber. Usually made of steel or aluminum, the main frame holds the battery, motor, control board, and other electronic parts. The hub connects the wheel to the engine. Most wheels are made of rubber or other durable materials. Where the rider's feet go, the pedals are usually made of plastic or metal and are screwed or bolted to the main frame. Some electric unicycles also have LED lights, Bluetooth, and other high-tech features that need extra electronic parts. Electric unicycles are made by designing, prototyping, testing, and putting together the different parts to drive a vehicle that works and is reliable.
How do electric unicycles work?
Electric unicycles are powered by electric motors, which turn electrical energy into mechanical energy. The engine must be carefully made to give the rider the correct torque and Speed.

The battery is essential to an electric unicycle because it gives the motor the Power it needs to move. The storm must be carefully chosen and optimized so that its weight, capacity, and safety are all in the right place.

Electric unicycles are stable and balanced because they have complex control systems. These systems use sensors to figure out where and how the rider is moving and then change the Speed and direction of the motor to keep the unicycle standing up. The rider must maintain a delicate balance on an electric unicycle. There are a lot of different forces at work here, such as gravity, centrifugal force, and gyroscopic stability.

When designing and making electric unicycles, you must carefully consider the metals, plastics, and composites you use. For the unicycle to work right, these materials must be strong, durable, light, stiff, and flexible enough.

Electric unicycles are an impressive feat of engineering and physics that require a deep understanding of materials science, electronics, control systems, and the physics of balance and motion.
Disclaimer: The information presented in this article is derived from extensive research, user reviews, and publicly available information. Our aim is to provide accurate and up-to-date content; however, it is crucial to understand that the opinions expressed are based on the information available at the time of writing. We strongly encourage readers to conduct their own thorough research and carefully evaluate their individual needs before making any purchasing decisions.
eWheels 2023 Summer Deals and New Launches are here!!!
Cheap, reliable, and powerful! TurboAnt Electric Scooters 2023 Sale!
Hi guys! This post may contain affiliate links, sponsored content, and advertisements. We get a small commission for covering topics that interest us (helps us keep the doors open). For more information, please see our privacy policy and disclaimer. Ride safe yall!
2023 Electric Unicycles:
Coupons & Deals:
Apollo Scooters: Get $50 USD worth of free accessories, upgrades, or spare parts with the purchase of a scooter. Code: VROOOMIN
REV Rides: Save $50 off Scooters and EUC's, Code: VROOOMIN
EVOLV Electric Scooters: Free Folding Lock (worth C$80) for every EVOLV model! Use Code: VROOOMIN-LOCK
To keep the site running and information flowing, Vrooomin.com participates in affiliate linking programs. We're also an Amazon Associate, which means we get paid for referring people to Amazon. Please support the channel by clicking on our links.