Early in the Morning
Beode Tesla V3 or Begode T3 for short
Like a cold cup of cold brew in the morning, I need to have some wheel action at least once in the day. I just need to have it. The motion, the ocean, and the wheeling, and dealing, invigorates me. It's part of me now, a thirst that must be quenched.
It's been some time now that I've been looking at this wheel. Not for me, but for a friend at work.
"Joe is a nightmare. This guy needs to go. Also, I want in. I'm tired of taking the subway to work each day. Which e-wheel do you think is good for me? whats the cheapest wheel you recommend? "
(Joe is our challenging project manager contractor who ignores our emails, SLACK's, Jira comments, and all levels of common sense)
The first thing that came to mind, of course, was the legendary T3.
Electric Unicycle Shopping Tips
Wheels fall into 3 performance categories: entry-level, mid-range, and extreme
The T3 falls in the mid-range; it has a perfect blend of speed, capacity, weight, and price
Entry level wheels are cheap but have limited power, and range
Mid-range wheels have excellent speed, range, weight, prices, and features
Extreme wheels are fast speed, long-range, heavyweight, and are very expensive
The Best Value Wheel for Work and Campus
A wheel fo the people
Everyone wants to discuss the largest tires, fastest top speeds, and excellent battery packs. While these wheels are impressive, the unsung 84V heroes have captivated the hearts of riders worldwide. In this instance, our hero employs a 1500WH LiTech-powered Samsung 50E pack. Samsung?
Why is that such a big deal, a battery is a battery, right? Scroll down, and you're about to receive an informal certification from the unofficial LiTech Battery University, aka VROOOMIN'S school for the gifted and really really good-looking.
Begode Tesla V3 || T3 Electric Unicycle
Begode's Unsung Hero
It's the Begode T3, in full force. This time, a heart transplant has upgraded it to a high-capacity 1500WH battery pack. The T3 weighs 48 pounds and has a top speed of 31 miles per hour. If you weigh less than 300 pounds, which you almost certainly do, the T3 has a maximum range of 60 miles. This 16″ wheel is impressive and has a lot more to offer. Ready to scratch some itches, make commuting an adventure and save money? It's a tall order.
Technical Specs
Weight: 48.5 lb
Cruising Speed: 31 MPH
Charge Time: 3.5hrs to 80%* with optional 5A Fast Charger
Max Load: ~300 lb
Battery Capacity: 1,500Wh
Range: 60 miles @20MPH for a 170lb Rider

Hollow Hollow
eWheels has held firm and worked to provide the best features and characteristics for its T3 generation. The T3's integrated display, Bluetooth audio, rear tail light, and hollow bore motor make it a competitive package compared to other models. What is the best 16″ wheel available? That's a difficult question, but look at the price tag: $1,750 gets you a lot. No other 16-inch wheel has comparable capabilities at this price.
Let's look at the specifications and FAQs provided by eWheels below.
What's New in the Begode Tesla V3?
The Tesla V3 is a bit different from other vehicles in its class. It has the same volume as the V10F or the King Song 16S, but it comes with two battery packs that are twice as big as the 16S and 50% bigger than the V10F. At the same time, the top speed is 6 MPH faster than the V10F and 9 MPH faster than the 16S. In short, the Begode Tesla V3 is like a small sports car with 16′′ Wheels.
Power – On the V3, the battery pack went from 18650 to 21700 cells, with 2x 750Wh (20s2p) on each side for 1,500Wh. These eWheels Teslas use Korean Samsung 50E cells that are of higher quality and an upgraded BMS that was made with safety in mind.
Motor – This updated motor works better because the phase wire size doesn't have to fit through the axle to reach the stator. It also has better bearing protection for less overall maintenance.
Speaker – you can listen to your favorite songs on the go
Dashboard – Shows the current speed, odometer, controller temperature, and ride mode at a glance
Worth it?
The T3 is a wheel you can grow into and use daily.
The Tesla V3 is a beginner-friendly wheel for all office professionals worldwide. Everything about this wheel, from its 48-pound weight to its highest speed of 31 miles per hour and maximum range of 60 miles, makes it the ideal office commuter. With a $1,750 price tag, you'll save a lot of money and time if you have a 16-inch wheel to rely on for your daily commute.
Not too big, not too small, not too expensive, sits right in the middle.
The wheel is reasonably priced for a 30 mph model, and the higher-grade Samsung 50E cells make it an excellent deal. Tuition is expensive for college students; use the T3 to save time and money on gasoline. You won't have to rely on buses or drive to university; instead, take the T3 to campus.
Beginner Wheels
If you're a beginner looking to get into electric unicycles, the Begode T3 is a great place to start. It is not overly powerful, not very heavy, and has plenty of speed and acceleration to appreciate regularly. Often, inexperienced riders seek to save a lot of money by getting the cheapest versions, only to regret the power limitations as they grow out of those underpowered wheels.
Advanced Wheels
Other riders want the strongest and heaviest wheel right away and spend $3,000 on it. While they're quick, they're also hefty and difficult to get upstairs or into the back of a car. The T3 is ideal for both types of riders. We have a few wheels for the strong enthusiasts to fulfill each riding scenario.
LiTech Battery Packs
The eWheels Begode wheels have a completely new battery architecture. This is done to make the battery safer, more reliable, and last longer. The battery is the most expensive part of a Wheel. LiTech Power makes these for us only, following a strict set of rules to ensure they are the safest battery packs you can find in an electric unicycle today.
Founded in 2002, 18 years of operations
Over 350 employees, with R&D offices in China & Germany
Production of over 540,000 >1kWh packs each year
Begode packs use LG M50LT cells, which are comparable but made in China, rather than imported Korean Samsung 50E cells…
Short detection and protection, the transient threshold at 300-450A
Inline 30A physical fuses as backup
Each pack includes five temperature probes and buzzers to alert you at 65°C and shut off when temperatures exceed 75°C.
Voltage differential management for packs of unequal voltage, no balance lead required.
Improved cell-holders for better survivability in the event of a crash
Upgraded pure nickel strips that are both thicker and wider to withstand higher currents with less resistance—Begode had used "inferior plated" strips in some of their packs.
Automated weld production methods for consistent quality.
Capacity & stress-testing processes are done at the pack level after assembly.
FAQ
Can a 16×2.5′′ tire be installed without modifying the shell?
The 2.5-inch wide tires are too wide without removing some material. Several customers, however, have had success with the TIR-103183 162.4′′ tire.
What was the reason for switching from the tried-and-tested axle motor to the hollow bore type?
There has been a general shift to this type of motor among the manufacturers. With the promised benefits of motor durability, not being constrained by the diameter of the axle for the gauge of wiring used, and reduced maintenance in periodically tightening up the pedal bracket to axle lug nuts, changing out the shims.
What is the recommended maximum rate of charge on the T3?
In this pack configuration, an input current source of 5A @ 84V is only 1.25A per cell, which is only half of the cell's "normal" change input current. The limiting factor of the charging rate on this wheel is the wiring, rather than battery packs.
Are you planning on offering a 'high-powered' version of the T3 with the P42a Molicel packs?
Yes, we'll be offering this as an upgrade option later for $200 more.
Can the display be changed from metric (KPH) to imperial?
Not at this time; it's fixed to metric output.
Are the Begode CNC/Die-cast Pedals 13.1′′ compatible with the T3?
Yes, all the Begode Wheels now use the same pedal bracket. Note that adding a 13.1-inch pedal will certainly affect the turning radius of the wheel.
Are the Tesla V2 and V3 parts interchangeable?
For the most part, no. The Tesla V3 uses a different shell motor, pedal brackets, and battery pack dimensions. Those with a T2, wishing to upgrade to a T2, would be better off selling their wheels since the component upgrade costs would be comparable to the cost of a T3.
What is the water resistance like on the Tesla V3?
Similar to most other Begode machines, alright, but not the best… While the failure rates from water damage from rain use have historically been low, try to avoid frequent use in medium or heavy rain.
Best Electric Unicycles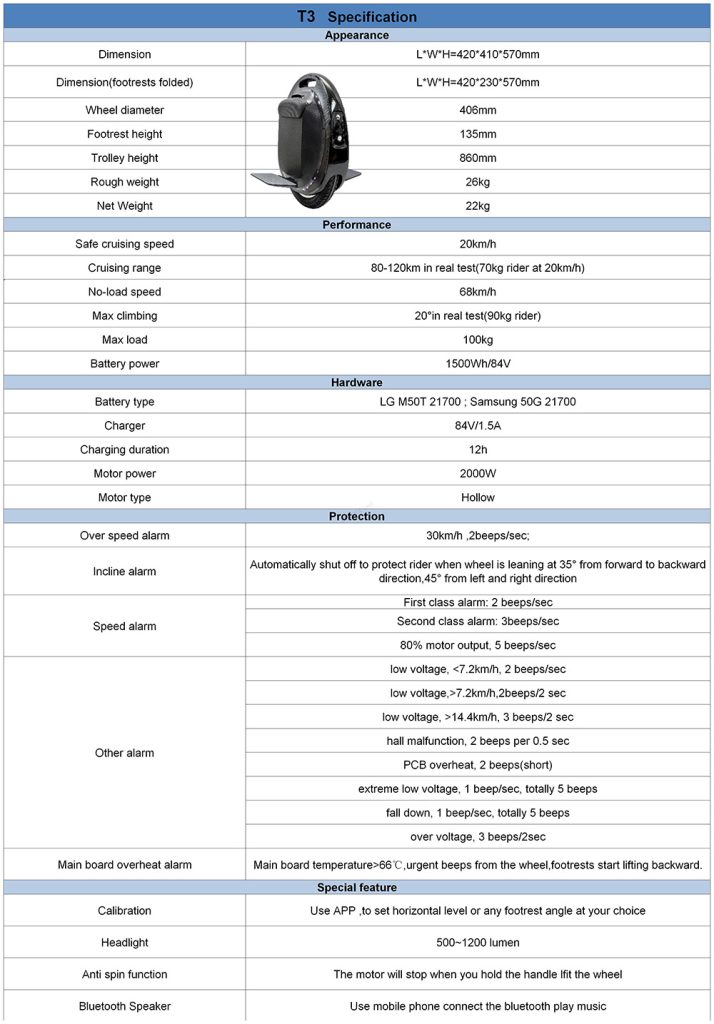 Disclaimer: The information presented in this article is derived from extensive research, user reviews, and publicly available information. Our aim is to provide accurate and up-to-date content; however, it is crucial to understand that the opinions expressed are based on the information available at the time of writing. We strongly encourage readers to conduct their own thorough research and carefully evaluate their individual needs before making any purchasing decisions.
eWheels 2023 Summer Deals and New Launches are here!!!
Cheap, reliable, and powerful! TurboAnt Electric Scooters 2023 Sale!
Hi guys! This post may contain affiliate links, sponsored content, and advertisements. We get a small commission for covering topics that interest us (helps us keep the doors open). For more information, please see our privacy policy and disclaimer. Ride safe yall!
2023 Electric Unicycles:
Coupons & Deals:
Apollo Scooters: Get $50 USD worth of free accessories, upgrades, or spare parts with the purchase of a scooter. Code: VROOOMIN
REV Rides: Save $50 off Scooters and EUC's, Code: VROOOMIN
EVOLV Electric Scooters: Free Folding Lock (worth C$80) for every EVOLV model! Use Code: VROOOMIN-LOCK
To keep the site running and information flowing, Vrooomin.com participates in affiliate linking programs. We're also an Amazon Associate, which means we get paid for referring people to Amazon. Please support the channel by clicking on our links.