Based in NYC, Kaiden is a Software Engineer who loves talking about delicious food, Thai boxing, grappling arts, and fast electric vehicles. His main go-to weekend must-haves were mouthwatering pizza, cheesy burgers, snappy unicycles, and ice-cold libations. Although lately, he's been consuming unsalted air fryer chicken, filtered tap water, and green smoothies, walking to work because he's in his late 30s and his metabolism just isn't the same. He is finally accepting it.
Big Bertha is Here
eWheels Unveiled the Begode EX30 Extreme Performance Electric Unicycle for 2023
Oh, baby… We can all agree that EUCs are becoming increasingly powerful, faster, heavier, and more expensive. Begode is making another jaw-dropping offering; this one has a larger motor, the highest voltage, and a giant battery pack.
All on top of its current "Master" platform that includes suspension, exposed battery packs, and a top-riding seat with a display. Perhaps due to inflation or supply and demand, the era of high-priced 134V 3600WH unicycles is here. Can we call these large wheels BMW's? They're breaking my wallet over heaaa (In a thick Brooklyn accent).
Don't Deny it, Begode Can Supply it
All aboard the hype train
VROOOMIN is here to hype your bottoms up on a Monday morning! If you're looking for an extreme 134V electric unicycle performance package, Begode is the only company that can supply it. The sporty and impressive 4000W 134V 3600WH Begode EX30 electric unicycle is designed to make you reconsider the capabilities of an electric unicycle.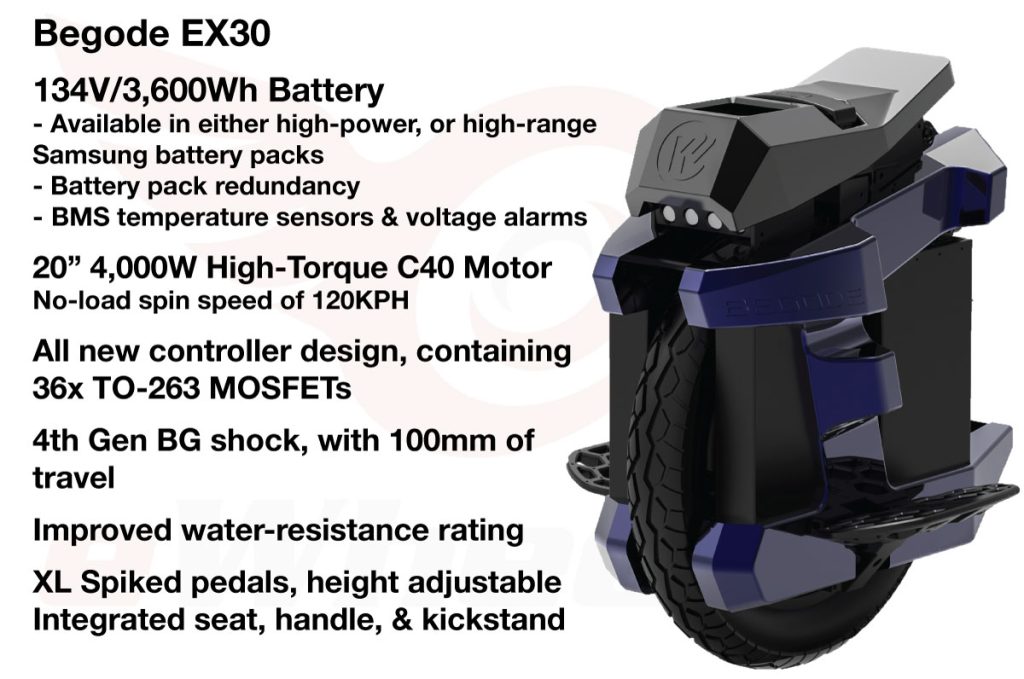 Extreme Performance: Begode EX30 134V/3,600WH Battery
Battery Packs: Available in either high-power or high-range Samsung battery packs, battery pack redundancy, BMS temperature sensors & voltage alarms
134V 3600WH System
More voltage, higher amps, more fun
Begode is constantly pushing the boundaries of performance. To some, only the most excellent specs and progression count, whether the rim, tire, motor, or controller specs, and so does the Begode team. This 20″ wheel is designed for riders who prefer street tires and speeds past +50 mph.
2023 Begode EX30 Electric Unicycle Technical Specs
Motor: 4,000W High-Torque C40 Motor No-load spin speed of 120KPH
Controller: All new controller design, containing 36x TO-263 MOSFETs
Suspension: 4th Gen BG shock with 100mm of travel
Build: Improved water-resistance rating
Pedals: XL-spiked pedals, height adjustable
Extras: Integrated seat, handle, & kickstand
Big Power Requires Big Funds
Give Us More Torque, Higher Wattage
For a small lump sum of $4,200, you can get in line for the EX30. The eWheels team is now carrying this +50 mph 4KW electric unicycle as one of its most potent electric unicycles for the 2023 riding season, and it will be available this winter.
Range for Days
Begode's Extensive Catalog
Looking to go over 100 miles in a day? You must have some solid buns, a big heart, and strong dogs to boot. These big battery packs can take you far, which means less charging and longer pack life in the long run. Like its siblings, the Master, Master Pro, and Commander Pro, this hefty, sporty, and futuristic electric unicycle is packed with features that will make your commute more accessible and enjoyable.
Far and Fast
This is the highest performing electric unicycle to date
The +50 MPH Begode EX30 has a 4000W high torque motor and a 3600WH Samsung 40T Lithium battery pack that can transport riders for more than 144 miles of exciting long-distance riding.
Worth it?
So many choices these days
A heavyweight chassis, power pads, trolley handles, XL spiked pedals, and a 100mm shock system are among the amenities of the +100 pound EX30. Is it worth it to have so many damn Begode wheels out there? Is it the wheel you need or the wheel they think you want?
Technical Specs
More specs to come!
Deposit: $1,000 holding deposit page
Estimated Shipping: Shipping from US is expected in late December
Price: Expected release price of $4,199
Battery: 3,600Wh battery pack with the Samsung 50E cells, or 2,8800Wh consisting of the high-powered 40T pack
Motor: 4,000W high-torque motor, no-load max rotational speed of 75.8MPH (not riding speed!)
Suspension: New generation shock system, with rebound, providing up to 100mm of travel
Tires: Choice of 20″ knobby or street tire
Pedals: Fitted with XL spiked pedals
More Extreme Performance EUC's
💪 Hi friends! We hope you find our content useful! Make sure to use our affiliate links, it helps support our site and keep the fresh content, apps, videos, and updates coming. Ride safe!

- Team VROOOMIN
⚡New: 2022 Best Electric Scooters
⚡New: 2022 Best Electric Unicycles
Editor's Note: VROOOMIN.COM reports the advertised speed and range from the manufacturer. The exact results will vary depending on the rider's weight, overall payload, road conditions, and charge level. Most PEVs will deliver at least 60-70 percent of the quoted range, if not more. The top speed and range will be decreased for heavier riders.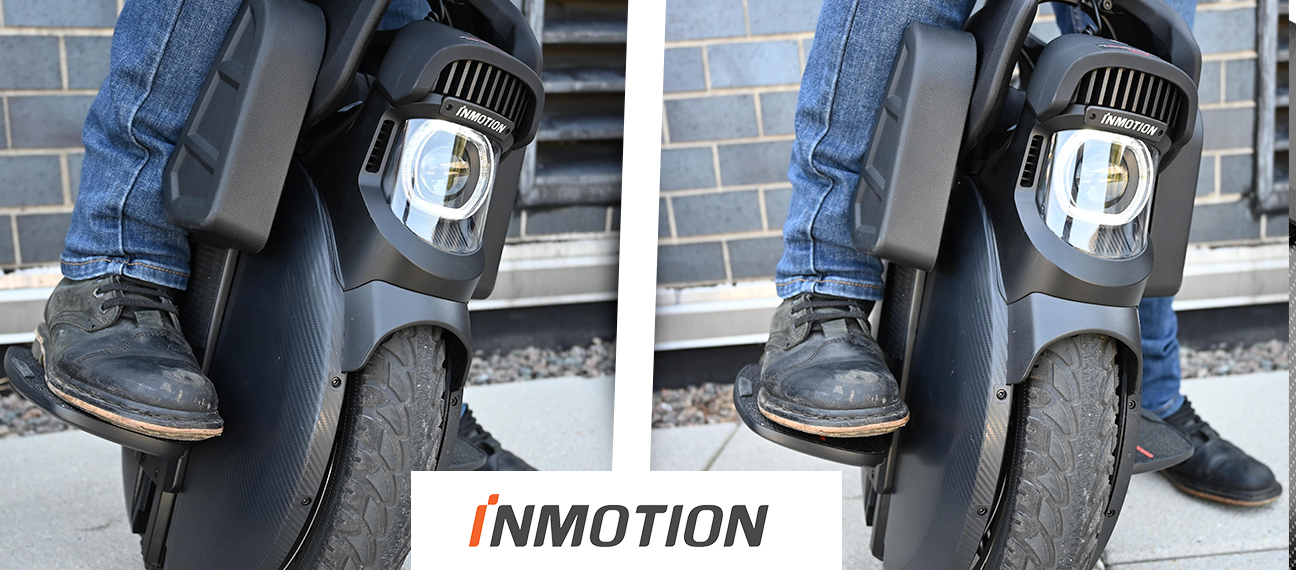 2022 Electric Scooters:
2022 Electric Unicycles:
Coupons & Deals:
Apollo Scooters: Get $50 USD worth of free accessories, upgrades, or spare parts with the purchase of a scooter. Code: VROOOMIN
REV Rides: Save $50 off Scooters and EUC's, Code: VROOOMIN
EVOLV Electric Scooters: Free Folding Lock (worth C$80) for every EVOLV model! Use Code: VROOOMIN-LOCK
To keep the site running and information flowing, Vrooomin.com participates in affiliate linking programs. We're also an Amazon Associate, which means we get paid for referring people to Amazon. Please support the channel by clicking on our links.