Mention Code "VROOOMIN" for possible discounts to your dealer!
Coupon Codes & Deals:
eWheels Spring Sale on electric scooters and electric unicycles
Save $50 off Kaabo and EMOVE electric scooters with Code: VROOOMIN
Save $50 off VSETT, Begode, King Song, Segway with Code: VROOOMIN
Get $50 worth of accessories at Apollo scooters with Code: VROOOMIN

Latest News
The $4,000 Purple Beast
Conceived by market demand
People are looking forward to Begodes's 2023 134V purple beast, seeing as nothing else on the market is like it. The aggressive and speed-hungry EX30 is a cross between a futuristic space fighter and a ferocious street demon. At the time of this writing, the performance specs on this 134V 3.6KWH pack can't be beaten, and nothing even comes close regarding specs per size.
Preorder: $1,000 holding deposit page, Expected release price of $3,999
Shipping: US expected in late May
Batch 2: Preorder to secure a batch 2 unit, batch 3 TBD
Battery: 3,600WH battery pack with Samsung 50E cells, Improved battery/BMS system with temperature sensors, battery pack redundancy, voltage alarms
Motor: 4,000W high-torque motor, a no-load max rotational speed of 75.8MPH (not riding speed!)
Controller: 36xMOSFETS (TO-263), 7 Capacitors
Suspension: 4th generation Begode shock system, with the rebound providing up to 100mm of travel
Tires: Choice of 20″ knobby or street tire
Pedals: XL spiked pedals
Chassis: Reinforced open-face design, improved water resistance
Features: Height adjustable seat, carry handles, integrated kickstand, and more
One of the world's most robust suspension electric wheels
It developed as a statement wheel, emphasizing sheer power and muscle without any extras.
This wheel represents the culmination of begode engineering over the years.
Design of an open chassis with reinforced alloys.
All chassis and material weights are nullified by low-end power.
Compared to other suspension wheels on the market, its modular construction makes it simpler to maintain.
It is the successor to the Master series (T4, EX20S) and boasts a shellless design, exposed battery casings, updated fourth-generation suspension, and a potent 134V powertrain.
134 Reasons to consider
Many people felt the OG 134V Master didn't have enough "capacity" compared to other 3KWH packs, which led to the development of the EX30 3600WH tank. Do you have four racks to drop on this high-torque, beautiful, beefy purple (or blue) beast by Begode? Many riders await more comprehensive reviews before dropping more coins on a new wheel. As we speak, I'm offloading my aging wheels; it's just a part of this game we play.
55 MPH wheel, light riders have reported reaching 59+ MPH
C40 motors give quick power and acceleration; the wheel's performance is unparalleled in its pricing range.
134V controller voltage 36xMOSFETS and seven capacitors for smoother power distribution
Very potent and steady 50+ MPH wheel
Constant Power delivery with enhanced heat dissipation, even on steep ascents.
Lower-mounted battery packs and pedals allow more riding stability than other high-clearance suspension wheels.
Begode EX30 Release Video
An Interpretation of Speed and Power
Begode has released a ride video showcasing the EX30 electric unicycle, packed with action. I consider the recent media push excellent. The Begode brand is getting serious about its product marketing and releasing a polished final version.
Based on what they've learned from their other unicycles, the EX30 is said to be the all-around, high-torque, water-resistant 134V wheel that will eradicate all suspension wheels in its way. Check out the capabilities of this wheel. My high fives to you, Begode; that was a sweet ass video.
134V system (C40 motor, Samsung batteries, 134V controller) allows for additional headroom and long-distance acceleration at high speeds.
Twin charging connections are located beneath the retractable handle of the rolling luggage.
The battery packs are positioned externally and housed in metal enclosures for added protection.
This wheel's real-world range is between 60 and 90 miles per charge. It depends on how quickly you ride and how far you travel.
The Voltage alarms alert you if you achieve high speeds when your battery is low.
3,600WH battery pack with the Samsung 50E cells (40T variant no longer available), Improved battery/BMS system with temperature sensors, battery pack redundancy, voltage alarms
Samsung 50E features higher density, higher discharge, and lower internal resistance than standard electric unicycle battery pack cells
Big Bertha is Here
eWheels Unveiled the Begode EX30 Extreme Performance Electric Unicycle for 2023
Oh, baby… We can all agree that EUCs are becoming increasingly powerful, faster, heavier, and more expensive. Begode is making another jaw-dropping offering: a larger motor, the highest voltage, and a giant battery pack.
Powerful Motor: The Begode EX30 has a 4KW C40 BLDC motor that can reach up to 55+ mph speeds, providing a fast and exhilarating ride.
Long-Range Battery: A 3,600WH (134V) lithium-ion battery powers the unicycle and can provide a range of up to 90+ miles on a single charge, depending on the rider's weight, terrain, and speed.
Design: The Begode EX30 has a space fighter look and feel, with an exposed open-face chassis, sporty side pads, and 20″ knobby all-terrain tires mounted on a sleek reinforced alloy frame. It has a modular and customizable design, with various aftermarket accessories and add-ons available.
Off-Road Capability: The unicycle is built for off-road adventures, with wide, knobby tires that provide excellent traction and stability on both even and uneven terrain.
Customizability: The Begode EX30 is highly customizable, with many owners customizing and adding accessories to make their ride their own. The modularity allows riders to design a unicycle that is unique to their style and preferences.
Lighting: Front and Rear lighting for nighttime safety
Air Pump: Included as standard equipment to inflate suspension system
Integrated Seat: One of Begodes most comfortable seats, thicker and more sturdy than previous models
Side pads: The stock pads have a very nice aesthetic to the wheel, giving it its identity; while protecting it from drops. Many EX riders have opted to add aftermarket side pads for even more control.
Large LCD Display: The unicycle has a large LCD that shows the rider's speed, battery life, distance, and other ride metrics in real-time.
Pedals: New Begode spiked pedals are thinner and lighter in weight
Suspension System
Adjustable Air Shocks 100MM
The Begode EX30 has a complete air shock suspension system with up to 100mm of travel. The plush air suspension system is intended to provide a comfortable ride on smooth and rough roads. Many praise Begode's latest suspension system as well-designed and practical, providing a relaxing and smooth ride on all types of roads.
The community has even praised Begode for improving the newer 4th generation suspension after the EX20, Hero, and Master.
While the air shock system is Begodes best offering, many Veteran Sherman-S riders prefer the mid-mounted oil system for an even smoother ride
Unlike the Veteran series' mid-mounted Fastace suspension system, aftermarket suspension systems and linkage are available, with adjustable settings that allow riders to customize them to their preferences.
To date, the system has proven to be dependable, providing excellent comfort over the life of the unicycle.
All on top of its current "Master" platform, which includes suspension, exposed battery packs, and a top-riding seat with a display. Perhaps due to inflation or supply and demand, the era of high-priced 134V 3600WH unicycles is here. Can we call these large wheels BMWs? They're breaking my wallet over heaaa (thick Brooklyn accent).
Updates
Begode EX30 Now Featuring Stronger Battery Container
The EX30 is the most robust and highest-quality Begode wheel to date
Everything from its raw performance, quality components, and quality control make it a strong contender for the top 3,600WH wheel
Many of our customers have the tough decision of deciding between the EX30's power and the Sherman-S suspension and finish
The first batch of EX30s has already sold out; reserve your machine and preorder today.
Many praise its solid build structure and quality control as one of the best Begode wheels.
Improved waterproofing for core components, battery packs, and controllers.
While the EX30 is not as refined as a Sherman or V13, what it lacks in design aesthetic more than makes up for in performance and modularity.
Upgrading and maintaining the EX30 is generally more accessible when compared to other premium suspension models
Front and rear lift handles make transportation easier.
Recessed lighting to prevent collisions
Heavier and more serious battery cases significantly improved over previous lighter-weight plastic cases.
The wheel is ready to ride right out of the box, whereas older Begode models require third-party components to be complete.
The unit comes with an air suspension pump.
Many EX30 riders add additional pads for more bite while keeping the stock ones for aesthetics.
Some riders heat the adhesive and casing when installing side pads to make it stick stronger.
eWheels has outside inspectors performing stringent quality control (battery, motor, firmware, screws, tires) before wheels are shipped to our US warehouse
Our 1-year warranty spare parts and service back all our wheels.
Don't Deny it, Begode Can Supply it
All aboard the hype train
VROOOMIN is here to hype your bottoms up on a Monday morning! If you're looking for an extreme 134V electric unicycle performance package, Begode is the only company that can supply it. The sporty and impressive 4000W 134V 3600WH Begode EX30 electric unicycle is designed to make you reconsider the capabilities of an electric unicycle.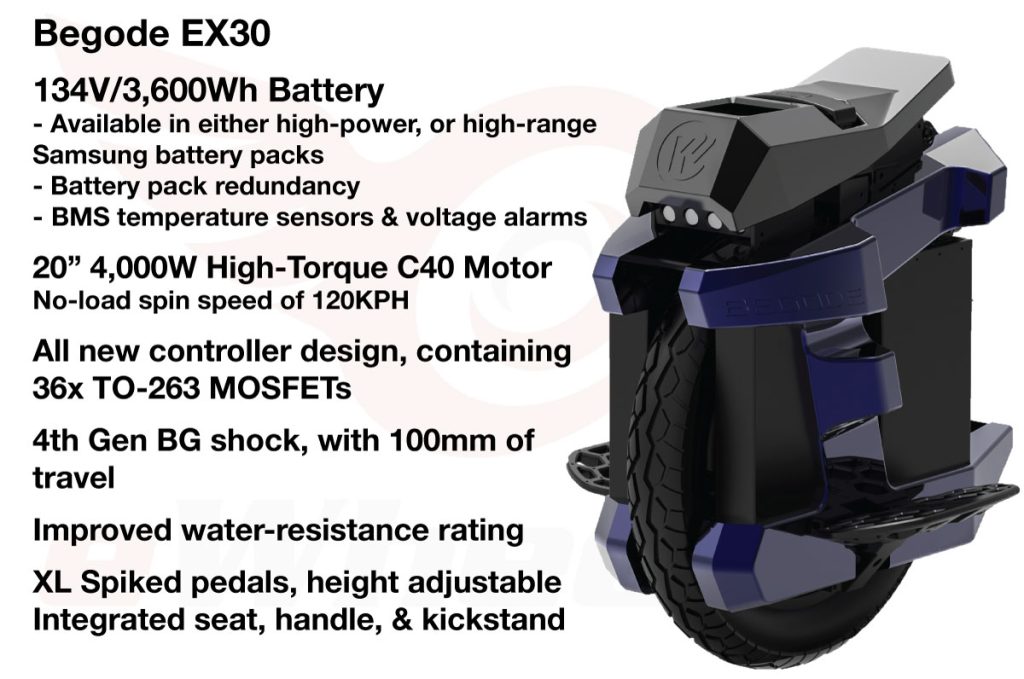 Technical Specs
Battery: 134V Samsung 50E 3,600WH
Chassis: Aluminum alloy battery case
Controller: 134V controller 36x T0263 MOSFETS
Max range: 100 miles
Charge time: 8 hours
Charger: 134V 3a, dual charge ports
Cruising Speed: 55+ mph
No Load Speed: 74 mph
Rim Size: 14″
Tire: 20″ Knobby off-road tires, extra wide
Weight: 101 lbs
Lighting: 7KW lumen headlight, LED tail light
Motor: 4KW High Torque C40 power speed torque
Side Pads: Integrated blue pads
Chassis: IP65
Pedals: Spiked Honey comb pedals
Display: Power, kill switch, mileage, mph, temperature
Air Pump: Included
Trolley: Folding trolley
Suspension: 100mm
Place of Origin: China, Guangdong
Brand Name: Begode
Model Number: EX30
Charging Time: 8-10h (0-100)
Certification: CE FCC ROHS
Color: Black
Max load: 330 lbs.
134V 3600WH System
More voltage, higher amps, more fun
Begode is constantly pushing the boundaries of performance. To some, only the most excellent specs and progression count, whether the rim, tire, motor, or controller specs, and so does the Begode team. This 20″ wheel is designed for riders who prefer street tires and speeds past +50 mph.
Big Power Requires Big Funds
Give Us More Torque, Higher Wattage
For a small lump sum of $4,200, you can get in line for the EX30. The eWheels team is now carrying this +50 mph 4KW electric unicycle as one of its most potent electric unicycles for the 2023 riding season, and it will be available this winter.
Range for Days
Begode's Extensive Catalog
Looking to go over 100 miles in a day? You must have solid buns, a big heart, and strong dogs. These big battery packs can take you far, which means less charging and longer pack life in the long run. Like its siblings, the Master, Master Pro, and Commander Pro, this hefty, sporty, and futuristic electric unicycle is packed with features that will make your commute more accessible and enjoyable.
Far and Fast
This is the highest performing electric unicycle to date
The +50 MPH Begode EX30 has a 4000W high torque motor and a 3600WH Samsung 40T Lithium battery pack that can transport riders for more than 144 miles of exciting long-distance riding.
Worth it?
So many choices these days
A heavyweight chassis, power pads, trolley handles, XL spiked pedals, and a 100mm shock system are among the amenities of the +100-pound EX30. Is it worth it to have so many damn Begode wheels out there? Is it the wheel you need or the wheel they think you want?
Extreme Performance EUC's
eWheels 2023 Spring Deals and New Launches are here!!!
Cheap, reliable, and powerful! TurboAnt Electric Scooters 2023 Sale!
Hi guys! This post may contain affiliate links, sponsored content, and advertisements. We get a small commission for covering topics that interest us (helps us keep the doors open). For more information, please see our privacy policy and disclaimer. Ride safe yall!
2023 Electric Unicycles:
Coupons & Deals:
Apollo Scooters: Get $50 USD worth of free accessories, upgrades, or spare parts with the purchase of a scooter. Code: VROOOMIN
REV Rides: Save $50 off Scooters and EUC's, Code: VROOOMIN
EVOLV Electric Scooters: Free Folding Lock (worth C$80) for every EVOLV model! Use Code: VROOOMIN-LOCK
To keep the site running and information flowing, Vrooomin.com participates in affiliate linking programs. We're also an Amazon Associate, which means we get paid for referring people to Amazon. Please support the channel by clicking on our links.