Hiboy Introduces P6 Budget Commuter Electric Fat Tire Ebike
The Hiboy P6 is a reasonable e-bike for riders on a small budget
Do you like cheap and affordable performance Ebikes? If you're on a budget, this bike might be for you. Many Ebikes on the market will have similar specs, a 750W Bafang motor, decent components, and a 48V generic battery pack. They're almost the same, but at least with a Hiboy, you know the quality of what you're getting.
Hiboy, the creators of some of the most affordable electric scooters on Amazon, is back with their latest fat tire Ebikes. Riders of personal electric vehicles are familiar with the Hiboy S2 and Hiboy Max series, but the P6 electric bike is distinct from its siblings.
2022 Hiboy P6 Technical Review
Riders are always concerned with how quickly, how many watts, and how much battery capacity they have on an e-bike. There's so much more to it than that. The sporty 750W 48V 13AH Hiboy P6 electric fat tire e-bike is intended to save time and money while turning your neighborhood into a playground.
Easy Assembly: HIBOY P6 26″ e-bike takes advantage of a quick-assemble design, which makes it very simple to put together your ebike
Drivetrain: 750W BAFANG motor combined with 4.0″ fat tire and Shimano 9-speed rear gear allows you to easily reach a speed up to +21 MPH
All-terrain: Suitable for traveling in locations such as downtown metropolitan areas, rocky roadways, sandy beaches, snowy suburbs, and dirt mountains, making your e-bike suited to complex road conditions
Price is King
To many, affordability and quality are essential, and the Hiboy P6 Budget Commuter electric fat tire e-bike is no exception. This 26-inch fat wheel set is ideal for riders looking for big comfortable tires, +22-mph speeds, and all-terrain enjoyment. For $1,299, the Hiboy is a sporty model with adequate performance.
This 22 mph electric fat tire e-bike is currently available as one of Hiboy's outstanding Budget Commuter electric fat tire Ebikes for the 2022 riding season, and it is ready to ship.
Quick-assemble Design, Very Easy to Assemble Your Ebike
750W BAFANG Geared Hub Motor
48V Removable Lithium Battery
26*4.0" fat tires
Shimano 9 Speed Gear
Hydraulic Suspension Fork System
Multi-function LCD Display
Features
Powerful motor & long battery Life – The 750W electric brushless hub motor allows for speeds up to +22mph. High capacity battery (624WH) with a max travel range of up to +60 miles under specific conditions and max load of 265 lbs
Upgrade your Commuting – Hiboy P6 electric fat tire e-bike equipped with 26-inch fat tires (front shock absorbers) to provide max comfort, on any terrain.
Safety with Hiboy fat tire Ebike – Hiboy fat tire e-bike features bright headlights and taillights.
Warranty – Hiboy P6 electric fat tire e-bike equipped with more powerful performance, becomes your best commuting or outdoor travel companion. 12-month warranty offered by Hiboy
At 65 lbs Very Lightweight
This lightweight, clean, and simple electric fat tire e-bike has features that will make your commute safe, easy, and enjoyable. The Hiboy P6 has a 750W single hub motor and a 624WH high discharge lithium battery pack, which can transport riders for more than 31 miles (+60 miles at reduced speeds) of exciting long-distance riding.
Technical Specs:
Top Speed: +22 mph
Motor: 750W Motor
Brakes: Mechanical disk brakes
Materials: Lightweight aluminum-alloy frame
Price: $1,299
Gradient: 15 degrees
Battery: 48V 624WH lithium battery pack
Charge Time: 7 hours
Max range: 31 miles
Tire Size: 26 inch fat tires
Suspension: Front hydraulic suspension fork (80mm)
Weight: 65 lbs
Max load: 265 lbs
Throttle: pedal assist
Lighting: headlight/taillight
Display: New LCD display
Release Year: 2022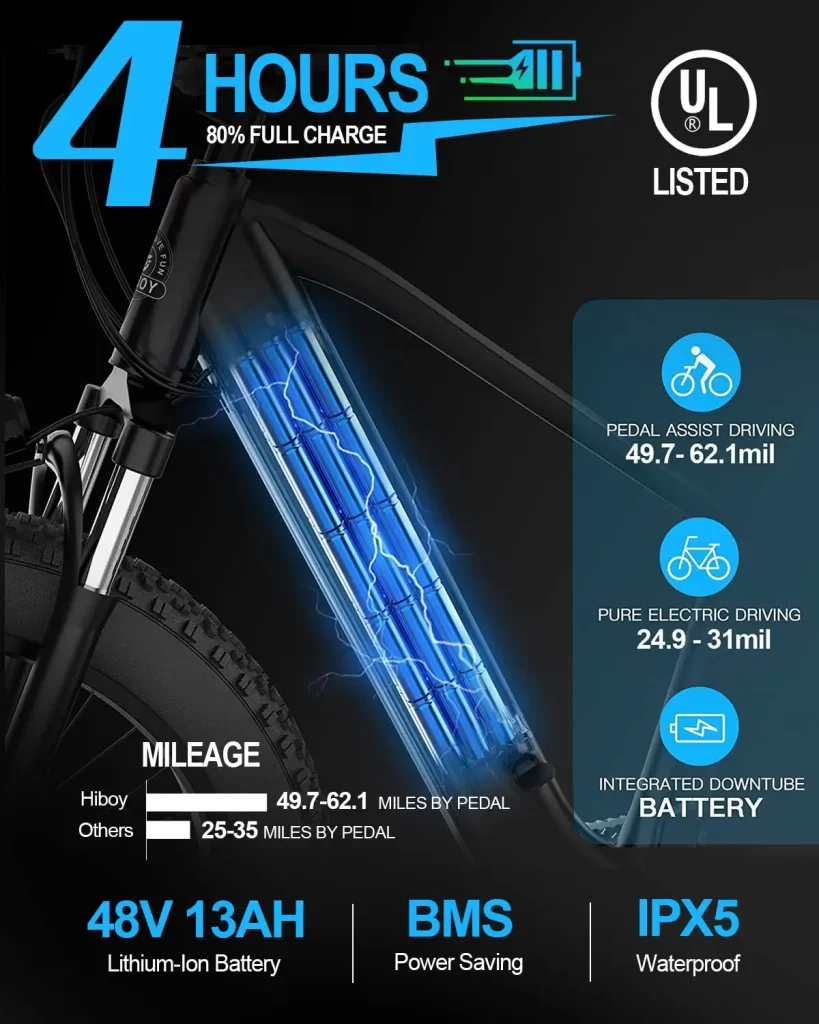 Budget Ebike, Only $1,299
The lightweight, sleek, and basic aluminum alloy frame, easy-to-use pedal assist, headlights, powerful mechanical disk brakes, and an easy-to-use front hydraulic suspension fork (80mm) system are just a few of the features of the 65-pound P6.
What are your thoughts?
Is this fat tire e-bike something you should consider for your next purchase? Let's look deeper at the performance, battery capacity, features, and chassis of this $1,299 fat tire Ebike. Let us know in the comment section below if you believe these features are worth the $1,299 price tag.
Perfect electric bikes for adults – Riders using electric bikes can go on longer rides without being concerned about hills or the overall distance traveled. Riders can also get as much or as little exercise as they see fit during their ride.
750W Efficient Motor – The powerful 750W Bafang brushless motor offers a long range of up to 60 miles when assisted by the electric motor.
48V x 13Ah Removable Battery – The thick tires provide an exceptionally smooth ride anywhere you go, whether to work, the gym, or the grocery store. With this ebike, you can get to work on time, cruise through the city, and explore the new all-terrain.
Fun and easy to ride for commutes – With its 4-inch thick tires and reputation for stability, our P6 e-bike is ideal for off-road adventures, weekend road trips, and day-to-day errands.
Puncture Resistant fat tires – Ride confidently since puncture-resistant tires avoid thorn and glass punctures while riding. Anti-skidding, wear resistance, and adaptability to city, snow, sand, dirt, and various terrains make any ride a breeze.
Shimano 9-Speed Gear – Switch between 9 gears quickly, ideal for riders commuting in the city and enjoying the mountains on the same bike. Make your ride as rigorous as you like, and enjoy the exercise.
Hydraulic Suspension Fork – Feel the comfort at a reasonable price with the P6's adventure electric bike hydraulic suspension fork, which offers 80mm of travel, preload adjustment, and a lockout option, making it more adaptable to decreasing the sensation of bumps when tackling a variety of terrain types.
Mechanical Disc Brakes – Reliable braking performance and customizable braking distance, offering significant braking forces even under the most challenging situations, providing mighty stopping power even in lost terrain.
High-luminance Headlight – Bright headlights give night riding a brighter, safer, and more fun environment. The one-of-a-kind LED circle brightens your way while making you visible to others.
750W Powerful Motor – The 750 watt motor allows this fat tire electric bicycle to conquer even the most challenging slope or sand. A powerful motor provides a more enjoyable and efficient riding experience.
Best Electric Unicycles
Disclaimer: The information presented in this article is derived from extensive research, user reviews, and publicly available information. Our aim is to provide accurate and up-to-date content; however, it is crucial to understand that the opinions expressed are based on the information available at the time of writing. We strongly encourage readers to conduct their own thorough research and carefully evaluate their individual needs before making any purchasing decisions.
eWheels 2023 Summer Deals and New Launches are here!!!
Cheap, reliable, and powerful! TurboAnt Electric Scooters 2023 Sale!
Hi guys! This post may contain affiliate links, sponsored content, and advertisements. We get a small commission for covering topics that interest us (helps us keep the doors open). For more information, please see our privacy policy and disclaimer. Ride safe yall!
2023 Electric Unicycles:
Coupons & Deals:
Apollo Scooters: Get $50 USD worth of free accessories, upgrades, or spare parts with the purchase of a scooter. Code: VROOOMIN
REV Rides: Save $50 off Scooters and EUC's, Code: VROOOMIN
EVOLV Electric Scooters: Free Folding Lock (worth C$80) for every EVOLV model! Use Code: VROOOMIN-LOCK
To keep the site running and information flowing, Vrooomin.com participates in affiliate linking programs. We're also an Amazon Associate, which means we get paid for referring people to Amazon. Please support the channel by clicking on our links.