2022 Sur Ron X Electric Motorbike Technical Review
Something about these Sur Rons eludes me, and I can't quite put my finger on what it is. Any person enthusiastic about personal electric vehicles will appreciate the entertaining package created by the aggressive exterior, sporty chassis, high-performance batteries, Sine Wave controllers, and PMSM motors.
These Rons are essentially potent electric dirt bikes, and they are rapidly gaining popularity all around the world. The Sur-Ron is undoubtedly the most popular performance electric bike currently available on the market, regardless of whether you intend to use it for commuting or souping it up into a two-wheeled 72V hot rod.
Its really up to you
The sporty and advanced 6000W 60V 32AH Sur Ron X electric motorbike is designed to save time and money and turn your daily commute into a full-fledged excursion. This is the model for you if you're searching for a high-overclocking 60V electric motorbike ride experience.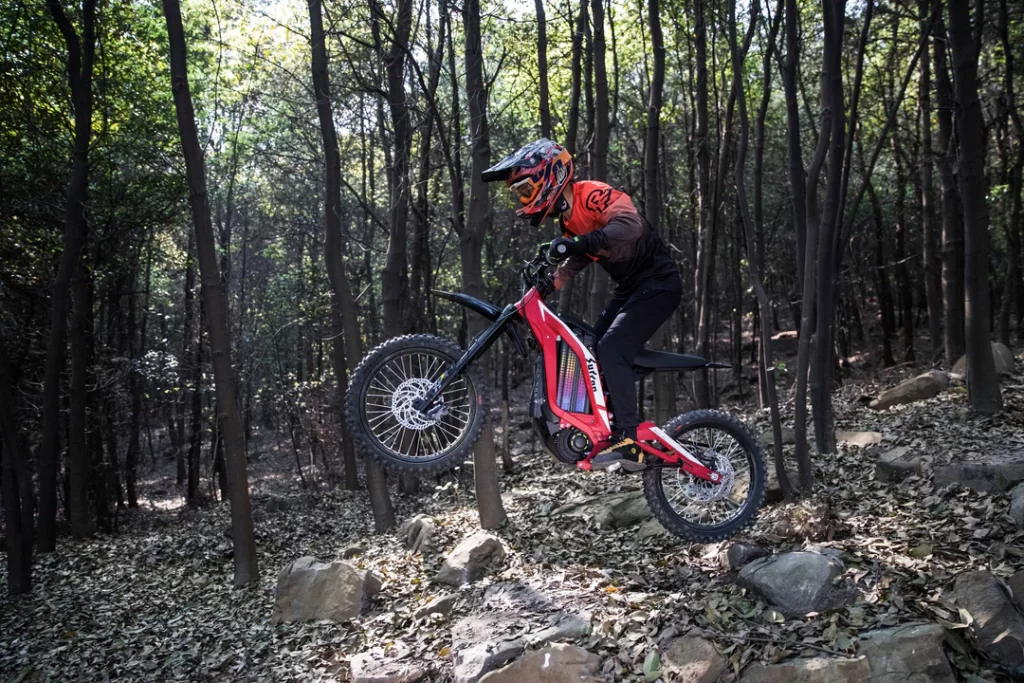 The X Ron is Here
Ready to rip? The X will bring the fury
The Sur Ron crew is geared up and ready to compete for the 2022 riding season with one of their premium high-performance electric motorbikes. The X is a 47-mph electric motorcycle!
Frame – The 100 lbs chassis of the Light Bee is made of aviation-grade aluminum alloy and is welded together in a completely automated process to ensure that each unit is identical to the next.
Brakes – The braking system is equipped with four-piston hydraulic calipers, metallic brake pads, and 203 mm discs for dependable stopping force.
Performance – The Sur Ron X produces 6 kW of power and 250 Nm of torque in SPORTS mode. That is more than sufficient for jumping and climbing hills!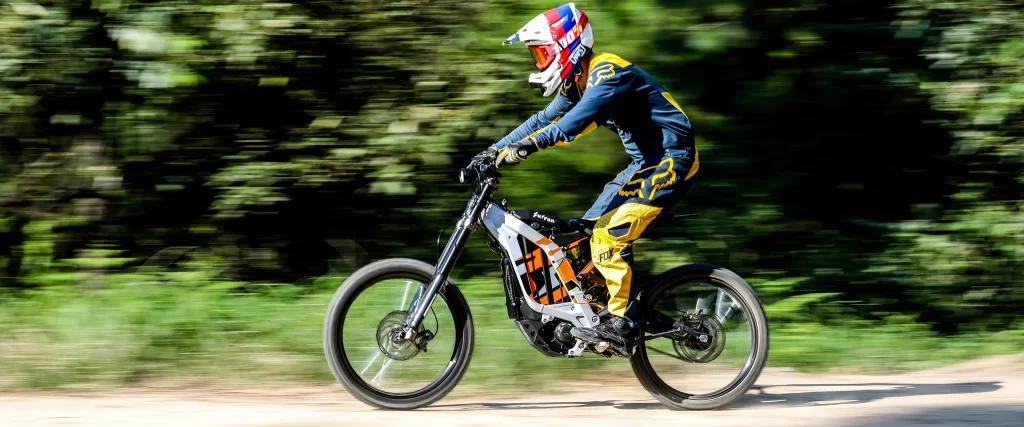 High Discharge Fun
This cutting-edge, top-tier, futuristic, and performance-inspired electric motorbike is built with technologies that will make your commute safer, easier, and more enjoyable to ride. The Sur Ron X boasts a 6000W PMSM motor, an X Version Sine Wave controller, and a 60V 1920WH Panasonic Lithium cell battery pack.
Together, these components enable the bike to transport riders for over 60 miles of enjoyable long-range riding.
Sine wave controllers are the newest controllers for brushless motors; they smooth out many of the rough edges of the old school "square wave" controllers, resulting in 30% less noise than the stock controller!
You will notice a far more refined throttle response off the line.
Digitally controlled, and programmable Sine Wave controllers result in a significantly smoother and more predictable power curve over the entire spectrum of operations.
In addition to the enhanced driving characteristics, this controller produces roughly 20% greater torque.
Fully loaded with everything you need
The 110-pound X is also packed with amenities, including a noteworthy No. 6061 T4 & T6 aluminum alloy chassis, mountain bike handlebars, upgraded control modules, headlights/taillights, electric horn, four-piston braking system, and full suspension (inverted fork/DNM TR link) system.
The performance, battery capacity, features, and chassis of the $4,350 motorbike are highly noteworthy. Also, please indicate in the "comment area" below whether you believe these features are worth $4,350.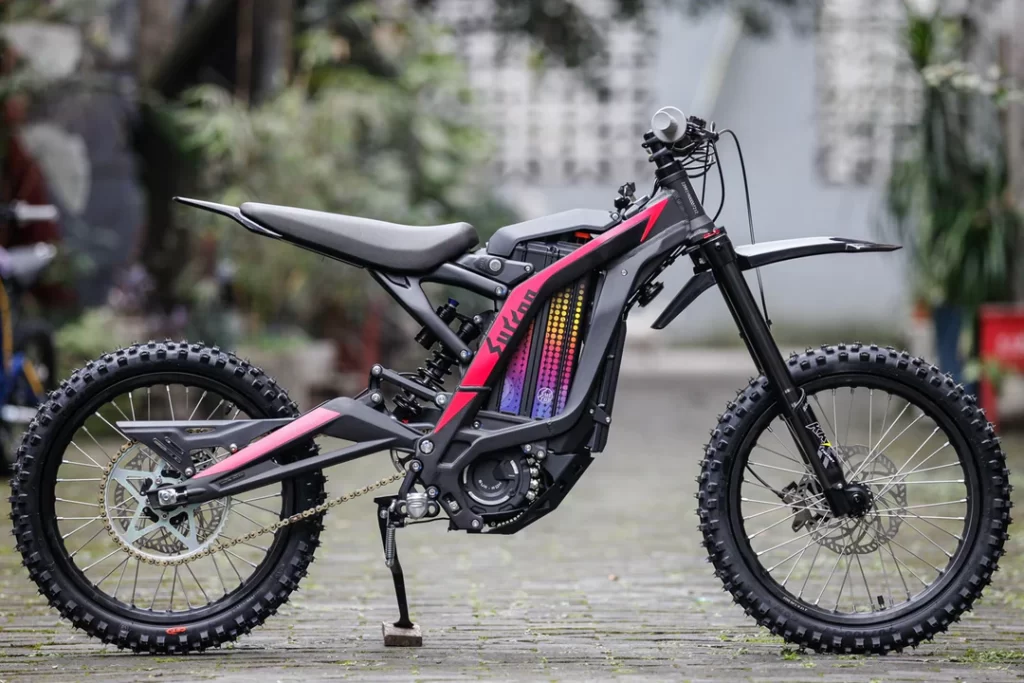 MOTOR
Motor Type: PMSM
Mounting Position: Mid
Weight / Motor External Diameter: 7.0kg / 180mm
Motor Axial Length: 130mm
Peak Efficiency: 95.60%
Cooling Method: Air-Cooled
CONTROLLER
Controller Type: X Version Sine Wave
Dimensions: 240mm x 110mm x 50mm
Peak Efficiency: 98.50%
Power Modes: Eco and Sport
MOTOR POWER SYSTEM
Rated Voltage: 60V (DC)
Rated Power / Peak Power: 3000W / 6000W
Rated Torque / Peak Torque: 10.2Nm / 39.00Nm
Motor Shaft Output Torque @ 1000RPM: 35.40Nm
Rated Rotation Speed: 4300rpm
Peak Efficiency: 97.8%
Range of Efficiency (≥80): 1.4Nm – 21.5Nm
Fully Featured
High Performance Electric Motorbike $4,350, 110 lbs, +47 mph, 60 miles range
A lithium-ion battery pack that can be removed from the Light Bee X provides power at a voltage of 60V. The overall weight, including all of the components, comes in at just 100 lbs, and this is made possible by a frame made of forged, lightweight aluminum.
The front and rear wheels are equipped with 4-piston hydraulic disc brakes.
TRANSMISSION
Gear Ratio: 1:7.6
Transmission: Primary Belt & 420 Drive Chain
Belt Brand & Model: German Continental Brand, 8M CXA
ELECTRICAL COMPONENTS
Horn: European Standard Horn
Battery: 60V 32AH Lithium Battery with 176 Panasonic Cells
Battery Life Time: 500 Cycles (and then the capacity reduces step by step)
Battery Charge Level: Integrated Battery LCD Display
Charger: 10A
Charging Time: 2.5-3.5 Hours
USB Connection: USB-2.1 A Single Socket
Speedometer: LCD Digital Speedometer
LED Headlight & Rear Light: Yes
Fully Capable
The LCD is attached to the handlebars, and a USB charger is placed in a handy location directly in front of the rider. The Light Bee X provides hours of nearly quiet enjoyment with its capacity to scale inclines of up to 45 degrees, a range of up to 60 miles, and a short charging period of between 2.5 and 3.5 hours.
FRAME DETAILS
Chassis – Swing Arm Material: No. 6061 T4 & T6 Aluminium Alloy
Chassis Construction Method: Forged by 6000 Tons of Pressure
Chassis Surface & Colour Processing: Anodic Oxidation
Front Suspension: Inverted Suspension Fork with 8″ Travel
Rear Shock Absorber: DNM TR Suspension Link System
Wheel Type & Size: Spoke Wheels, Front/Rear 19 x 1.4 Alloy Hubs
Tire Size: Front/Rear 70/100-19 CST
Top Speed: 47 MPH 73KMH Varies depending upon load and gearing
Net Weight: 47kg plus battery
Max Load: 100kg (15.75 Stone)
Max Climb: 45°
Rear Sprocket: 48T
Side Stand: Yes with kill switch
Vehicle Dimensions: 1870mm x 780mm x 1040mm
Min. Ground Clearance: 270mm
Wheelbase: 1260mm
Seat Height: 84 to 88cm
Best Electric Unicycles
Disclaimer: The information presented in this article is derived from extensive research, user reviews, and publicly available information. Our aim is to provide accurate and up-to-date content; however, it is crucial to understand that the opinions expressed are based on the information available at the time of writing. We strongly encourage readers to conduct their own thorough research and carefully evaluate their individual needs before making any purchasing decisions.
eWheels 2023 Summer Deals and New Launches are here!!!
Cheap, reliable, and powerful! TurboAnt Electric Scooters 2023 Sale!
Hi guys! This post may contain affiliate links, sponsored content, and advertisements. We get a small commission for covering topics that interest us (helps us keep the doors open). For more information, please see our privacy policy and disclaimer. Ride safe yall!
2023 Electric Unicycles:
Coupons & Deals:
Apollo Scooters: Get $50 USD worth of free accessories, upgrades, or spare parts with the purchase of a scooter. Code: VROOOMIN
REV Rides: Save $50 off Scooters and EUC's, Code: VROOOMIN
EVOLV Electric Scooters: Free Folding Lock (worth C$80) for every EVOLV model! Use Code: VROOOMIN-LOCK
To keep the site running and information flowing, Vrooomin.com participates in affiliate linking programs. We're also an Amazon Associate, which means we get paid for referring people to Amazon. Please support the channel by clicking on our links.