Juiced Bikes $2,000 HyperScorpion Electric Moped
Everything you need in an E-bike
Looking for a new ride that can reach 30 mph and range of up to 70 miles? The stunning HyperScorpion Electric Moped Motorbike is excellent for you. This 102-pound 1.8KW electric motorbike is a strong, comfortable, and stylish electric moped that will get you to work in style.
The complete ride
The HyperScorpion features a 52V high-discharge battery pack and a 35A controller for exceptional and dependable cruising speeds. The fast and vintage-designed bike is also equipped with hydraulic brakes, 20×4.25 fat tires, a horn, and headlights to complete your ride.
The HyperScorpion is a complete ride. It has all the features and performance that all moped e-bikes should strive for. The package is hard to beat, giving models from SUPER73 a run for their money. Let's take a closer look at the HyperScorpion to discover why it's the bike you've been looking for.
Powerful Motor
+30 MPH high speed cruising
The strong 1,000-Watt RetroBlade engine in the HyperScorpion was made to work perfectly with the bike for a fantastic ride while reducing wear and tear. With this strong engine, you can go faster than +30 mph. The Retroblade motor is unique to Juiced Bikes and was produced by Bafang.
It has a strong class 3 punch and keeps pulling at high speeds. The retro design of the blade is a nod to the first mopeds, and the frame is made of cast aluminum and has very little maintenance.
Price: $2,000
Motor: 1,000W RetroBlade (1,800W Peak)
Battery: 52V/15.6Ah or 19.2Ah
Controller: 35 Amp Peak
Throttle: Twist Throttle
Display: Advanced Matrix LCD Display
USB: 1A USB Port for Phone Charging
Charger: Standard 2 Amp Charger
Turn Signal: Front and Rear LED Turn Signals
Brake Light: Integrated Brake Light
Pedal Assist: Torque and Cadence Sensors
Battery Pack
Extended range for long rides
A bigger battery gives you more power and a longer range. The 52V 15.6Ah or 19.2Ah battery, which has a power output of 994 watt-hours, is one of the highest capacity removable down tube battery packs on the market. The HyperScorpion's battery is a one-of-a-kind monster designed to support top speeds.
Range: 50-70+ Mile Range
Speed: 30+ MPH
Bike Weight: 102lbs(90lbs w/o battery)
Weight Capacity: 275lbs
Pedal Sensors: Torque and Cadence Sensors
Suspension: Dual suspension with adjustable lockout
Tires: 20″x4.25″ Puncture Resistant Tires
Transmission: 8 Speed Cassette
Extras: Rack, Fenders, Mirrors, & USB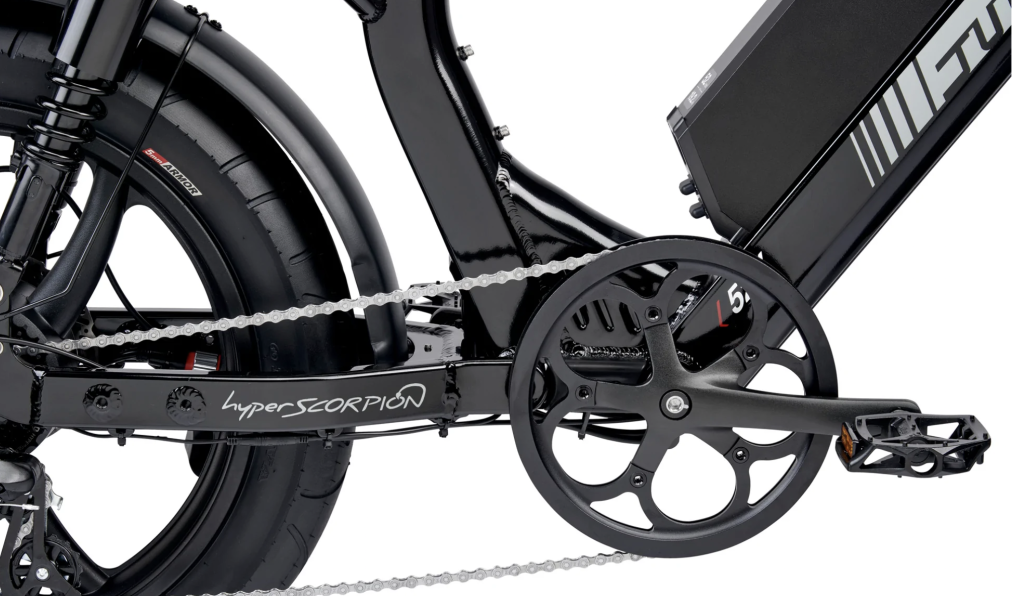 Torque
Crank it up!
The most advanced pedal sensor technology helps the rider with torque and cadence. This dual-sensor technology measures how hard you push on the pedals 1,000 times per second and gives you the right amount of power. Juiced also uses a high-definition cadence sensor that sends more than 100 signals for every turn of the crank. With this level of sensitivity, the delay that you feel with traditional 12-magnet cadence sensors is almost gone. A torque sensor measures how hard you pedal, while a cadence sensor measures how much energy you put out.
Full Suspension
Plush and easy riding
The adjustable dual suspension takes the bumps in the road in stride, making riding an e-bike a more pleasant experience. Unlike most e-bikes, the HyperScorpion has both front and rear suspension, which makes it incredibly comfortable to ride on any terrain or road condition.
Display and Control
Easy to use
The back-lit LCD can be seen at any time of day and offers a broad range of trip tracking options. It has advanced real-time metrics and adjustable parameters. The elevated features of a Juiced Bikes display allow for much customization. For instance, the ECO mode makes it easy to pedal and conserves battery life, while the Sport and Race modes let you ride fast. Everything can be set up on the LCD screen! Find out everything you need to know about your trip.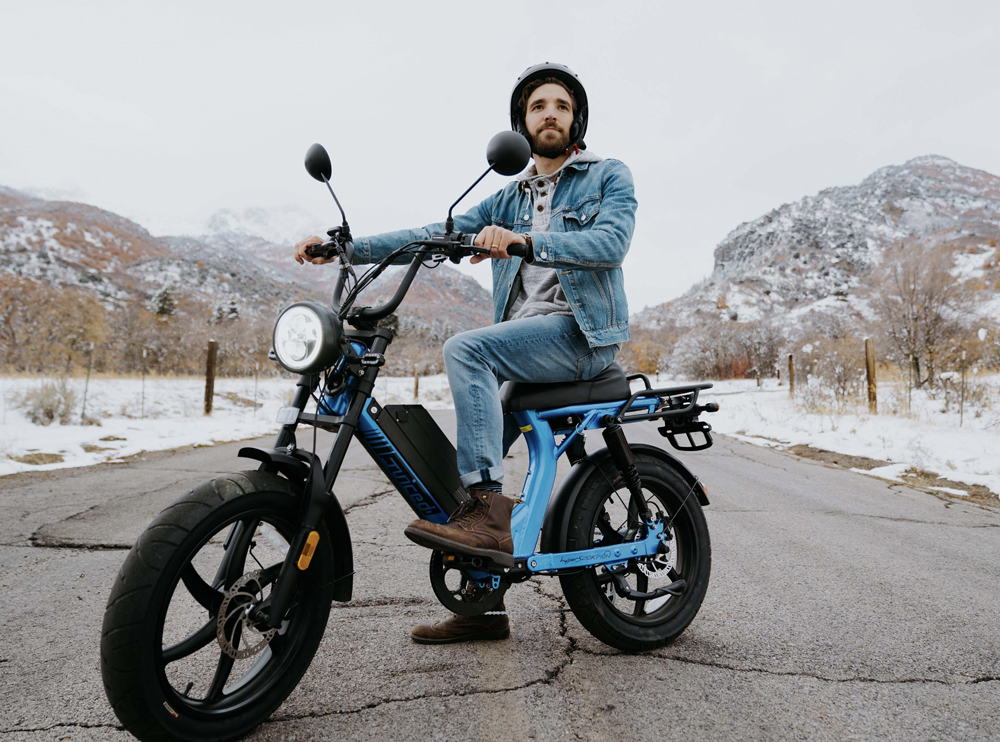 Frame: Aluminum, Heat-Treated Step-Through
Brakes: Hydraulic Disc Brakes
Wheels: Custom Cast Aluminum 'Mag'
Tires: 20″x4.25″ Puncture Resistant Tires
Horn: Integrated Motorcycle Horn
Headlight: 2,000 Lumen Headlamp w/ Halo
Tail Light: LED w/Brake Light & Turn Signal
Saddle: Comfortable, oversized saddle
Mirrors: Right and Left Safety Mirrors
Rack: Includes 50 lb. capacity
Fenders: Front and Rear Fenders Included
Fork: Triple-Clamp Hydraulic Lockout
Rear Suspension: Steel Spring
Chain Ring: Pro Wheel 56T | 170mm Crank
Pedals: Platform Pedals
Lighting and Signals
See and be seen!
The upgraded and stylish moto-style headlight makes it easy to see at night, making riding safer and giving you more confidence. The 2,000-lumen light also has a daytime running halo light that performs for daily and dusk rides. This feature is just what you need to have the safest e-bike rides of your life on a powerful E-bike.
Stay safe with built-in turn signals and brake lights that let other cars know what you're doing and where you're going. This premium upgrade is only available on Juiced Bikes Hyper e-bikes. Most bikes don't have these lights. When you use your turn signals and brake lights, other drivers will know what you plan to do next.
Braking Power
Ride fast, stop fast
With the HyperScorpion hydraulic disc brakes, the rider only needs to use half as much force to control as mechanical brakes. This gives the best pad modulation against the rotor because the fluid is not compressible like cable wire.
Because an e-bike goes faster and has more power, it needs much more stopping power. In the end, hydraulic brakes make riding safer and more enjoyable. Whether in the city or the country, you need brakes that work well to stop on a dime.
Horn
Be heard!
With the extra loud horn, it's easy to get the attention of drivers who aren't paying close attention, which makes streets and roads safe and secure. The built-in alarm system also works to keep your e-bike safe and stop it from being stolen. When riding your top-speed hyper bike, you'll feel better knowing you have everything you need to be heard.
USB Power
Charge it up
A USB port is built into the handlebar so you can keep charging your devices. The 52-volt main battery is a handy source of power. It's the simplest way to keep going strong as you move forward.
Add On's
Extra goodies
Every HyperScorpion e-bike comes with an enhanced rear RelayRack and fender set. RelayRack integrates with the cargo platform to allow rack attachments to be quickly and easily installed. Secondly, whether riding on or off-road, the updated fender kit keeps you and the HyperScorpion looking clean and beautiful. It will be simple to store everything you need for your next fast e-bike excursion.
Packaging
It'll be alright!
Revolutionary NEW fully cushioned shipping materials are designed to protect your new e-bike from the warehouse to your front door. Designed to give your e-bike the best possible protection during shipping, these custom padding materials preserve every part of your bike, giving you peace of mind. You can be sure your e-bike won't become damaged while moving or on the way to its new home.
Worth it?
This bike has almost everything you need for about $2,000! With the HyperScroption, you get the performance, chassis, battery pack, and all the extra features. The Juiced Bikes team did a good job, the HyperScorpion franchise is a work of art, and this bike would be an excellent choice for adults who want to have fun and save money.
Best Electric Unicycles
Disclaimer: The information presented in this article is derived from extensive research, user reviews, and publicly available information. Our aim is to provide accurate and up-to-date content; however, it is crucial to understand that the opinions expressed are based on the information available at the time of writing. We strongly encourage readers to conduct their own thorough research and carefully evaluate their individual needs before making any purchasing decisions.
eWheels 2023 Summer Deals and New Launches are here!!!
Cheap, reliable, and powerful! TurboAnt Electric Scooters 2023 Sale!
Hi guys! This post may contain affiliate links, sponsored content, and advertisements. We get a small commission for covering topics that interest us (helps us keep the doors open). For more information, please see our privacy policy and disclaimer. Ride safe yall!
2023 Electric Unicycles:
Coupons & Deals:
Apollo Scooters: Get $50 USD worth of free accessories, upgrades, or spare parts with the purchase of a scooter. Code: VROOOMIN
REV Rides: Save $50 off Scooters and EUC's, Code: VROOOMIN
EVOLV Electric Scooters: Free Folding Lock (worth C$80) for every EVOLV model! Use Code: VROOOMIN-LOCK
To keep the site running and information flowing, Vrooomin.com participates in affiliate linking programs. We're also an Amazon Associate, which means we get paid for referring people to Amazon. Please support the channel by clicking on our links.