$2,995 SUPER73 S2 Electric Motorbikes
Best 28 MPH Bike on the market?
The Super73 is a stunning motorbike that everyone covets. Everything about this bike, from its door stem handlebars, white grip, and large headlights to its parallelogram chassis, makes it stand out. One thing to keep in mind is that it costs $3,000. That was a gut punch.
You can have it all: the fat tires, the mudguard, and the badass look and feel of a rider cruising down the street on an all-black electric moped. It doesn't have to be black. Obsidian, bone white, flannel green, and arctic white are the current colorway available on this high-performance super73 S2.
Performance Modes
Multi-Class Ride Modes | Each bike comes pre-programmed in the Class-2 mode, which allows for throttle operation and pedal-assist riding up to 20mph. Plus, access Class-1, and Class-3, and unlock Off-Road mode to reach up to 28mph.
Removable Battery | Easily charge at home or work with any standard 110v outlet.
Range | 40+ miles* of range at 20mph under Class-2 throttle-only operation; 75+ miles* of range using Class-1 pedal-assist mode.
Motor | The internally geared brushless DC hub motor can output up to 2000 watts of peak power.
Super73 is billing this S2 as the iconic urban cruiser, a high-performance electric motorbike designed for the urban adventurer, with an aircraft-grade aluminum alloy frame and a fully adjustable air spring suspension fork. How about that? With the S2, you can legally ride without a license, insurance, or registration.
There will be no trips to the DMV. That is a significant selling point. The S2 has a motor class ride mode that turns the spike into a Class-1, Class-2, or even Class-3 E-bike.
Features & Comforts
Colorways: Bone White, Obsidian & Flannel Green | Experience the S2 in an entirely new color palette.
Front Suspension | Inverted coil-spring fork with air assist and preload, compression, and rebound adjustments.
Integrated LED Lights | Comes with brake light and a circular headlight.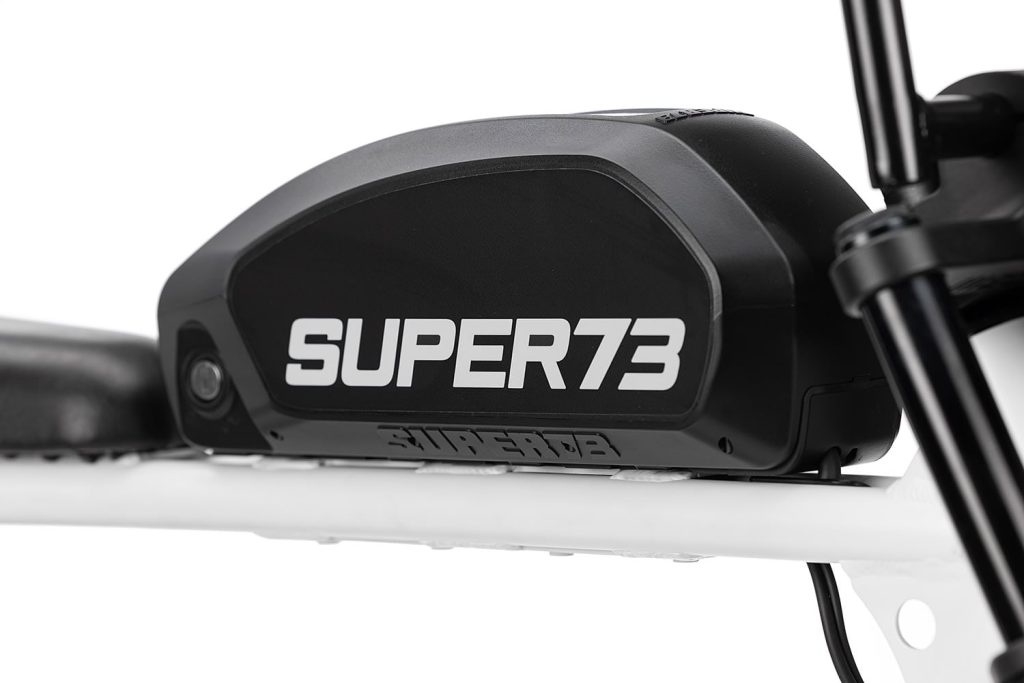 You can reach speeds of up to 28 mph! That's fast. That's bone-chillingly swift. The Super73 S2 has a riding range of up to 40 miles in class 2 mode and a range of 75 miles or more in class 1 pedal assist mode. No trip to the gas pump with this bike; charge it home.
The BDGR is the first tire that blends motorcycle and bicycle tire construction methods to meet the needs of this revolutionary vehicle. Improve traction, reduce road noise, and increase stability for both on-road and light-duty off-road riding.
The drivetrain is powered by an internally geared brushless DC hub motor with a peak power output of 2000W! That's a lot of clout. Depending on your weight, it could quickly get you to 25 to 28 mph. Something about the bike is easy to see but hard to put words to.
The moto-style tires, frame beat, components, and intelligent display contribute to this beautiful, well-oiled, well-built electric bike. When you see a super73 on the street, you'll know what it is.
Mobile App
Download the App | Unlock all of Super73's e-bike features and receive over-the-air updates.
Navigation | The app provides turn-by-turn navigation on the Smart Display and your mobile device.
View Settings | Easily change between pedal assist modes and view your current speed, remaining battery range, and more.
There's no denying it
And if you don't know what it is, don't worry because the bike owner will tell you. OK, when it's all said and done, this bike is a73-pound, 28-mph, 960-watt hour electric motorbike.
It has a stunning frame, tires, tetra hydraulic brakes, and a massive air spring fork suspension. This is a hardtail motorbike. This bike is a step down from the highly sought-after Super73 RX, but don't be fooled by the low price. The cycle is a beautiful, high-performance street cruiser.
Would you pay $3,000 for a super73 S2? I think it's worth every single penny. If you want something a little more, consider a super73 RX. That set of wheels has a full suspension system and even more advanced features.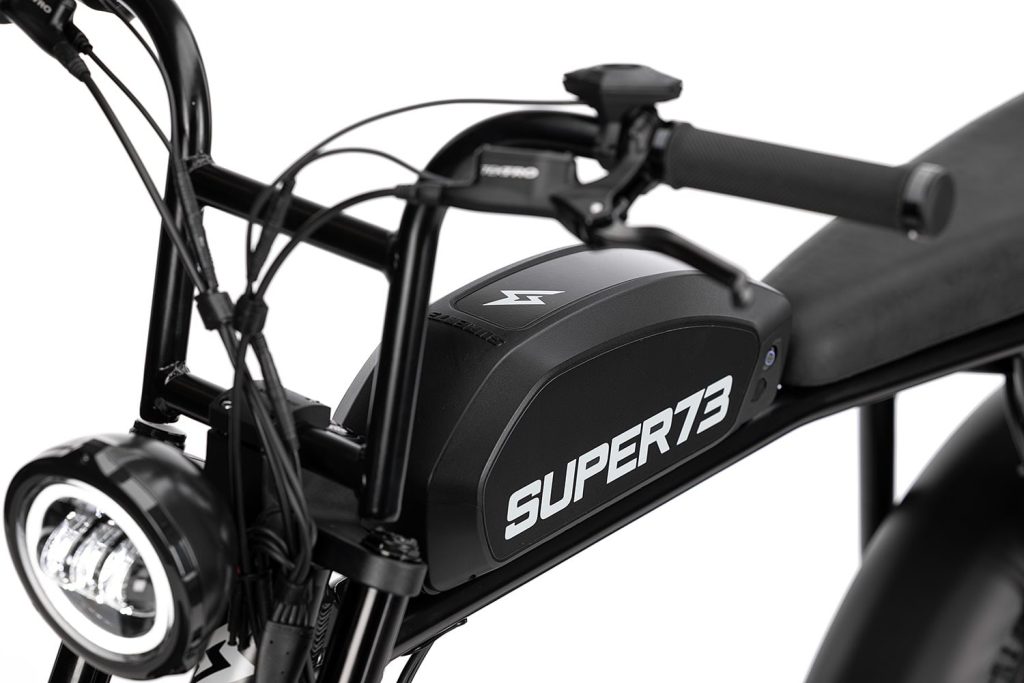 Technical Specs
FRAME: 6061 / 7005 Aluminum Alloy, 1-1/8″ to 1.5″ tapered head tube
COLOR(S): Apollo White, Hudson Blue, Galaxy Black, Obsidian, Flannel Green, Bone White
MOTOR: Off-Road Mode Output: 1200 watts nominal / 2000* watt peak
TOP SPEED: Off-Road Mode: 28mph +
BATTERY: 960 watt-hours, 21700 cells
WEIGHT: 73 lbs
FRONT HUB: 9 x 135mm, steel axle
RIMS:20″ x 100mm alloy with lightening cutouts
TIRES: Front: 20 x 4.5″ / Rear: 20″ x 5″ BDGR All-Terrain
INNER TUBES: 20″ x 4.5-5″, angled valve stem
BRAKES: Tektro Hydraulic, 2-piston forged aluminum caliper, 180mm front, and rear rotors
SUSPENSION: Air Spring Fork with adjustable Pre-load, Compression, and Rebound damping, 120mm travel, 32mm stanchion
DISPLAY: Transflective Monochrome LCD + Mobile Device
IOS + ANDROID COMPATIBLE: Yes
HEADLIGHT: High output triple LED Halo
TAIL LIGHT: LED
HORN: Optional accessory sold separately
CHARGER: 3A (6-7 hour charge time) / Optional: 5A (3-4 hour charge time)
THROTTLE: Thumb throttle
PEDAL ASSIST: 4 modes (ECO, TOUR, SPORT, SUPER)
BOTTOM BRACKET: 120mm sealed bearing, square taper
CRANK / FRONT CHAIN RING: 125mm alloy crank arms, 36T chainring / Optional: 44T chainring for 10-speed gearing
GEARING: Optional accessory sold separately.
Other colorways: Apollo White, Hudson Blue, Galaxy Black
Gears: Single-speed 16T rear cog /10 speed gearing (11-36T)
For colorways: Obsidian, Flannel Green, Bone White
Single-speed 16T rear cog /10 speed gearing (11-34T)
REAR DERAILLEUR: Optional accessory sold separately: Single-speed fixed gear/ 10 speed
PASSENGER FOOT PEGS: Optional accessory sold separately
SEAT HEIGHT: 31″
WEIGHT LIMIT: 325lbs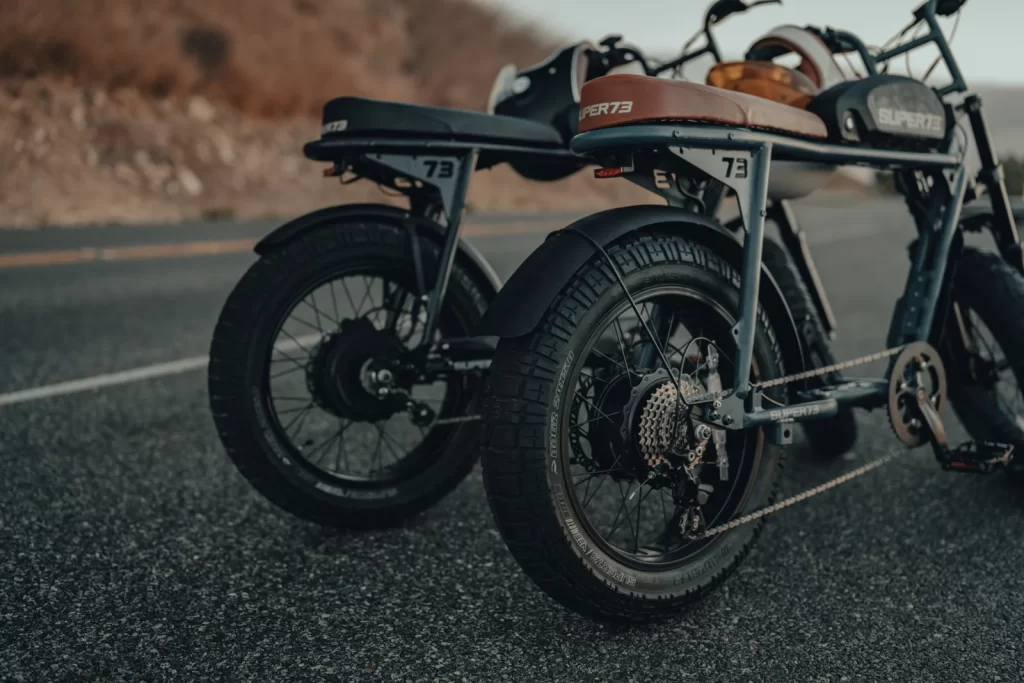 Best Electric Unicycles
Disclaimer: The information presented in this article is derived from extensive research, user reviews, and publicly available information. Our aim is to provide accurate and up-to-date content; however, it is crucial to understand that the opinions expressed are based on the information available at the time of writing. We strongly encourage readers to conduct their own thorough research and carefully evaluate their individual needs before making any purchasing decisions.
eWheels 2023 Summer Deals and New Launches are here!!!
Cheap, reliable, and powerful! TurboAnt Electric Scooters 2023 Sale!
Hi guys! This post may contain affiliate links, sponsored content, and advertisements. We get a small commission for covering topics that interest us (helps us keep the doors open). For more information, please see our privacy policy and disclaimer. Ride safe yall!
2023 Electric Unicycles:
Coupons & Deals:
Apollo Scooters: Get $50 USD worth of free accessories, upgrades, or spare parts with the purchase of a scooter. Code: VROOOMIN
REV Rides: Save $50 off Scooters and EUC's, Code: VROOOMIN
EVOLV Electric Scooters: Free Folding Lock (worth C$80) for every EVOLV model! Use Code: VROOOMIN-LOCK
To keep the site running and information flowing, Vrooomin.com participates in affiliate linking programs. We're also an Amazon Associate, which means we get paid for referring people to Amazon. Please support the channel by clicking on our links.