Hiboy Launches the DK1, 15 MPH Dirt Bike for Kids 3-10
The DK1 is a lightweight, 38-pound electric motorbike with a top speed of 15.5 mph! This toddler starter bike is powered by a 36V 4AH lithium battery with a range of 13 miles per charge.
Could you see your child riding this bike to school? There won't be any carpooling! We're kidding, of course. Despite having a 300W motor that can generate a lot of heat, this bike can easily climb a 10-degree slope.
Top Speed: 15 mph
Max Range: 13 miles
Battery: 34V 4Ah Lithium
Weight: 38 lbs
Max Load: 140 lbs
Brakes: Disc Brake
Charge Time: 5 hours
Colors: Red and Blue
Features
This bike's maximum load is 140 lbs., which is roughly the weight of a light adult. Not bad at all! It also features three speeds for riders to pick from and disc brakes to stop them on a dime. It also comes equipped with a high-strength shock-absorbing spring, which has a super shock-absorbing capacity and makes no noise while driving!
We all want to be as comfortable as possible while moving, and your children are no exception! This bike should provide incredible performance with 3-speed modes and up to 13.7 miles of range with a rechargeable 42V lithium battery system.
Not only that, but it only takes 4-5 hours to charge fully! What do you think, is it too early or too soon? Would you have liked this bike as a kid? Please share your thoughts in the comments section.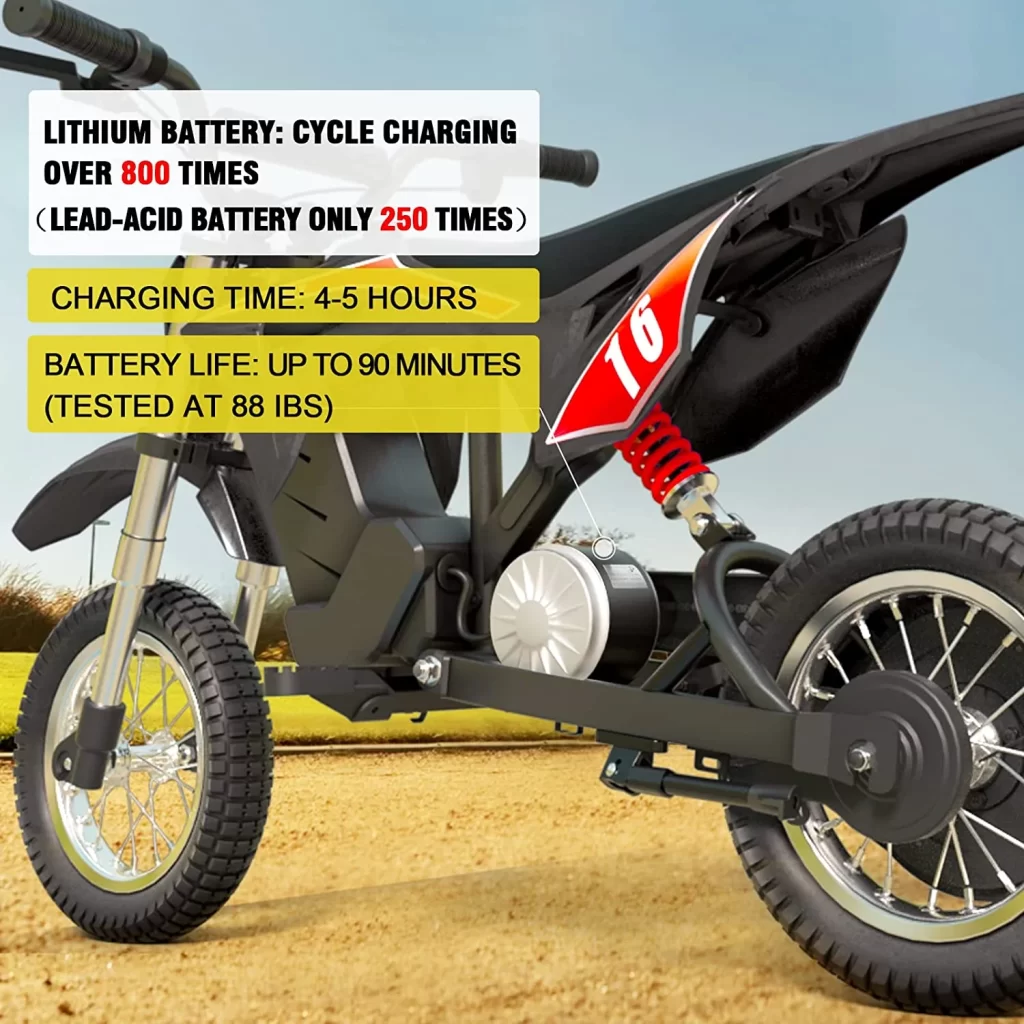 Technical Specs:
MODEL: DK1
Size: 46.3 × 9.5 × 25.1 inch
Battery Capacity: 36V/4AH, Lithium Battery
Max Distance: 13.7miles
Product Weight: 38 lb (17 kg)
Recommended Age: 3 ~ 10 years old
Motor: 300W
Speed: 15.5 mph (25km/h)
Max Climbing Capability: 10°
Max Load: 140 lbs / 64 kg
Speed Mode: 3 gear (25km/h->12km/h->8km/h)
Brake System: Disc brake
Charger Time: 4-5 hours
IP Rating: IPX4
SUPER SHOCKPROOF PERFORMANCE
Equipped with a high-strength spring that absorbs shocks very well and doesn't make any noise while driving. Don't worry about bothering your neighbors with noise.
SAFE SPEED MODES
There are three safe speeds for the dirt bike, you can use any speed you want to get the most out of your ride.
Low: 5.0 mph (8 km/h)
Medium: 7.5 mph (12 km/h)
High: 15.5 mph (25 km/h)
DURABLE & STRONG
With a maximum rider weight of 140 pounds, this electric dirt bike is made for kids ages 3 to 10 and has the same geometry as a genuine dirt bike.
DK1 Technical Features
300W Powerful Motor – With a 300W motor, you can go up to 13.7 miles, go up to 15.5 MPH, and climb a 10% grade hill.
Rear Shock Absorber – High-strength shock springs are built into the body. Give the driver the most comfortable ride possible.
Power Display – A more powerful electric bike with a power display. You can always keep track of what you know about the battery.
Long Range Battery – If you have a 36V/4AH lithium battery, you can charge it more than 800 times (ordinary lead-acid batteries are only 250 times).
Front hydraulic shock – A hydraulic shock is built into the front fork. Give children a better experience and make sure they are safe.
Off-road Conqueror – Large aero knobby tires offer the most support and performance for rough terrain.
Best Cheap Electric Scooters:
Disclaimer: The information presented in this article is derived from extensive research, user reviews, and publicly available information. Our aim is to provide accurate and up-to-date content; however, it is crucial to understand that the opinions expressed are based on the information available at the time of writing. We strongly encourage readers to conduct their own thorough research and carefully evaluate their individual needs before making any purchasing decisions.
eWheels 2023 Summer Deals and New Launches are here!!!
Cheap, reliable, and powerful! TurboAnt Electric Scooters 2023 Sale!
Hi guys! This post may contain affiliate links, sponsored content, and advertisements. We get a small commission for covering topics that interest us (helps us keep the doors open). For more information, please see our privacy policy and disclaimer. Ride safe yall!
2023 Electric Unicycles:
Coupons & Deals:
Apollo Scooters: Get $50 USD worth of free accessories, upgrades, or spare parts with the purchase of a scooter. Code: VROOOMIN
REV Rides: Save $50 off Scooters and EUC's, Code: VROOOMIN
EVOLV Electric Scooters: Free Folding Lock (worth C$80) for every EVOLV model! Use Code: VROOOMIN-LOCK
To keep the site running and information flowing, Vrooomin.com participates in affiliate linking programs. We're also an Amazon Associate, which means we get paid for referring people to Amazon. Please support the channel by clicking on our links.