Designed for Adventures
Dual suspension, dual motor, dual battery.
Over a decade, Ariel Rider has earned a reputation for producing some of the best quality and most affordable motorbikes on the market. With the release of the Grizzly, Ariel has gone one step further by releasing this dual-motor brute with the adventurer in mind. Building off the success of the dual motor controllers found on the Ariel D-class, riders can also choose a rear-wheel drive, front-wheel drive, or all-wheel drive on their daily adventures.
52V 35Ah All wheel drive, Full Suspension, 2 batteries
Ariel has doubled the battery capacity of the Grizzly to alleviate the dreaded range anxiety experienced by many other e-bikes in its $3,000 motorbike category. Along with its up-to-date full suspension frame and puncture-resistant tires, the Grizzly's design and performance make it an ideal match for any adventurer seeking the right vehicle to carry them on and off the road.
Power: 2 x 1000W Geared Hub Motors
Range: Up to 75+ Miles per Charge
Battery Pack: 52V, 35Ah 2 Li-ion battery
Frame: Full suspension
Colors: Red, Blue, Yellow
52V 35AH Drivetrain System
While most e-bike manufacturers provide a 48V drivetrain system, high-voltage enthusiasts prefer a 52V system. With the Grizzly's 52V system, riders may anticipate a top speed of 36 mph and more speed, acceleration, efficiency, and a more extended range than competing 48V bikes. The stated capacity of the Grizzly is greater than 75 miles per charge.
Full Suspension
Built for off-road excursions, the Grizzly offers some comfortable features to prevent saddle sores on lengthy rides. The suspension system features wider, fatter tires, a front suspension fork, and a rear suspension suited for motocross. The CNC-machined rear suspension provides improved handling support and rebound adjustability.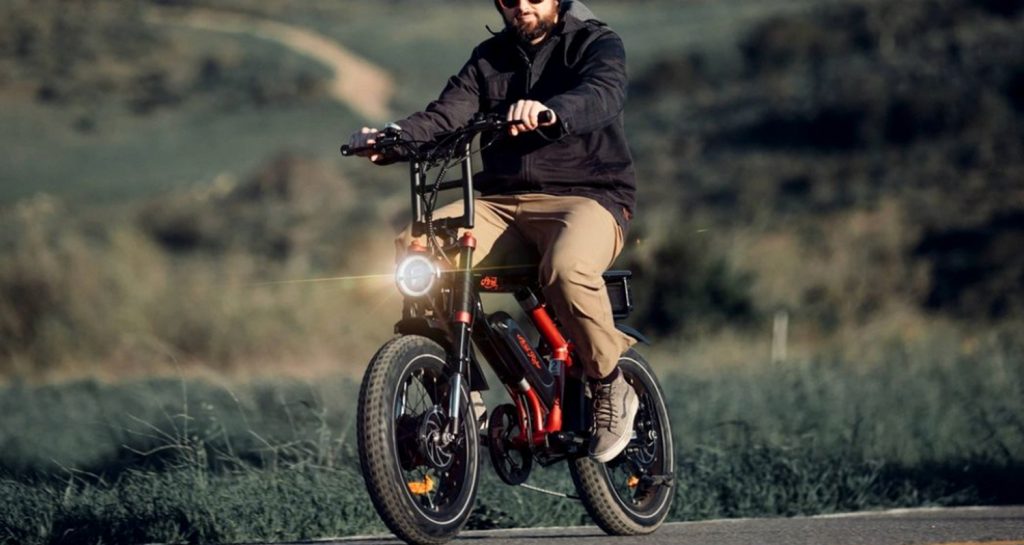 Tandem Riding
The Grizzly additionally has an optional saddle that may accommodate a second passenger. Riders are recommended to purchase foot pegs to ensure the safety of their passengers.
The Grizzly is fitted with a retro-style, huge headlamp to provide the look and feel of a motorcycle. The 2W lamp's 80 lux lumination gives it an intense spotlight compared to its rivals. Additionally, the light has a daylight setting for low-beam applications.
1000W Dual Motors
The Grizzly's traction may be altered at the push of a button, regardless of whether you're using a single or twin motor. The acceleration off the line results from a peak motor power output of 1,850W each (3.7KW total), allowing riders to keep up with traffic if necessary.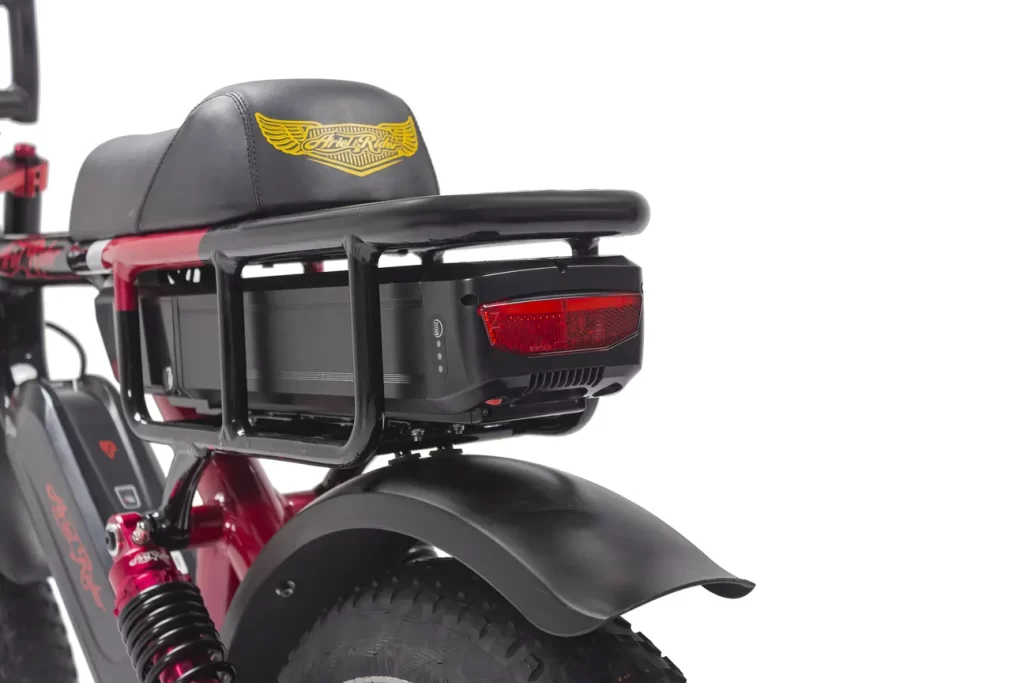 Large Capacity 35AH Battery Pack
Ariel has equipped the Grizzly with premium Samsung and LG batteries. Each pack is rated at 20AH and 15AH, for a total parallel capacity of 35AH.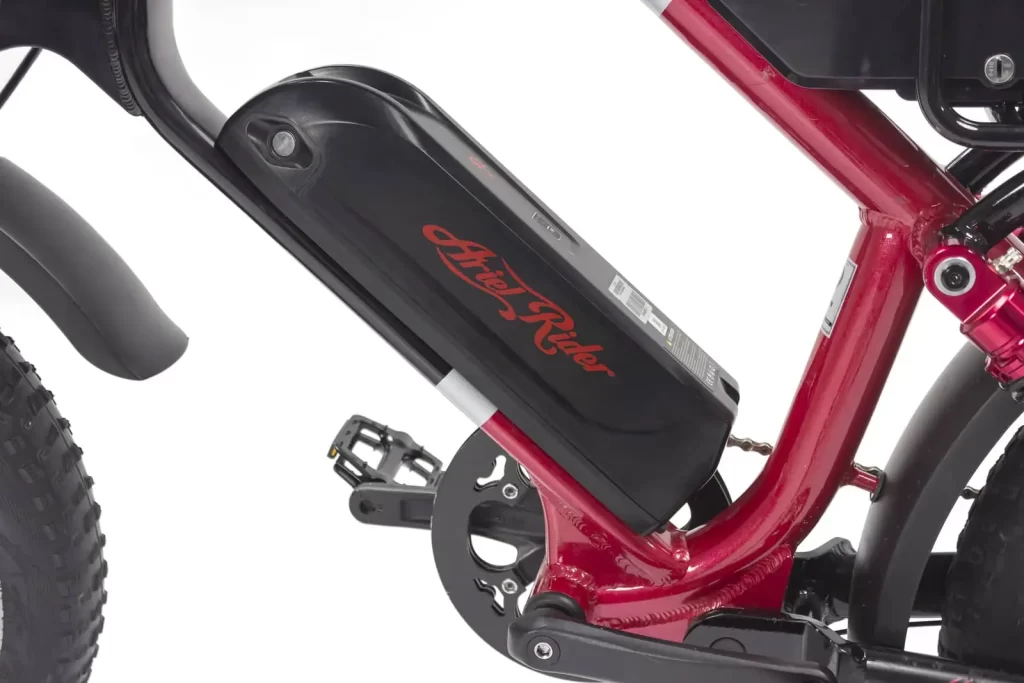 Puncture Resistant Tires
Flat tires are unpleasant, but the Grizzly's improved tires reduce the likelihood of getting a flat and keep you safe on the road.
Full Hydraulic Disk Brake system
You'll need effective brakes to ensure your safety when you're having fun and riding quickly. The Grizzly is fitted with Tektro Hydraulic brakes that are effective under extreme situations.
Technical Specs
Top Speed: 36 MPH
Battery: 52V, 20Ah and 52V 15AH dual batteries with Lithium Samsung/LG cells, rated for 800 charge cycles,
Power: 1000W Brushless custom Bafang hub motors,
Range: 35-75 MilesCharger: 2 x 52V, 4A Smart Charger, operates on 100V-240V AC power outlets,
Lights: Front: Motorcycle style bright headlight, Rear: Integrated taillight with brake light mode.
Throttle: Half twist throttle
Controllers: 52V, 1000W / each
Pedal Assist: 5 Level Pedal assist with low profile cadence sensor.
Display: Backlit colored LED display with easy diagnostics feature and light sensor.
Wiring: Water-resistant connectors and wiring harness
Best Electric Unicycles
Disclaimer: The information presented in this article is derived from extensive research, user reviews, and publicly available information. Our aim is to provide accurate and up-to-date content; however, it is crucial to understand that the opinions expressed are based on the information available at the time of writing. We strongly encourage readers to conduct their own thorough research and carefully evaluate their individual needs before making any purchasing decisions.
eWheels 2023 Summer Deals and New Launches are here!!!
Cheap, reliable, and powerful! TurboAnt Electric Scooters 2023 Sale!
Hi guys! This post may contain affiliate links, sponsored content, and advertisements. We get a small commission for covering topics that interest us (helps us keep the doors open). For more information, please see our privacy policy and disclaimer. Ride safe yall!
2023 Electric Unicycles:
Coupons & Deals:
Apollo Scooters: Get $50 USD worth of free accessories, upgrades, or spare parts with the purchase of a scooter. Code: VROOOMIN
REV Rides: Save $50 off Scooters and EUC's, Code: VROOOMIN
EVOLV Electric Scooters: Free Folding Lock (worth C$80) for every EVOLV model! Use Code: VROOOMIN-LOCK
To keep the site running and information flowing, Vrooomin.com participates in affiliate linking programs. We're also an Amazon Associate, which means we get paid for referring people to Amazon. Please support the channel by clicking on our links.