Getting Dunks
It's a cold early morning, my eyes groggy, my back tingly, but after my first sip, I'm coming to light. While I sip good old 100% Arabica beans, I like good-tasting, fair-priced coffee. I also enjoy the finer things, pricier things, even things like the Blue tang, a new colorway by SUPER73. Cheap coffee, expensive bikes, who could ask for more?
Pulling throttles
If you're searching for a wicked +30 mph electric bike, the SUPER 73 R series will blow you away. The SUPER73 team has launched three new colorways: Dark Earth, Blue Tang, and Obsidian, leaving the PEV community in awe.
Took them long enough
Any rider seeking an all-black, electric blue, and dark neutral chassis for their next upgrade will find the hues aesthetically pleasing. Are the colorways enough? The RX is a complete bike with many extra features to invest your dollars well, and the geometry and performance make any jaw drop. Let's remind ourselves although it looks like a dirt bike; it's still technically a class-3 e-bike.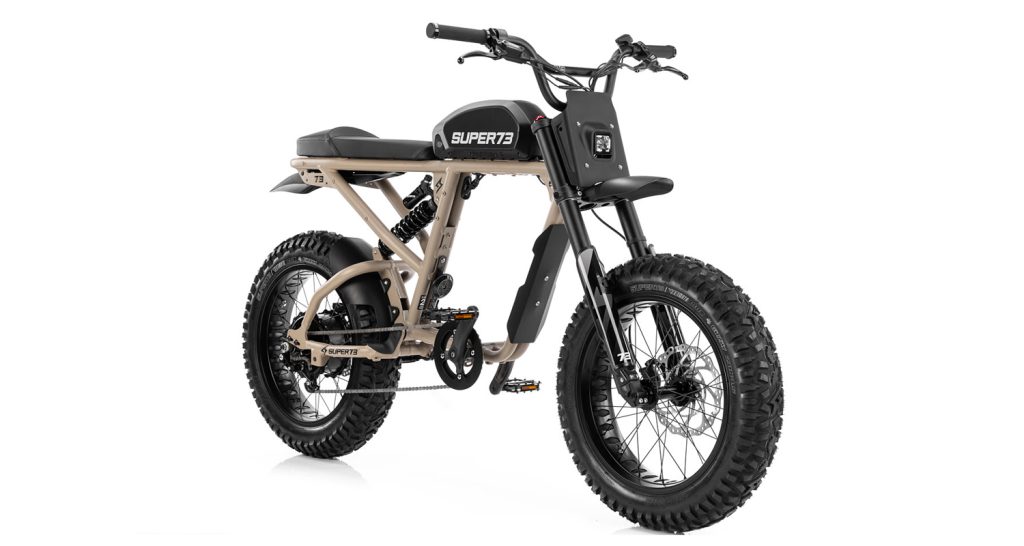 SUPER73 RX Mojave Electric Motor Bike
The RX Mojave was designed for off-road competition and street riding comfort.
The SUPER73 Mojave has all the outstanding features, including an R powertrain, four-piston calipers, a complete suspension system, and the new GRZLY all-terrain tires.
SUPER73 Gospel
The SUPER73 RX series is a beautiful and legendary franchise. With its jaw-dropping geometry, 2KW maximum power output, 32 mph peak speed, 960WH battery pack, and affordable 80 lb chassis, it is not surprising that SUPERP73 is one of the most renowned bike builders on the planet.
The SUPER73 RX series is a complete, turn-key motorbike that comes with everything you need to cruise the streets with a grin on your face and the wind in your hair. Let's explore the incredible features that set the SUPER73 RX apart from the competition:
SUPER73 RX MOJAVE Launch Video
Same Awesome Package
You are free to ride without a license, insurance, or registration.
Modes: Each bicycle is pre-programmed for Class-2 mode, which enables throttle use and pedal-assist riding up to 20mph. In addition, unlock Class-1, Class-3, and Off-Road mode to attain 28mph+
Removable Battery: Charge conveniently at home or the office using any regular 110v outlet.
Range: 40+ miles* of range at 20mph under Class-2 throttle-only operation; 75+ miles* of range using Class-1 pedal-assist mode.
Motor: The internally geared brushless DC hub motor can produce a maximum output of 2000 watts.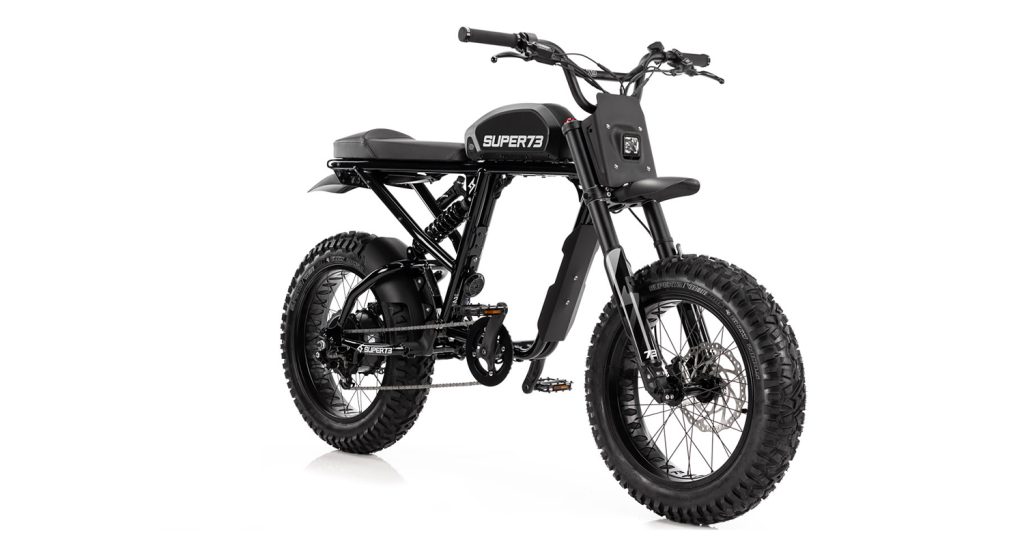 Model Features
Integrated LED Lights: Brake lights and a square headlight are integrated into a motorcycle-style license plate.
Speedster Low Profile Seat: A Speedster seat in the cafè-racer design.
Handlebars: The Blain Handlebars are a sleek, low-rise, Chromoly-made handlebar
Aggressive Tread Pattern
Featuring GRZLY for All Terrain tires
The GRZLY has an aggressive knobby tread pattern that provides exceptional traction on various terrains. It is intended to dig into loose soil and gravel with fury and to maintain constant contact and traction on hardpack, rock, and asphalt.
Accessories
Customize Your RX Mojave
The whole SUPER73 fleet is intended to be adaptable to your riding preferences. Explore the SUPER73 clothes and accessories to discover your distinctive SUPER73 look.
Smart Display
Bluetooth Connectivity for iOS and Android
App: Download the application to unlock all e-bike capabilities of the Super73 and get over-the-air upgrades.
Navigation: The application offers turn-by-turn navigation on the Smart Display and the user's mobile device.
View Settings: Change between pedal assist modes with ease and monitor your current speed, remaining battery life, and more.
Technical Specs:
FRAME: 6061 / 7005 aluminum alloy, 1-1/8" to 1.5" tapered head tube
COLOR(S): Dark Earth, Obsidian, Blu Tang
MOTOR Power: Class-1 Mode Output: 750 watts nominal / 1200 watt peak Class-2 Mode Output: 750 watts nominal / 1200 watt peak (Default) Class-3 Mode Output: 750 watts nominal / 1200 watt peakOff-Road Mode Output: 1200 watts nominal / 2000* watt peak*Off-Road Mode peak output will increase from 2000 watts to 2300 watts with future OTA update.
TOP SPEED: Class-1 Mode: up to 20mph (throttle deactivated, pedal assist only)Class-2 Mode: up to 20mphClass-3 Mode: up to 28mph (throttle deactivated, pedal-assist only)Off-Road Mode: 28mph+
BATTERY: 960 watt-hours, 21700 cells
WEIGHT: 80 lbs
FRONT HUB: 15 x 150mm thru-axle aluminum alloy
RIMS: 20″ x 100mm alloy with lightening cutouts
TIRES: Front: 20 x 4.5″ / Rear: 20″ x 5″ GRZLY Tires
INNER TUBES: 20″ x 4.5-5″, angled valve stem
BRAKES: Tektro Hydraulic, 4-piston aluminum forged caliper, 203mm x 2.3mm front rotor, 180mm x 2.3mm rear rotor
SUSPENSION: Front: Inverted coil spring fork w/air assist-adjustable preload and rebound damping, 120mm travel, 35mm stanchionsRear: Coilover piggyback mono shock-adjustable preload, compression, and rebound damping
DISPLAY: Transflective Monochrome LCD + Mobile Device
IOS + ANDROID COMPATIBLE: Yes
HEADLIGHT: LED – 600 lumens
TAIL LIGHT: LED
HORN: Yes
CHARGER: 3A (6-7 hour charge time) 5A sold separately (3-4 hour charge time)
THROTTLE: Thumb throttle
PEDAL ASSIST: 4 modes (ECO, TOUR, SPORT, SUPER)
BOTTOM BRACKET: 120mm sealed bearing, square taper
CRANK / FRONT CHAIN RING: 125mm alloy crank arms, 36T chainring / Optional: 44T chainring for 10-speed gearing
GEARING: Single-speed 16T rear cog/optional: 10-speed gearing (11-34T) sold separately
REAR DERAILLEUR: Single-speed chain tensioner/Optional: 10 speed: accessory sold separately
PASSENGER FOOT PEGS: Optional accessory sold separately
SEAT HEIGHT: 32″
WEIGHT LIMIT: 325lbs
For the latest local SUPER73 models, check out Last Mile PEV in New York City. Tell Grace and Pete that VROOOMIN.COM sent you. The team there are solid people and can offer any advice and information on all the latest SUPER73 models that hit the market.
Best Electric Unicycles under $2,600
Disclaimer: The information presented in this article is derived from extensive research, user reviews, and publicly available information. Our aim is to provide accurate and up-to-date content; however, it is crucial to understand that the opinions expressed are based on the information available at the time of writing. We strongly encourage readers to conduct their own thorough research and carefully evaluate their individual needs before making any purchasing decisions.
eWheels 2023 Summer Deals and New Launches are here!!!
Cheap, reliable, and powerful! TurboAnt Electric Scooters 2023 Sale!
Hi guys! This post may contain affiliate links, sponsored content, and advertisements. We get a small commission for covering topics that interest us (helps us keep the doors open). For more information, please see our privacy policy and disclaimer. Ride safe yall!
2023 Electric Unicycles:
Coupons & Deals:
Apollo Scooters: Get $50 USD worth of free accessories, upgrades, or spare parts with the purchase of a scooter. Code: VROOOMIN
REV Rides: Save $50 off Scooters and EUC's, Code: VROOOMIN
EVOLV Electric Scooters: Free Folding Lock (worth C$80) for every EVOLV model! Use Code: VROOOMIN-LOCK
To keep the site running and information flowing, Vrooomin.com participates in affiliate linking programs. We're also an Amazon Associate, which means we get paid for referring people to Amazon. Please support the channel by clicking on our links.