Mention Code "VROOOMIN" for possible discounts to your dealer!
Coupon Codes & Deals:
eWheels Spring Sale on electric scooters and electric unicycles
Save $50 off Kaabo and EMOVE electric scooters with Code: VROOOMIN
Save $50 off VSETT, Begode, King Song, Segway with Code: VROOOMIN
Get $50 worth of accessories at Apollo scooters with Code: VROOOMIN

Kaabo Issuing Battery Safety Kits to address Wolf King GT Pro Fires
Safety should be prioritized by riders, manufacturers, resellers, and the PEV community.
Latest Wolf King batteries and controllers are now resolved, check with your dealer and resellers to confirm the model and version they carry!
First, check with your reseller about this battery hazard issue immediately. This issue may not apply to your scooter. You should check with your reseller first.
Your reseller will have the most up-to-date information about defects, risks, warranties, and repair kits.
We'll update this article when we get more information
No Current Resources Document PEV defects
As no personal electric vehicle should be unsafe to ride in, we are compiling a list of defects that will include any significant problems reported by riders via online threads (Facebook Groups, Reddit, etc.).
Issue
The latest batch of Kaabo Wolf King GT Pro electric scooters has a wiring and controller defect that can result in battery fires and thermal runaway.
It's unclear at the moment which GT models are at risk and which are safe.
It's unclear if there are other issues regarding chargers, misuse, or other unknown factors that can lead these units to thermal runaway.
The latest case of fire was reported in New York City, the image below
Video of Fire involving the Kaabo Wolf King GT in Czech Republic
Here's a video of the Kaabo Wolf King GT burning up in Czech. It's unclear how this fire started; we suspect it may be the party of the bad batch of controllers.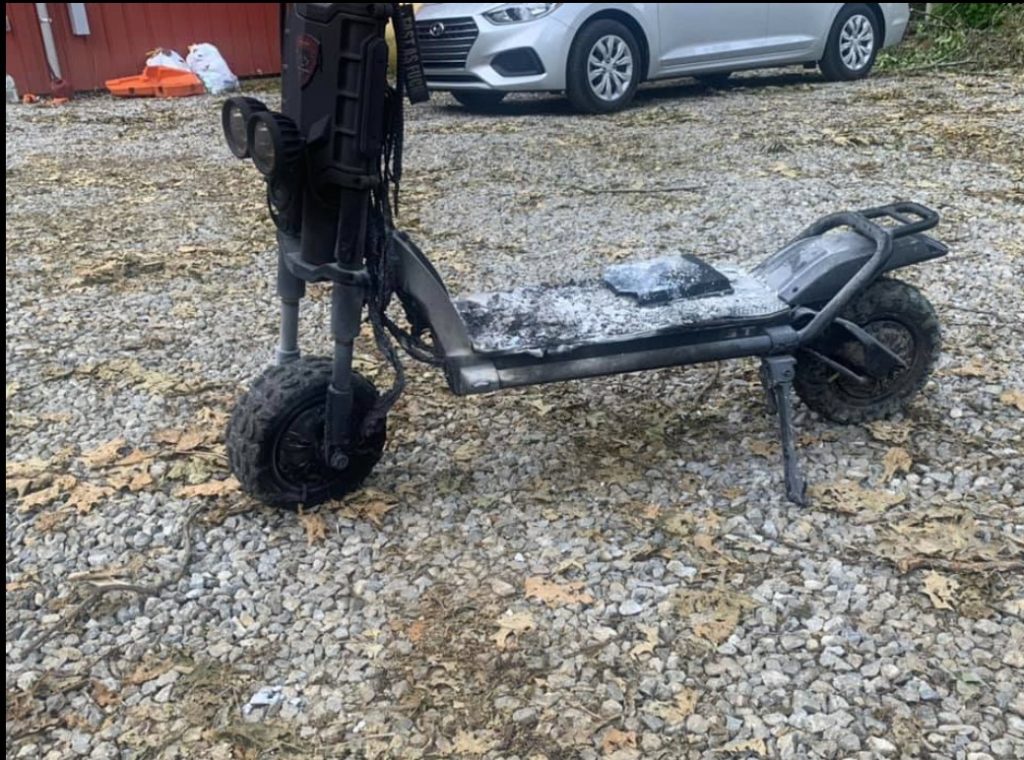 Riders post pictures and videos of their Wolf King catching fire.
Each owner should contact their reseller for guidance on what to do and to ascertain whether their scooters are affected.
Check with your reseller about this issue immediately.
Users have reported their Wolf King GT scooters catching on fire.
Kaabo has investigated and determined it's an issue with a controller defect.
Kaabo is issuing battery fuses and new chargers to isolate the battery from short circuits.
Kits are being sent out to resellers for distribution.
Riders may install kit
Check with your reseller about alternative install options
Controller/Battery fire is a huge liability and can cause great harm if not addressed.
Controller and Wiring Defect
Several cases of Kaabo fires have been reported.
During the investigation, Kaabo concluded that the Wolf King speed controllers are short-circuiting.
Riders may notice a few issues:
Limited performance while riding and acceleration
The controller and display turn on and off unexpectedly.
Clicking and popping sounds from the drivetrain
The scooter display is not turning on.
The short circuit of the controller can cause the battery pack BMS to fail, allowing for current to strain an unprotected battery pack, causing thermal runaway and fire.
Documentation
We haven't seen any official documentation from Kaabo, and there are plenty of rider comments and posts on the Kaabo Electric Scooters Facebook group.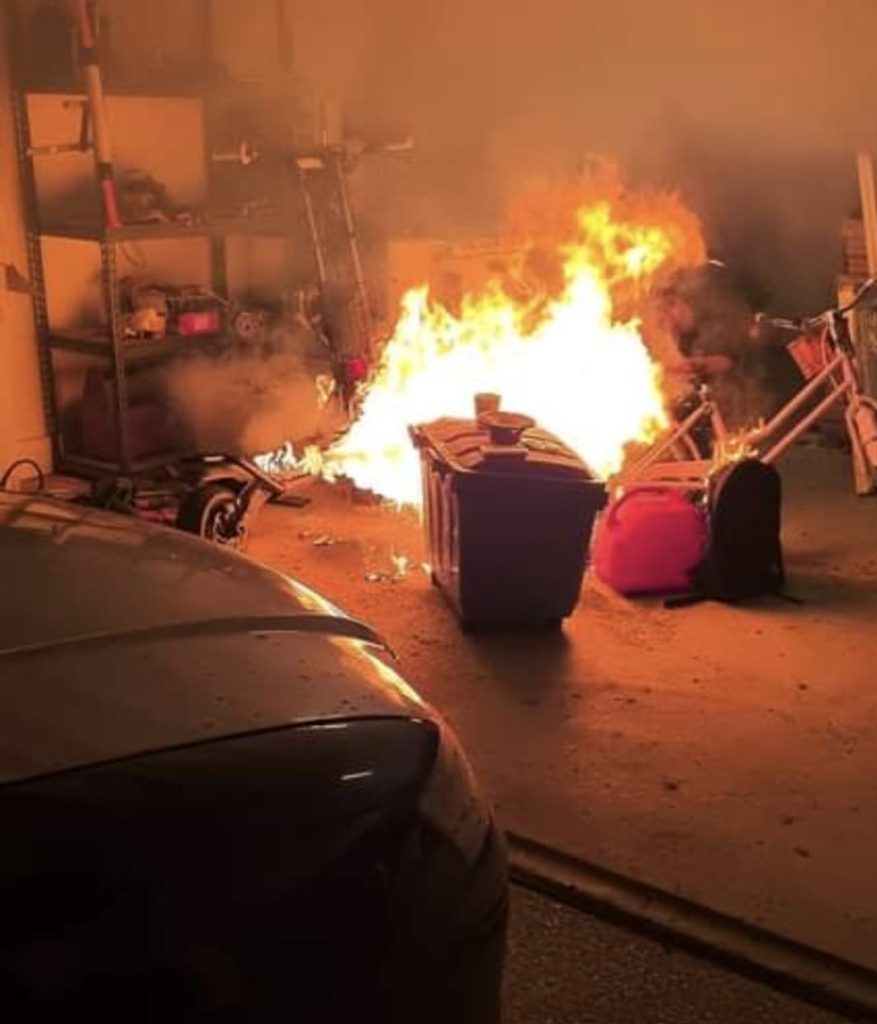 Resolution
Wolf King battery Kits are on their way to North America, and each kit is fitted with new chargers/fuses that isolate the battery in case of a short circuit.
New chargers included
New fuses included
The owner can repair with new parts
Personal Electric Vehicle Fires
This issue with Kaabo Wolf King scooters is disappointing.
Lithium battery fires have plagued New York City for the past three years. The rise in local riders' and the food delivery industry's use of electric mopeds has boosted electric vehicle usage and abuse. Overloading outlets, misusing chargers, and usage of aftermarket batteries have led to severe property damage, injury to firefighters, and even fatal tragedies.
No PEV is perfect; most scooter companies, including Kaabo, have had manufacturing defects. None of that has involved thermal runaway in recent years.
As personal electric vehicle usage increases, so do lithium battery fires.
We're working on a resource to call out and document any significant issues, defects, and safety concerns for each model in the electric scooter, electric unicycle, and electric bicycle community.
The aim is to protect the community and improve the industry's QA, QC, and safety standards.
If damaged or misused, any lithium-powered device can have a risk of fire or explosion hazard
There have been reports of whole houses and even apartments being destroyed due to the improper use of chargers.
Electric unicycle battery fires have also been a big topic for riders unfamiliar with personal electric vehicles. Begode, the manufacturer of some of the most potent electric unicycles on the market, has also experienced concerns with their battery packs catching fire.
EUC brands (INMOTION, King Song, and Veteran) have had manufacturing defects and fire incidents as well
Scooter brands: Zero, VSETT, Dualtron, INOKIM, WEPED, Segway, Hiboy, Apollo, and more have had manufacturing defect issues as well, but none that has involved thermal runaway in recent months.
Kaabo Scooter Defects
This is not the first time Kaabo's lineup of scooters has been defective. They are folding stem failure afflicted earlier models of the Mantis scooter. Riders had their stems snap on them mid-ride. After months of consumer concerns, Kaabo has resolved the issue by distributing replacement stem components globally.
Previous Wolf Warrior and King scooters have also experienced issues with the forks breaking off the motors.
Reports suggest the issue was with cast aluminum forks and over-torquing the bolts
Given that the King GT Pro is one of the most powerful, popular, and reasonably-priced electric scooters on the market, we expect Kaabo to openly address this issue and provide a full explanation and remediation for existing and future models.
eWheels 2023 Spring Deals and New Launches are here!!!
Cheap, reliable, and powerful! TurboAnt Electric Scooters 2023 Sale!
Hi guys! This post may contain affiliate links, sponsored content, and advertisements. We get a small commission for covering topics that interest us (helps us keep the doors open). For more information, please see our privacy policy and disclaimer. Ride safe yall!
2023 Electric Unicycles:
Coupons & Deals:
Apollo Scooters: Get $50 USD worth of free accessories, upgrades, or spare parts with the purchase of a scooter. Code: VROOOMIN
REV Rides: Save $50 off Scooters and EUC's, Code: VROOOMIN
EVOLV Electric Scooters: Free Folding Lock (worth C$80) for every EVOLV model! Use Code: VROOOMIN-LOCK
To keep the site running and information flowing, Vrooomin.com participates in affiliate linking programs. We're also an Amazon Associate, which means we get paid for referring people to Amazon. Please support the channel by clicking on our links.