John Introduces the Dualtron X Limited at MiniMotors USA HQ
+60 mph 84V Electric Scooter
Here is the raw power you're looking for.
The Dualtron X limited is a powerful vehicle with 2kW dual hub motors, an 84V 60AH LG battery pack, a top speed of 68 mph, and all of this on a 180 lb. chassis with 13-inch wheels. The X Limited is a standing electric motorcycle that will cost you an extra $7,000 if you want to use the 84V system.
Full power 84V System
The fabled X is still strong and has developed into its most recent 84v format. The world's most rigid electric scooter just got a little bit tougher. Dualtron X Limited keeps expanding the capabilities of BLDC technology and setting the pace for its ongoing growth.
VROOOMIN'S TAKE
Power: Rated to go past 60 MPH, this scooter is not for beginners. Most people won't need to go this fast, but most people don't have the need for speed. Riders will realistically average 20-30 mph in day to day settings.
Range: At 5040WH, you're going to have range for days, but it'll come at the cost of a very heavy payload and price tag. Riders can expect 126 miles of real-world range.
Quality: The X series are well built, no known issues as of yet. We'll keep you posted.
Features: The X is loaded with features making your ride the best possible for any extreme performance scooter
Price: Again, at $7K plus shipping, this scooter is not for everyone. It's heavy, powerful, expensive, and alot of fun.
Similar Models: Check out the most extreme performance electric scooters for more options
+60 MPH, 70A, 5040WH
Extreme Performance
The newest model in the MiniMotors series has an 84-volt drivetrain system with a top speed of 66 mph and a riding range of more than +100 miles. The X Limited has it all and more, including the new EY4 color LCD with Extreme OVERTAKE mode for an extra surge of power when needed, new motor magnet technology to improve the energy output, four-piston braking calipers, and a fully adjustable coil-over suspension.
Model: Dualtron X Limited Electric Scooter
Motors: 2,000 watt rated power BLDC dual hub motor
Battery Pack: 84 volt – 60 Ah – 5,040Wh – LG main pack with a 12 volt – 16 Ah – 192Wh stem battery for lighting and accessories
Max Range: 105 miles (mileage may vary depending on rider weight, road conditions, and ambient temperature)
Top Speed: Up to +60 mph (depending on rider weight, road conditions, state of charge, and ambient temperature)
Braking System: 4 Piston Hydraulic brakes with ABS standard and 160mm disks
Scooter Weight: 183 lbs
Product Material: Frame and Handle are aviation grade 6082-T6 aluminum alloy, the shaft is SCM440 steel, and plastic covers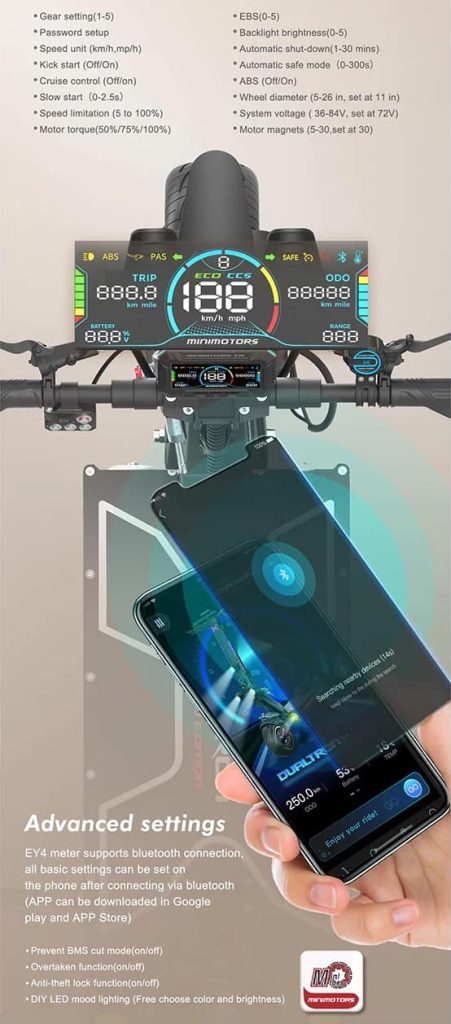 MiniMotors Mobile App
First Dualtron with Bluetooth connectivity
The X Limited stands head and shoulders above its rivals and is now connected via a new mobile app. Get essential information about your ride and connect with other riders in your location by downloading the new MiniMotors Mobile App on Google Play and the iTunes App Store.
The Legacy of X
The X is a beast with all the toughness, innovation, and high standards one would anticipate from a $7,000 scooter. Do you need a scooter traveling at +60 mph and more than +100 miles?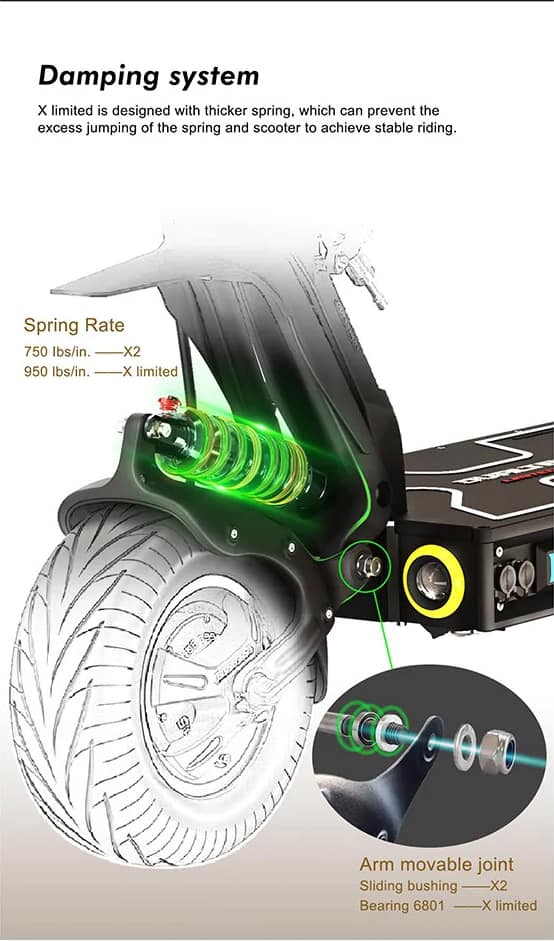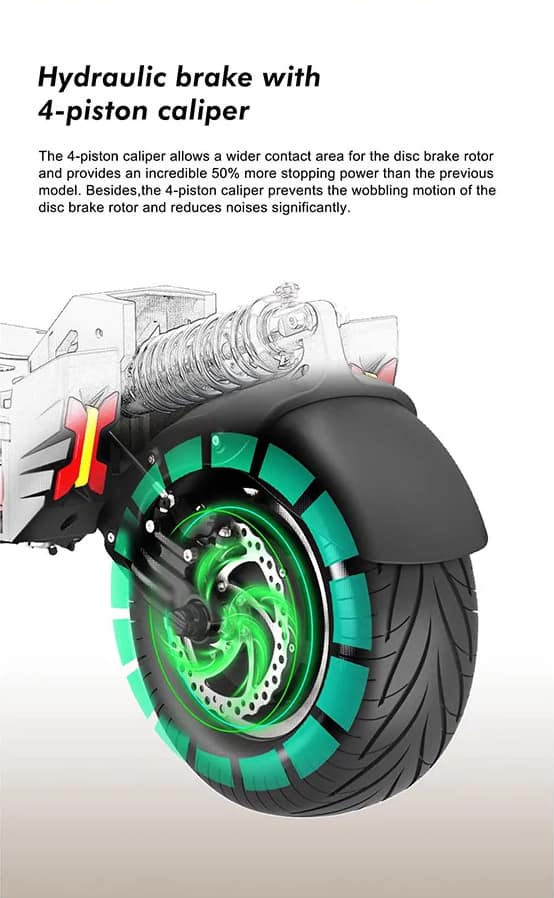 The majority of individuals would never consider employing its overtaking feature, thus the answer is usually no.
Most riders will ride at 15 mph and average 5-10 miles on their commute.
Others need what they desire. In the case of X Limited, they want and are prepared to pay more than $7,000 for the best suspension, power, and quality package on the market. Adding a +100 mile range and an 84V 70 amps drivetrain that can take riders past 60 mph is an additional bonus. Because why not have the best of the best and the fastest of the fastest?
For my needs and NYC apartment storage, 80 lb scooters are my preference and limit because they have the best power-to-weight ratio. However, the situation would be very different if I lived in the suburbs. For more high-speed options, check out the Best Dualtron Electric Scooters.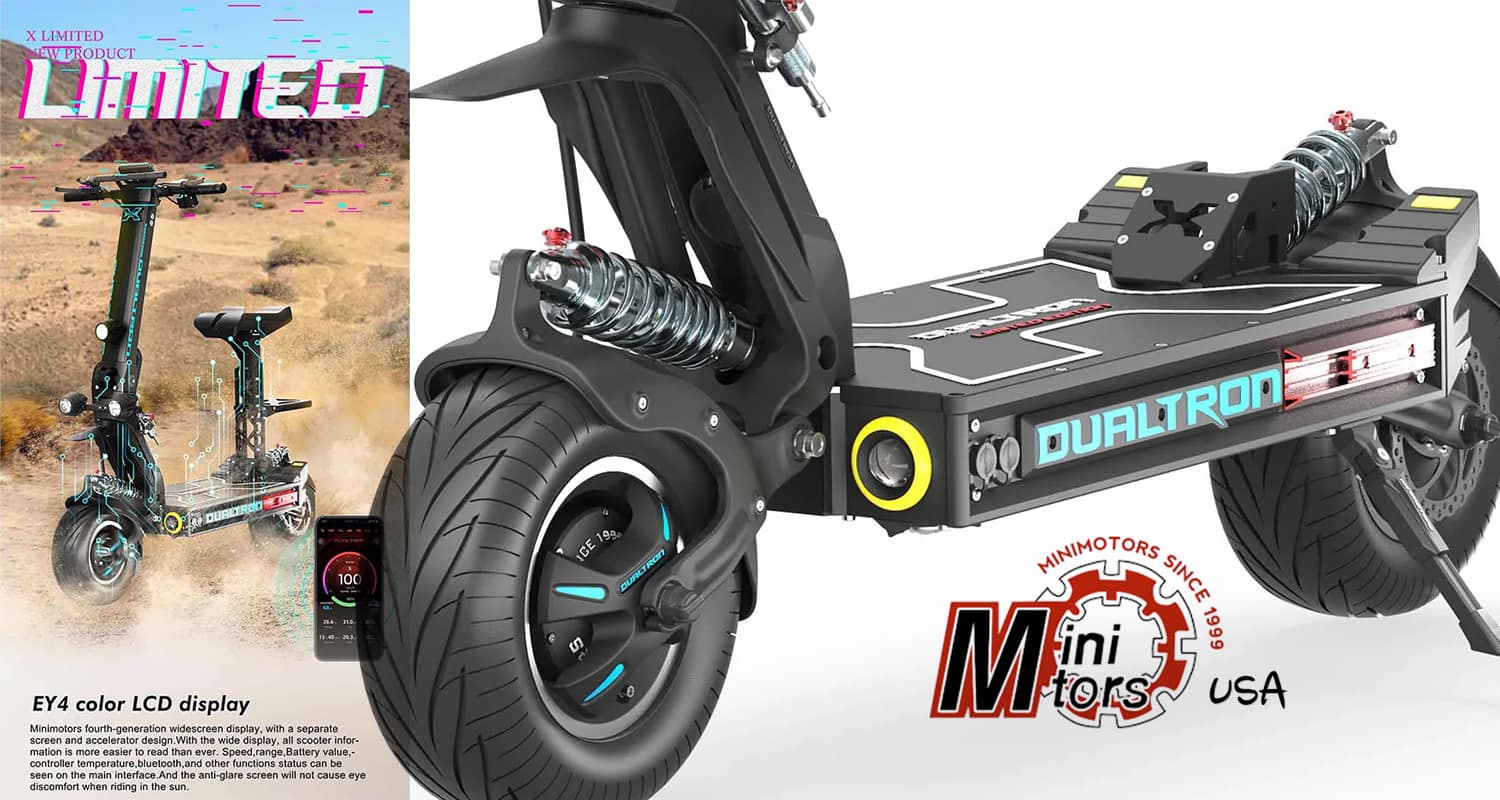 Disclaimer: The information presented in this article is derived from extensive research, user reviews, and publicly available information. Our aim is to provide accurate and up-to-date content; however, it is crucial to understand that the opinions expressed are based on the information available at the time of writing. We strongly encourage readers to conduct their own thorough research and carefully evaluate their individual needs before making any purchasing decisions.
eWheels 2023 Summer Deals and New Launches are here!!!
Cheap, reliable, and powerful! TurboAnt Electric Scooters 2023 Sale!
Hi guys! This post may contain affiliate links, sponsored content, and advertisements. We get a small commission for covering topics that interest us (helps us keep the doors open). For more information, please see our privacy policy and disclaimer. Ride safe yall!
2023 Electric Unicycles:
Coupons & Deals:
Apollo Scooters: Get $50 USD worth of free accessories, upgrades, or spare parts with the purchase of a scooter. Code: VROOOMIN
REV Rides: Save $50 off Scooters and EUC's, Code: VROOOMIN
EVOLV Electric Scooters: Free Folding Lock (worth C$80) for every EVOLV model! Use Code: VROOOMIN-LOCK
To keep the site running and information flowing, Vrooomin.com participates in affiliate linking programs. We're also an Amazon Associate, which means we get paid for referring people to Amazon. Please support the channel by clicking on our links.