The 100V EX2S +50 MPH Electric Unicycle from Begode is a new top-suspension competitor.
As the sport of off-road electric unicycling grows (thanks to the popularity of the S18 and V11 models), so does the need for high-torque suspension wheels. With the recent releases of the Extreme Bull Commander, Begode Hero, EX.N series, and Tesla V3, it's surprising that Begode is expanding its sports suspension portfolio. The EX2S, a 47-kilogram, 100-volt electric unicycle with suspension, is their latest high-performance electric unicycle.
eWheels now carries the Begode EX20S electric unicycle with 100V suspension.
The improved LiTech battery packs are included.
3,600Wh battery pack with the Samsung 50E cells, or 2,8800Wh consisting of the high-powered 40T pack
Begode shock of the latest generation, with the rebound, inflation to 300 PSI chamber pressure, and 80mm of travel.
Loads of options: motor type, battery, and tire selection
The 100V machines provide 25-30% more range than the higher voltage >126V systems. If you're looking for a comfortable suspension and cruiser wheel, the EX20s may be the best fit for your requirements
Motor: C38 or C30
Battery: 3600WH 50E or 2880WH 40T
Tires: Kenda Street or Knobby
What's the advantage of an EX20S over the latest generation machines like the Master/Pro & EX30?
Customer feedback for the Master & S22 is that there's a palpable range hit of these higher-voltage machines, around 25-30%. If you have no intention of cruising > 40MPH, but the range is more critical, then the EX20S may be a more suitable machine for your requirements. In addition, the earlier Masters/S22s have had more teething/reliability issues than the mature, established 100V systems. The EX20S is all-metal construction, with stainless-steel screws/bolts, and is built like a tank, with most Riders reporting superior suspension feeling/handling than the newer Master.
What are the performance differences between the High-Torque (C38) & High-Speed (C30) variants?
The motor stators are wound differently, providing more low-speed torque in the HT but a reduced max [recommended] operating speed of about 35MPH. At the same time, the HS has thinner stator windings that result in higher rotational speed potential, which comes at a sacrifice to torque. Suppose you're a heavier > 225lb Rider or plan on using the machine in hilly environments. In that case, the HT may be a more suitable choice, otherwise, having some more speed margin potential—even if you do not initially plan to ride in this region—is typically preferable.
Will Begode be discontinuing parts for the EX20S in the near future?
Begode has committed to maintaining parts for this model over the next 12+ months. We are also strategically stocking up on the most common parts of this model to continue supporting this model over the next few years.
What is the max rate of charge? Can I used both the 8A & stock 3A chargers simultaneous?
In theory, the upper limit of the 40T cell is 6A x 8 parallels = 48A—for the 50E pack configuration, the max rate is 1/3 of this—in practice, the BMS, input charge wires, & input charge fuse all play a factor, charging should not exceed a total of 12-14A.
Top Heavy & Bare Bones
The EX2S has a bare-bones, mechanical, and industrial look and feel about it. The pedals, pads, suspension, and top seat/deck, which riders use and feel during a ride, stand out. The chassis and battery compartments are also visible.
The S20 Eagle has a big impact on the design of the EX2S, but it is also very different from the rest of the Begode line. Is this a preview of the upcoming Begode wheels?
The EX2S is 20″ wheel equipped with a C38 motor
The EX2S is 100V 3600WH
Top Speed up to 50 – 55 MPH
Massive Wheel, weights 47 kg, 103 lbs!
Latest info, will update when more is available
Begode EX2S Electric Unicycle Test Ride Video
The EX2S is a stripped-down vehicle that concentrates on power, torque, a large battery, suspension, and overall long-range ride comfort. My visceral reaction when I first saddled a 77-pound Sherman is still fresh in my mind, which begs the question: how heavy is too heavy, and are riders wanting suspension wheels at 47kg?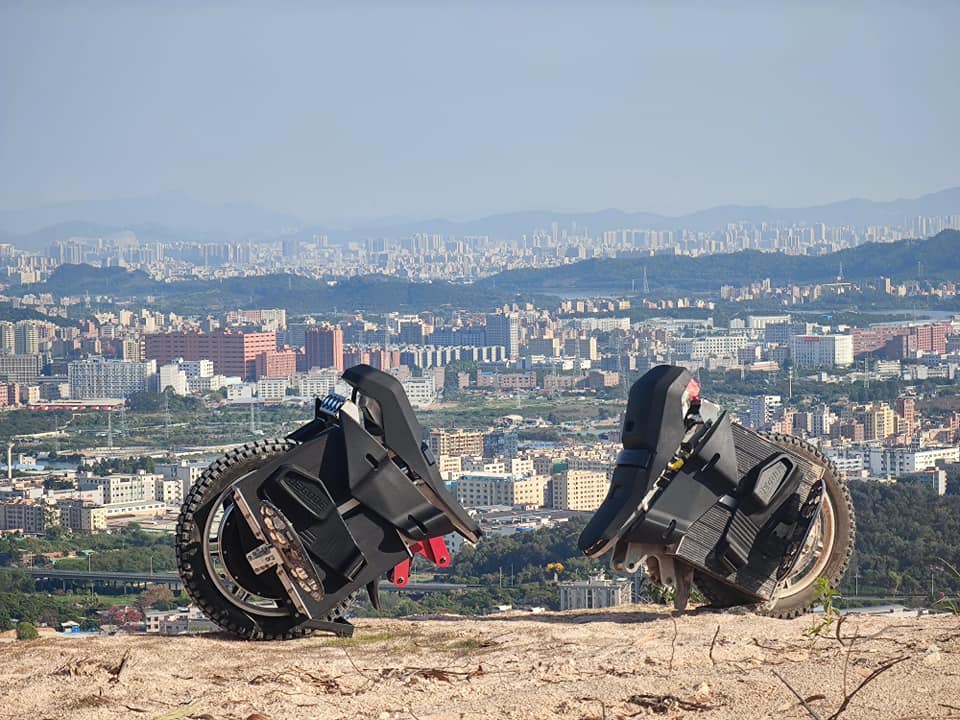 Could the EX2S solve a problem we didn't realize we had?
The initial test ride footage looks promising, the EX2S seems to crush the steepest of gradients. For more extreme wheels, check out The Most Anticipated Extreme Performance Electric Unicycles.
Future Speed Begode EX2S Ride Footage Video
Brand Name: Begode
Model Number: EX2S
Power: 3000W
Voltage: 100.8V
Charging Time: 8-15h
Foldable: NO
Range Per Charge: 150-250km, 93 miles – 150 Miles
Category: E-Wheel Scooter
Smart Type: Sensor, bluetooth, Electronic
Product name: Begode EX2S
Motor power: 3000W
Battery: LG M50T 21700
Color: Black
Max load: 150kg
Brake: Electric Brake
Motor: Brushless
Tire: 20 Inch
Speed: 80-90km/h, 55 MPH
Battery capacity: 100.8V 3600WH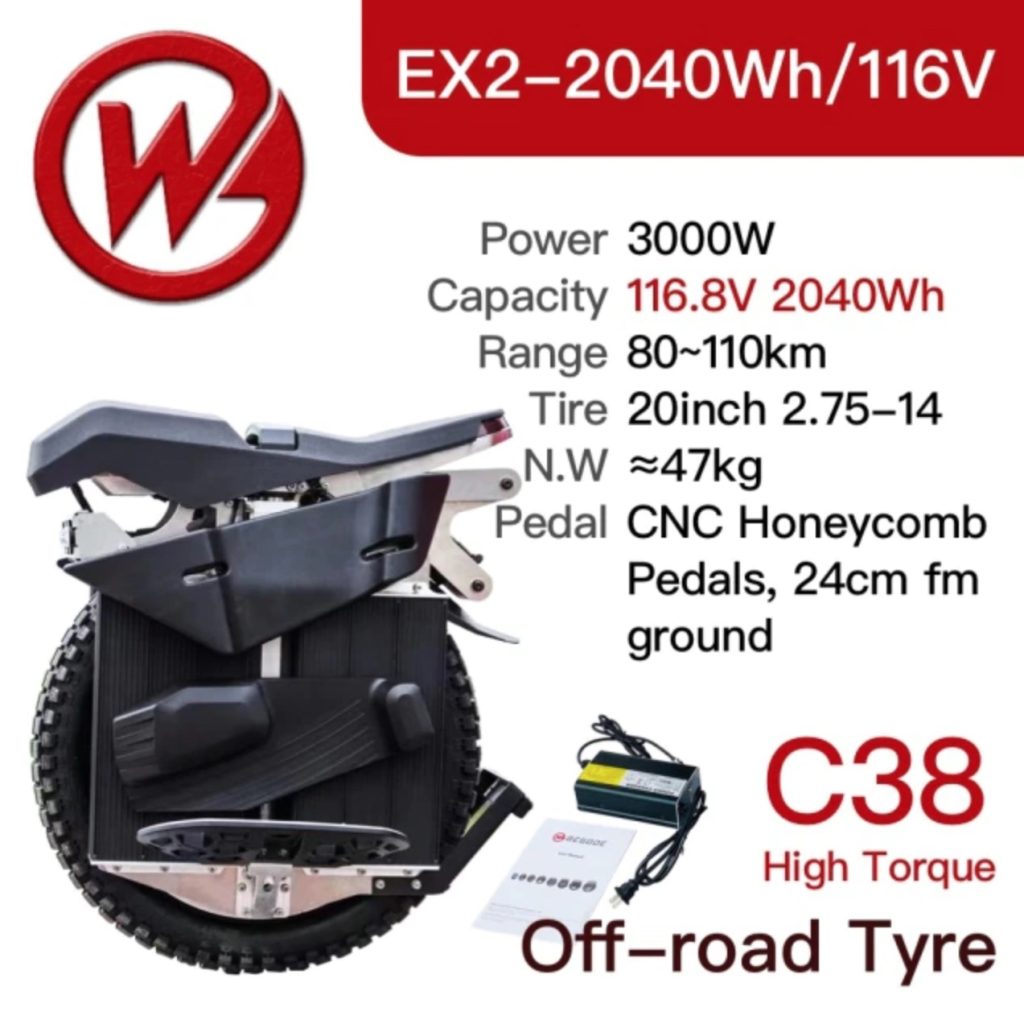 Brand Name: Begode
Model Number: EX2
Power: 3000W
Voltage: 116.8V
Charging Time: 8-12h
Foldable: NO
Range Per Charge: 100-200km, 93 miles – 124 miles
Category: E-Wheel Scooter
Smart Type: Sensor, bluetooth, Electronic
Product name: Begode EX2
Motor power: 3000W
Battery: LG M50T 21700
Color: Black
Max load: 150kg
Brake: Electric Brake
Motor: Brushless
Tire: 20 Inch
Speed: 70-90km/h, 55 MPH
Battery capacity: 116.8V 2040WH
Disclaimer: The information presented in this article is derived from extensive research, user reviews, and publicly available information. Our aim is to provide accurate and up-to-date content; however, it is crucial to understand that the opinions expressed are based on the information available at the time of writing. We strongly encourage readers to conduct their own thorough research and carefully evaluate their individual needs before making any purchasing decisions.
eWheels 2023 Summer Deals and New Launches are here!!!
Cheap, reliable, and powerful! TurboAnt Electric Scooters 2023 Sale!
Hi guys! This post may contain affiliate links, sponsored content, and advertisements. We get a small commission for covering topics that interest us (helps us keep the doors open). For more information, please see our privacy policy and disclaimer. Ride safe yall!
2023 Electric Unicycles:
Coupons & Deals:
Apollo Scooters: Get $50 USD worth of free accessories, upgrades, or spare parts with the purchase of a scooter. Code: VROOOMIN
REV Rides: Save $50 off Scooters and EUC's, Code: VROOOMIN
EVOLV Electric Scooters: Free Folding Lock (worth C$80) for every EVOLV model! Use Code: VROOOMIN-LOCK
To keep the site running and information flowing, Vrooomin.com participates in affiliate linking programs. We're also an Amazon Associate, which means we get paid for referring people to Amazon. Please support the channel by clicking on our links.