Adult Commuter Electric Scooters that are both good and affordable
The GMAX Ultra has a top speed of 20 mph and is available on Amazon for under $900.
Let's face it, most of us require a 20 mph scooter to travel from point A to point B. While we recommend that novice riders start with 30 MPH electric scooters, some riders are on a tight budget and can only afford the essentials: a 350W engine, a 630WH battery, and dependable brakes. You can have it all and more with the GOTRAX MAX Ultra Electric Scooter.
The GOTRAX GMAX Ultra is a powerful, lightweight, reliable, and inexpensive 20 MPH electric scooter that has everything you need.
Electric scooters that are inexpensive, powerful, and dependable
Model: GOTRAX GMAX Ultra Electric Scooter
Cost: $850
Top Speed: 45 MPH
Range: 45 Mile Max Range
Weight: 45 lbs
Look no further, the GMAX Ultra is the one for the job.
When you ride the zippy GMAX Ultra, you'll save money and time and have a good time on your commute. The GMAX Ultra is a solid competitor in the best budget electric scooters under $1,000, with a reasonable 20 MPH top speed, 45-mile maximum range, and a premium 630WH LG battery pack. For newcomers to the electric scooter market, GOTRAX is one of the most well-known manufacturers in the United States, producing some of the best-selling entry-level 36V scooters.
NEWS & DEALS
Getting to work and the grocery shop should be simple, and the GMAX Ultra will make it so. The GMAX Ultra features a powerful 350W engine that can easily reach up to 20 MPH speeds, making it one of the most influential models in the GOTRAX collection.
350W Motor
20 MPH Max Speed
lightweight easy to carry
10″ pneumatic tires for smoother rides
Dual Disc Anti-Lock Brakes
Cruise Control for easy riding
Push Assist Mode for safe acceleration
A substantial and high-quality battery pack is required to go the distance.
A 36V 17.5AH LG Battery Pack, one of the most delicate quality cells utilized in the GOTRAX G series line, is at the core of the GMAX Ultra. The Ultra's LG battery pack gives up to a 45-mile range on a single charge for riders wishing to go up, down, and crosstown. Riders in New York City may loop around Manhattan without a problem.
Long distance, 45 Max Miles
Real world range is usually 50-60% of advertised claims
LG Battery Pack (50 high-discharge cells)
6 hours to fully recharge
LED headlights taillight for visibility
Lightweight Portability, Perfect for Transit
For riders who use their scooters for last-mile travel, having a well-built lightweight scooter is crucial. One of the best noticeable aspects of any GOTRAX electric scooter is its featherweight chassis and ease of folding, which weighs only 39 lbs! The GMAX Ultra folds in under 2 seconds, making it the most powerful and portable device in the GOTRAX lineup.
one step folding
east storage in cars or transit
anti theft combination lock
lightweight 39 lbs. chassis for easy carry
max load of 220 lbs.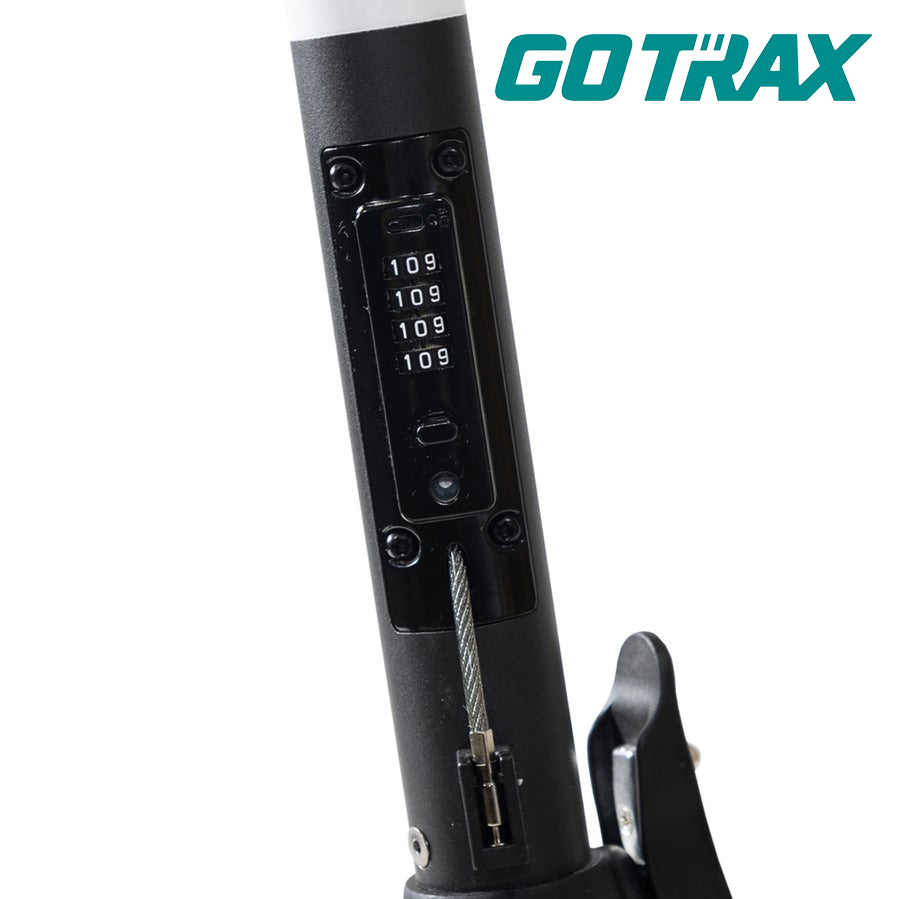 Top Speed: 20 MPH
Range: 45 Miles Max (Minimum 20 miles per charge)
Battery: 36V 17.5AH LG battery, 630WH
Weight: 39 LBS.
Charge Time: 6 hours
Tires: 10″ Pneumatic
Power: 350W
Brakes: Electric ABS + Disc Braking
Lights: LEDS
Is the GOTRAX GMAX Ultra Right for you?
I've owned and ridden a variety of budget and rental scooters, ranging from GOTRAX to Segway. Each model usually lives up to its promises: minimal weight, a top speed of 15-20 mph, and a reasonable range. The GMAX Ultra has identical specs but also features an improved chassis, a more robust LG battery, and a new display.
Check out the top 30 MPH electric scooters on the market if you're looking for a higher-quality, longer-lasting, higher-torque electric scooter. These versions are more expensive, but they provide a smoother ride; you'll notice the difference in performance and ride quality.
PROS: lightweight, robust, low price, no frills, easy to use, good value for money
CONS: Lower quality, doesn't reach full range, no suspension system, customer service is hard to reach, better options out there that cost more
You may also like:
Disclaimer: The information presented in this article is derived from extensive research, user reviews, and publicly available information. Our aim is to provide accurate and up-to-date content; however, it is crucial to understand that the opinions expressed are based on the information available at the time of writing. We strongly encourage readers to conduct their own thorough research and carefully evaluate their individual needs before making any purchasing decisions.
eWheels 2023 Summer Deals and New Launches are here!!!
Cheap, reliable, and powerful! TurboAnt Electric Scooters 2023 Sale!
Hi guys! This post may contain affiliate links, sponsored content, and advertisements. We get a small commission for covering topics that interest us (helps us keep the doors open). For more information, please see our privacy policy and disclaimer. Ride safe yall!
2023 Electric Unicycles:
Coupons & Deals:
Apollo Scooters: Get $50 USD worth of free accessories, upgrades, or spare parts with the purchase of a scooter. Code: VROOOMIN
REV Rides: Save $50 off Scooters and EUC's, Code: VROOOMIN
EVOLV Electric Scooters: Free Folding Lock (worth C$80) for every EVOLV model! Use Code: VROOOMIN-LOCK
To keep the site running and information flowing, Vrooomin.com participates in affiliate linking programs. We're also an Amazon Associate, which means we get paid for referring people to Amazon. Please support the channel by clicking on our links.