The SLACK CORE comes in 4 Variants (60V – 72V), 110 KMH to 145 KMH (68+ MPH, 74+ MPH, 90+ MPH)
This article has been updated with the most recent information from NUMO. The model names and speed specs have been fixed. More info to come!
We're not kidding you, man; a 30KW full-suspension, Samsung-powered Extreme Performance scooter? With 11″ motors, Maguras, 40T cells, and full suspension, you can't ask for more how the hell has this not touched our radar? We've been slacking (pun intended).
SLACK CORE is the latest Premium Electric Scooter from NUMO Global
As long as it did, it took some time for the smokey PMT tire treads to reach us (sniff sniff), but I'm glad it finally did. NUMO, builders of some of the world's fastest scooters (SST), has just released their jaw-dropping, lip-smacking, SLACK CORE extreme performance electric scooter for the 2022 riding season! This Extreme Performance Scooter is designed for track and circuit performance, boasting a mind-boggling top speed of 90 MPH. Not too shabby considering most scooters of this caliber are almost impossible to acquire until now.
News & Events:
Built NUMO Tough
The SLACK CORE is pure performance. Considering the SLACK CORE IS equipped with Samsung 40T/50E batteries, 200A phase wires, gold-plated bullet connections, PMT tires, and unique high torque/rpm motors, it should be no surprise that NUMO's new line is capable of speeds more than 60+ MPH. The SLACK CORE 920R, the pack leader that boasts a 72V 36AH 40T pack, means this thing has plenty of firepower to send you to the moon and back.
Range or Speed? Or Both?
Riders may select from Samsung 50E or 40T Battery Packs
SLACK CORE 920R: 140 KMH, 40T 72V 36AH
SLACK CORE 1220: 120 KMH, 50E 72V 60AH
SLACK CORE 920: 120 KMH, 50E 72V 45AH

SLACK CORE 916: 110 KMH, 50E 60V 45AH
That's a lot of speed, so enthusiasts like us may wonder, can you distinguish between 70 and 80 mph? I'm confident that the Korean Scooter OG's have something to say about this.
Just need to scrounge up $8K-9K, that's it.
Not confirmed, but we'll update as soon as we get the info!
We have so many questions about this scooter; at the time of this writing, very little is known about it other than that it is unquestionably fast, powerful, striking, and expensive.
We're speaking with a potential North American distributor about this model, which, depending on variant, could cost upwards of $8K – $9k USD.
UPDATE: We recently got ahold of David (Numo); more info on this model is coming soon!
Boys, it's time to start saving because this scooter will be cost-prohibitive.
Stats took from MYEASYRIDE Australia:
33KW+ Dual Motor Performance
Magura MT7 Calipers (TBD)
0-100 KMH in 6 seconds
NUMO SLACK CORE Introduction Video
The design focuses on high-speed stable geometry, durable structure, and smooth throttle control.
Check out the videos of acceleration and braking tests below, which are insane. It is impossible to describe a scooter of this magnitude with words adequately; only video can capture its true essence.
Start the Extreme Performance Escooter Warfare
We're kidding, of course!
We've said it before, and we'll repeat it: everyone wins when engineers compete to produce the world's fastest scooters. This is especially true for guys like us, who wouldn't even know where to begin, let alone design, construct, or source-engineer any scooter comparable to what is available today. We labor diligently, save funds, covet, and spend when the experts present us with their masterpieces. We vote for the best with the money we've earned.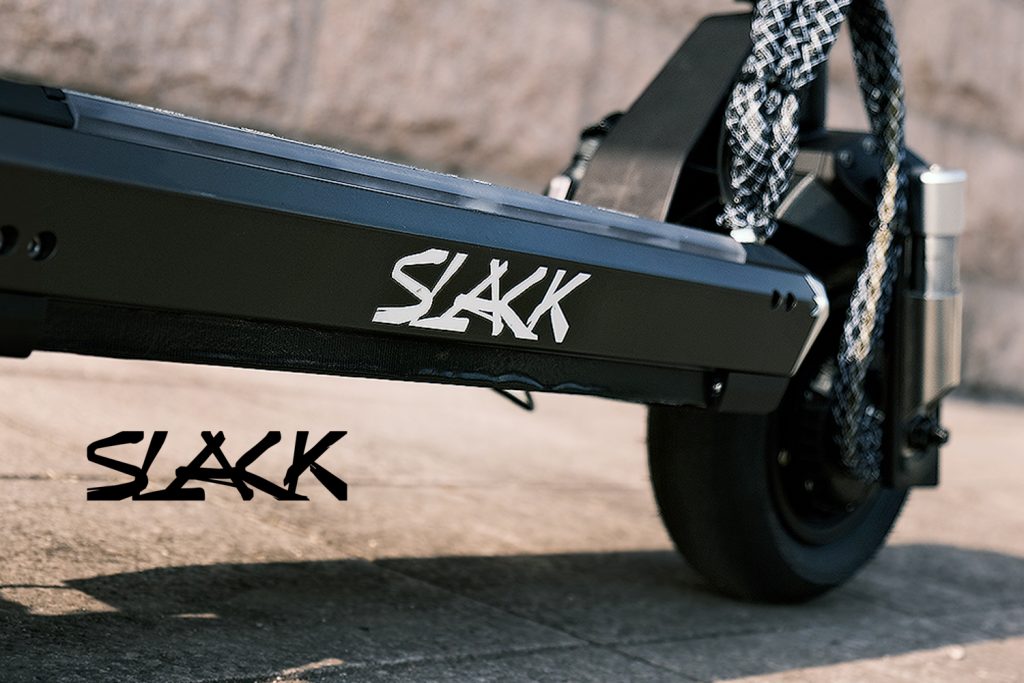 Technical Specs:
Pricing: n/a (we're reaching out to SLACK for info)
Shipping Fee: $1,500 to USA

Models: Core 920R, CORE 920, CORE 1220, CORE

916
Top speed: 145 KMH, 120 KMH, 120 KMH, 110 KMH
Battery Options: Samsung 40T/50E, 36AH, 45AH, 60AH, 45AH
Controller: n/a (Maybe Kelly?)
Motor: High torque rpm motor, Dual, 200A/400A peak, Golding plating bullet connector 200A
Body: Titanium, Forged Aluminum
Brakes: Hydraulic 4 Piston calipers
Suspension: PSS (sustained parallel suspension), 165MM Hydraulic suspension
Dealers: Black Sheep Trading (Australia and New Zealand )
The performance scooter market is so new that it is challenging to keep up with the latest technologies, manufacturers, and models.
We do not know much about this scooter beyond what was released on its launch site.
The creators of the SLACK CORE scooter market it as emphasizing design, structure, geometry, and materials to produce outstanding high-speed performance.
High-speed stable geometry
Durable structure and smooth throttle control
Titanium and forged aluminum for durability
A simplified cockpit provides a voltage gauge, model selection dial, and key switch.
The display monitor is optional.
Beautiful Design, Chassis, Geometry
The SLACK CORE significantly differs from conventional WEPED designs, featuring a cleaner, smoother, and compact geometry. The CORE appears to be inspired and combines the best geometry and features from WEPED, VSETT, INOKIM, Dualtron, and RION, to create one of the most beautiful Extreme Performance designs to date.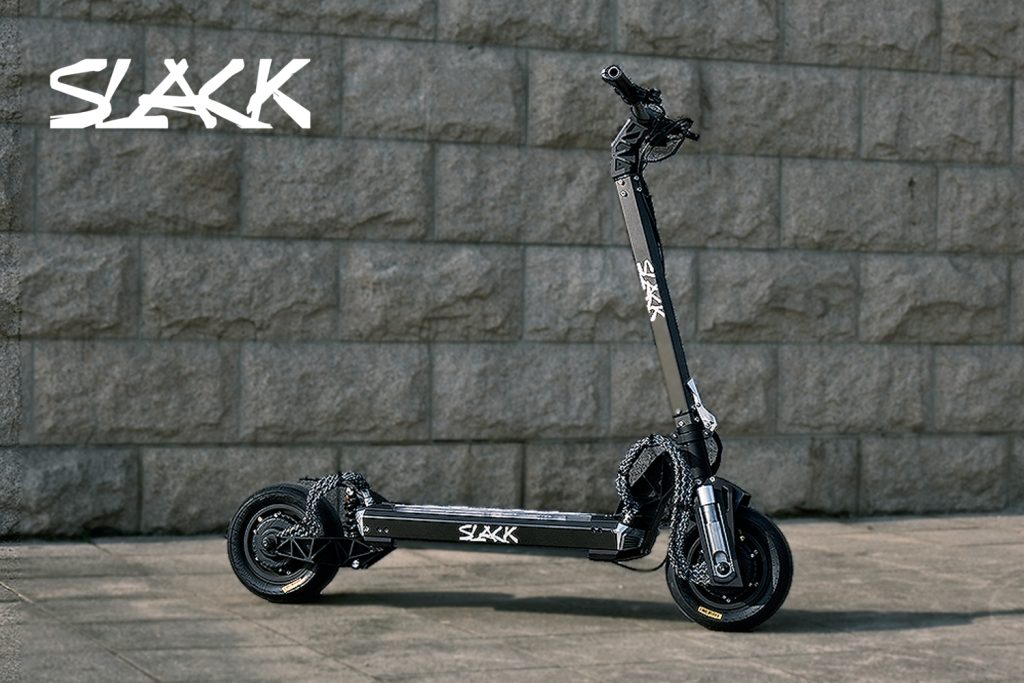 SLACK CORE Extreme Performance Electric Scooter
When will these puppies arrive?
NUMO and the SLACK CORE have generated a great deal of buzz at some of 2022's most coveted Extreme Performance scooters, which are generally difficult to obtain and require a substantial deposit to secure a place.
Can the SLACK CORE be the ultimate competitor to the WEPED, Rion, and Dualtron performance scooters?
Cut me some SLACK
Delivery, Performance, Maintenance
If SLACKs can be ordered, delivered, and maintained without hassle, I would wager that it could be the best Extreme Performance scooter to purchase with any disposable income. Hopefully, riders can get some SLACK as soon as possible without long delivery times or unforeseen warranty claims.
Because let's face it, any new 2022 scooter, unicycle, and e-bike have had its fair share of issues. With the shipping crisis and materials shortages nowadays, delays are expected in all realms of performance electric scooters.
Don't forget that there are more premium Extreme Performance scooter choices on the way. Rion is releasing the APEX this fall, WEPED Cyberfolds are starting to ship, and a variety of 50-60+ MPH performance scooters are being shipped on a daily basis!
What are the key features of the SLACK CORE Electric Scooter?
The SLACK CORE Electric Scooter is a high-performance scooter designed for track and circuit performance. It features a full-suspension design, Samsung 40T/50E batteries, high-torque/rpm motors, and Magura MT7 calipers. It offers impressive top speeds ranging from 110 KMH to 145 KMH (68+ MPH to 90+ MPH) depending on the variant.
What battery options are available for the SLACK CORE Electric Scooter?
Riders can choose from Samsung 50E or 40T battery packs for the SLACK CORE Electric Scooter. The available battery capacities include 36AH, 45AH, and 60AH, depending on the specific model variant.
What is the price range of the SLACK CORE Electric Scooter?
The pricing for the SLACK CORE Electric Scooter is currently unavailable. It is recommended to reach out to SLACK for more information regarding pricing.
Where can I purchase the SLACK CORE Electric Scooter?
Black Sheep Trading is listed as a dealer for the SLACK CORE Electric Scooter in Australia and New Zealand. It is advisable to contact them or check with local dealers for availability in other regions.
Are there any upcoming competitors to the SLACK CORE Electric Scooter?
The electric scooter market is continuously evolving, and there are other premium extreme performance scooters being released. Some upcoming competitors include the Rion APEX and the WEPED Cyberfolds. It's recommended to stay updated on the latest releases and advancements in the performance scooter industry.
Disclaimer: The information presented in this article is derived from extensive research, user reviews, and publicly available information. Our aim is to provide accurate and up-to-date content; however, it is crucial to understand that the opinions expressed are based on the information available at the time of writing. We strongly encourage readers to conduct their own thorough research and carefully evaluate their individual needs before making any purchasing decisions.
eWheels 2023 Summer Deals and New Launches are here!!!
Cheap, reliable, and powerful! TurboAnt Electric Scooters 2023 Sale!
Hi guys! This post may contain affiliate links, sponsored content, and advertisements. We get a small commission for covering topics that interest us (helps us keep the doors open). For more information, please see our privacy policy and disclaimer. Ride safe yall!
2023 Electric Unicycles:
Coupons & Deals:
Apollo Scooters: Get $50 USD worth of free accessories, upgrades, or spare parts with the purchase of a scooter. Code: VROOOMIN
REV Rides: Save $50 off Scooters and EUC's, Code: VROOOMIN
EVOLV Electric Scooters: Free Folding Lock (worth C$80) for every EVOLV model! Use Code: VROOOMIN-LOCK
To keep the site running and information flowing, Vrooomin.com participates in affiliate linking programs. We're also an Amazon Associate, which means we get paid for referring people to Amazon. Please support the channel by clicking on our links.