The Dualtron Mini is both Beauty & BEAST!
Theres no question, the Dualtron Mini is a stunning 48 lb electric scooter.
The Dualtron Mini is an absolute stunner. Equipped with its low-profile mudguard, slim deck, and footrest, everything from the sharp lines of the chassis to the smooth curved edges of its tail, the Dualtron Mini is an absolute stunner. I often get compliments on the Mini whenever I take her out for a food run at the grocery store or red light from random onlookers!
News & Deals
Dualtron Mini Limited Electric Scooter
Power – MAX 1,450 watt BLDC hub motor
Battery Pack –  52 volt – 21 AH – 1090WH – LG MJ1 cells
Top Speed – 32 MPH
Range – 34 miles
Build Quality
Ride Comfort
Price – $1,499
Weight – 48 lbs
Brakes – Updated Dual drum brakes
Customer Service – MiniMotors USA
Summary
Why Riders Love the Dualtron Mini

This Mini-Beast is the best performance commuter because it has a beautiful design, a high-quality frame, and just enough power to get any rider to and from work, the grocery store, or a place where they can get away from their daily responsibilities. This beast is easy to carry and won't break the bank. It's great for beginners and riders on a tight budget. MiniMotors USA is worth a look. They have some of the best customer service and it's easy to get replacement parts for repairs. Check out the Best 72V Electric Scooters for electric scooters that are stronger.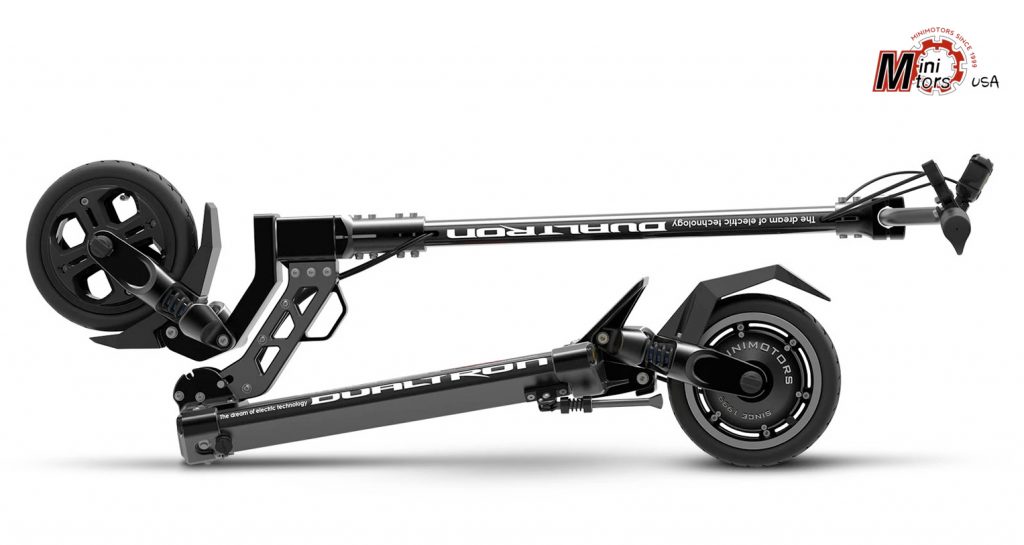 Who is the Dualtron Mini for?
The Dualtron Mini is designed for your everyday rider who requires a robust and reliable method of transportation but isn't ready to break the bank for a heavier and stronger electric scooter, and maybe they don't want or need it one. The Mini will satisfy any rider and take them from point A to point B in style! Designed by the MiniMotors engineers in Korea, the Mini was designed to be fast, light, affordable, and low maintenance.
Easy to use
Don't need a drivers licenses
Scooters are easy and convenient
greenhouse gas emissions savings
electric scooters are eco-friendly
The Dualtron Mini Cost and Maintenance
You'll need to check to see if your tires are at the correct pressure and change them now and then. That's it! This electric scooter uses a drum brake, which requires little to no maintenance, and pneumatic tires. By design, the Mini is your quality and budget scooter that only requires charging and checking your tire pressure now and then. Aside from that, it's charge, ride, park, and repeat!
no air pollution
low operating costs
save you time and energy
riding scooters is fun
easy to find parking
The Dualtron Mini Performance & Drivetrain
The Dualtron Mini is powered by a single BLDC 500W nominal (1,500W max) hub motor that can produce a speed of up to 32 MPH. The Mini was built with power, speed, and portability in mind. For most riders, an average cruising speed of 15–25 MPH is more than enough excitement for their commute.
Top Speed: 32 MPH at the top speed
Cruising Speed: 15-25 MPH for most riders in the bike lane and inner city
Gradient: Rated at 37%, the Mini's single hub motor is quite powerful and can take riders on very steep hills and bridge inclines
Motor: 500W Nominal, MAX 1,450W BLDC hub motor
Controller: The Mini is powered by a 52V 25a controller and EYE throttle display
Watch the Duatron Mini Top Speed Test Video
The Dualtron Mini Battery Pack and Range
The Mini is powered by 52V, 17.5AH, LG MJ1 cells. These are some of the most premium high-discharge battery cells on the market. MiniMotors is known for only using LG cells in their Dualtron electric scooters, which provide high power and longevity for electric scooters.
Battery Pack: 52 volt – 17.5 Ah – 1,050Wh – LG MJ1 cells
Real-World Range: With a range of 34 miles, the Mini can take you around town and back without worrying about running out of battery power. With aggressive riding, riders may get 20–30 miles per charge. It depends on how hard and fast you ride and if you're riding in hilly areas. You will notice that your top speed is lower when you're getting close to 20-30% battery life, like with all electric scooters. This is due to the less voltage/pressure of your battery pack.
easy to repair and maintain
perfect for short distances
skip the parking lot
no traffic jams
The Dualtron Mini Ride Experience
They are designed with quality, performance, and portability in mind; the Dualtron mini sports an aggressive, compact, low, and sharp stance. The goal of the Mini is to take you places its bigger brothers can't. The Mini sports a narrow deck to fit its 52V battery pack, providing a staggered stance position with the rider's front foot at the top corner of the deck and their rear foot on the tail of the footrest.
While the Mini can take light off-road trails, the tires and suspension are built for road gravel. The suspension is quite firm and built for speed and on-road riding. The Mini's rest can take bumps and uneven roads and provide a smooth experience compared to other scooters in its weight class.
Compared with mechanical and Hydraulic brakes, the drum brake is much easier to maintain but does have less braking power compared to its disc brake counterparts. The tradeoff for the drum brake is that riders need to be mindful of their speed and braking patterns, but it is way easier to maintain from a maintenance perspective. Some riders have upgraded their drum brakes to discs.
I find the drum brake and ABS braking provide more than enough stopping power for most riders. If you find yourself riding at the very top speed and needing to brake in a concise amount of time, I would consider upgrading to a more robust scooter with stronger brakes.
Chassis: Aviation grade 6082-T6 aluminum alloy, the shaft is SCM440 steel for stability and longevity
Suspension: Swappable rubber rod system
Foot Space: Narrow and stagger deck space and rear foot rest
Braking: Drum brakes
The Dualtron Mini Review & Recommendation
If you're a rider who wants to go fast but thinks $1,500 is your budget, I would consider upping your budget and picking an even stronger scooter to grow into. Speed tolerance is reached in no time. The Mini is a great entry-level Dualtron electric scooter for its price and performance. This scooter is great for a daily commuter and offers everything you need to get where you need to go safely and on time. This is the one for riders who want a quality, reliable, and great-looking scooter to get around town in style.
less noise pollution
no public transportation or subway
low maintenance when compared to cars
Technical Specs:
Motor: MAX 1,450 watt BLDC hub motor
Battery: 52 volt – 17.5 Ah – 1,050Wh – LG MJ1 cells
Charge time: 10 hours with standard charger, 2.6 hours with the quick charger
Max mileage: 34 miles (mileage may vary depending on rider weight and road conditions)
Max Speed: 32 mph
Climbing Grade: 37% or 20 degrees depending on rider weight and state of charge
Braking System: Rear Drum Brake with ABS standard
Tires: 9″x2″ Pneumatic Tube
Max Load: 220 lbs
Scooter Weight: 48 lbs
Product Material: Frame is aviation grade 6082-T6 aluminum alloy, the shaft is SCM440 steel, and plastic covers
Dualtron Electric Scooters: What You Need to Know
Here are some of the main reasons why MiniMotors USA customers choose Dualtron scooters:
Powerful – MiniMotors is the frontrunner of high-performance dual-motor electric scooters. Motors, controllers, and batteries from Dualtron are among the strongest available.
Build Quality – When it comes to quality, MiniMotors has a solid track record of producing scooters with cutting-edge electronics that are easy to maintain and cost-effective for the average rider to own.
Easy Maintenance – Scooters, in comparison to automobiles, are a fun, powerful, and low-maintenance mode of transportation. Brake and tire service are two of the most common maintenance items.
Spare Parts – All MiniMotors scooters have a large selection of spare parts available, you can order or get any part you need for your vehicle's upkeep. Check out MiniMotors USA for more information.
Customer Service – MiniMotors USA's customer service team is available by phone and email to answer questions about maintenance, repairs, and accessory suggestions. The quality of MiniMotors USA's service and products is well-known.
You May Also Like
Disclaimer: The information presented in this article is derived from extensive research, user reviews, and publicly available information. Our aim is to provide accurate and up-to-date content; however, it is crucial to understand that the opinions expressed are based on the information available at the time of writing. We strongly encourage readers to conduct their own thorough research and carefully evaluate their individual needs before making any purchasing decisions.
eWheels 2023 Summer Deals and New Launches are here!!!
Cheap, reliable, and powerful! TurboAnt Electric Scooters 2023 Sale!
Hi guys! This post may contain affiliate links, sponsored content, and advertisements. We get a small commission for covering topics that interest us (helps us keep the doors open). For more information, please see our privacy policy and disclaimer. Ride safe yall!
2023 Electric Unicycles:
Coupons & Deals:
Apollo Scooters: Get $50 USD worth of free accessories, upgrades, or spare parts with the purchase of a scooter. Code: VROOOMIN
REV Rides: Save $50 off Scooters and EUC's, Code: VROOOMIN
EVOLV Electric Scooters: Free Folding Lock (worth C$80) for every EVOLV model! Use Code: VROOOMIN-LOCK
To keep the site running and information flowing, Vrooomin.com participates in affiliate linking programs. We're also an Amazon Associate, which means we get paid for referring people to Amazon. Please support the channel by clicking on our links.