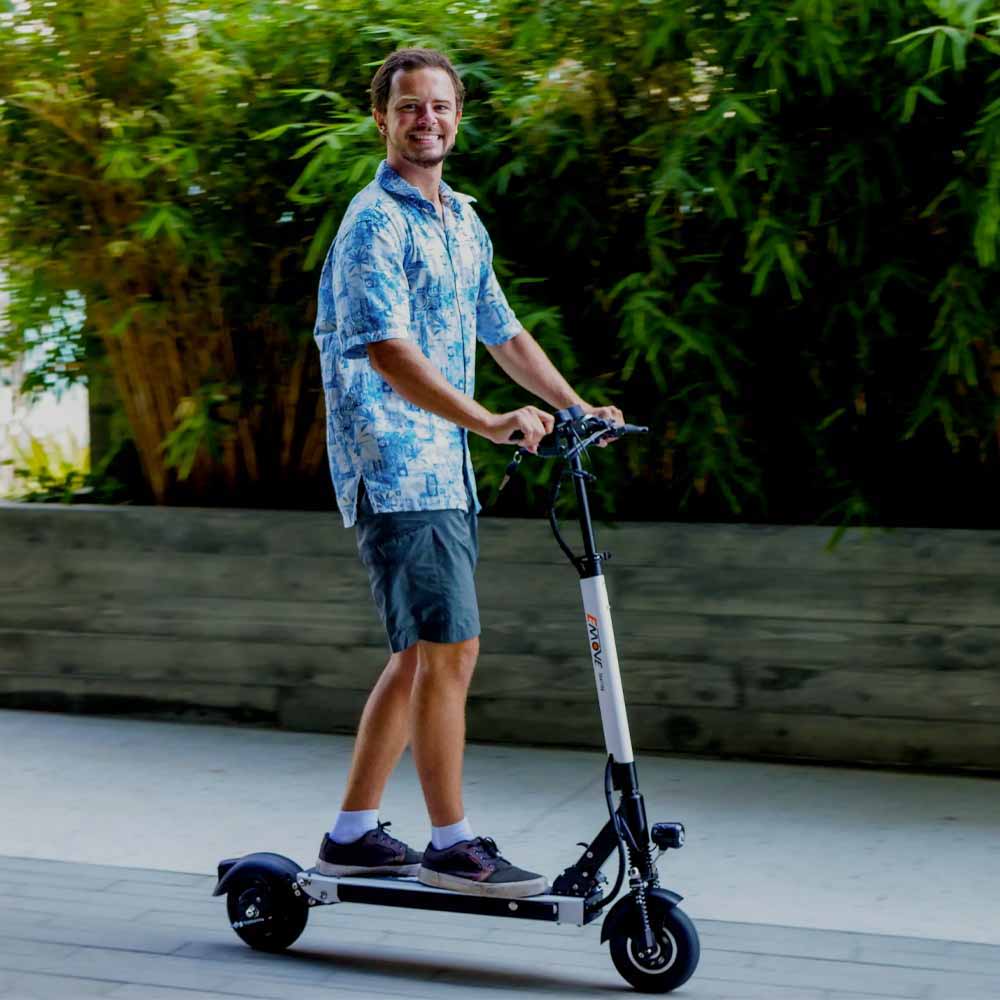 EMOVE Touring Portable and Foldable Electric Scooter
Visit Voro Motors for more info
The EMOVE Touring has become a popular choice for commuters primarily due to its affordability. It boasts impressive features, including a 48V 13AH LG battery, a 500W rear motor, a top speed of 25 mph, and a range of 32 miles. Taking feedback from riders into account, the Touring has been upgraded with a longer deck that offers greater ground clearance, as well as plug-and-play cabling and accessory posts. As a beginner-friendly electric scooter, the Touring is easy to customize, comfortable to ride, and requires minimal maintenance.
Save $50 off Kaabo Electric Scooters with Code VROOOMIN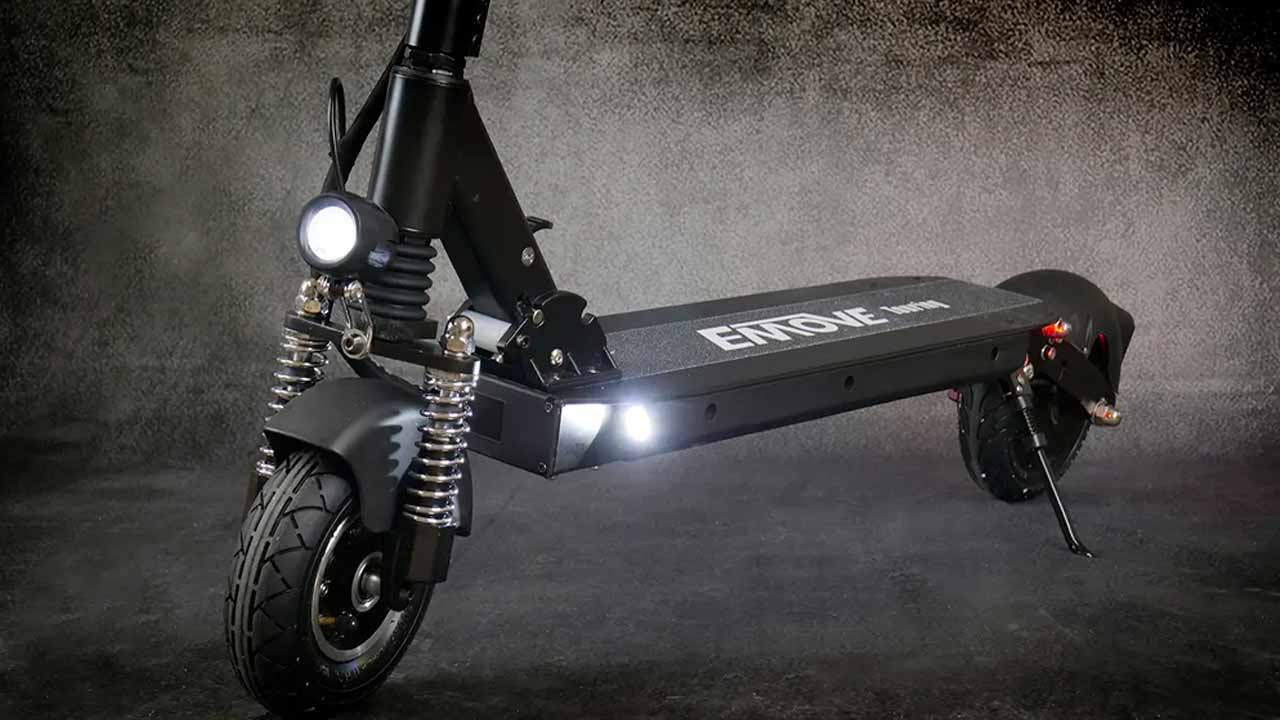 Budget Scooter
The EMOVE Touring Electric Scooter is the perfect choice for those seeking a budget-friendly beginner electric scooter. Offering excellent performance at an affordable price, the Touring is a popular entry-level option for riders who crave more power. In fact, many Voro customers who start with the Touring end up upgrading to the Kaabo Mantis for even greater power later on.
Looking for a reliable electric scooter for your daily short commutes?
The EMOVE Touring, the latest offering from EMOVE, might just be the beginner scooter you need. With a 25 mph top speed and a 624WH battery providing a maximum range of 32 miles, the Touring is an entry-level commuter scooter that comes at an affordable price of $900.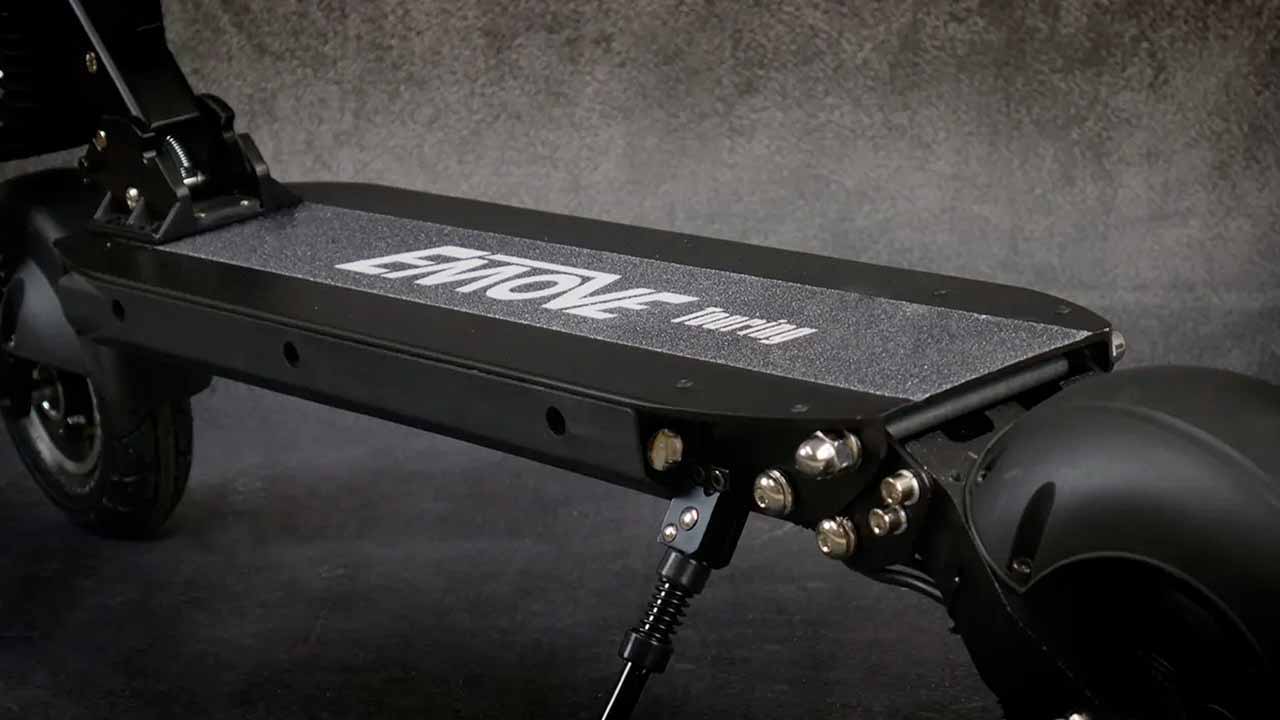 Features
Compact folded dimensions, 39 lb weight, and quick-step folding make it perfect for last-mile commuting for riders up to 308 lbs
8″ front air-filled tire and 8″ solid rear tire means you'll deal with fewer flats
Drum and regenerative brakes on the rear bring you to a stop from 15 mph in just 16 ft
IP54 water resistance rating makes it suitable for riding in light rain
Backed by our 1-year limited warranty, we'll take care of you, your ride, and what you need, just ask our team
City Riders
Whether you have a short or long commute in the city or suburbs, the Touring electric scooter is an excellent option that can get you to work or school on time. Equipped with a powerful drivetrain featuring a 500W maximum motor, 10A controllers, and a 48V 624WH LG battery pack, the Touring can easily tackle 15-degree hills, making it perfect for those who need to climb steep inclines during their commute.

Range
Boasting a 624WH battery, the Touring electric scooter advertises an impressive 32-mile range. However, in real-world riding conditions, owners can expect a minimum of 16 miles. To approach the advertised range, riders would need to travel on flat ground and maintain a consistent acceleration.
Customizable control center: The Touring's telescoping stem can be lowered to 28″ for seated riding or 40″ for taller riders. Finger throttle, key start ignition, voltmeter, horn, bell, light switch, and pull-release folding handlebars are included. With waterproof plug-and-play cabling, you can upgrade components like a throttle.
Shining lights: The EMOVE Touring has a low-mounted headlight, front and rear deck lights, and a rear fender tail light. Braking blinks the deck and tail lights.
Decked-out deck: The 22″ long by 7″ wide deck has grip tape for excellent traction and 5″ of deck-to-ground clearance so you can jump curbs.
Goes the distance: 48V 13 Ah LG battery and 48V square wave controller provide 624 Wh and recharge in 6 hours.
Punches above its class: With a 500 W rear motor, you can climb 15-degree hills, go from 0 to 15 mph in 4.5 seconds, and reach 25 mph.
Low maintenance magic: Mixed 8″ tires, including an air-filled front tire and solid rear tire, mean you can ride longer and repair less as most flats happen on the rear. Paired with rear drum and regen brakes and full-coverage fenders, the tires require very little maintenance.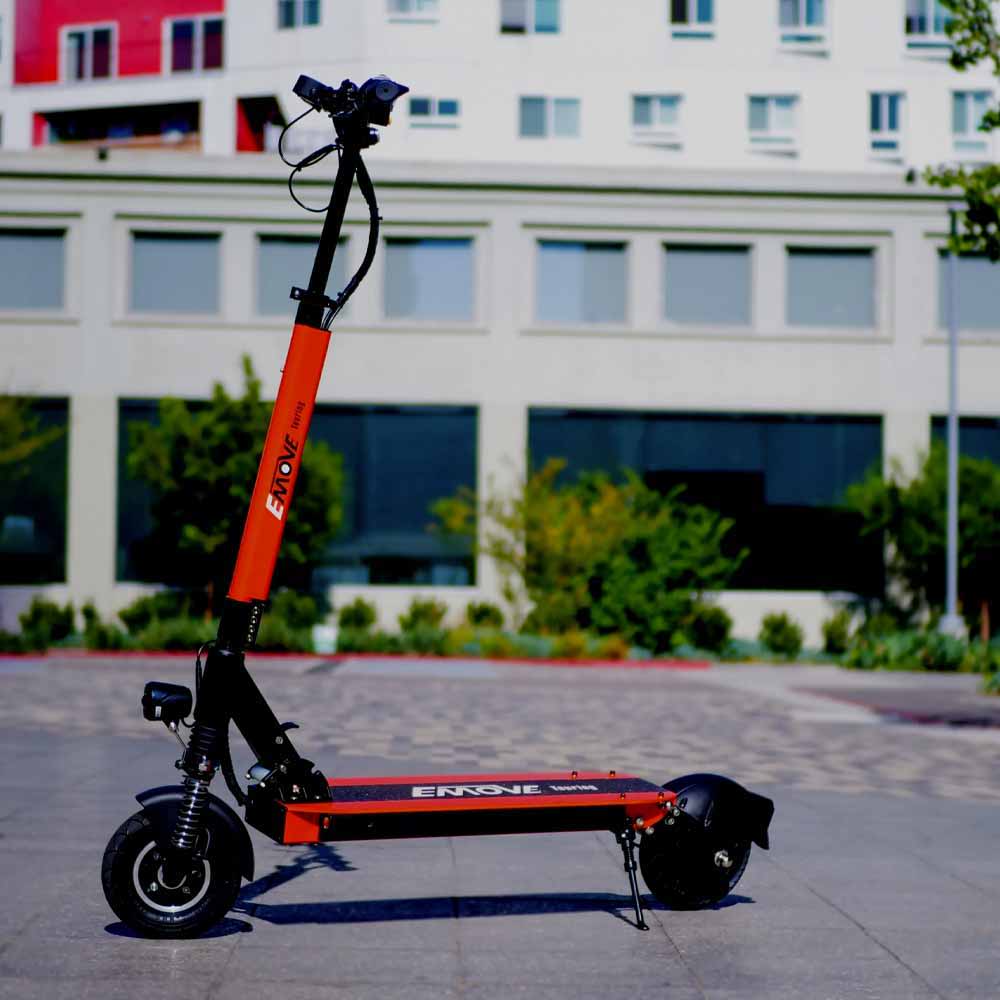 Power
If you're looking for a powerful electric scooter to navigate through city streets, the Touring might be just what you need. With its high torque and speed capabilities, this robust scooter can handle challenging urban terrain with ease. Weighing in at just 39 lbs, the Touring's compact and futuristic design has gained praise from the scooter community for its lightweight and aesthetically pleasing chassis. The Touring is equipped with 8-inch solid/pneumatic tires, a convenient fold system, a digital display, and a dual braking system, making it a low-maintenance, easy-to-use, and highly portable scooter.
Ready to tour?
The Touring's arrival has generated a lot of excitement within the budget scooter riders' community. It has the potential to become a top contender in Voro's entry-level performance electric scooter category. Positioned at the bottom of EMOVE's lineup, the Touring is an excellent entry-level electric scooter and one of the most dependable single-motor scooters on the market, making it a popular choice among Voro's customers.
Are you searching for a reliable electric scooter to run your errands or commute to work? The EMOVE Touring might be just what you need. Let's take a closer look at the specs of this impressive scooter.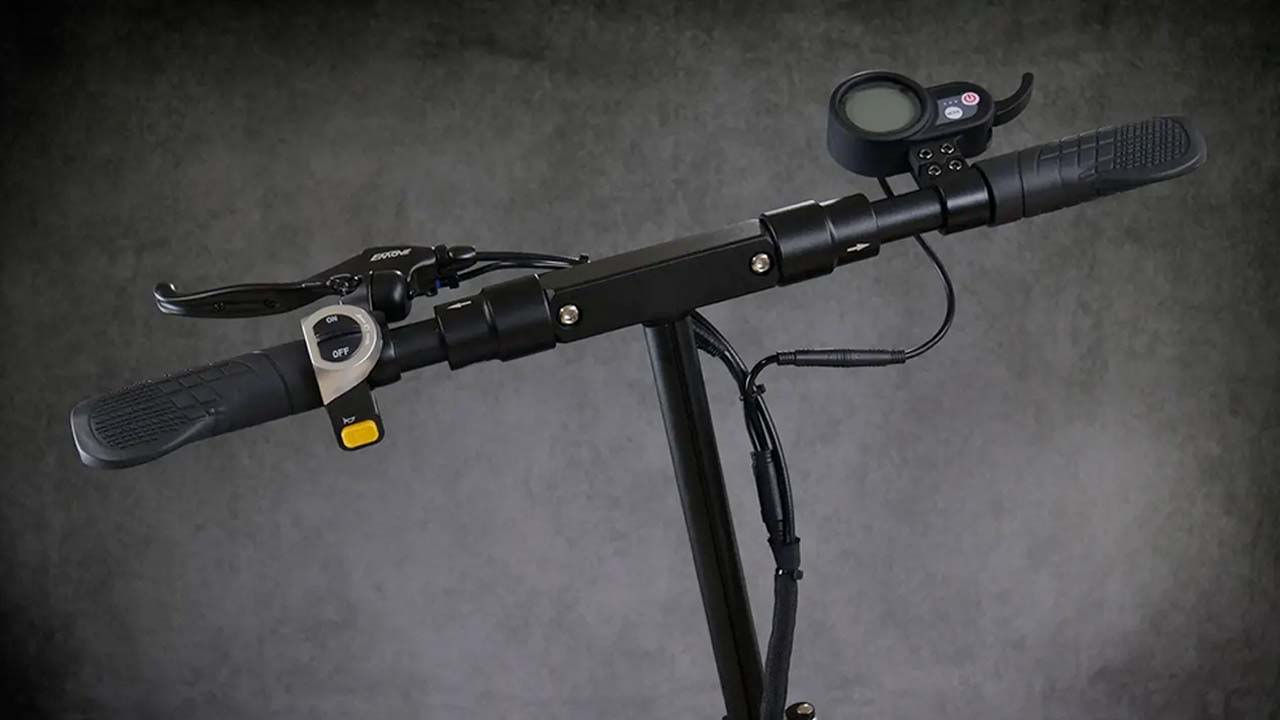 Technical Specs
Top Speed: 25 mph (40.2 km/h)
Range: 32 mi (51 km)
Hill Climb Angle: 15 Degrees
Motor: Rear 500W BLDC
Throttle: Finger Throttle
Suspension: Triple Spring
Charger: 48V 2A GX16-3
Charge Time: 3-4 Hours
Battery: 48V 13Ah LG
Controller: Square wave
Display: LCD Display
Tire Type: 8″ (F) Pneumatic, 8″ (R) Solid Rubber
Brakes: Rear drum
Water Rating: TBD
Headlights: Yes
Deck Lights: Yes
Brake Lights: No
Signal Lights: No
Max Load: 308 lbs (140 kg)
Item Weight: 39 lbs (17 kg)
Dimensions: Folded: 43″ x 8″ x 11.5″, Unfolded: 39.3″ x 22″ x 47.2″
About EMOVE
Originally, Voro Motors was a Singapore-based store specializing in the sale of personal electric scooters. Through our dedication to quality and personalized customer service, we rapidly emerged as the top provider of high-end electric scooters in the country. However, since electric vehicles are banned for personal use in Singapore, we had to expand our focus to other markets to sustain our business. Our mission is to make personal commutes more accessible, particularly as a primary alternative to traditional transportation. We have successfully persuaded many individuals to switch to the EMOVE scooters as a complete replacement for their cars.
You may also like:
Disclaimer: The information presented in this article is derived from extensive research, user reviews, and publicly available information. Our aim is to provide accurate and up-to-date content; however, it is crucial to understand that the opinions expressed are based on the information available at the time of writing. We strongly encourage readers to conduct their own thorough research and carefully evaluate their individual needs before making any purchasing decisions.
eWheels 2023 Summer Deals and New Launches are here!!!
Cheap, reliable, and powerful! TurboAnt Electric Scooters 2023 Sale!
Hi guys! This post may contain affiliate links, sponsored content, and advertisements. We get a small commission for covering topics that interest us (helps us keep the doors open). For more information, please see our privacy policy and disclaimer. Ride safe yall!
2023 Electric Unicycles:
Coupons & Deals:
Apollo Scooters: Get $50 USD worth of free accessories, upgrades, or spare parts with the purchase of a scooter. Code: VROOOMIN
REV Rides: Save $50 off Scooters and EUC's, Code: VROOOMIN
EVOLV Electric Scooters: Free Folding Lock (worth C$80) for every EVOLV model! Use Code: VROOOMIN-LOCK
To keep the site running and information flowing, Vrooomin.com participates in affiliate linking programs. We're also an Amazon Associate, which means we get paid for referring people to Amazon. Please support the channel by clicking on our links.