Ninebot Kickscooter MAX G30LP
Worlds iconic beginner commuter scooter
You can get the Ninebot Kickscooter MAX G30LP for $700, and it's the ideal scooter for your regular commute. The scooter can carry riders as heavy as 220 pounds and has a maximum speed of 18 MPH and a range of 25 miles.
Many people have said positive things about the scooter's speed and dependability, and the community has praised the scooter's decent uphill power and realistic 20-mile range per charge.
Segway's electric scooters have come a long way
This model particularly features a quick and simple folding system, an LED digital dashboard, and a smart battery management system.
10-inch Pneumatic Tires
Built-In Front LED Lights
Max speed: 18.6 mph
Typical range: 25 miles
20% Hill Grade
IPX5 Water-Resistant
6.5H Fast Charging
18,650 Lithium Batteries
66.1-220.5 lbs (30.0-100.0 kg) Payload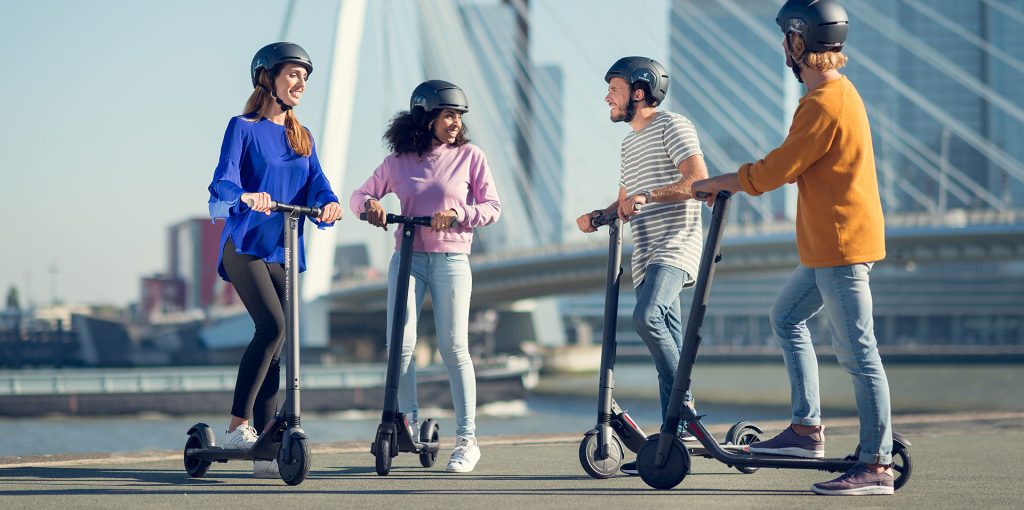 Commuter Electric Scooter
Perfect for the city and suburb riders
Many riders are glad that the MAX G30LP's 7-inch wide platform means they no longer have to deal with the discomfort of riding scooters with narrow decks. The Ninebot Kickscooter MAX G30LP is the ideal scooter for cruising around town. This scooter would be perfect for a trip to the local cafe for a chat with a pal. Let's check out the manufacturer's list of how it excels.
Easy Folding System
Three clicks are all it takes to fold up the Ninebot KickScooter MAX G30LP. You can easily take it on public transportation, store it in your car, and take it anywhere you want. It is also safe, long-lasting, and has the same folding mechanism as high-end folding bikes.
Three Riding Modes
The easy-to-use LED dashboard makes it easy to switch between Eco, Standard, and Sports modes with just two clicks. This makes it easy to control the bike in different riding modes.
Improved Ride Quality
The Ninebot MAX G30LP has self-sealing, flat-free tires that have been upgraded. These tires give a better driving experience by combining comfort and shock-absorbing features to make riding safer.
2.5W Built-In Front LED Light
The upgraded 2.5w high-brightness LED light is meant to light up the path in front of you and make you more visible to others without blinding them.
Regen Brakes
The Ninebot KickScooter Max G30LP has a regenerative braking system recharges the battery when braking on your ride When you use regenerative braking, energy will be collected and used when you need a boost, which is good for the user to extend the riding range.
Large Deck
The Ninebot MAX G30LP has a platform that is 7 inches wider, giving you more comfort. Its design makes it less likely to slip, and the increased contact friction gives the rider stability.
Smart Battery Management System
With 40 high-quality 18,650 big-capacity lithium batteries, the Smart Battery Management System has a high power supply and closely monitors the battery status with multiple protection mechanisms to ensure the battery is safe and to let you know if there are any battery alerts.
Mobile App
Connect the Ninebot Max G30LP to the Segway-Ninebot app via Bluetooth to see how fast you're going and how much battery you have left. You can also upgrade the firmware of your scooter over the air and keep track of your riding data, which improves the whole experience.
| | |
| --- | --- |
| Unfold: Length x Width x Height | Approx. 43.7 x 18.6 x 45.1in(1109 472 1146 mm) |
| Fold: Length x Width x Height | Approx. 43.7 x 18.6 x 21.0in(1109 472 534mm) |
| Net | Approx. 38.6lbs (17.5 kg) |
| Payload | 66.1-220.5lbs (30.0-100.0kg) |
| Recommended Age | 14+ years |
| Required Height | 3′ 11″-6′ 6″ (120-200 cm) |
| Max. Speed | Approx. 18.6 mph (30 km/h) |
| Typical Range | Approx. 24.9 miles(40 km) |
| Max. Slope | 20% |
| Traversable Terrain | asphalt/flat pavement; obstacles ≺ 0.4 in (1 cm); gaps ≺ 1.2 in (3 cm) |
| Operating Temperature | 14-104F (-10-40C) |
| Storage Temperature | -4-122F (-20-50C) |
| IP Rating | IPX5 |
| Duration of Charging | Approx. 6.5 h |
| Nominal Voltage | 36 VDC |
| Max. Charging Voltage | 42 VDC |
| Norminal Energy | 367 Wh |
| Nominal Capacity | 10200 mAh |
| Battery Management System | Over-heating, short circuit, over-current, and over-charge protection |
| Max. Power | 700 W (0.7kW) |
| Nominal Power | 350 W (0.35kW) |
| Output Power | 71 W (0.071kW) |
| Input Voltage | 100-240 VAC |
| Output Voltage | 42 VDC |
| Output Current | 1.7 A |
| Brake Light | LED rear light |
| Riding Modes | Speed limit mode, Standard mode, and Sport mode |
| Tires | Tubeless tire, Material: Natural carbon-black synthetic rubber, 60/70-6.5, Straight nozzle |
About Segway
Segway is the most popular way for people to get around. Dean Kamen, who is known for coming up with new ideas, started Segway in 1999. Segway has always worked to ensure its products are safe, high-quality, and reliable. Segway-Ninebot is a multinational company that makes service robots and smart transportation for short distances.
The company's international businesses sell goods in more than 80 countries and regions. The value of the company Ninebot is more than $1.5 billion. Segway-Ninebot wants its intellectual property, which is known all over the world, to lead users and the industry into the future.
Best Budget Electric Scooters:
Disclaimer: The information presented in this article is derived from extensive research, user reviews, and publicly available information. Our aim is to provide accurate and up-to-date content; however, it is crucial to understand that the opinions expressed are based on the information available at the time of writing. We strongly encourage readers to conduct their own thorough research and carefully evaluate their individual needs before making any purchasing decisions.
eWheels 2023 Summer Deals and New Launches are here!!!
Cheap, reliable, and powerful! TurboAnt Electric Scooters 2023 Sale!
Hi guys! This post may contain affiliate links, sponsored content, and advertisements. We get a small commission for covering topics that interest us (helps us keep the doors open). For more information, please see our privacy policy and disclaimer. Ride safe yall!
2023 Electric Unicycles:
Coupons & Deals:
Apollo Scooters: Get $50 USD worth of free accessories, upgrades, or spare parts with the purchase of a scooter. Code: VROOOMIN
REV Rides: Save $50 off Scooters and EUC's, Code: VROOOMIN
EVOLV Electric Scooters: Free Folding Lock (worth C$80) for every EVOLV model! Use Code: VROOOMIN-LOCK
To keep the site running and information flowing, Vrooomin.com participates in affiliate linking programs. We're also an Amazon Associate, which means we get paid for referring people to Amazon. Please support the channel by clicking on our links.