Ninebot KickScooter D28
Ninebot recently released the D28, which costs around $769, for people looking for a super entry-level electric scooter for commuting to work. The D28 is a one-of-a-kind scooter with a 700W motor, 20A controllers, a top speed of 15 MPH, and the ability to climb steep hills.
Going to work or to the grocery store will be enjoyable. The D28 is powered by a 36V 275WH lithium battery pack and has a maximum range of 17 miles on a single charge. Riders should get at least 10.2 miles on a full charge; that's the average range on lithium batteries of this size.
The scooter community likes this model because of its dependable chassis, sleek design, and low price. This scooter is a bit pricey at $769. What are your thoughts? Are you willing to spend the coin on the Ninebot D28? Is the low price justified? Let's look at the specifications and features provided by Ninebot below.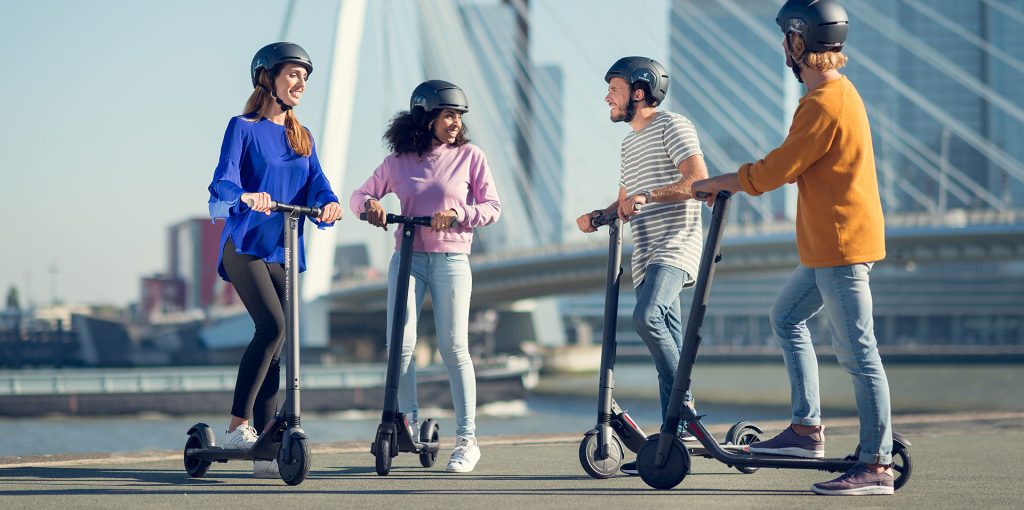 Top Speed: 15.5 mph Max. Speed
Miles Range: 17.4 Miles Range
Tires: 10-inch Pneumatic Tires
Brake: 2 brakes: electronic front brake; rear drum brake
Light: 2.1 W Built in-front LED Light Brake and Rear Lights
Safety: Front, side and rear E-MARK reflectors
Easy Charging: Up to 5 hours
220 lbs Max Payload
Powerful Motor
With the powerful Brushless DC Motor, the D28's motor's life is 3000 hours. This unique, reliable, and high-powered motor is low heating, efficiently dissipating heat for a longer motor life. With moderate use, the D28 motor lasts at least eight years.
Eco Mode: Ideal for crowded areas.
Drive Mode: Best for cruising around the park.
Sport Mode: Perfect for your commute to go work.
Ternary Lithium Battery
The ternary lithium battery is more innovative and durable with its 5th generation intelligent battery management system that keeps your battery safe. The battery will remain above 70% within five years of use compared to new units, charged and discharged.
Smarter and More Endurable Battery
Brighter and more endurable, the D28 multi-function battery extends its life by turning itself off and entering sleep mode when the battery level drops under 30%.
10-inch Pneumatic Tire
Ride safely and securely on improved, 10-inch pneumatic tires with better comfort. The D28's tires are larger, more durable, and robust, providing more excellent puncture resistance.
Anti-Skid Tread Tires
Anti-skid tread tires include anti-slip lines and grooves on the tire tread. The unique, anti-sideslip tire tread design prevents water adhesion and achieves good braking performance.
0.1s Response Safe & Sensitive Braking
Your slowing and stopping time is excellent with a front tire-electronic brake and a rear tire-drum brake. Breaks are safe and sensitive with a 0.1-second response.
High-Toughness Carbon Steel Structure
The D28's high-toughness carbon steel structure is a rugged, durable frame that stands up to hard use and all kinds of weather. Carries a maximum load of 100kg (220 pounds).
Thicker and Wider Footboard
Feel safe and secure on a thicker, wider footboard. The D28's footboard's width is increased by 30%. Ride securely with reduced vibration and a non-slip design made of elastic silicone material.
Spotlight LED
Your high-brightness spotlight LED includes a cut-off line design to keep you safe and secure at night. The LED spotlight reaches 13.5 meters, nearly 45 feet, allowing you to see well ahead as you ride.
3-step Folding Mechanism
Take advantage of the three-step folding mechanism and travel with ease. The D28 can be easily folded and carried in three simple steps.
Bionic Design Handle Cover
The D28 handle covers are ergonomically designed and sweat-resistant, resulting in a comfortable feel for your skin and hands and an easy, secure grip.
Metal Spraying
The frame of your D28 is treated with metal spray to provide a high-performance coating material and a relaxed look with a better tactile impression.
Brand new integrated display
They feature a new integrated collection, free of partitions, giving you better accessibility and easier viewing. Press the power button twice to switch between the three modes: S to go faster, D for general cruising, and ECO mode to walk alongside in crowded areas.
Technical Specs
| | |
| --- | --- |
| Unfold: Length x Width x Height | Approx. 45 × 18.9 × 45.7 in (1143 × 480 × 1160 mm) |
| Fold: Length x Width x Height | Approx. 45 × 18.9 × 19.5 in (1143 × 480 × 495 mm) |
| Net | Approx. 34 lbs (15.4 kg) |
| Payload | 66-265 lbs (30-120 kg) |
| Recommended Age | 14+ years |
| Required Height | 3′ 11″-6′ 6″ (120-200 cm) |
| Max. Speed | Approx. 15.5 mph (25 km/h) |
| Typical Range | Approx. 17.4 miles (28 km) |
| Max. Slope | Approx. 15% |
| Traversable Terrain | Asphalt/at pavement; obstacles < 0.4 in (1 cm); gaps < 1.2 in (3 cm) |
| Operating Temperature | 14-104F (-10-40C) |
| Storage Temperature | 14-122F (-10-50C) |
| IP Rating | IPX5 |
| Duration of Charging | Approx. 5h |
| Nominal Voltage | 36 V |
| Max. Charging Voltage | 42 V |
| Charging Temperature | 32-104F (0-40C) |
| Nominal Capacity | colspan="2″>7650 mAh |
| Nominal Energy | 275 Wh |
| Battery Management System | Over-heating, short circuit, over-current, over-discharge and over-charge protection |
| Nominal Power | 0.3 kW, 300 W |
| Output Power | 0.07 kW, 70 W |
| Input Voltage | 100-240 V |
| Max. Output Voltage | 42 V |
| Rated Output | 41 V, 1.7 A |
| Brake Light | LED Rear Light |
| Riding Modes | Energy-saving mode, Standard mode and Sport mode |
| Tire Pressure | 40-45 psi |
| Tires | 10-inch pneumatic tires. |
About Segway
The market leader in personal transportation is Segway. Dean Kamen, a well-known inventor, founded Segway in 1999. Segway has always worked to give its customers high-quality, safe, and dependable products. A multinational company specializing in service robots and intelligent short-distance transportation is called Segway-Ninebot.
Products are sold by the company's international businesses in more than 80 nations and regions. The company Ninebot is valued at more than USD 1.5 billion. Segway-Ninebot aims to lead users and the industry into the future with its internationally renowned intellectual property.
Best Budget Electric Scooters:
Disclaimer: The information presented in this article is derived from extensive research, user reviews, and publicly available information. Our aim is to provide accurate and up-to-date content; however, it is crucial to understand that the opinions expressed are based on the information available at the time of writing. We strongly encourage readers to conduct their own thorough research and carefully evaluate their individual needs before making any purchasing decisions.
eWheels 2023 Summer Deals and New Launches are here!!!
Cheap, reliable, and powerful! TurboAnt Electric Scooters 2023 Sale!
Hi guys! This post may contain affiliate links, sponsored content, and advertisements. We get a small commission for covering topics that interest us (helps us keep the doors open). For more information, please see our privacy policy and disclaimer. Ride safe yall!
2023 Electric Unicycles:
Coupons & Deals:
Apollo Scooters: Get $50 USD worth of free accessories, upgrades, or spare parts with the purchase of a scooter. Code: VROOOMIN
REV Rides: Save $50 off Scooters and EUC's, Code: VROOOMIN
EVOLV Electric Scooters: Free Folding Lock (worth C$80) for every EVOLV model! Use Code: VROOOMIN-LOCK
To keep the site running and information flowing, Vrooomin.com participates in affiliate linking programs. We're also an Amazon Associate, which means we get paid for referring people to Amazon. Please support the channel by clicking on our links.