Electric Scooters Database: Gotrax XR Elite
Take your commute to the MAX! The XR Elite MAX is the latest electric scooter from GOTRAX. This e-scooter takes some of the great features from our other electric scooters, such as one-touch folding and reactive brake light, and adds to it. An updated design with a powerful 300W front wheel motor and 10″ air-filled tires make for the perfect ride. 
XR ELITE MAX ELECTRIC SCOOTER
The XR Elite is the most affordable GOTRAX scooter at $469, as well as the most powerful at this low price. The XR Elite is lightweight, portable, and powerful at 32 lbs, with a top speed of 15 mph, a range of 10 real-world miles, a 280WH battery pack, and powerful brakes. The materials used on the XR Elite are low-cost. Regardless, the performance will satisfy any beginner or commuter looking to save time on short trips to work or the local grocery.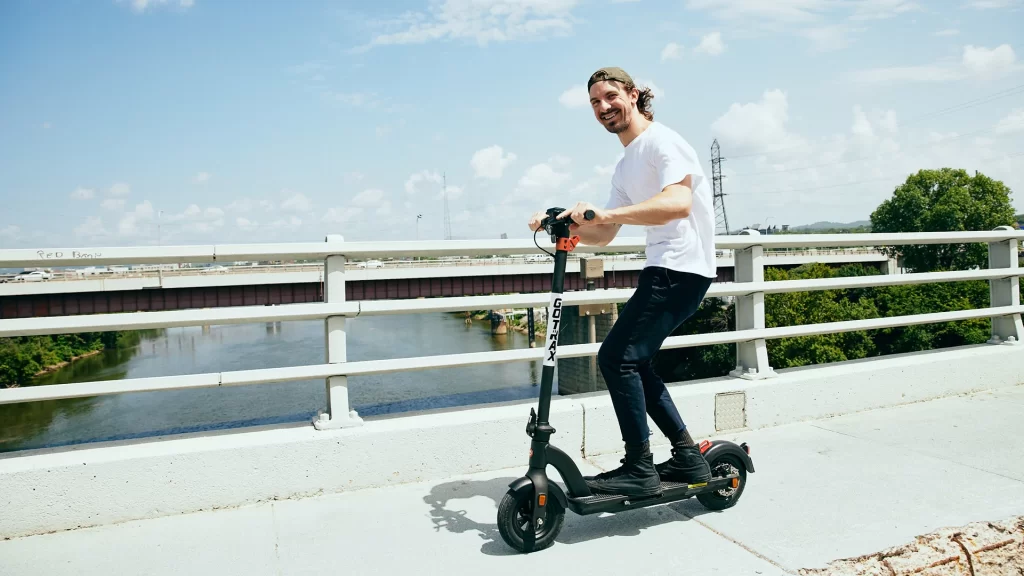 18 Miles per charge
15.5 MPH Max Speed
300W Avg. Motor
10″ Air-filled tires
Dimensions: 47.1″ x 18.5″ x 45″
Weight: 35.4LBS
Charge Time: 4-5 Hours
SUPERIOR PERFORMANCE
A 300W motor propels the e-scooter to a top speed of 15.5 MPH. Under certain conditions, a 280.8Wh high-capacity battery can achieve a maximum travel range of 18.6 miles. You can easily see the LED display's current speed and battery life.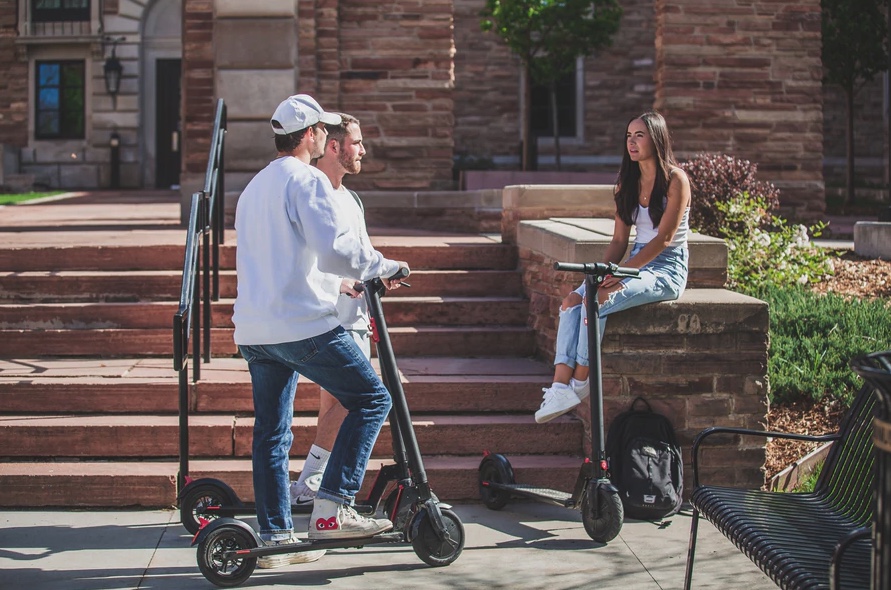 EABS + DISC BRAKING SYSTEM
The dual disc and anti-lock braking systems ensure safe and responsive braking over a short distance. Front and rear 8.5″ air-filled tires provide a comfortable ride even on rough roads or in bumpy terrain.
NEW SAFETY UPGRADES
We've put in a lot of effort to make riding safer! The upgraded headlights improve visibility. In the dark, taillights can serve as a warning to other vehicles. Six additional reflectors provide complete coverage while riding at night.
RIDE WITH COMFORT
The wide deck of the Electric Scooter (6.6″W/28.3″L) provides more comfort for both of your feet and improves stability when you step on. The large soft anti-slip pedal allows you to unwind even on long commutes.
ONE-STEP FOLDING SYSTEM
The XR Elite E Scooter features a one-step folding system for maximum portability. Aluminum material improves stability, and a special Red Safety Button prevents the scooter from folding while riding.
Technical Specs
Brand: Gotrax
Color: Black
Age Range (Description): Adult
Special Feature: Foldable
Weight Limit: 220 Pounds
Item Dimensions LxWxH: 40 x 8 x 16 inches
Number of Wheels: 2
Model Name: XR
Wheel Material: Rubber
Frame Material: Aluminum
Item Weight: 32 Pounds
Handlebar Type: Foldable
Handle Height: 36 Inches
Wheel Size: 8.5 Inches
Wheel Type: Pneumatic
Suspension Type: Front Suspension
Grip Type: Ergonomic
Brake Style: Rear Braking
Warranty Type: Limited
Item Package Dimensions L x W x H: 39 x 14.8 x 8.1 inches
Package Weight: 16.31 Kilograms
Brand Name: Gotrax
Warranty Description: 90 day limited
Material: Aluminum
Suggested Users: Unisex-adult
Manufacturer: ZHEJIANG TAOTAO VEHICLES CO.,LTD
Part Number: XR
Style: XR
Included Components: User Manual, Scooter, Charger
Gotrax Electric Scooters
Tao Motors toiled for almost 20 years to become one of the most extensive gasoline vehicle manufacturing facilities. Tao Motors' gas vehicles immediately became some of the best-selling items in their market. There was little interest in or awareness of electric cars at the time. The cooperation took off rapidly, driven by the GOTRAX vision of personal electric vehicles as the future of commuting and backed by Tao Motors' production competence.
GOTRAX has been dedicated to developing enjoyable, inexpensive, eco-friendly electric rideables that push the boundaries of mobility since 2017. Tao Motors has become a leading maker of electric vehicles in just four years, selling over one million units since its beginnings. Tao Motors' expansion altered the company's manufacturing from entirely gasoline-powered automobiles to primarily electric-powered ones.
GOTRAX is a Texas-based American corporation. Our products are proudly manufactured by Tao Motors, a long-term partner, and are independently quality controlled by a third party.
Best Cheap Electric Scooters:
Disclaimer: The information presented in this article is derived from extensive research, user reviews, and publicly available information. Our aim is to provide accurate and up-to-date content; however, it is crucial to understand that the opinions expressed are based on the information available at the time of writing. We strongly encourage readers to conduct their own thorough research and carefully evaluate their individual needs before making any purchasing decisions.
eWheels 2023 Summer Deals and New Launches are here!!!
Cheap, reliable, and powerful! TurboAnt Electric Scooters 2023 Sale!
Hi guys! This post may contain affiliate links, sponsored content, and advertisements. We get a small commission for covering topics that interest us (helps us keep the doors open). For more information, please see our privacy policy and disclaimer. Ride safe yall!
2023 Electric Unicycles:
Coupons & Deals:
Apollo Scooters: Get $50 USD worth of free accessories, upgrades, or spare parts with the purchase of a scooter. Code: VROOOMIN
REV Rides: Save $50 off Scooters and EUC's, Code: VROOOMIN
EVOLV Electric Scooters: Free Folding Lock (worth C$80) for every EVOLV model! Use Code: VROOOMIN-LOCK
To keep the site running and information flowing, Vrooomin.com participates in affiliate linking programs. We're also an Amazon Associate, which means we get paid for referring people to Amazon. Please support the channel by clicking on our links.