Mention Code "VROOOMIN" for possible discounts to your dealer!
Coupon Codes & Deals:
eWheels Spring Sale on electric scooters and electric unicycles
Save $50 off Kaabo and EMOVE electric scooters with Code: VROOOMIN
Save $50 off VSETT, Begode, King Song, Segway with Code: VROOOMIN
Get $50 worth of accessories at Apollo scooters with Code: VROOOMIN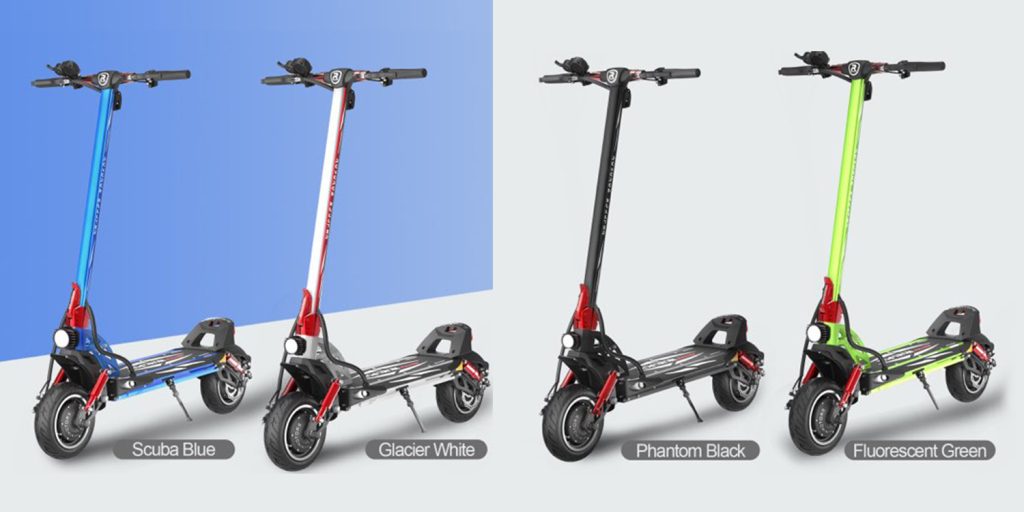 Rovoron Kullters are now in stock at MiniMotors USA
We are happy to report that MiniMotors USA now carries Rovoron Kullters. If you are looking for a high-performance scooter with a top speed of more than 40 miles per hour and a voltage of 60 volts, the Kullter will meet all your requirements in terms of its specifications, performance, features, and aesthetics. The Kullter is comparable to the Victor in terms of its powertrain, and it features an all-new display and cockpit in addition to a folding stem latch and air suspension. Check with MiniMotors to see how quickly they can ship your order out today.
MiniMotors USA is getting ready to divulge the Rovoron Kullter, a 46-mph dual-sport commuter electric scooter. Shipping ETA June 2022.
2022 RovoRon Kullter Technical Review
San Rafael, California – The RovoRon Kullter packs a tremendous boost for its size, making it ideal for daily commutes. Weighing in at 68 pounds, this High-Performance electric scooter was created for riding pleasure in the inner city and outer suburbs. The Kullter's drivetrain is robust, smooth, reliable, and compact, making it ideal for any sports scooter enthusiast to own and ride.
The RovoRon Kullter is equipped with the legendary MiniMotors drivetrain, including a 60V 31.5AH LG battery pack and dual 4000W motors capable of reaching speeds up to 46 mph at its highest setting. The RovoRon Kullter's maximum range is 55 miles, which enables riders to commute to work, the grocery store, and even the gym without worrying about running out of battery.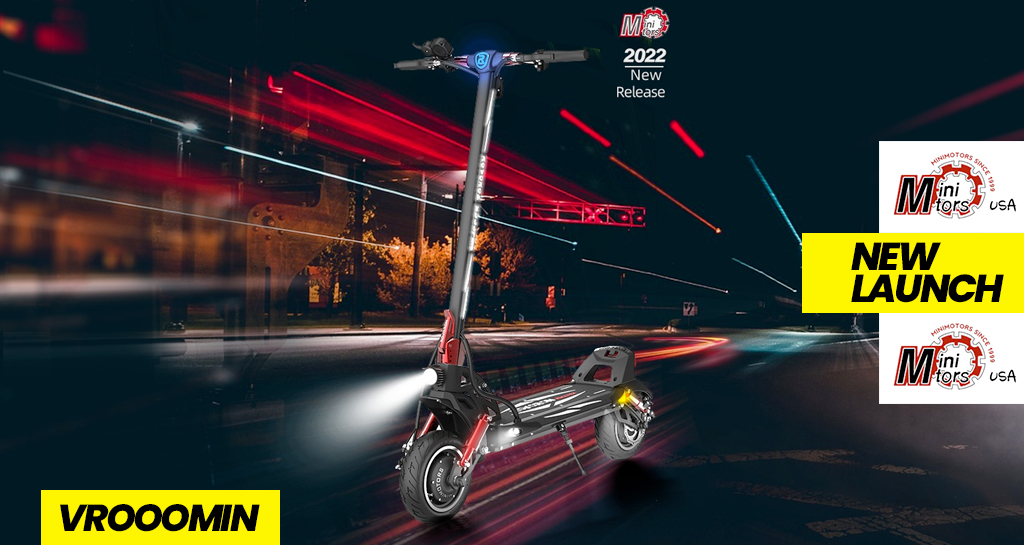 Give me some brakes, make them full hydraulic
It is critical to move quickly and stop on a dime. The Kullter is equipped with full hydraulic (ABS) brakes and a top speed of 46 mph to safely transport riders to their destination while also providing riders with complete control when it comes time to slow down or finish their ride. Simply put, the RovoRon Kullter is a new MiniMotors release that includes all of the necessary high-quality components, drivetrains, features, and electronics to get you safely and quickly to your destination without sacrificing quality.
Given the proliferation of 40 mph scooters on the market, the Rovorons' comprehensive twin motor package distinguishes it as a formidable competitor in the rapidly growing performance scooter market.
Chile's Munsac releases the first Rovoron Kullter Video
Fast power
The Rovoron, equipped with a twin motor 4KW powertrain, an LG 1890WH battery pack, and MiniMotor's latest complete suspension air shock chassis, was designed for riders looking for the best street commuting performance while also being capable of going off-road with the proper tires. Despite the Kullter's high price tag (it retails for $2800), you get a lot of great features that transform your scooter into a turn-key riding solution for a small investment.
It features the coveted MiniMotor's EYE throttle, an updated multi-switch, a dual-purpose flip hook, an updated easy fold system, air shock suspensions, headlight/taillight/turning signals, and a 4KW system that accelerates to 46 mph in a heartbeat and coasts up to 55 miles on a single charge.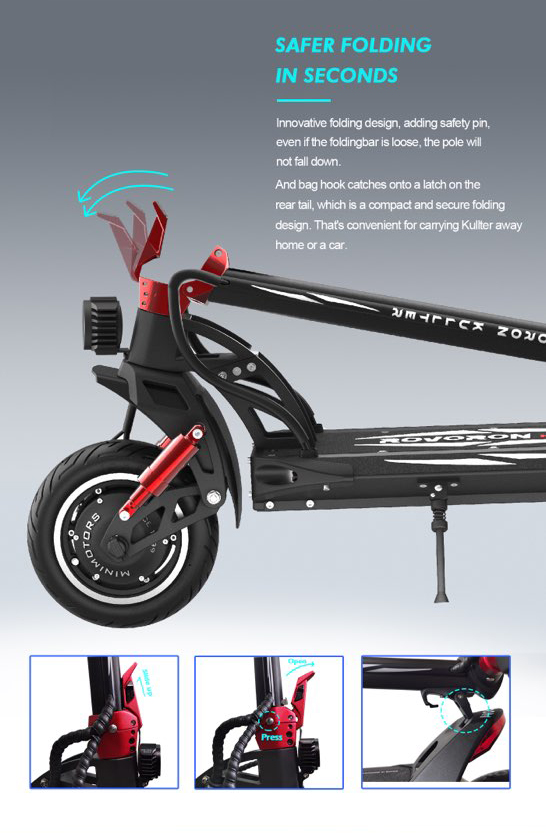 Clear option for long range riding
The Kullter adds some color to your collection and is available in four colors: scuba blue, alpine white, phantom black, and florescent green. The days of purchasing scooters and then customizing them with a slew of aftermarket accessories are over. The Kullter was designed with riders in mind and equipped you with everything you'll need to confidently hit the road.
RovoRon Kullter Features:
Throttle: Eye dinger throttle for fatigue free riding, cruise control options for easy riding
Handlebars: Folding handle bars make for easy storage
LED Lighting: Front and Rear headlights/taillights for added visibility and safety
Horn: None
Suspension system: Dual air spring suspension system is good for city riding, absorbs bumps, small pot holes and road vibrations
Tires: 10″ x 3″ pneumatic/solid tires for smooth riding and easy maintenance
Mobile App: No mobile app
Folding System: Easy 3 step folding system for transport. Scooter is light/heavy for easy transport
Brakes: Dual Hydraulic brakes and ABS/Regen provides quick and easy braking
Motors: Powerful 4000W motors for easy acceleration and torque up 23 inclines
Top Speed: Real world top speed is 40- 46 mph, average cruising speed is 12 – 25 mph
Max Range: Real world range 55 miles, at-least 60% of advertised max range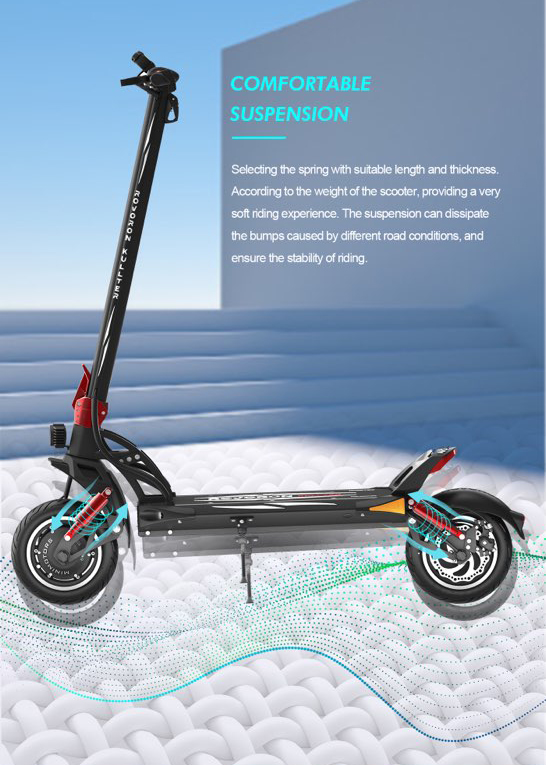 Large power comes at a reasonable price.
Warranty and Service please
The Rovovron costs $2,800, which is a reasonable price for all of the features that every scooter should include. The Kullter is backed by Global MiniMotor's solid reputation and MiniMotors USA's best-in-class warranty and customer service. If you're looking for the 4KW power, fast acceleration, comfy suspension, and fully loaded features to make your rides more enjoyable, check out the RovoRon Kullter specs below:
Technical Specs:
Top Speed: 46 mph
Motors: 4000W Dual Hub Motors
Brakes: Full Hydraulic (ABS)
Materials: Aluminum 6061 T6 Aluminum Frame
Price: $2,800 (Estimated)
Gradient: 23 degrees
Battery: 60V 31.5AH 1890WH LG battery pack
Charge Time: 20 hours
Max Range: 55 miles
Tires: 10×3″ wide tubeless
Suspension: Spring Air Shocks Suspension
Weight: 68 lbs
Max load: 265 lbs
Dualtron Electric Scooters: What You Need to Know
Here are some of the main reasons why MiniMotors USA customers choose Dualtron scooters:
Powerful – MiniMotors is the frontrunner of high-performance dual-motor electric scooters. Motors, controllers, and batteries from Dualtron are among the strongest available.
Build Quality – When it comes to quality, MiniMotors has a solid track record of producing scooters with cutting-edge electronics that are easy to maintain and cost-effective for the average rider to own.
Easy Maintenance – Scooters, in comparison to automobiles, are a fun, powerful, and low-maintenance mode of transportation. Brake pads and tire service are two of the most common maintenance items.
Spare Parts – All MiniMotors scooters have a large selection of spare parts available from MiniMotors. You can order or get any part you need for your vehicle's upkeep. Check out MiniMotors for more information.
Customer Service – MiniMotors USA's customer service team is available by phone and email to answer questions about maintenance, repairs, and accessory suggestions. The quality of MiniMotors USA's service and products is well-known.
---
eWheels 2023 Spring Deals and New Launches are here!!!
Cheap, reliable, and powerful! TurboAnt Electric Scooters 2023 Sale!
Hi guys! This post may contain affiliate links, sponsored content, and advertisements. We get a small commission for covering topics that interest us (helps us keep the doors open). For more information, please see our privacy policy and disclaimer. Ride safe yall!
2023 Electric Unicycles:
Coupons & Deals:
Apollo Scooters: Get $50 USD worth of free accessories, upgrades, or spare parts with the purchase of a scooter. Code: VROOOMIN
REV Rides: Save $50 off Scooters and EUC's, Code: VROOOMIN
EVOLV Electric Scooters: Free Folding Lock (worth C$80) for every EVOLV model! Use Code: VROOOMIN-LOCK
To keep the site running and information flowing, Vrooomin.com participates in affiliate linking programs. We're also an Amazon Associate, which means we get paid for referring people to Amazon. Please support the channel by clicking on our links.