Latest Updates
Inmotion V13 issues have been addressed in the latest batches
New V13 shipment arriving at eWheels in a month
Visit Inmotion for the latest product news.
Inmotion Reveals Specs for the V13 Challenger
Suspension Wars
Even though their live stream had a rocky start, the V13 team eventually got the launch event going. It was revealed that the Inmotion V13 Challenger Full Suspension Electric Unicycle has a rated top speed of +55 mph, a weight of 110 lbs, a maximum load of 264 lbs, and a maximum range of 124 miles per charge. The V13 is quite hefty.
Max Speed: 90 kmh / 55 mph
Weight: 50 kg / 110 lbs
Max payload: 120 kg / 260 lbs
Range: 200 km / 124 miles
Pricing: $3,999 early bird, $4,599 – retail
Kuji's Review Video is coming!
We couldn't be more psyched, as Kuji will publish his video review of V13 this coming Sunday. We've waited a long time, so our hopes are high for this wheel and its first video review. Speculation abounds online that the V13 may be the market's fastest wheel in acceleration, and we can only hope this is the case.
There are rumblings that this wheel offers a monstrous performance bundle, even if its battery isn't the largest in terms of watt-hours. However, we won't know until this coming Sunday when we hear from the legend and tastemaker himself.
Rumors are flying around on the internet
Word on the street is that Inmotion V13's prototypes are making their way stateside for content creators to pick them apart. In the coming weeks, V13s might start appearing on the market for demos.
If you live in the United States and are close to a massive body of water, your opportunity to ride the heavily coveted +50 mph suspension electric unicycle may soon come. Stay tuned as we update everyone on the most recent and exciting V13 news.
I am hooked, I bought my first Wheel, a brand new V12HT in June, put almost 400 miles on it in a month and would have snatched the V13 instantly if I could, but we both know that's not how the story works. These products have a high potential for addiction.

No other brand has its features, other companies have faced known issues, battery fires, rebranded themselves (cough, begode), or offered big sales on Wheels to get rid of them. All they do is offer bigger batteries, so what?

The V13 is the one, in my opinion, be the most remarkable Wheel on the market. Nothing comes close, and InMotion is a trustworthy and respectable company that is also a market leader.

Adrian R.
The V13 electric unicycle is a true monster in the making
While maintaining a heavier chassis and 126V system, its top speed is comparable to that of the 134V Begode Master. The V13 is a decade ahead of its rivals thanks to its extensive suspension, BMS, modularity, and safety features.
Max Speed: 90 kmh / 55 mph
Weight: 50 kg / 110 lbs
Max payload: 120 kg / 260 lbs
Range: 200 km / 124 miles
Pricing: $3,999 early bird, $4,599 – retail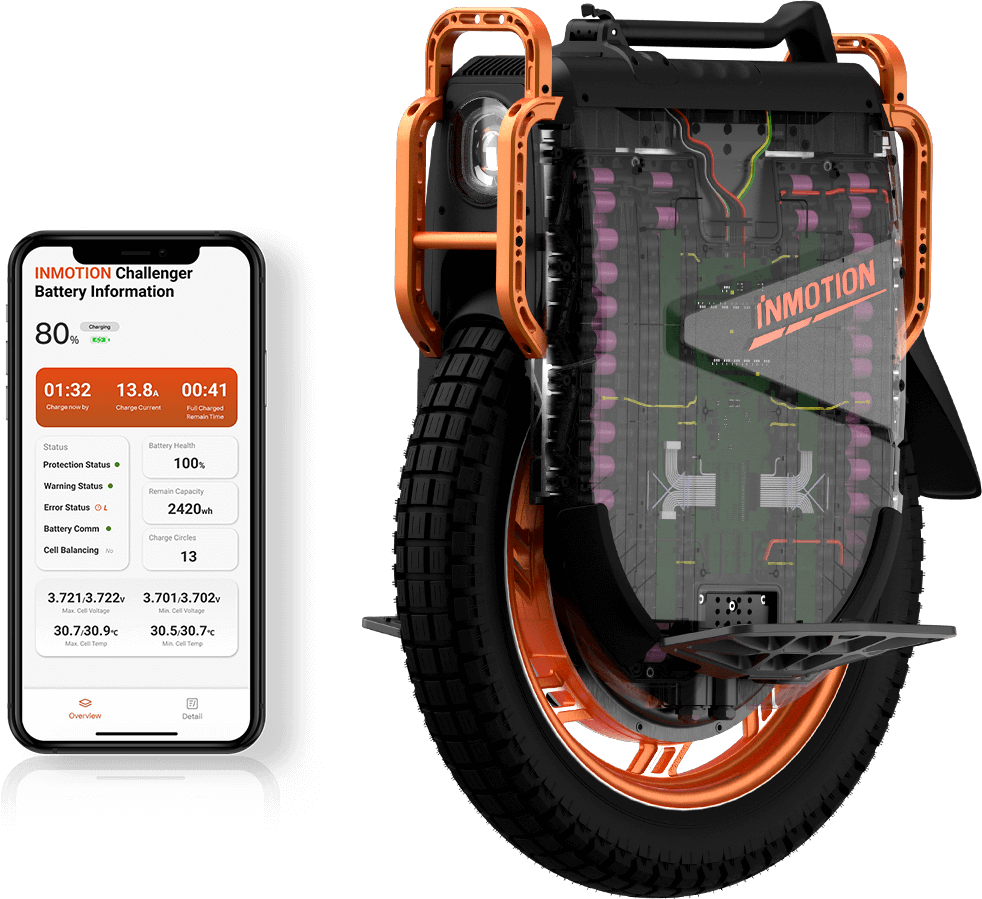 Technical Specs:
Typical Range: 200km

Max. Speed: 90km/h
Max. Slope: 45°
Charging Time: 6hrs (with single 5A charger) 2hrs (with two 7A chargers) 3hrs (with two 5A chargers)
Motor Power (Rating): 4500W
Motor Power (Peak): 10000W
Max. Torque: 300N·m
Max Lift Speed: 140km/h
Length* WidthHeight: 579274*731 mm
Net Weight: 50kg
Gross Weight Max.
Payload: 120kg
IP Rating: IP55
Battery IP Rating: IPX7
Rated Voltage: 108V
Rated Capacity:3024Wh
Motor Size: 16inch
Tire Dimension: 3.00-16
Split Modes: Acceleration/Braking
Anti Spin: Intelligent Recognition/Manual Control
Riding modes: Standard mode/Hobbyist Mode
Drive Modes: Comfortable Model Off-road Mode
Charger Input Voltage: AC100-240V 50/60HZ
Charger Max. Output Voltage: 126 V 5A
Color Display: 2.4 inch LCD Touchscreen
Phone Charge Port: USB, Type-C
Vehicle Charge Port: M16_6pin (Male)
Number of Charge Ports: 2
Age: 16-50
Height: 120-200cm
Working Temperature: -10~45°C
Storage Temperature: -20-45°C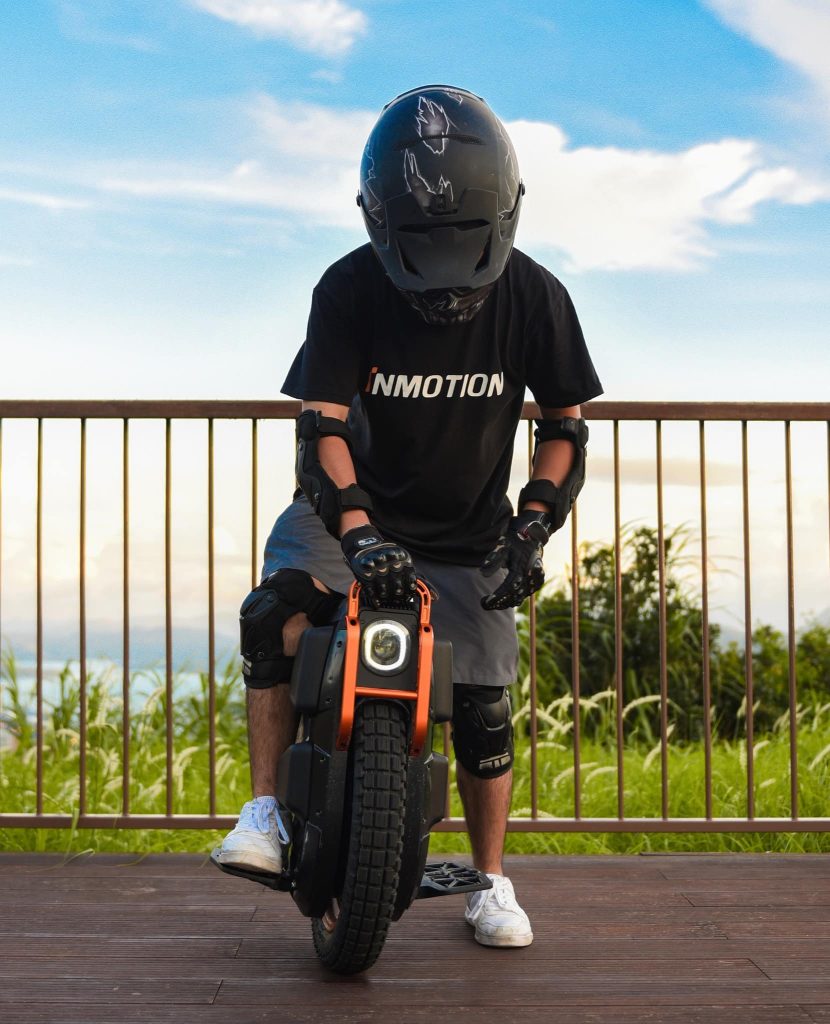 Inmotion V13 Challenger Ride Footage Video
Price for performance
The V13 and its cutting-edge features are still approachable for most riders looking to go above and beyond, despite having a hefty retail price of $4,600 and a special preorder price of $3,999.
Design Features
Air suspension
Trolley Handle
Touch Screen display
Rolling Cage Lift Handle
Headlight / Taillight
Two charge ports
Mudguards
Power pads
Adjustable pedal Headlight
+50 MPH Electric Unicycle
Although its lift speed is impressive, some riders have speculated that the top speed falls short of the +60 mph top speed. Some riders prefer a wheel that can handle long stretches of freeway, while others do not. Will this influence your decision to buy?
The V13 truly competes on a different level. Hopefully, everything goes as planned for development, quality assurance, manufacturing, and rollout—better than the initial live stream countdown.
To each their own, but in my opinion, the wind resistance and risk would not be worth a +60 mph high-speed payoff.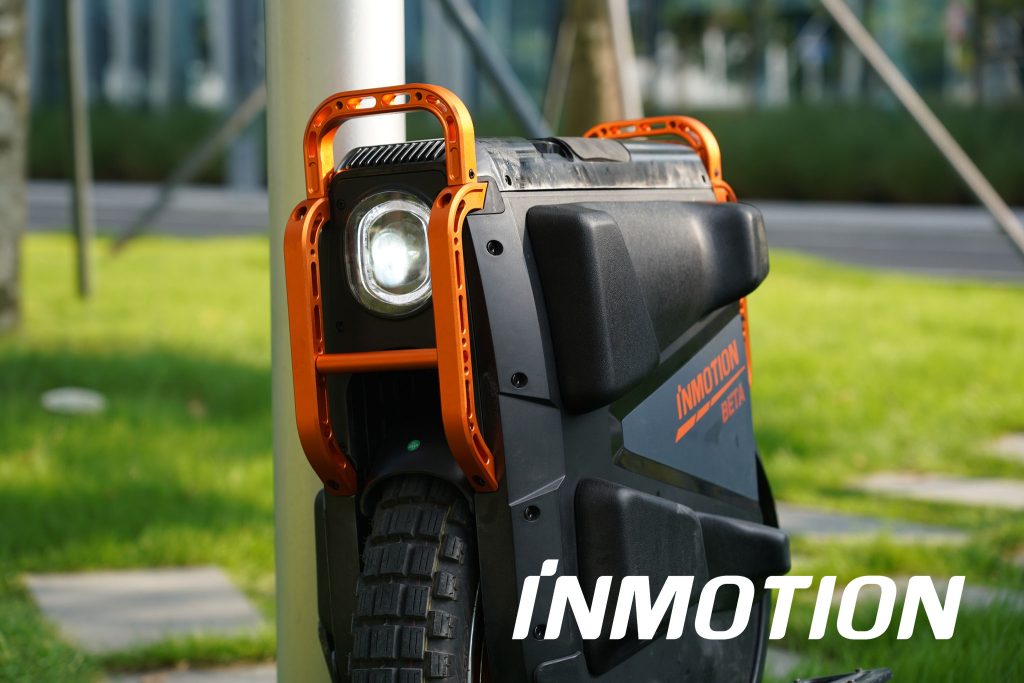 Frequently asked questions:
Will the V13 have a street tire choice when it is released?
Yes, Inmotion is currently researching different street tire solutions.
How long will the V13's 'early-bird' price be available?
The first V13 production will be restricted; it is unclear if this initial cost will depend on time or until the allocation is sold out. More on this once the first batch arrives.
What type of batteries are utilized in the 3024WH battery pack?
The specifics of these batteries have yet to be established. However, the V13 will use 18650-size cells for the main battery pack.
What charger comes with the V13, and what is the maximum charging rate?
The V13 comes included with a 5A/630W charger. For $450, eWheels will consist of an optional 7A charger. They are working on developing a third-party charger with comparable or lower pricing and more functionality.
Will the V13 also offer a seat option?
Yes, Inmotion will provide a seat identical to the V12 for $65.
When can we anticipate the V13 to be available?
At the time of this announcement, Inmotion aims for November, to distribute by Christmas.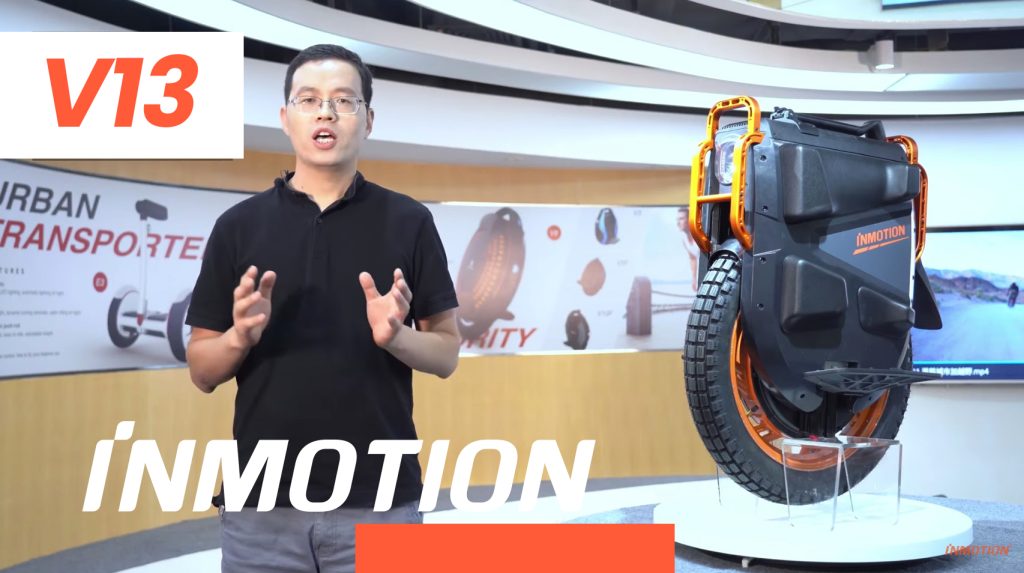 INMOTION is launching the V13 Challenger at noon EST
Everyone needs to calm down.
Breathe in, then exhale. Finally, the eagerly anticipated event of the year arrives. After agonizing hints, videos, and speculative speculation for weeks, INMOTION will debut and present the V13 in all its splendor. Have your credit cards ready, and grab a tub of popcorn and a pint of beer. We are about to witness the revelation of the century and perhaps a turning point in the development of electric unicycle technology. To catch the V13, use this YouTube link at noon EST.
These wheels are out of control. When will these newer wheels become too heavy and expensive? This is the most costly and heaviest EUC ever produced, costing +$4000-$5000 and +100 lbs, respectively. Two critical aspects of my interest in these wheels are their low cost and micro-mobility.

Carrying one will cause back strain. Even while I'm delighted that technology has evolved so much in this area over the years, the fact that every firm has been focused on launching the most prominent, quickest wheel available—which naturally translates into a premium price—is not something I'm thrilled about.

It's hard to believe these are more expensive than old vehicles, not everyone has that kind of money. I wouldn't be surprised if a $8K wheel came within the next five years. Because it is more accessible, the Begode RST and V12HT appeal more to me than this. Builders should revitalize and upgrade earlier wheels that sell in larger quantities. Please add suspension to the V12HS and V12HT, as those wheels would benefit.

Teddy L.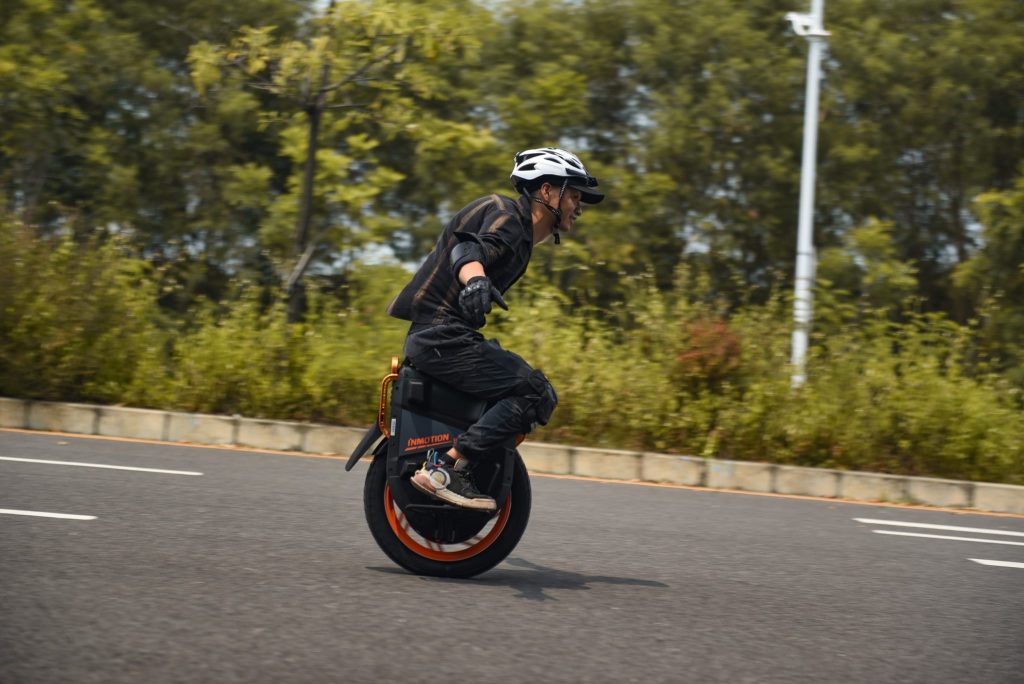 INMOTION introduces the Raptor Electric Speed Controller, the latest board for the V13 Challenger
It's a short one, but still a good one. Myron, INMOTION's chief technology officer, introduces the modular 1k amp supercharged electric speed controller board.
Features:
Modular build
18 capacitors
Dual fan cooling
42 MOSFETs, 200V nominal, up to 1000 amps continuous current
The V13 is starting to get extra spicy and very promising. Check out the latest V13 video below.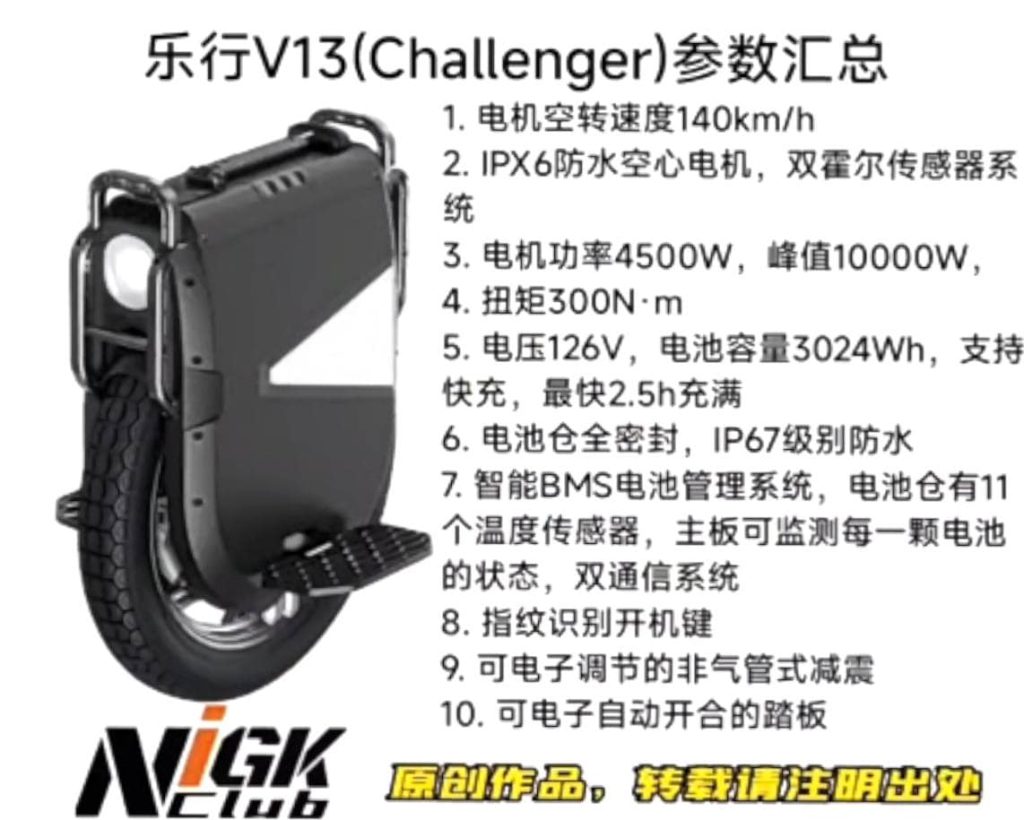 INMOTION responds to "leaked" renderings of the V13 Challenger Electric Unicycle
Please note the prototype images are speculative; INMOTION will release full specs and pictures on August 11 2022
Since many of us in this community are ardent fans, information, images, and rumors spread quickly and like wildfires, thanks to contemporary web technologies. Leaked renderings highlighting some of the remaining features, specifications, and potential design of the INMOTION V13 are currently making the rounds on the internet as the latest tasty taste of what the V13 might be and look like.
Can we trust the renderings and specifications provided? Leaked pictures of the S20 and other highly speculative wheels have been seen before, but they were nothing like the final models. Are these actual blueprints, or could this be fan art? Given the flood of online inquiries in their inbox, the INMOTION social team had the same cheeky responses.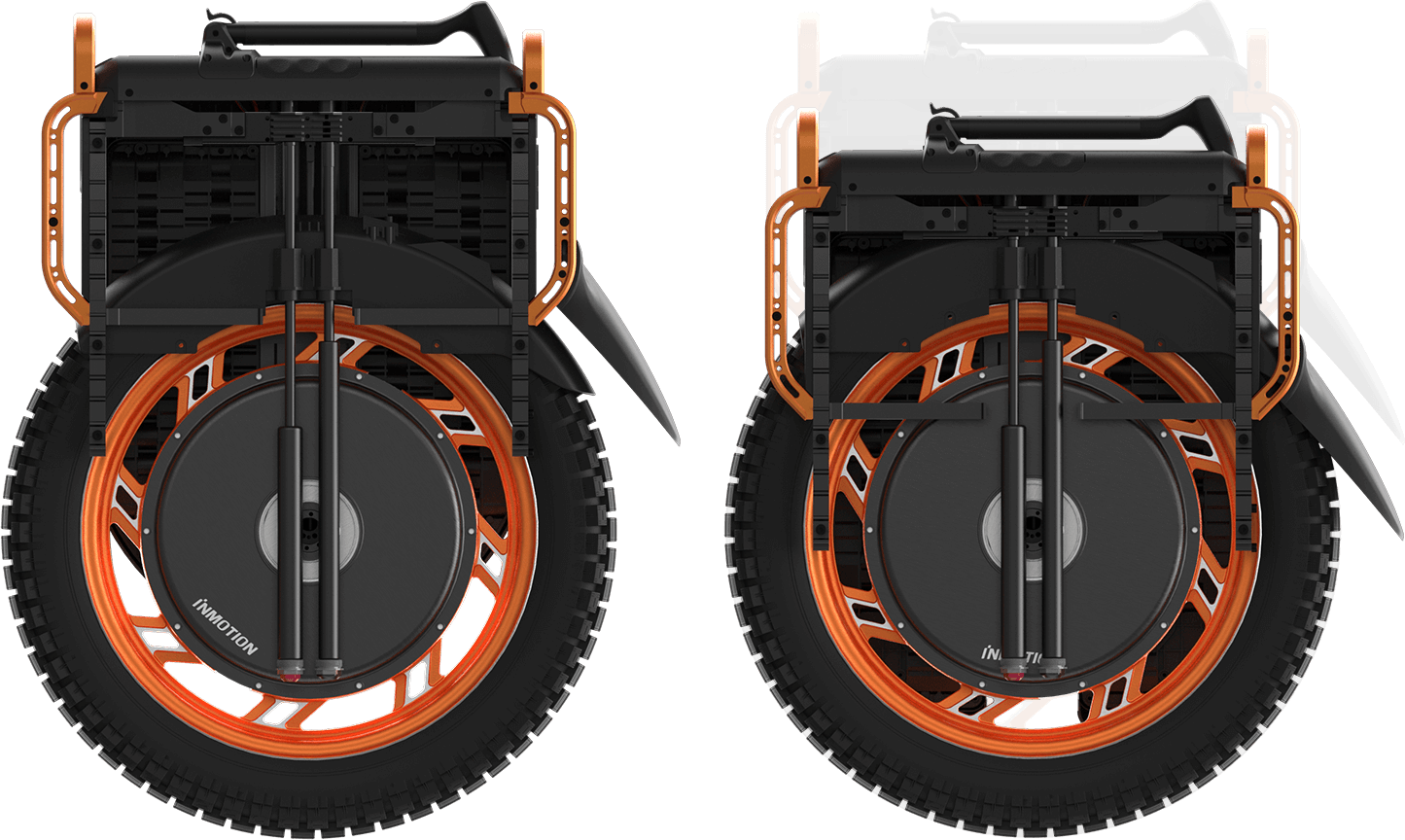 From INMOTION Global
Most of you have already looked at the images in the group about the V13's looks. We've been asked a lot of times if this is accurate. Our answer is…Just stay tuned for the INMOTION product launch on August 11, when we will reveal all the specifications and the appearance.
---
Updates to the V13 Challenger Battery Design are made available by INMOTION.
The battery subject matter specialist at INMOTION, Mark, gives us another preview of what may be in store in a series of videos that gradually lift the lid on the V13 Electric Unicycle. INMOTION continues with their strip wheel tease, exhibiting what may be the fastest and now touting the safest battery pack found on a single one-wheeled gadget, including the 126V 3024WH battery pack.
126V 3024WH Battery Pack
The V13 Challenger comes with a heavy-duty pack with many exclusive BMS features. Like the King Song S22, the V13 has a 126V tank of current and an additional +800WH to keep your butt on the road and soaring through the pavement. There is nothing quite like it, 126V with a +3000WH pack that allows range for days (depending on how you ride).
126V 3024 WH Battery Packs
Fast Charging at rates up to 2.5 hours
Packs feature IP67 Waterproofing level
Smart BMS – Checks parallel cells, monitored by motherboard, celling balancing feature that expands cell life
BMS volt meter 3% accuracy deviation
Independent battery logs for analysis, failure, and diagnostics
BMS firmware updates for failure cases
Updated battery pack brackets and water-resistant sealant
Heat dissipation improved 10x by potting compounds, vibration reduction
Stainless steel shields to protect the shell
11×2 temperature sensors, 12 types of protection mechanisms for improving safety
Redundant protection mechanism in BMS in case of battery failure, 3rd layer of protection in case of all battery failure to circumvent fires
Heavy Weight 3024WH
The V13 looks like a high-speed competitor going after the Sherman Max, Begode Monster, and Extreme Bull commander. We get a sneak peek of the outlines of the V13, and it looks a lot like a combination of its competitors.
Although I'm interested in how this wheel progresses, I'm already obsessed with mid-size wheels because of their portability and power package. Of course, the aficionados of fast speed and extended range will chime in, but each to their own.
Congratulations to INMOTION for their outstanding V13 rollout and educational efforts. We hope the other brands will adopt Inmotions' marketing strategy as their new benchmark.
---
Senior Engineer Jeremy Wang reveals the INMOTION V13 Challenger Motor
The V13 looks to be a juggernaut, prompting a 22″ set of magnets ready to keep the velocity rolling.
It's about time that INMOTION provides information about their impending Challenger V13 high-speed electric unicycle. The drivetrain, weight, battery capacities, and suspension have been the subject of months' worth of rumors in the community.
INMOTION V13 Challenger Motor Video
Behind the Scenes at INMOTION Engineering
I appreciate how Inmotion's marketing materials let us riders peek inside their office and testing facility. In the most recent video, Jeremy breaks down the main parts of the drivetrain and discusses the choices made throughout the creation of this wheel.
You have to give credit to INMOTION marketing because they recognize that most EUC riders are technically minded and can grasp the physics and electrical engineering principles that carry us along our local trails and roadways.
INMOTION is giving us our first taste of what this fast-moving behemoth is capable of. Here is what is currently known.
The safety margin of each component is closely considered
The V13 wheel has a 140 KMH no load speed
The motor is rated at 4.5kw nominal, with a peak output of 10kw
The drivetrain produces 300 nm of torque
8 AWG thicker phase wires for more power
Reinforced rim for heavy abuse
Dual hall sensors to prevent hardware cut out
22″ blades and magnets to keep you rolling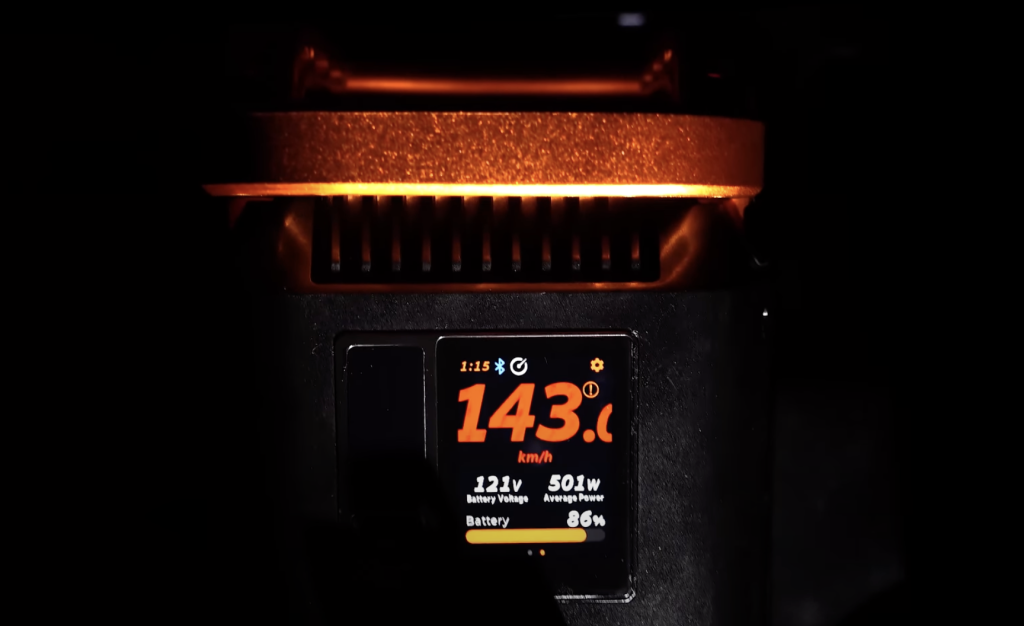 Inmotion's 22″ Electric Unicycle
Conquers any hills with ease.
The forthcoming releases of Inmotion's ever-expanding inventory appear pretty promising, given the company's existing accomplishments with the V11, V12HS, and V12HT electric unicycles. It is hoped that the V13 will be the culmination of triumphs and lessons learned from the introduction of the V11 and V12HS, which were problems for INMOTION during their initial batches and may have contributed to the Fastest EUCs on the market.
Challenger beget Challengers
Since their turnaround time for making higher-grade wheels appears reasonably certain, it is challenging to stay on top when competitors like Begode are on their tail. Begode can't match Inmotion's meticulous attention to detail, premium materials, and stringent quality control, but INMOTION has created some of the most well-performing wheels.
Will Begode continue to lead in performance? If you've ever experienced Inmotion's quality firsthand, you know its drift is difficult to capture.
Few more questions:
Will this wheel feature a suspension system?
What are the battery pack options?
How heavy will this wheel be?
How much will it cost?
When will these wheels ship?
INMOTION Electric Unicycle Catalog
INMOTION wheels are regarded as some of the best in the industry. Compare the INMOTION EUCs based on speed, range, pricing, and weight. Here are some of the best INMOTION Electric Unicycles on the market:
Disclaimer: The information presented in this article is derived from extensive research, user reviews, and publicly available information. Our aim is to provide accurate and up-to-date content; however, it is crucial to understand that the opinions expressed are based on the information available at the time of writing. We strongly encourage readers to conduct their own thorough research and carefully evaluate their individual needs before making any purchasing decisions.
eWheels 2023 Summer Deals and New Launches are here!!!
Cheap, reliable, and powerful! TurboAnt Electric Scooters 2023 Sale!
Hi guys! This post may contain affiliate links, sponsored content, and advertisements. We get a small commission for covering topics that interest us (helps us keep the doors open). For more information, please see our privacy policy and disclaimer. Ride safe yall!
2023 Electric Unicycles:
Coupons & Deals:
Apollo Scooters: Get $50 USD worth of free accessories, upgrades, or spare parts with the purchase of a scooter. Code: VROOOMIN
REV Rides: Save $50 off Scooters and EUC's, Code: VROOOMIN
EVOLV Electric Scooters: Free Folding Lock (worth C$80) for every EVOLV model! Use Code: VROOOMIN-LOCK
To keep the site running and information flowing, Vrooomin.com participates in affiliate linking programs. We're also an Amazon Associate, which means we get paid for referring people to Amazon. Please support the channel by clicking on our links.