Inmotion V12HT is now on sale on Amazon
Save $400 Now!
The Inmotion Amazon shop now has the V12HT for sale for riders looking to save money while riding with torque! This 37 MPH 64 lbs high torque wheel is a crowd pleaser that will get you to the office quickly, sweat-free, and with a big smile on your face. Let's take a look at everything Inmotion has sent us.
2800W Power Motor
INMOTION V12HT electric unicycle is equipped with a 2800W motor that can generate 188Nm peak torque and can easily climb any hill. The tremendous torque unleashes your driving desire at any time.
Model: Inmotion V12HT Electric Unicycle
Wheel Type: Advanced Riders
Price: $2,499
Power

: 2.8KW motor

Top Speed: 37 MPH
Range: 70 Miles
Battery: 100.8V, 1,750Wh
Weight: 64 lbs
Features: Color touchscreen display, Bluetooth speaker, atmospheric LED lighting, integrated kick stand
96 Miles Ultra Long Range
Equipped with 1750Wh battery packs, INMOTION V12HT can last up to 96 miles for just one charge and reach a max speed of 37.3mph. So forget the range anxiety, and start enjoying hand-free riding from today.
16" All-Terrain Tire
INMOTION V12HT is an excellent balance of portability, maneuverability, range, and power. The compact and slim body makes it easy to maneuver, while the 16×3.0 all-terrain tire provides excellent stability. INMOTION V12HT will be your perfect all-around wheel for city commuting, trail riding, and stunt show-off.
The First Unicycle with Multi-function Touchscreen
The V12HT is the industry's first electric unicycle with a multi-function touchscreen. You can access information such as speed, time, battery level, and mileage through the screen quickly. You can also change many customization options, such as RGB LED ring lights on the app.
Adjusted Pedal to Keep You Safer
The adjustable pedal design makes the V12HT suitable for any scene, such as urban commuting, off-road, etc. Lowering the pedals is ideal for urban commuting, and raising the pedals is more suitable for off-roading. Let's experience extra fun.
Features
Smart BMS: INMOTION's advanced, smart Battery Management System (BMS) can scan for faults and will alert the rider through our innovative battery failure warning feature.
Retractable Trolley Handle: Easy to raise and lower, locks in both positions for easy wheel transport while not riding
Built-in Side pads: Comfortable ergonomic shell design combined with cushioned pads enable a comfortable riding experience
Bluetooth Speakers: Four speaker drivers provide excellent loudness and sound quality for music playback and system alerts.
Anti-Spin Lift Switch: Under-handle button allows easy motor disengagement when lifting up stairs, curbs, and more.
IPX5 Water Resistance: Water-resistant for safe riding in wet or rainy conditions, the battery is even more protected at IPX7.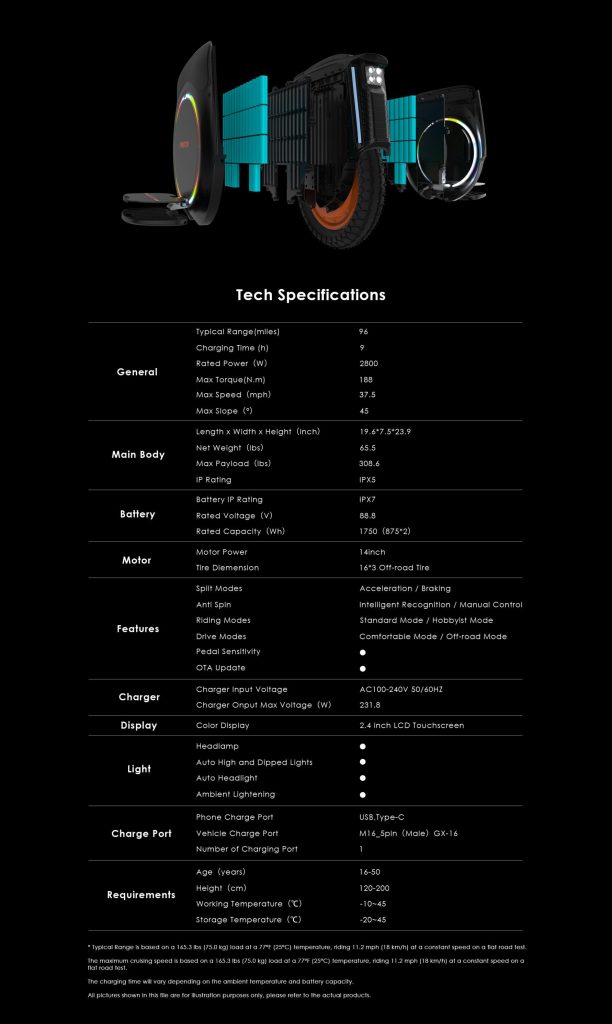 2022 Inmotion Electric Unicycle Catalog
Inmotion wheels are regarded as some of the best in the industry. Compare the Inmotion EUCs based on speed, range, pricing, and weight. Here are some of the best Inmotion Electric Unicycles on the market.
Disclaimer: The information presented in this article is derived from extensive research, user reviews, and publicly available information. Our aim is to provide accurate and up-to-date content; however, it is crucial to understand that the opinions expressed are based on the information available at the time of writing. We strongly encourage readers to conduct their own thorough research and carefully evaluate their individual needs before making any purchasing decisions.
eWheels 2023 Summer Deals and New Launches are here!!!
Cheap, reliable, and powerful! TurboAnt Electric Scooters 2023 Sale!
Hi guys! This post may contain affiliate links, sponsored content, and advertisements. We get a small commission for covering topics that interest us (helps us keep the doors open). For more information, please see our privacy policy and disclaimer. Ride safe yall!
2023 Electric Unicycles:
Coupons & Deals:
Apollo Scooters: Get $50 USD worth of free accessories, upgrades, or spare parts with the purchase of a scooter. Code: VROOOMIN
REV Rides: Save $50 off Scooters and EUC's, Code: VROOOMIN
EVOLV Electric Scooters: Free Folding Lock (worth C$80) for every EVOLV model! Use Code: VROOOMIN-LOCK
To keep the site running and information flowing, Vrooomin.com participates in affiliate linking programs. We're also an Amazon Associate, which means we get paid for referring people to Amazon. Please support the channel by clicking on our links.