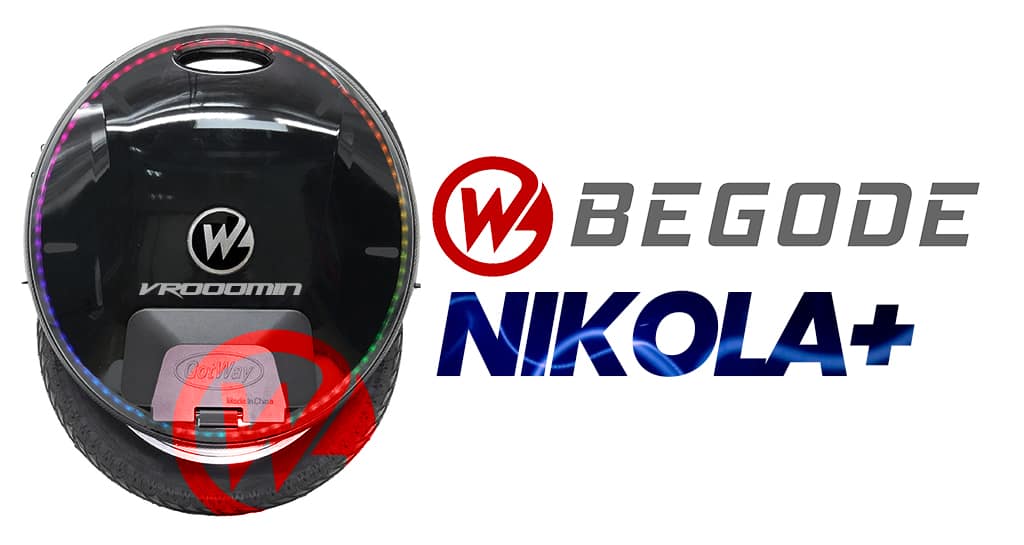 2022 Begode Nikola+ Electric Unicycle
Mid Range Wheel: 60 lbs, 40 mph, 70 Miles Max Range, High Performance Electric unicycle
There's a reason why some wheels are more popular than others. The eWheels Begode Nikola+ is the company's new flagship 40 mph 16×3″ high-performance unicycle. With a massive 100V 1800WH Samsung 50E system, the Begode Nikola+ has some of the most reliable batteries, allowing riders to reach speeds up to 40 mph. On the Begode Nikola+, going the distance is simple; riders can expect up to 70 miles of cruising speed, putting range anxiety to rest. Consider how many rides you could take on this wheel to work, school, or even the grocery store!
News & Deals
Ride and Glide
Big Performance with Big Features
Riders seek out the Begode because of its practical high power-to-weight ratio, thick 16×3 tires (improved stability), 40 mph top speed (full battery charge), and upgraded LiTech 1800WH battery tank capable of 70 miles of range throughout town. Curved folding handles, 5W headlight/taillight, quick motor disengagement button, high-density ambient lighting, and a 16×3 tire are just a few of the features that make your ride easier and safer. This wheel is a crowd favorite and a top contender in the beginner and last mile categories, so there's no need for gas stations, parking lots, or lost time.
Performance with Budget in Mind
Crowd favorite for riders in the middle of the road
The Nikola+ is a custom eWheels unicycle with a strong reputation for quality, durability, and visual appeal. The Begode Nikola+ is a fantastic option for high-performance electric unicycles for riders who want the most power, quality, and range for their money. It's no surprise that riders seek out the Begode Nikola+'s ultimate high-performance package and features, especially when paired with an eWheels warranty and customer service.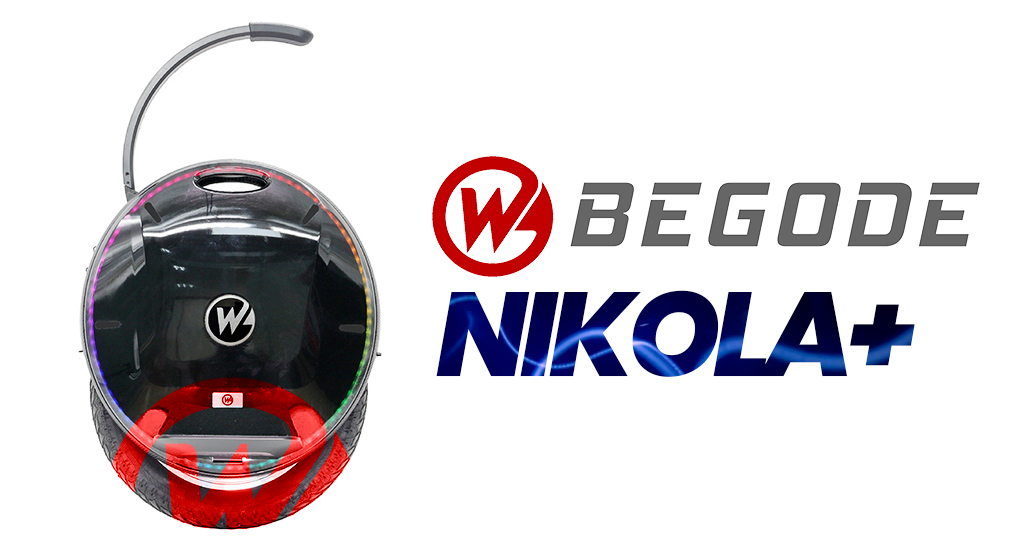 Begode Nikola+ Features:
Practical everyday performance wheel for price, great for longer everyday commutes
eWheels custom high-quality LiTech battery packs with Samsung 50E Cells for added protection and performance
Very popular mid-range wheel for advanced-budget riders
First Bluetooth Speaker on Begode wheels
Volt Meter on Side Shell
Improved controller with HY5012W MOSFETS for added performance
Bonus wrist guards with each eWheels purchase
Reasons to Buy:
An homage to the great electrical, engineer Nikola Tesla
Upgraded LiTech cells for long life and quality assurance
Powerful top speed, range, features for price
Smooth, stable, agile, great for carving and beginner riders to learn
Fully functional beginner/advanced commuter wheel
Best priced 40 mph wheel in the Begode lineup
Shell is powerful, can take impact
Loud bluetooth speakers to jam and glide
Water proofing is excellent, known as "rain wheel"
Optional pedals, power pads, and fast chargers available
Reasons to Avoid:
More expensive than commuter 84V wheels
Heavyweight, challenge for some riders to lift
Heavier riders find it challenging to reach 40 mph top speed
Not the fastest acceleration for a 40 mph wheel
Headlights do not cover much road at night
Other larger 40 mph wheels have longer range batteries
No suspension system
No seat option
Similar Models:
A few options with similar specs, features, and pricing include Begode RS HS/HT, King Song 16x, Inmotion V11 and Inmotion V12.
Technical Specs:
Top Speed: 40 mph
Motor: 2000W Motor
Price: $2,175
Battery: 100V 1800WH Samsung 50E 21700 battery pack
Charge Time: 12 hours
Range: 70 miles
Tire Size: 16×3
Suspension: n/a
Weight: 60 lbs
Max load: 300 lbs
No Load: 48 mph
Pedal Height: 145
Pedal Size: 115×228
Full Size: 590x490x200
Trolley Handle: Scorpion curved folding handle
Anti Spin Button: Quick motor disengagement button
Speakers: 2 x 25W speakers
Lighting: 5W headlight/taillight
Ambient Lightning: High density ambient lighting
Release Year: 2022
USB: 1x 500mA
BEGODE Nikola+ Electric Unicycle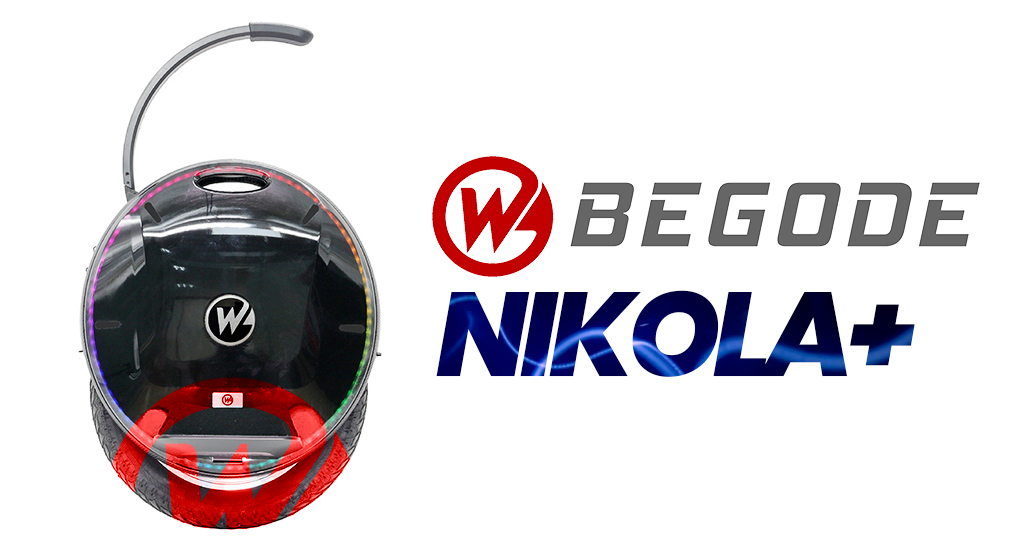 The Nikola+ EUC from eWheels is a high-performance 40 mph beast. This wheel is an excellent value for riders who require a little bit more than enough performance on a daily basis.
Power
Battery Pack
Top Speed
Range
Build Quality
Ride Comfort
Price
Weight
Features
Warranty & Customer Service – eWheels
Summary
For riders looking for a little extra spice in their daily commute, eWheels has taken the already fantastic Begode Nikola and made it better. eWheels has you covered when you need to go faster than fast and want the best cells and warranty available.

For similar electric unicycles, check out the Most Extreme Performance EUC's.

Similar Models
View the Most Best Electric Unicycles 2022
View the Most Best Electric Unicycles 2022
View the Most Best Electric Unicycles 2022
Frequently Asked Questions
We've combed the internet for the most up-to-date information on each electric unicycle in our database, including forums, threads, reviews, and videos. We've done all the legwork to make your search easier!
Are there any known issues or defects with the Begode Nikola+?
The Begode Nikola+ does not have any significant flaws. We looked through forum threads, review videos, and unicycle groups and discovered that the Begode Nikola+ unicycle is reliable. In general, this model's construction and quality assurance are excellent.
What is the Begode Nikola+'s top speed?
While the Begode Nikola+ is rated for a top speed of 40 mph, most riders will be able to achieve this speed. To attain the highest speed, ensure that the battery is fully charged and that you are in a safe area where you can safely ride this unicycle at high speeds.
What is the Begode Nikola+'s maximum range?
The Begode Nikola+ is rated for a range of 70 miles, but in reality, the average adult's range is more likely 30-50 miles (give or take), which is plenty of range to get around town and run errands. Please remember that the maximum range varies depending on the rider, road conditions, weather, and usage.
Is the Begode Nikola+ capable of supporting heavier riders?
The Begode Nikola+ can carry riders weighing up to 300 pounds. We recommend that riders get a wheel with at least a 25-pound buffer in the maximum load, allowing them to achieve the best top speed, full range, and overall ride quality.
Is the Begode Nikola+ suitable for daily commuting?
The Begode Nikola+ is an excellent commuting option for your everyday needs. This medium-weight, high-performance unicycle is ideal for short, medium, and long-distance riding. It's perfect for trips to the grocery store, work, errands, and local parks for fun and relaxation.
Is there a Begode Nikola+ discount code?
All electric unicycles are priced the same at most dealers. The Begode Nikola+ is no exception; to keep the market fair, all dealerships have the exact pricing. When looking for the best wheel, look for the best EUC dealers. It's one thing to save money, but having excellent customer service and a warranty can make or break your electric wheel ownership experience.
Some riders have complained about a lack of support, receiving subpar unicycles, or not being able to get spare parts, so do your homework.
Disclaimer: The information presented in this article is derived from extensive research, user reviews, and publicly available information. Our aim is to provide accurate and up-to-date content; however, it is crucial to understand that the opinions expressed are based on the information available at the time of writing. We strongly encourage readers to conduct their own thorough research and carefully evaluate their individual needs before making any purchasing decisions.
eWheels 2023 Summer Deals and New Launches are here!!!
Cheap, reliable, and powerful! TurboAnt Electric Scooters 2023 Sale!
Hi guys! This post may contain affiliate links, sponsored content, and advertisements. We get a small commission for covering topics that interest us (helps us keep the doors open). For more information, please see our privacy policy and disclaimer. Ride safe yall!
2023 Electric Unicycles:
Coupons & Deals:
Apollo Scooters: Get $50 USD worth of free accessories, upgrades, or spare parts with the purchase of a scooter. Code: VROOOMIN
REV Rides: Save $50 off Scooters and EUC's, Code: VROOOMIN
EVOLV Electric Scooters: Free Folding Lock (worth C$80) for every EVOLV model! Use Code: VROOOMIN-LOCK
To keep the site running and information flowing, Vrooomin.com participates in affiliate linking programs. We're also an Amazon Associate, which means we get paid for referring people to Amazon. Please support the channel by clicking on our links.