The last mile is always a long one. The $800 15 mph INOKIM Mini 2 electric scooter was designed for lighter riders who want to arrive on time without breaking a sweat.
Cheap, lightweight, and Durable
The game's name is easy to ride and maintain, and the INOKIM Mini 2 excels in both categories. With the INOKIM Mini 2's 15 mph top speed, 18-mile range, low maintenance, and reliable INOKIM chassis, getting to work is a piece of cake. The INOKIM Mini 2 appeals to riders because of its ultra-portable 23-pound chassis, simple fold design, and easy low price.
News & Deals
Urban Machina INOKIM Mini 2 Intro Video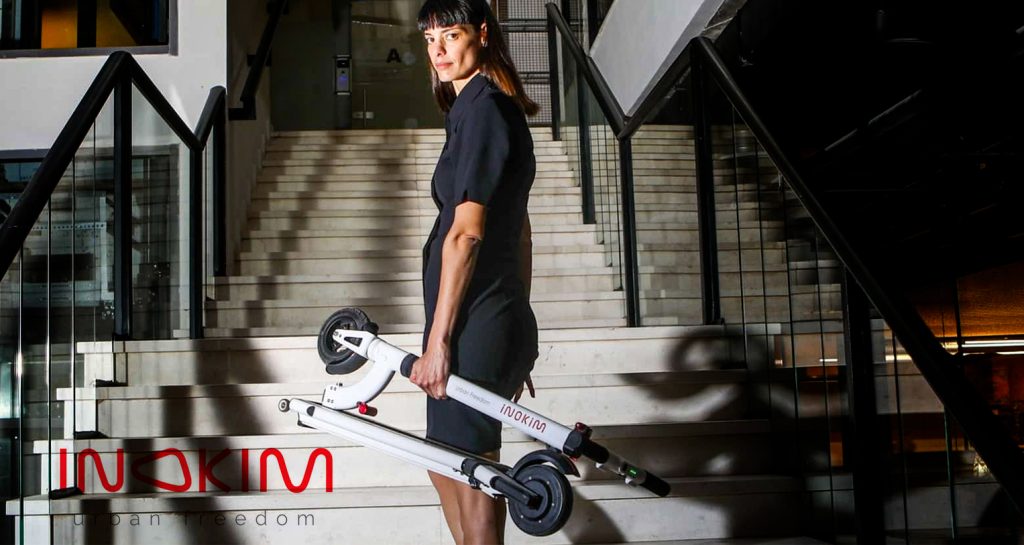 The INOKIM Mini 2 is a fun, no-emissions option to consider if you're looking for a durable and fun 450W single-motor scooter to get you down the final mile.
The Mini 2 is a good choice for lighter riders looking for a low-cost, quick-folding INOKIM electric scooter. When you ride the INOKIM Mini 2, you won't have to walk the last mile. The INOKIM Mini 2 is a 23-pound commuter with a sporty, stylish, and powerful single-front motor with the Urban Machina warranty, customer service, and easy access to spare parts.
INOKIM Mini 2 Features:
Easy short range commuter for lighter riders
23 lbs lightweight chassis with easy folding system
Integrated trolley wheels for easy transport and storage
Throttle: Thumb throttle for fatigue free riding
LED Lighting: None
Horn: None
Suspension system: Rear suspension for added comfort
Tires: Front 6″ pneumatic; Rear 6″ rubber
Mobile App: n/a
Folding System: Easy fold and trolley
Brakes: Front Electric + Rear Step system
Motors: Powerful 450W front motor for easy acceleration on flat roads
Top Speed: Real world top speed is 15 mph, average cruising speed is 8 – 15 mph
Max Range: Real world range 10-18 miles, at-least 60% of advertised speeds
---
Reasons to Buy:
Usage: The Mini 2 is a fantastic commuter electric scooter for short commutes to the office, grocery store, gym, and around town. 15 mph and 18 miles is more than enough power for most students around campus
Quality: INOKIM has a strong reputation for building quality machines that are powerful, fast and reliable.
Warranty: Urban Machina warranty and easy access to spare parts will allow riders worry-free, long-range ownership.
Reasons to Avoid:
Max Load: Only supports lightweight riders (165 lbs), good for kids and lighter riders, not good for a majority of Adults
Price: at $800 is More expensive than $500 scooters, not everyone can afford this scooter price tag
Weight: Scooter is 23 lbs, not the best for high speed and long-range riding
Range: Scooters 5-18 mile range is not the best for heavy usage
Brakes: Scooters front electric + rear step brakes are not the strongest, but good for low speed
Top Speed: Stronger commuter scooters have more range and top speed
Lightning: No lighting available for night time riding, does include USB charging port
INOKIM Mini 2 Electric Scooter
The Mini 2 was designed for riders of lighter weight who commute over short distances. If you only need to travel 1-2 miles each way, the Mini 2 is a good option if you're looking for the cheapest INOKIM electric scooter.
Similar Models:
A few options with similar specs, features, and pricing include Dualtron Mini, Kaabo Mantis 8, VSETT 8 and EVOLV XLR.
---
Technical Specs:
Top Speed: 15 mph
Motors: 250W/450W single front motor
Brakes: Front Electric, Rear Step
Materials: Aluminum 6061 T6 Aluminum Frame
Price: $800
Battery: 36V 7.8AH LG Li-ion battery pack
Charge Time: 4 hours
Max-Range: 18 miles
Tires: Front 6″ pneumatic; Rear 6″ rubber
Suspension: rear suspension
Weight: 23 lbs
Max load: 165 lbs
Similar Models to INOKIM Quick 4
Disclaimer: The information presented in this article is derived from extensive research, user reviews, and publicly available information. Our aim is to provide accurate and up-to-date content; however, it is crucial to understand that the opinions expressed are based on the information available at the time of writing. We strongly encourage readers to conduct their own thorough research and carefully evaluate their individual needs before making any purchasing decisions.
eWheels 2023 Summer Deals and New Launches are here!!!
Cheap, reliable, and powerful! TurboAnt Electric Scooters 2023 Sale!
Hi guys! This post may contain affiliate links, sponsored content, and advertisements. We get a small commission for covering topics that interest us (helps us keep the doors open). For more information, please see our privacy policy and disclaimer. Ride safe yall!
2023 Electric Unicycles:
Coupons & Deals:
Apollo Scooters: Get $50 USD worth of free accessories, upgrades, or spare parts with the purchase of a scooter. Code: VROOOMIN
REV Rides: Save $50 off Scooters and EUC's, Code: VROOOMIN
EVOLV Electric Scooters: Free Folding Lock (worth C$80) for every EVOLV model! Use Code: VROOOMIN-LOCK
To keep the site running and information flowing, Vrooomin.com participates in affiliate linking programs. We're also an Amazon Associate, which means we get paid for referring people to Amazon. Please support the channel by clicking on our links.