Mention Code "VROOOMIN" for possible discounts to your dealer!
Coupon Codes & Deals:
eWheels Spring Sale on electric scooters and electric unicycles
Save $50 off Kaabo and EMOVE electric scooters with Code: VROOOMIN
Save $50 off VSETT, Begode, King Song, Segway with Code: VROOOMIN
Get $50 worth of accessories at Apollo scooters with Code: VROOOMIN

Voro Motors presents what may be the best value, range, and power electric scooter on the market, what are you waiting for?
Visit Voro Motors for more info
You can't beat it, no matter how hard you try. If there's one thing you and I have in common, it's that we both want the best price and value for whatever we spend our hard-earned cash on. The EMOVE Cruiser has a 56-mile range, a top speed of 33 mph, and a solid chassis to get you where you need to go. With the 2022 EMOVE CRUISER, you can have fun while saving money and time. Because gas stations are a pain, and riding a scooter is a blast.
Save $50 off Kaabo & EMOVE Electric Scooters with Code VROOOMIN
SUMMARY
The 56-mile long-range electric scooter starts at $1,400
Save $50 with code VROOOMIN at checkout
New Color Options: purple, white, red, black, orange
The drivetrain upgraded with a 20% increased top speed.
Upgraded handlebars
New fenders
New battery packs use 21700 cells
The EMOVE Cruiser is one of the most popular beginner electric scooters of 2021 and 2022
The Cruiser tops off at 33 MPH, more than enough power and speed for the inner city and bike lane riding
2022 EMOVE Electric Scooter Review
Last week, a colleague of mine asked for a recommendation for an electric scooter. My knee-jerk response was, "Get the Dualtron Ultra 2, Wolf King GT, or the Weped SST would be awesome!".
Then it dawned on me that most electric scooter beginners:
Want a strictly commuter scooter to get from point A to point B
They don't need speed, 33 MPH is fast enough for them.
Aren't familiar with all the scooter specs, features, and lingo
They are searching for the best option they can afford.
Have a strict/set budget, $1,000-$1,500
Emove Cruiser Electric Scooter
Power – 1,600W
Battery Pack –  52V, 30AH, 1,560WH LG 21700 cells
Top Speed – 33 MPH, depending on the state of charge and road conditions
Range – 56 Miles
Build Quality
Ride Comfort
Price – $1,399
Weight – 52 lbs 
Brakes – Semi Hydraulic Brake Calipers
Customer Service – Voro Motors
Summary
Voro Motors Introduces the 2022 EMOVE Cruiser, a 56-Mile Electric Scooter Marathon. What is the $1,400 electric scooter with the market's most extended range and best value? People call it the EMOVE Cruiser because it is dependable, lightweight, inexpensive, and has a ridiculous 56-mile range! The EMOVE cruiser has a powerful 1,600W drivetrain, 52V 30AH battery pack, 52 lb chassis, and a price tag of $1,400, demonstrating practicality, quality, and affordability can be packaged into a "just right" electric scooter.

SPEED & DRIVETRAIN
The drivetrain and power of the Cruiser are ideal for casual riders: not too fast, not too slow, but suitable for getting things done! Beginner riders will benefit from a single hub motor, but advanced riders will choose dual motors for sport riding.
A single 1,600 Watt motor and a

25A controller can take up to 33 MPH riders.

20% gradient will allow riders to get up most hills, inclines, and bridges without a sweat.

20 MPH is the speed limit for most inner city and bike lanes.

The controller provides a calm acceleration curve for a smooth and controlled riding experience.

Perfect power for riding to work, doing errands, and picking up takeout
BATTERY PACK
The Cruiser's battery pack is a 52V, 30AH, 1,560WH LG 21700 cell battery pack that can take 56 miles around the block! For a scooter of this size, that's a lot of range. While the Cruiser isn't the most powerful in terms of acceleration, it more than makes up for it in terms of content and distance.
Great for riders who want to go the distance without charging frequently
Perfect for long rides to get air and relaxation
LG cells are some of the best in the market for long life cycles
Allows riders to enjoy without fear of running out of battery
CHASSIS & SUSPENSION
The Cruiser is based on the original Speedway 4 chassis, which features a curved front folding stem. The classic scooter style and feel are achieved thanks to the folding handlebars, front stem, and curved neck. The traditional design is popular among cruiser owners because it gives the vehicle a more pleasant, non-aggressive appearance. What I like about the Cruiser is that it has increased comfort features that aren't available on many scooters in this price range:
Easy folding handlebars for storage
Dual spring suspension for comfort over bumps and city riding
Semi-hydraulic brakes that allow for less hand fatigue (regular mechanical brakes will make your hands and wrist sore after extended usages)
Secure folding lock mechanism
More expansive deck for standing comfort
Tubeless pneumatic tires for comfort and fewer punctures
IPX6 Water Resistant Rating: While not recommended, the Cruiser can withstand riding in light to medium rain
Key locking system
Seat options are available!
Thumb and Twist throttle options are available
SAVE $50 OFF THE EMOVE CRUISER WITH COUPON CODE "VROOOMIN"
Is the EMOVE Cruiser Fast?
For most people, 33 miles per hour is sufficient to get from point A to point B. In fact, for safety reasons, bike lanes have a speed limit of 25 MPH. The Cruiser's 1,600W motor has a top speed of 33 MPH, which is more than enough speed and power to get you to work without breaking a sweat through hills, bridges, and overpasses.
The acceleration curve will be smoother and less abrupt for cruiser riders. It's perfect for cyclists who prefer a peaceful and controlled ride. Riders must run full throttle to reach the highest speed of 33 miles per hour. Half-to-three-quarter throttle will get you to 25 to 28 mph.
For riders who need speed, check out the Best Extreme Performance electric scooters for 2021; these scoots can go past 60-70 mph! They also cost $4k minimum, out of scope and budget for most beginner riders.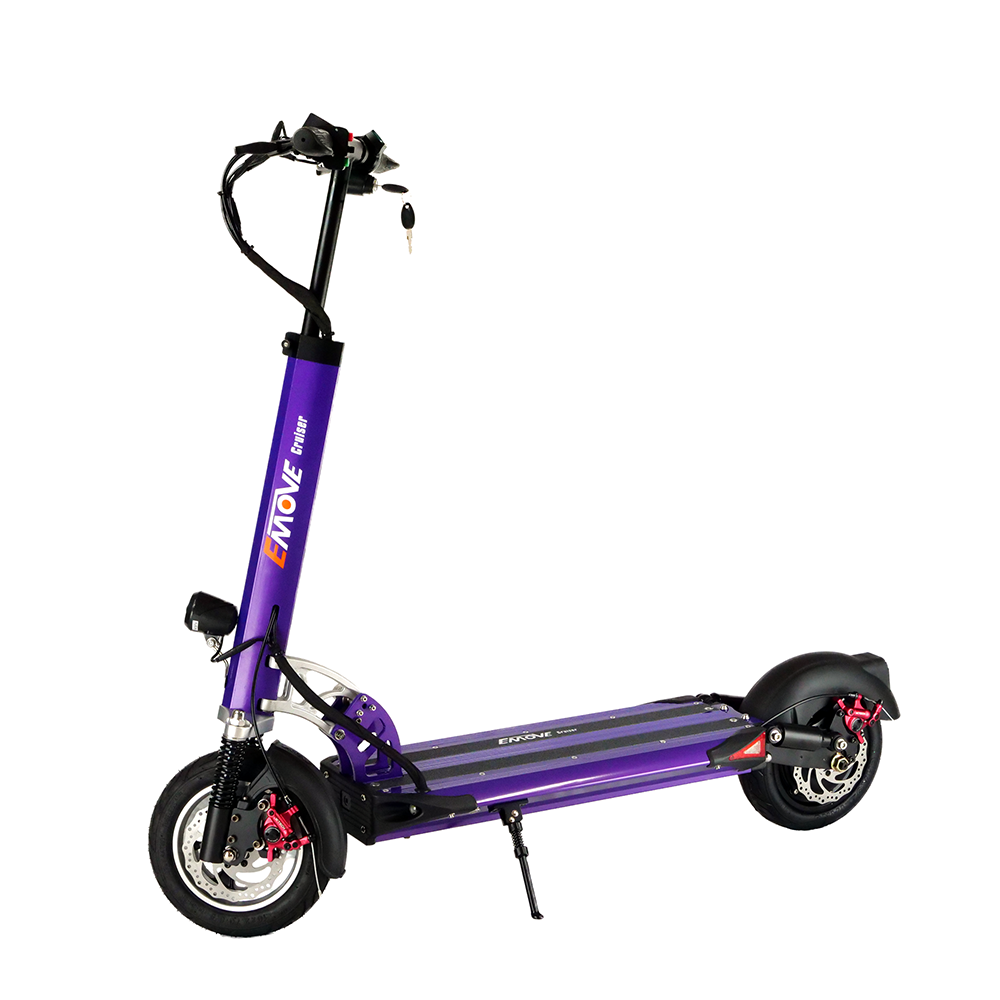 Is 56 Miles enough range?
For an electric scooter, 56 miles is a lot of range; most other scooters in the same class only have half that. This is because other scooters in this price range have smaller batteries and higher-watt motors and controllers, allowing them to reach higher speeds of 25-28 MPH while only having a range of 25-35 miles.
The Cruiser was designed for riders who don't need to go fast (20-25 MPH) but want to go the distance (up to 56 miles).
Is the 2022 EMOVE CRUISER worth it?
A Cruiser is an excellent option if you want to go grocery shopping, run errands, and get to work without worrying about running out of battery. The Cruiser is a long-distance scooter designed to be easy to ride, light in weight, and affordable to most people. The Cruiser has everything most people need and want for $1,400.
Emove Cruiser Quick Review Video
Price: $1,399 (Save an additional $50 off with Coupon Code: Vrooomin)
Motor: MAX 1,600 watt BLDC dual hub motor – Powerful for size and cost
Controller: 52V 25a Controller – Great for calm acceleration and long range
Battery: 52V – 30 AH – 1,560Wh – LG 21700 cells – Quality LG 21700 cells battery pack for long usage
Charge time: 8 hours with standard charger
Max mileage: Up to 56 miles – Depends on usage, climbing gradient, rider weight
Max Speed: 33 MPH, depending on state of charge and road conditions
Climbing Grade: 20% Gradients
Braking System: Semi Hydraulic Brake Calipers
Max Load: 352 lbs – Cruiser can support heavier riders, performance may be effected
Scooter Weight: 52 lbs – Lighter and more portable compared to stronger dual motor scooters
Are you team Cruiser?
Let me know in the comment section below!
You May Also Like
eWheels 2023 Spring Deals and New Launches are here!!!
Cheap, reliable, and powerful! TurboAnt Electric Scooters 2023 Sale!
Hi guys! This post may contain affiliate links, sponsored content, and advertisements. We get a small commission for covering topics that interest us (helps us keep the doors open). For more information, please see our privacy policy and disclaimer. Ride safe yall!
2023 Electric Unicycles:
Coupons & Deals:
Apollo Scooters: Get $50 USD worth of free accessories, upgrades, or spare parts with the purchase of a scooter. Code: VROOOMIN
REV Rides: Save $50 off Scooters and EUC's, Code: VROOOMIN
EVOLV Electric Scooters: Free Folding Lock (worth C$80) for every EVOLV model! Use Code: VROOOMIN-LOCK
To keep the site running and information flowing, Vrooomin.com participates in affiliate linking programs. We're also an Amazon Associate, which means we get paid for referring people to Amazon. Please support the channel by clicking on our links.