The Weped SST is an Absolute Tank of an Electric Scooter
For many riders, the Weped SST ranks as one of the highest performing sports electric scooters ever made. It has achieved this impressive feat by delivering on its promise of being sporty, unique and unequivocally powerful, at the same time pushing electric scooter standards above and beyond.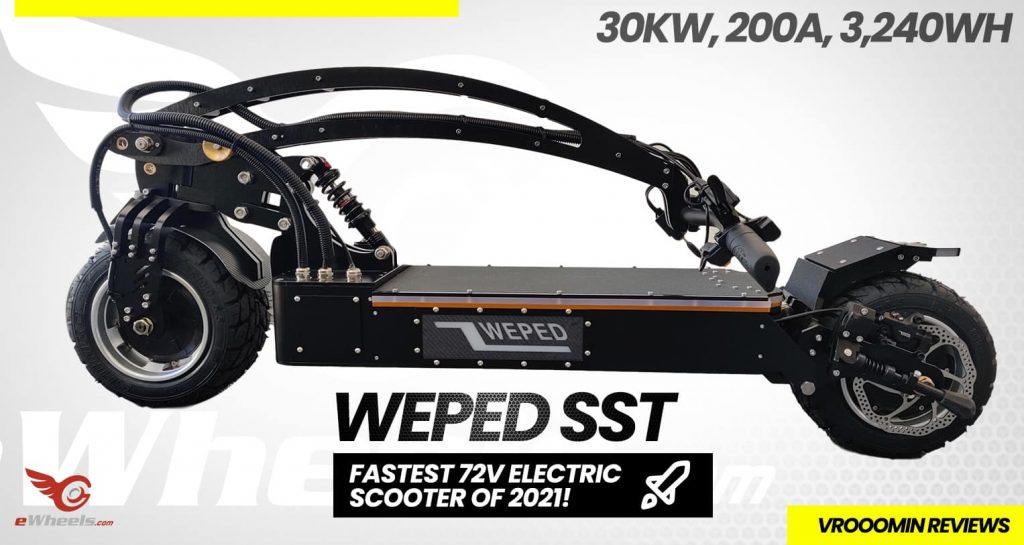 SUMMARY
The 80MPH Weped SST Starts at $7,299, Free Fast Charger with Purchase!
eWheels is now a distributor of Weped Electric Scooters
Wepeds are some of the fastest and most powerful electric scooters on the market
Weped electric scooters are highly sought after and coveted hyper electric scooters
All Weped scooters are designed, built, and hand assembled in South Korea
Each scooter is produced in small batches to assure the highest quality

The Weped SST is rated for 30,000 watts max output

5 Reasons to consider the Weped SST
Save 5% off Armor-Dilloz tire sealant with Coupon Code vrooomin05
Save $10 off Magicshine Lights with Coupon Code vrooomin10
Check out the Vrooomin Youtube Channel for Escooter & EUC Videos
5 Reasons to consider the Weped SST Electric Scooter
The reality is there are more than 10 reasons to consider the Weped SST, but these 5 will be more than enough to get any performance electric scooter enthusiast started. For more 72V monsters, check out the best 72V Scooters for 2021!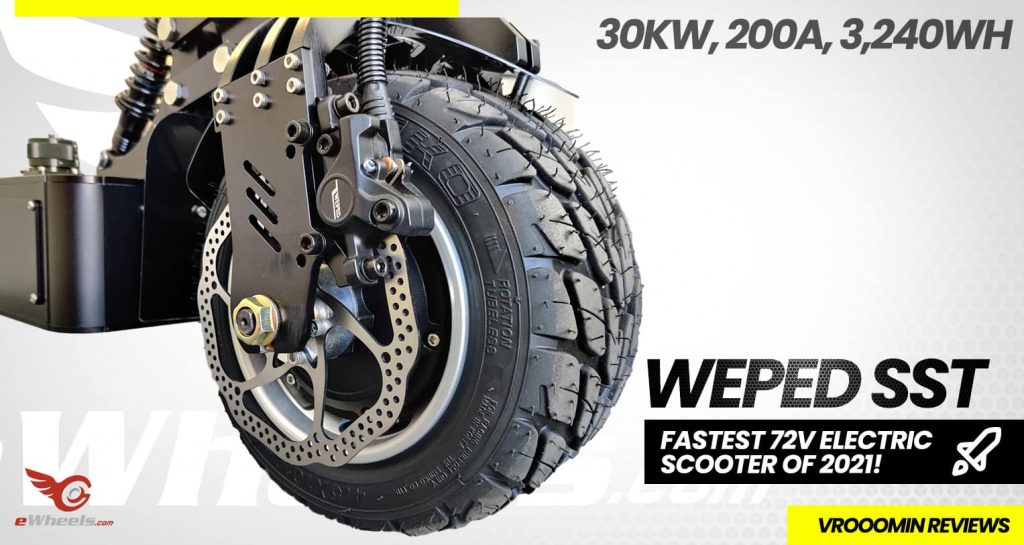 1. Rated 87 MPH Top Speed & 30KW Drivetrain
The Weped SST is an absolute monster. While most riders won't try to reach a 70 MPH top speed in their day to day riding, it's what that top speed rating represents. For a rider to reach anything close to 70 MPH, the rider would need to command at least 10KW to get to that speed, the SST tops off at 33KW! Most 72V Electric scooters on the market are rated for 60MPH but require a full charge and a very long stretch of run way to reach the rated top speed.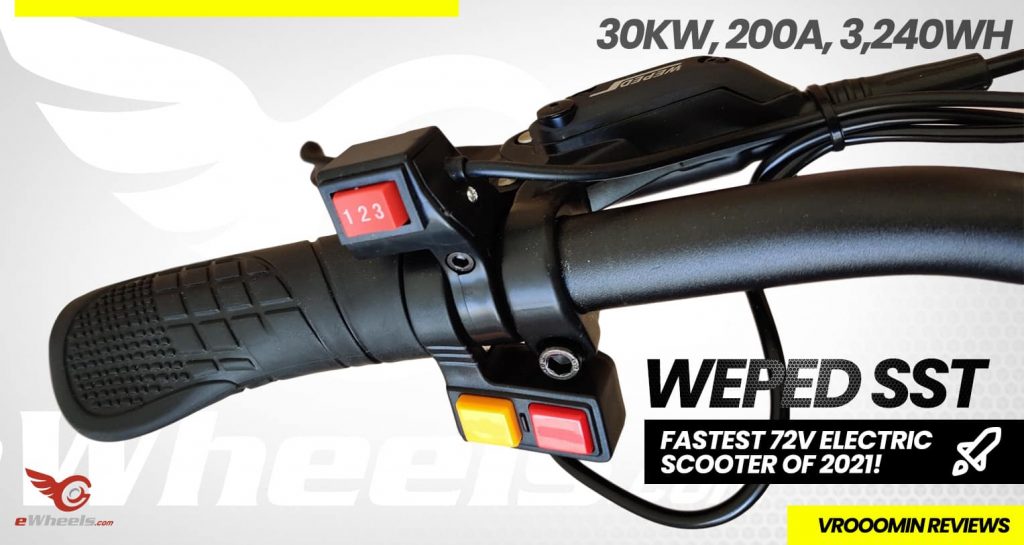 2. 3,240Wh Samsung 21700 Battery Pack
Weped is known for using some of the highest quality components for their drivetrains. While most electric scooter companies are starting to introduce 21700 cells to their battery packs, Wepeds are equipped with Samsung 21700 50E cells to set them on top of the pecking order. These cells can take riders up to 80 MPH and put out a 100 mile range with moderate cruising speeds.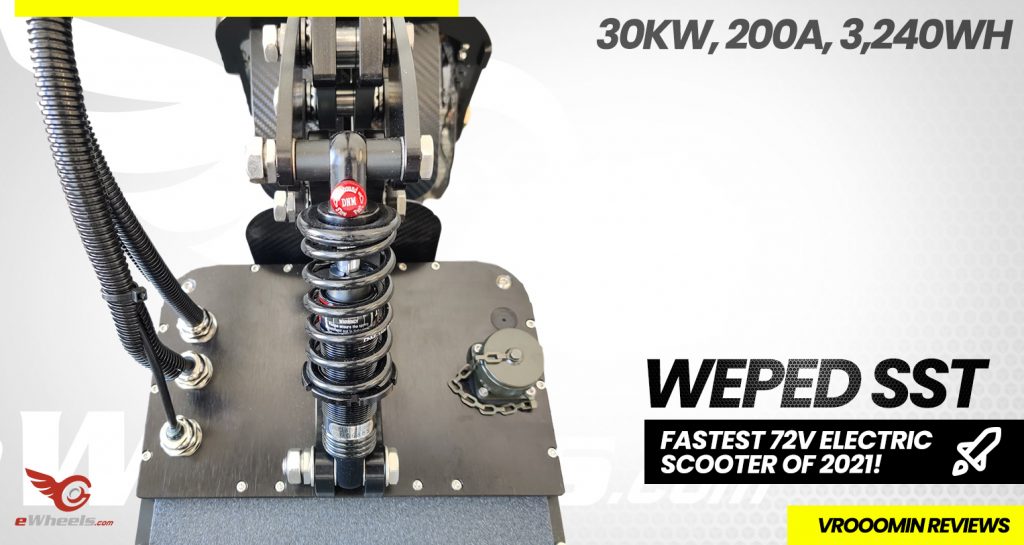 3. Built for High Speed Stability
Performance, stability, and longevity are the core facets for which Wepeds are built upon.
Weped scooters are built for performance and high speed, and feature curved stems, wide tires, and narrow decks for minimizing wind resistance and promoting strong grip for high speed. The cockpit of Wepeds are no frills, minimal and uncluttered, allowing riders to focus on the road, speed, and braking.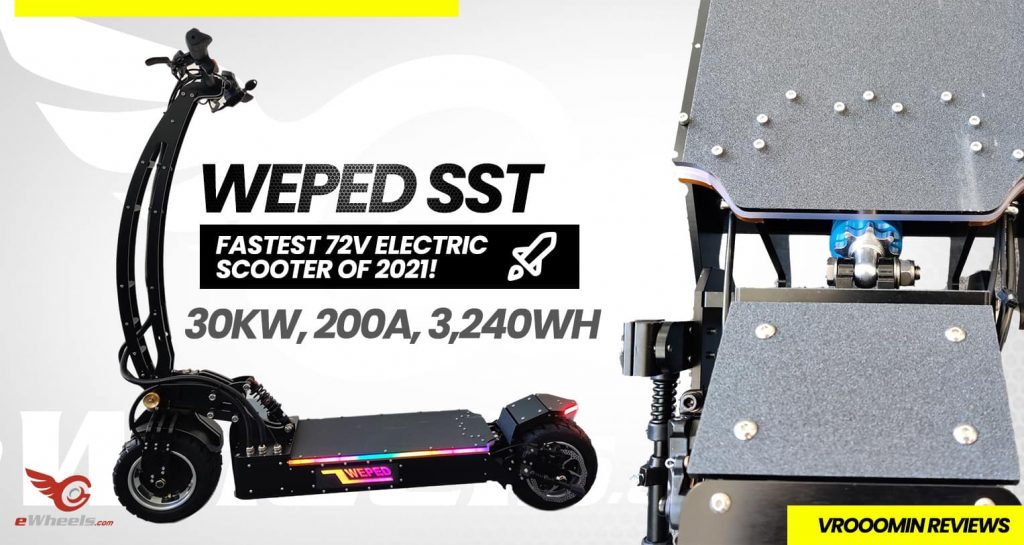 4. Hand Made in Korea
Each Weped is designed and built by a small team in South Korea, ensuring that each component is laid out with the highest attention to detail and quality assurance. Wepeds are hand-built and vetted through a rigorous quality assurance process, reinforcing the Weped reputation and legacy for producing some of the most powerful and quality, extreme performance electric scooters on the market.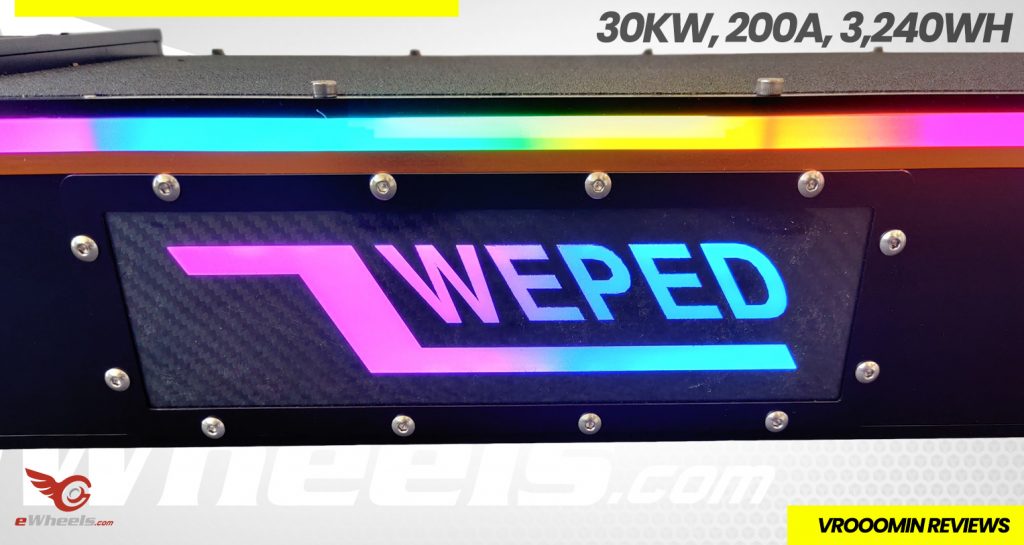 5. No Wait Time
Free 84V/11A Fast Charger if your order now!
For a limited time, eWheels is offering a free fast charger with purchase! The SST features an insane amount of capacity and needs a high amp charger to fill up its tank. Theres no wait time for this scooter, get in touch with Jason and team to reserve one, supplies are limited.
Price: $7,299
Motor: MAX 33,000 watt BLDC dual hub motors – One of the strongest on the market
Controller: 72V 100A x 2 Controller – Strongest on the market
Battery: 72V – 45 Ah – 3,240Wh – Samsung 21700 cells – Best in the market
Charge time: 21 hours with standard charger
Max mileage: 80 miles – average could be 30-60 mixed speed miles, all depends on usage
Max Speed: Up to 87 MPH (+70 MPH reported, depends on road conditions and state of battery charge)
Climbing Grade: 70% or 35 degrees depending on rider weight and state of charge (climbs very steep hills with no problem)
Braking System: Front and Rear disk brakes with ABS standard (powerful stopping power with Weped Hydraulic brakes)
Max Load: 300 lbs – Stronger motors and battery supports heavier riders
Scooter Weight: 115 lbs – Made for high speed stability, not portable by any means
Dimensions: The approximate box dimensions are 54x15x23″ & 140lb (including packaging)
Are you Team SST?
Theres no doubt that the SST is one of the best 72V electric scooters on the market. She's one of the strongest, heaviest, and most expensive electric scooters on the planet… would you consider the SST for the 2021 riding season? Let me know in the comment section below!