After 1500 hard and easy miles, the play on my Dualtron stem became inoperative.
I've had minor play in my Dualtron Eagle Pro since unboxing
Stem wobble usually occurs above or below the headset crown
Stem play/wobble is a common pain point on most electric scoots with folding stems
Big thanks for Ian August for help rebuilding the headset, also Olivier for his headset kit
The play in the stem would cause my handlebars to wobble forward and backward. Turning the handlebars would take more than a 10-degree turn for my front motor to turn.
The hinge and the inner headset pieces were worn, and needed to be replaced.
Dualtron Wobble and Stem Play Repair
This video provides a high-level overview of rebuilding a headset and fixing the stem play/wobble on the Dualtron Eagle Pro. In the video below, we'll go through each headset component and then rebuild and restore it—credits go to my friend Ian for the rebuild, his time, knowledge, tools, and parts. Also, shout out to MadCharge; he did a video on this in the past and released a new one recently as well.
Parts Required:
Loctite red & blue
Proper Hex Tools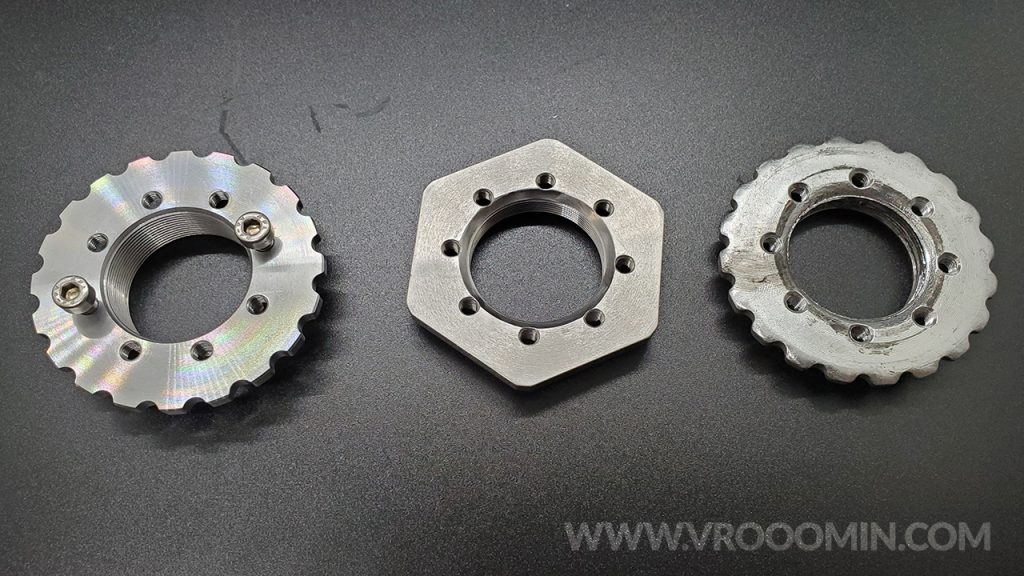 Dualtron Headset Rebuild with Ken Sonken Engineering Kit
1. Remove the folding pin/axle (pay attention to the safety screw under the hinge)
2. Remove the 2 M4 screws holding the crown nut/star wheel.
3. Remove the M10 screw (stem bolt/hinge screw). You need to heat it if it has never been removed. It's full of glue/thread lock in here. You can directly heat the screw head; heat will diffuse. You may need to heat it several times during the unscrewing process.
4. Extract the folded bracket. You can beat from underneath (with an 8 mm max diameter pin). Heating if necessary. But you need to remove the motor.
Do not turn the folding during the process, you will damage pins and pin locations. The better way is to pull from the top, you can make your pull tool. I did not need the tool, my hinge came right off
5. For the crown you will need to heat to soften the glue. I use the 2 M4 screws and a wrench to unlock. You clean all this sh*t of glue.
6. When you put it back, you tighten the crown nut only by hand (or crown tool), then about 1/8 to ¼ of a revolution more—same method M4 screw and wrench. You can also use a large plier with rubber; that's how I do when I have no more access to the M4.
7. Once everything is together, except for the 2 M4 but with the column, folding axle, and everything else, you tighten the M10 screw (60-90 N.m max).
8. You check that there is more play. That you can turn the fork without "feeling" the bearings, and without too much restraint.
9. If its still loose, you loosen the M10 (hinge screw), tighten the crown again, tighten the M10, and check again. When it's good, you put back the 2 M4 screws.
10. And you're all good. I do not use thread lock (Ian and I used Loctite), but that's up to you. You do not need it on the M10, as I give a special lock washer in the set. This washer can only be used one time.
You may also like:
Disclaimer: The information presented in this article is derived from extensive research, user reviews, and publicly available information. Our aim is to provide accurate and up-to-date content; however, it is crucial to understand that the opinions expressed are based on the information available at the time of writing. We strongly encourage readers to conduct their own thorough research and carefully evaluate their individual needs before making any purchasing decisions.
eWheels 2023 Summer Deals and New Launches are here!!!
Cheap, reliable, and powerful! TurboAnt Electric Scooters 2023 Sale!
Hi guys! This post may contain affiliate links, sponsored content, and advertisements. We get a small commission for covering topics that interest us (helps us keep the doors open). For more information, please see our privacy policy and disclaimer. Ride safe yall!
2023 Electric Unicycles:
Coupons & Deals:
Apollo Scooters: Get $50 USD worth of free accessories, upgrades, or spare parts with the purchase of a scooter. Code: VROOOMIN
REV Rides: Save $50 off Scooters and EUC's, Code: VROOOMIN
EVOLV Electric Scooters: Free Folding Lock (worth C$80) for every EVOLV model! Use Code: VROOOMIN-LOCK
To keep the site running and information flowing, Vrooomin.com participates in affiliate linking programs. We're also an Amazon Associate, which means we get paid for referring people to Amazon. Please support the channel by clicking on our links.