Mention Code "VROOOMIN" for possible discounts to your dealer!
Coupon Codes & Deals:
eWheels Spring Sale on electric scooters and electric unicycles
Save $50 off Kaabo and EMOVE electric scooters with Code: VROOOMIN
Save $50 off VSETT, Begode, King Song, Segway with Code: VROOOMIN
Get $50 worth of accessories at Apollo scooters with Code: VROOOMIN

The premium and economical $1,299 Apollo Explore electric scooter now available for preorder.
Two difficult tasks are saving money on commuting and finding a good electric scooter. The good guys at apollo have designed the Apollo Explore to solve both issues.
The Apollo Explore is based on Titan Group scooter designs that you may have seen on the market, but with Apollo's custom touches, branding, and specifications. The Apollo Explore has a top speed of 31 mph, a maximum range of 37 miles, and weighs 52 pounds, making it ideal for city commuters looking to save time and money on their daily commute.
This scooter is relatively large (as seen in person), but it is still light, portable, and powerful. The scooter has all the brakes, batteries, lights, and suspension needed for a safe and comfortable ride. Let's look at the amazing specs that make this $1,299 scooter a very competitive model compared to other $1,000 models on the market.
Everyday commuter
Avoiding steep hills to save power is a thing of the past thanks to the everyday designated hill-crusher. You may choose to use city streets instead of the bike lane if your scooter has a 52V 18aH battery and a 1000W motor, but only if the speed limit allows it. Apollo is a powerful scooter for its small size, packing all of this performance into a scooter that weighs only 52 pounds!
Motor power: 1000W
Top speed: 50 KM/H (31 MPH)
Riding modes:
Gear 1: 25 KM/H max. speed (15 MPH)
Gear 2: 40 KM/H max. speed (25 MPH)
Gear 3: 50 KM/H max. speed (31 MPH)
Acceleration: 3.5 seconds to 25 KM/H (15 MPH)
Max. incline: 20 degrees
Applicable terrain: streets, bike lanes, sidewalks, trails
Quality Matters
As a company, Apollo has no qualms about proclaiming its status as electric scooter nerds and enthusiasts. Because of this, Apollo was able to design a cutting-edge scooter that meets the demanding specifications of everyday use in North America.

Their Canadian design team made sure that the Apollo Explore could handle the rough streets of New York City as well as the steep hills of San Francisco by using a stringent quality control process and offering an unprecedented 24-month warranty.
Everyday power
Innovative all-terrain technology on the Explore makes sure you can always get to your destination on time. This scooter works perfectly on perfectly flat paved streets, gravel-covered backroads, and steep hills.
The brushless 1000W motor found in the Apollo Explore is powerful enough to overcome most obstacles. This translates to an 86% energy conversion rate, top speeds of 31 mph, and the ability to climb hills with an angle of only 20 degrees. This scooter can carry riders up to 265 pounds and can travel 15 miles per hour in just 3.5 seconds!
Battery type: 52V 18.2aH battery
Travel distance (range): 55-60 KM (37 miles)
Cell origin: Dynavolt, a global leader in manufacturing high-performance batteries for motorcycles
Power structure: 98 x 18650 (2600mah) lithium battery units
Charger-rated power: 58.8V 2A
Charger-rated input voltage: 110-220V~
Battery voltage limit: 58.8V
Charging time: approx. 9 hours (4-5 hours with fast charger upgrade)
Smart power management: short circuit protection, overcurrent protection, double protection from overcharging, double protection from over-discharging, temperature resistance, Undervoltage auto-sleep protection
Standard power consumption: 2.2kWh per 100km
Responsive
The electric regenerative hand brake on this Apollo scooter works by sending a reverse current through the motor to slow you down while charging the battery.
Just what does all this stopping power amount to? With an average stopping distance of 8 feet and a powerful scooter that allows you to go farther, faster, and safer than ever before.
Long Range
Apollo uses 52V 18.2aH batteries powered by Dynavolt cells, the world's leading manufacturer of powerful motorcycle batteries, to offer you an exceptional range of 34 miles.
Compared to other batteries, Apollo's Dynavolt-powered batteries looked impressive for 300–500 charge cycles, equating to about seven years of use for the average rider. Apollo batteries have the longest warranty of any electric scooter on the market at 24 months.
Suspension
The Apollo Explore's rear suspension is a high-performance dual spring setup, and the front suspension is a separate spring setup.
A combination of these factors, along with two 10-inch tires filled with air, results in a smooth ride, regardless of the terrain. The Explore is great for commuting because it can easily handle curbs, potholes, trails, and hills.
Frame: forged aluminum
Colour: black with blue accents
Package contents: scooter, charger, toolkit, manual, warranty card
Display: LED with mode controls and key riding statistics (speed, distance, battery charge, etc.)
Throttle: index finger
Tire size: 10 inch
Tire type: pneumatic (air-filled) in the front and rear
Weight: 23 KG (52 LBS)
Folded dimensions: 117 CM x 19.5 CM x 43 CM (46 IN x 7.7 IN x 17 IN)
Packing dimensions: 123 CM x 35.5 CM x 52 CM (48.4 IN x 14 IN x 20.5 IN)
Max. load: 120 KG (265 LBS)
Lights:
Front: dual white LED light
Rear: dual red LED light (with braking alert)
Stem: blue LED light
Deck: blue LED light
Brake systems:
Front: disc brake
Rear: disc brake
Motor: electric regenerative braking
Braking distance: 2.45 meters (8 ft) on dry flat asphalt
Tire material: inflatable rubber tires
Suspension systems:
Front: spring
Rear: dual sp
Tires: 10-inch pneumatic (air-filled)
Water resistance: IP54 (approved for light rain and riding on wet surfaces)
Recommended age: 18 to 60 years old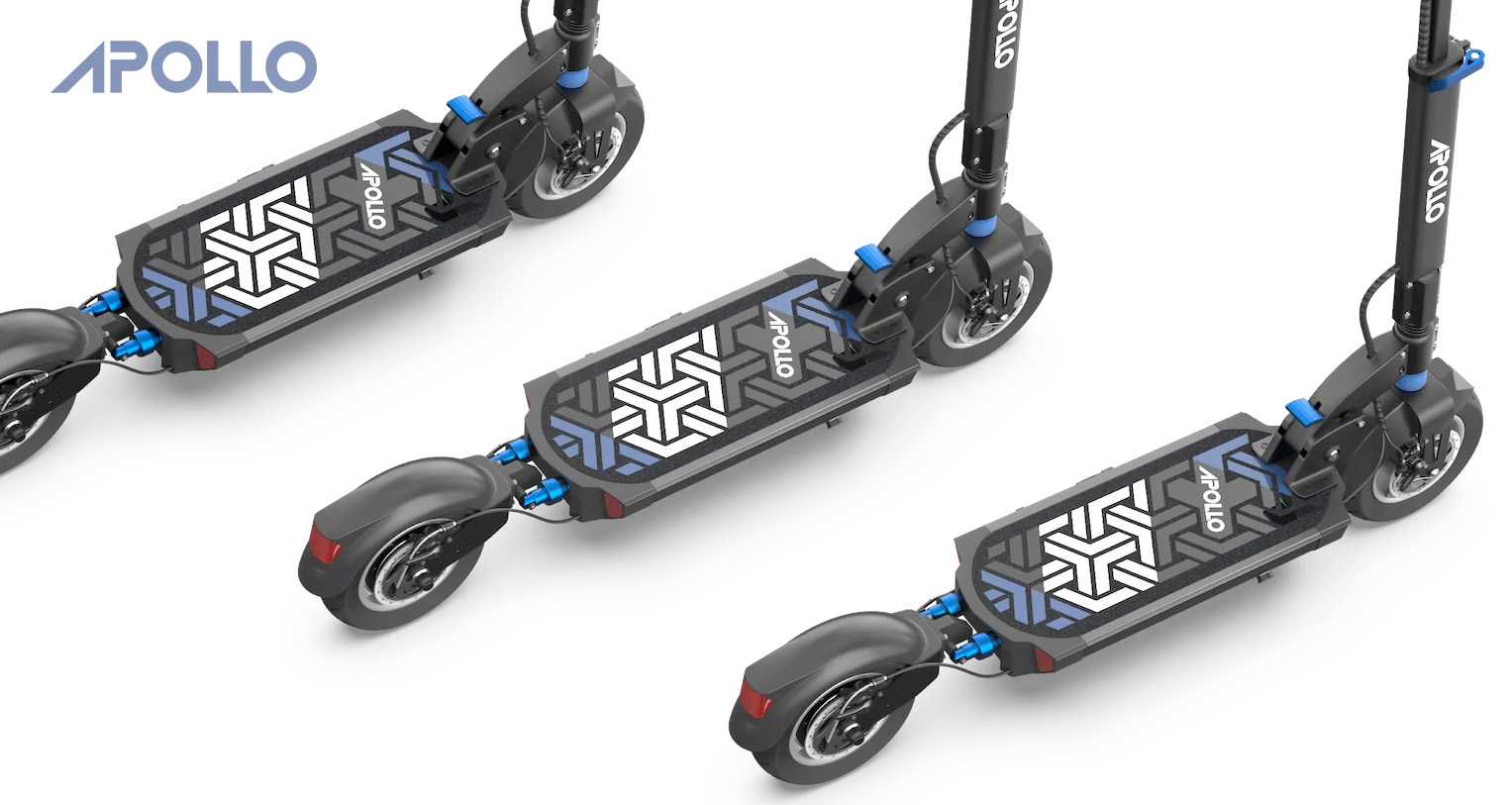 Worth it?
Finally, the Apollo Explore is a fantastic 30 mph beginner scooter. The Explore has enough performance and specs to make your commute enjoyable. Make sure you understand how to charge your battery, inflate your tires, and perform general brake maintenance. It is not difficult at all; simply watch a few maintenance videos on YouTube to ensure you understand what you are getting yourself into.
It is a fun hobby and a great way to save money. Apollo also has 30–40 mph scooters to consider for more premium models. Check out the best Apollo Scooters to see what you have to offer.
More +30 MPH Extreme Performance Electric Scooters:
eWheels 2023 Spring Deals and New Launches are here!!!
Cheap, reliable, and powerful! TurboAnt Electric Scooters 2023 Sale!
Hi guys! This post may contain affiliate links, sponsored content, and advertisements. We get a small commission for covering topics that interest us (helps us keep the doors open). For more information, please see our privacy policy and disclaimer. Ride safe yall!
2023 Electric Unicycles:
Coupons & Deals:
Apollo Scooters: Get $50 USD worth of free accessories, upgrades, or spare parts with the purchase of a scooter. Code: VROOOMIN
REV Rides: Save $50 off Scooters and EUC's, Code: VROOOMIN
EVOLV Electric Scooters: Free Folding Lock (worth C$80) for every EVOLV model! Use Code: VROOOMIN-LOCK
To keep the site running and information flowing, Vrooomin.com participates in affiliate linking programs. We're also an Amazon Associate, which means we get paid for referring people to Amazon. Please support the channel by clicking on our links.