Apollo Phantom V2
Apollo's High Performance Model
It can be stressful to be stuck in traffic, to wait for a bus running behind schedule, or to rely on conventional modes of transportation. There must be a less stressful solution. You've thought about purchasing an electric scooter, but the range you require is significantly greater than a few miles.
A premium, refined, performance electric scooter
You have the financial means necessary to buy a high-end electric scooter with dual motors, high torque, and premium features. It's time to treat yourself to something extraordinary; consider purchasing either the 52V or the 60V Apollo Phantom.
Power: 2 x 1200W (3200W)
Top Speed: 38 mph
Range: 40 miles
Battery: 52V or 60V
Weight: 77 lbs
Sporty look and feel
Second generation model
The Phantom by Apollo is currently in its second generation, superior to all previous iterations. The Phantom has a new LCD that is more brightly lit, a smoother drivetrain, and improved durability. The Phantom is envisioned as an electric scooter that is both cutting-edge and completely functional. This high-performance dual-motor electric scooter is designed for riders with more experience, looking for the best ride possible in all aspects, and wanting to have limitless fun.
New Features
New Design: The Apollo Phantom is the first vehicle-grade electric scooter. Powered by two high-efficiency brushless motors with a nominal output of 1200W each in the 52V variant and 1400W each in the 60V variant, the Phantom has out-of-this-world maximum instantaneous power.
Suspension: The Phantom features a completely proprietary suspension design called the Quadruple Suspension System. By using four springs instead of two, we've changed the way shocks are absorbed and made travel more dynamic.
Display: The proprietary HEX display is packed with impressive features, including a speedometer, range estimator, and riding mode toggle. With 20 adjustable settings, you can personalize your riding experience.
Safety: The Phantom is strong, sturdy, and stable where it matters the most; it has a double-reinforced stem and neck and a proprietary safety mechanism with three independent safety locks.
Range: The Phantom relies on our tried-and-true Dynavolt cells, famously used in electric motorcycles and across other Apollo products. Its 1216 watt-hour battery (52V, 23.4aH) offers an impressive range: up to 40 miles (conservative) and 25 miles (at max power).
Stable: The kickstand is easy to use, convenient, and durable, so it is guaranteed to hold up your scooter when you are not riding.
Lighting: The Phantom V2 has a 1000-lumen headlight and two front deck lights to ensure you remain visible from more than one angle. The front lights, the rear turn signals, and the brake lights ensure you can always see and be seen.
Performance Mode: Buy your Phantom V2 and an Upgrade Kit to unlock the LUDO mode, turn your Phantom into an APP-compatible device, and so much more! Click here to learn more.
Performance Tuned
38 MPH Electric Scooter
Equipped with twin motors of 1200 watts each (3200W max), it can provide you with acceleration that is not only silent but also incredibly powerful, up to 38 MPH! The Phantom can travel an impressive maximum of 40 miles on a single charge and comes equipped with a robust Dynavolt battery (52V or 60V).
The tuned Phantom utilizes a four-spring suspension system, providing superior shock absorption and a more refined travel experience. When you take it for a spin, you'll be blown away by how well it handles rough city roads and light off-road terrains, such as trails and city parks.
Safety
Regarding their high-performance scooters, Apollo prioritizes the rider's safety above all else. It is simple and safe to go to a stop in a hurry thanks to the dual disc brakes (either mechanical or hydraulic), and the stylish lighting package that includes turn signals makes it safe to ride at night.
Ultimate Chassis
Sturdy and refined
The Phantom possesses a lot of power. It has a maximum load capacity that is rated at 300 pounds. Most riders' weight and height won't effect the performance of the scooter; even riders taller than 6″ can ride the scooter without discomfort or difficulty.
Power & Range
Dynavolt battery packs
The scooter has a top speed of 38 miles per hour and is equipped with twin powerful, high-efficiency BLDC motors that each produce 1200W (peak 1600W) power. The scooter's acceleration is exhilarating.
Riders can anticipate a range of up to 40 miles for extra-long commutes, and the vehicle is equipped with two charge ports for speedy recharging.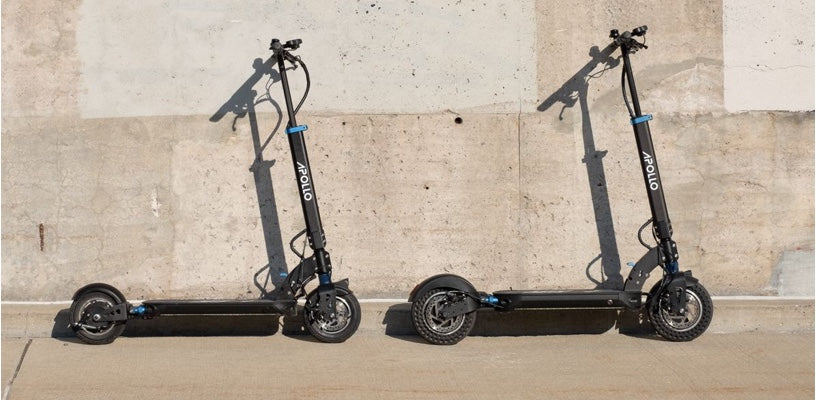 Poweful Braking
Optional mechanical and hydraulic
Because it has disk brakes measuring 160 millimeters in diameter, the Phantom has a short stopping distance and is simple to operate. Either with mechanical or hydraulic brakes, depending on your preference.
Even on the most uneven city streets, the quadruple spring suspension and 3.25″ pneumatic tires ensure a comfortable ride for riders, and road vibrations are no longer a big issue.
Night Ride Ready
Complete Lighting
Riding at night is made possible by a 1000-lumen headlight, plenty of deck lights, and turn signals. There is no need for any additional lighting. There is no need to worry about night visibility when using the Phantom.
A multilayered aluminum chassis supports the Phantom's stem, and a newly designed folding system proves its resilience and lack of wobble.
Worth it?
Its expensive
For about $2,000, depending on the model, the Apollo Phantom series makes for a competitive scooter in its category. The Phantom is a high-tech electric scooter that provides a relaxing and stress-free ride to and from the office or the grocery.
With its two high-efficiency motors, it can reach speeds of up to 38 MPH while remaining completely quiet. There's no need to worry about battery life during the week thanks to a range of up to 40 miles; it has plenty of ride-range to give.
Although it's moderately heavy at 77 lbs, don't expect to carry this scooter up a flight of stairs with ease, that's a big deal for some apartment folks.
Apollo Phantom V2 52V $1,999.00 USD (Mechanical)
1200W x 2motor
77 lbweight
40 milesmax. range
Quadruple Springsuspension
Front and Rear Discbrake
Apollo Phantom V2 52V $2,149.00 USD (Hydraulic)
1200W x2 motor
77 lb weight
40 miles max. range
Quadruple Spring suspension
Front and Rear Hydraulic brake
Apollo Phantom V2 60V $2,399.00 USD (Hydraulic)
1400 W x 2motor
77 lb weight
40 miles max. range
Quadruple Spring suspension
Front and Rear Hydraulic brake
Best Apollo Electric Scooters:
Disclaimer: The information presented in this article is derived from extensive research, user reviews, and publicly available information. Our aim is to provide accurate and up-to-date content; however, it is crucial to understand that the opinions expressed are based on the information available at the time of writing. We strongly encourage readers to conduct their own thorough research and carefully evaluate their individual needs before making any purchasing decisions.
eWheels 2023 Summer Deals and New Launches are here!!!
Cheap, reliable, and powerful! TurboAnt Electric Scooters 2023 Sale!
Hi guys! This post may contain affiliate links, sponsored content, and advertisements. We get a small commission for covering topics that interest us (helps us keep the doors open). For more information, please see our privacy policy and disclaimer. Ride safe yall!
2023 Electric Unicycles:
Coupons & Deals:
Apollo Scooters: Get $50 USD worth of free accessories, upgrades, or spare parts with the purchase of a scooter. Code: VROOOMIN
REV Rides: Save $50 off Scooters and EUC's, Code: VROOOMIN
EVOLV Electric Scooters: Free Folding Lock (worth C$80) for every EVOLV model! Use Code: VROOOMIN-LOCK
To keep the site running and information flowing, Vrooomin.com participates in affiliate linking programs. We're also an Amazon Associate, which means we get paid for referring people to Amazon. Please support the channel by clicking on our links.