2022 Apollo Air Technical Review
Save money, have fun, and ride electric.
The larger electric scooters get all the glory, but the smaller ones are nimble and entertaining in their own right. The Apollo Air is surprisingly powerful for its diminutive size. This lightweight (38.5 lbs) and dependable 10″ electric scooter are perfect for commuting around the city or suburbia.
An Electric Scooter for City Folks
With its 36V 540WH lithium battery pack and 500W, motor producing a 21 mph top speed, the Apollo Air can take riders anywhere, including to the office, the supermarket, the gymnasium, and back again.
Technical Specs:
Top Speed: 21 mph – Decent speed for price and weight
Motor: 500W Motor – Standard motor for 20 mph motors
Brakes: Front Drum and Regenerative Brake – Decent brakes that will stop you on a dime
Materials: Aluminum Alloy Frame – Decent materials for budget scooter
Price: $999 – Pricing is a bit on the expensive side, but offers nice features
Gradient: 10 degrees – Small hills is fine, expect slow down with speed
Battery: 36V 540WH generic lithium battery pack – Battery pack uses generic Chinese cells
Charge Time: 7 hours – Standard charge time
Range: 31 miles – Range is likely 15-25 miles of mixed-used riding
Tire Size: 10 inch – Nice size tires for a 20 mph scooter
Suspension: Front dual fork suspension – No rear suspensions
Weight: 38.5 lbs – Very light weight for easy portability
Max load: 220 lbs lbs – Heavier riders should seek larger scooters
Lighting: Headlights/taillights – Standard features
Release Year: 2021
Apollo Air Introduction Video
Scooter's are all the rage, they're in your parks, neighborhoods, and even office spaces. Join in on the fun, cost savings, and electric vehicle movement!
The Apollo's robust drivetrain, substantial frame, and premium pricing appeal to many riders. Commuters and enthusiasts praise the Air's appealing high power-to-weight ratio, agile 10-inch engine, powerful 21 mph top speed (full battery charge), affordable price, and dependable 31-mile lithium battery pack.
Power
The Apollo Air is a fun zippy 20 mph scooter that's perfect for picking up food and getting things done!
The Apollo Air is the beginner model in the Apollo portfolio, so it's perfect for first-time commuters who want to try out electric scooter commuting. The Apollo Air is an entry-level commuter electric scooter with a top speed of 21 mph, thanks to its 500W single hub motor and square wave controller.
In most cases, riders will stick to the stated speed limit and go at a pace of 10–20 mph on their regular commutes. We would still recommend riders adhere to the bike lane when possible. Our previous experience traveling 10-20 miles per hour on a scooter taught us that this method is far safer.
Riders can comfortably take on mild inclines and lift their weight on the durable Apollo, thanks to its 36V entry-level commuter powertrain. When we ride electric scooters, we don't have to worry about burning funds on gas or stopping to refuel.
Motor rated power: 500W
Top speed: 21 mph
Max. incline: 10 degrees
Gear 1: 9 mph, Gear 2: 12.5 mph, Gear 3: 21 mph
Terrain: streets, bike lines, sidewalks
Throttle: Ergonomic Thumb-Throttle
Brake: Front Drum and Regenerative Brake
Range
Riders can expect at least 15 miles of range, more than enough distance to get to and from work for most riders
Like other electric scooters, Apollo batteries may be recharged for less than 15 cents. The maximum distance the Apollo Air can travel is 31 miles, thanks to its 36V 540WH lithium battery pack.
Under typical riding circumstances, most riders can count on getting at least 60% of the stated range. It will take about 7 hours to charge the Apollo, so schedule accordingly fully.
Battery type: 36V 15 Ah
Travel distance: 31 miles
Power: 40 x 21700 (5000 mAh) Lithium Battery Structure
Charger rated power: 42V 1.5A
Charger rated input voltage: 110V-240V
Charging time: 5-7 hours approx
Standard power consumption: 1.4kW per 100km* approx
Features: short circuit protection, overcurrent protection, double protection from overcharging, temperature resistance, undervoltage auto-sleep protection
Chassis
A beauty among its competition, the Apollo Air is lightweight to you and stunning to on lookers
The Apollo Air is an unquestionably simple, sleek, and great-looking commuting electric scooter. The 38.5-pound Air is supported by a strong aluminum alloy frame, sturdy 10-inch tires, front twin fork suspension, front drum brake, and regenerative brake.
For its price, the Air is meant to be a powerful, stable electric scooter that can support riders weighing up to 220 pounds.
Colour: Graphite grey with orange accent
Frame: 6061 Aircraft-grade aluminum
Suspension: Front Dual Fork
Tire size: 10-inch front and rear
Tire type: Pneumatic
Weight: 38.5 lbs
Max rider load: 220 lbs
IP Water Resistance Rating: IP54
Package contents: scooter, charger, hex key, manual
Display: LED with mode controls and key riding statistics (speed, distance, battery charge, etc.)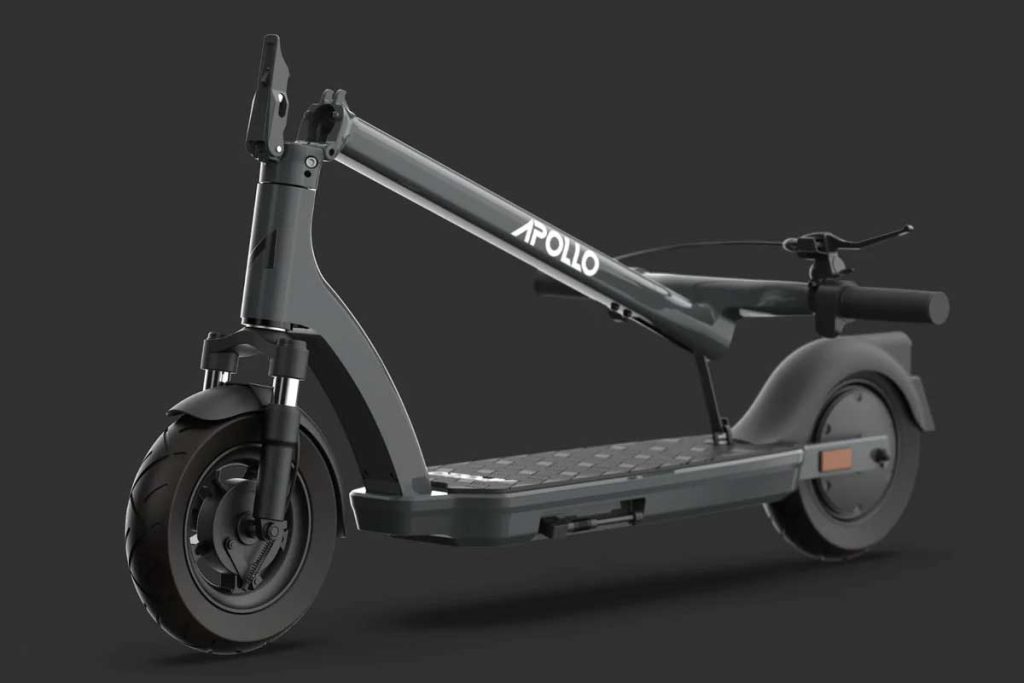 Features
Display, suspension, easy folding, and front fork suspension
Many electric scooters are available in the 20 mph market, but their features make them unique. Any rider nowadays should, at the very least, consider models with LED illumination, horns, and signal blinkers. These are all crucial safety features, and most 2022 models now come bundled with them, as a matter of course.
Stronger 500W motor, 21700 lithium battery, larger 15Ah battery, specialized re-generation throttle, and the best folding mechanism in the category. Welcoming you to the brand-new Air.
The new 500W motor permits a maximum speed of 21 mph or a stroll around the neighborhood.
Do you suffer from range anxiety? No need to worry. The 21700 battery cells allow for a maximum range of 31 miles per charge.
With the world's first regenerative braking throttle, you can brake more quickly and effectively than ever before.
Large 10-inch tires and a dual front suspension system provide the most comfortable ride.
The lightest Apollo model weighs only 38 pounds. It is portable and straightforward to fold. Bring it wherever you go.
Take complete charge of your journey with turn-by-turn guidance, post-ride analytics, and configurable performance.
Integrated inside the handlebar, the integrated display provides access to the ride's essential information.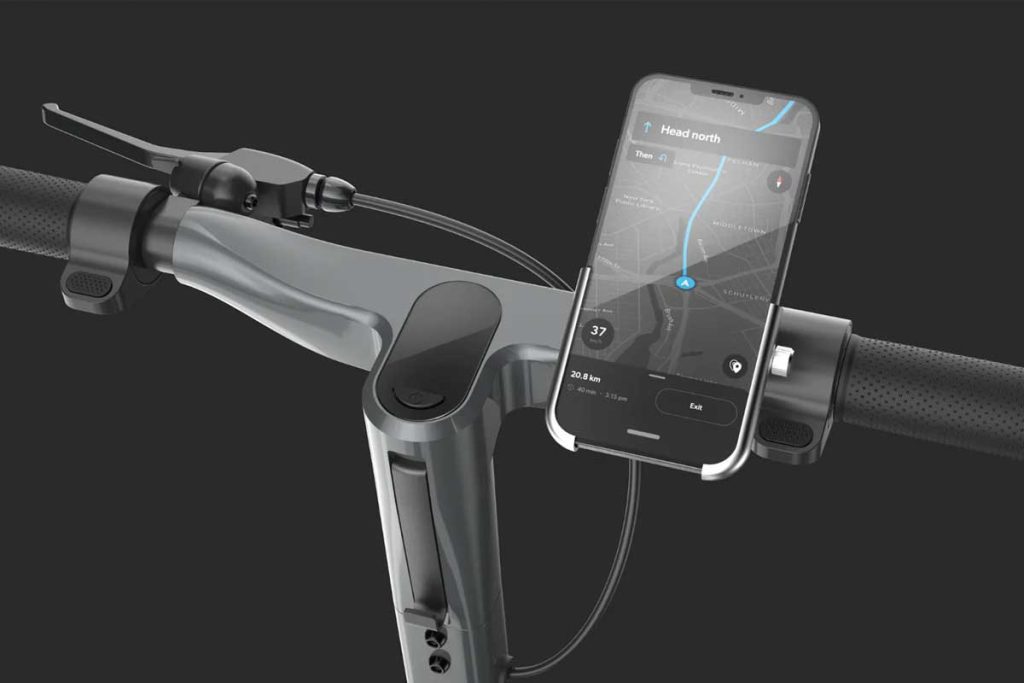 Is the Apollo Air worth it?
With so many budget models on the market, it's hard to say.
If you want 21 mph performance, Apollo quality builds, and 31 miles of max range, the Air can be one of many in your top choice. Many scooters in the $999 category will have similar specs; the Apollo Air has a more polished chassis and features to make it stick out.
Depending on who you ask, the Air can be a crowd favorite and top contender in the entry-level commuter under $1,000 and last mile category.
We said it before and will repeat it. Our advice is always to research threads, watch review videos, and focus on what people say about speed, power, range, battery packs, and warranty coverage.
The Air is backed by a 1-year warranty and customer service from Apollo. For riders seeking effortless power, acceleration, comfort, and features to make their rides seamless, any 20 mph scooter will do the job.
Reasons to Buy:
Powerful scooter for its lightweight size
Fully functional entry-level range commuter electric scooter
Lowest price scooter in the Apollo lineup
Polished look and feel
Zippy top speed as other scooter's in its class
Reasons to Avoid:
No rear suspension

First generation model, no known issues at the moment.

For the price, other models can reach +25 mph
$999 is expensive, Other models with similar features cost less
Similar Models:
A few options with similar specs, features, and pricing include Dualtron, Gotrax, NIU, and Kaabo.
More +30 MPH Extreme Performance Electric Scooters:
Disclaimer: The information presented in this article is derived from extensive research, user reviews, and publicly available information. Our aim is to provide accurate and up-to-date content; however, it is crucial to understand that the opinions expressed are based on the information available at the time of writing. We strongly encourage readers to conduct their own thorough research and carefully evaluate their individual needs before making any purchasing decisions.
eWheels 2023 Summer Deals and New Launches are here!!!
Cheap, reliable, and powerful! TurboAnt Electric Scooters 2023 Sale!
Hi guys! This post may contain affiliate links, sponsored content, and advertisements. We get a small commission for covering topics that interest us (helps us keep the doors open). For more information, please see our privacy policy and disclaimer. Ride safe yall!
2023 Electric Unicycles:
Coupons & Deals:
Apollo Scooters: Get $50 USD worth of free accessories, upgrades, or spare parts with the purchase of a scooter. Code: VROOOMIN
REV Rides: Save $50 off Scooters and EUC's, Code: VROOOMIN
EVOLV Electric Scooters: Free Folding Lock (worth C$80) for every EVOLV model! Use Code: VROOOMIN-LOCK
To keep the site running and information flowing, Vrooomin.com participates in affiliate linking programs. We're also an Amazon Associate, which means we get paid for referring people to Amazon. Please support the channel by clicking on our links.