Mention Code "VROOOMIN" for possible discounts to your dealer!
Coupon Codes & Deals:
eWheels Spring Sale on electric scooters and electric unicycles
Save $50 off Kaabo and EMOVE electric scooters with Code: VROOOMIN
Save $50 off VSETT, Begode, King Song, Segway with Code: VROOOMIN
Get $50 worth of accessories at Apollo scooters with Code: VROOOMIN

Voro Motors now offers the Kaabo Mantis King GT with a free 4-year warranty!
Save an additional $50 with Coupon Code VROOOMIN
I swear the Voro Motors guys are crazy about this; they are now offering a $50 discount on the Mantis King GT electric scooter and a four-year warranty. This is insane; no other scooter dealer is offering a nice discount on top of a four-year warranty.
Consider this: you can ride at +40 mph on a silky sine wave controller without worrying about performance parts or warranty claims. Voro provides a four-year warranty, so you're covered for all of the big and expensive parts if something goes wrong on the road.
They must have done the math and are confident in their scooters and service, as evidenced by the four-year coverage plan. Could the Mantis be the result of this will?
Regardless, you can't go wrong with this deal, and don't forget to use the $50 off coupon to put the icing on the cake. Let's look at the Voro Mantis King GT specifications that are available on their website.
Add your scooter and 3-year Extend Plan to the cart. Get a total of 4 years of warranty (including a 1-year manufacture warranty) for free with discount code 4YEARWARRANTY.
Kaabo Mantis King GT Coupon Code: VROOOMIN
Voro Motors Product Details:
The Mantis King GT is Kaabo's best all-around electric scooter. Yup, we said it. Unlike its dual-stem brethren, the Mantis GT weighs less than 80 lbs and boasts a nimbler, racier ride. It's got all the tech and comfort upgrades from the Grand Touring series: thumb throttle, sine wave controllers, a large, centered display – and more.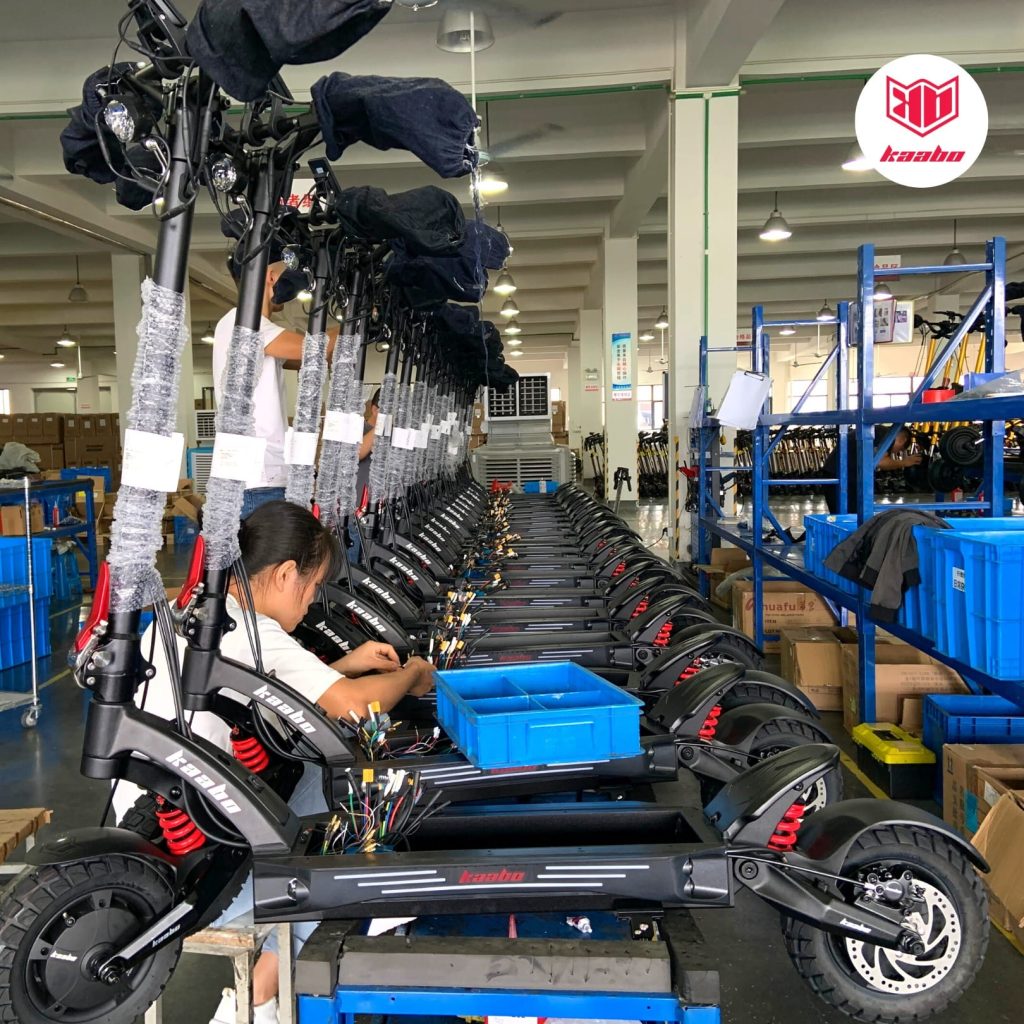 Along with advanced technology and improved construction, it has a higher water resistance rating and a quicker folding mechanism than previous models. It hits harder, feels better, rides faster, and is straight-up stronger. And BTW, it's good-looking.
As our newest luxury commuter, the Mantis King GT has a stealthier profile than the Wolf Warrior GT and Wolf King GT with a flashy frontend, rear swingarm, and dual-colored deck for "who's that guy" drive-by appeal.
The Mantis GT has dual 1100W motors and dual 30A sine wave controllers for super smooth acceleration with a top speed of 43.5 mph (70 km/h)
With 1440 Wh capacity, the Mantis King GT grants you 56 miles (90 km) of long range on a single charge, which you can get in under 6 hours using two standard chargers.
Ride comfort features include ergonomic thumb throttle, dual 10" x 3" (inner tube) hybrid tires on split rims, adjustable hydraulic suspension to smooth out rough roads, and 23" x 8.5" deck making it easier to change positions while riding
Safety features include a high-mounted headlight, rear turn signals, separate brake-responding taillights, electronic horn, 4.2" anti-glare TFT display with cruise control, digital security lock, performance controls, and IPX5 water resistance rating.
Portability features include a pull-down mechanism for quick fold/unfold, hook and loop for easier carrying when folded, and a lighter weight 76 lb design.
Backed by our 1-year limited warranty, we'll take care of you, your ride, and what you need; ask our team
Kaabo Mantis King GT Specs
Performance specifications, precisely top speed and range, are VORO-estimated values based on multiple linear regression and often differ from the manufacturer's projected performance. Range, top speed, and hill climbing ability will vary depending on rider size, riding style, and riding environment (terrain, weather conditions, incline, etc).
Top Speed 43 mph (70 km/h)
Range 56 mi (90 km)
Hill Climb Angle <30 Degrees
Motor (2) 1100W BLDC
Throttle Thumb
Suspension Dual Hydraulic (Dial Adjustable)
Charger 67.2V 1.75A M16 3PIN
Charge Time (2) Standard – 6 Hours, (2) Fast -2.4 Hours
Battery Samsung 60V 24Ah Li-ion, 1440 Wh, 21700 Cells
Controller (2) 60V 27A Sine Wave
Display 4.2″ TFT
Tire Type 10″ x 3″ Hybrid Pneumatic Inner Tube
Brakes Zoom Hydraulic EABS 140 mm rotors
Water Rating IPX5
Headlights Yes
Deck Lights** Yes (Ambient)
Brake Lights Yes
Signal Lights Yes
Max Load* 265 lbs (120 kg)
Item Weight 74 lbs (34 kg)
Dimensions Folded: 50″ x 26″ x 22.2″, Unfolded: 50″ x 26″ x 52.7″
*For single-motor electric scooters, we recommend a max load ~180 lbs. Although these models can accommodate the rated load, the estimated performance is based on an average rider of around 150 lbs (5'7″ tall), and loads 180 lbs+ will tax the scooter.
Light, Portable, and Foldable
At 74 lbs, the Mantis King GT is portable and powerful, with a compact folded footprint of 50" long by 26" wide by 22.2" tall. With slightly wider handlebars and a redesigned, reinforced frame, it's built for long-term riding and is small enough to fit in your car's trunk.
Grand Touring Performance
The sine wave motor controllers keep acceleration smooth from 0 mph to 40 mph+, the thumb throttle makes it easy to modulate speed, and the anti-glare 4.2" TFT display allows you to view stats and program settings easily.
1100W Motors
The Mantis is famous for its nimble handling, and the GT is faster and better. Paired with powerful front and rear BLDC hub motors for up to 4000W max power, the Mantis GT will carry you uphill easily and give you over 50 miles of range.
Adjustable Hydraulic Suspension
With dial-adjustable front and rear hydraulic suspension, you can customize the response to your preferences and the terrain. For a bouncier, softer response, turn the dial clockwise. For a stiffer, more fixed feel, turn the dial counterclockwise.
Dual Hydraulic Brakes
Hydraulic disc brakes provide the most potent stopping ability, making them the best for safety. With thick 140 mm rotors, the Zoom hydraulic brakes require little effort to engage and are easier to replace and more effective than drum brakes.
2022 Kaabo Electric Scooters Catalog
eWheels 2023 Spring Deals and New Launches are here!!!
Cheap, reliable, and powerful! TurboAnt Electric Scooters 2023 Sale!
Hi guys! This post may contain affiliate links, sponsored content, and advertisements. We get a small commission for covering topics that interest us (helps us keep the doors open). For more information, please see our privacy policy and disclaimer. Ride safe yall!
2023 Electric Unicycles:
Coupons & Deals:
Apollo Scooters: Get $50 USD worth of free accessories, upgrades, or spare parts with the purchase of a scooter. Code: VROOOMIN
REV Rides: Save $50 off Scooters and EUC's, Code: VROOOMIN
EVOLV Electric Scooters: Free Folding Lock (worth C$80) for every EVOLV model! Use Code: VROOOMIN-LOCK
To keep the site running and information flowing, Vrooomin.com participates in affiliate linking programs. We're also an Amazon Associate, which means we get paid for referring people to Amazon. Please support the channel by clicking on our links.