For the Best Customer Service and Kaabo Scooters, Check Out Voro Motors, Highly Recommended!
Wolf King GT SUMMARY
Version 2: Kaabo is releasing a 2nd generation version of the Wolf King GT
Upgraded Drivetrain: The New King has a completely upgrade drivetrain for longer range and faster speed
50A Controllers: The new top speed will be +60 MPH and powered by water proof 50A controllers
Larger Cells: The upgraded battery pack features LG M50 21700
Updated Chassis: The Wolf's chassis is also upgraded for taller riders
Save $50 off Kaabo Electric Scooters with Code VROOOMIN
Battery Pack: 21700 Battery Cells used (LG M50/Samsung 50E)
Power: 2 x 2000w Motors
Controllers: 50A Sine Wave 50A Controllers (More Power)
Display: NEW big TFT Display
Improvements: Wider handlebars, Taller Stem
Lighting: Front & Rear Turn Signals
Electronic Control Box added to Stem
Wheels: Puncture proof tires, Street or Knobby
Color: Black and Gold
Control Eco/Turbo & Single Dual Buttons now have an LED light to see which mode you're in
OhManDan Visits VoroMotors for a Sneak Peek at the Wolf King GT Electric Scooter
Power – 8300W
Battery Pack – 72V 35Ah LG or Samsung
Top Speed – 62 mph (99.8 km/h)
Range – 70 mi (112 km)
Build Quality
Ride Comfort
Price – $3,595
Weight – 115 lbs (52 kg)
Brakes – Hydraulic Brakes
Warranty & Customer Service – Voro Motors
Summary
The Th Wolf King GT is a high-performance, top-of-the-line electric scooter made for riders who want power, range, and stability. This off-road rocket ship is not for beginners and definitely not for riders who need a scooter that is easy to carry. With a 115-pound chassis, riders get a powerhouse of performance at the cost of being easy to move around. Check out the Best 50 MPH Electric Scooters and Best 72V Electric Scooters for more options like these.

Wolf King GT Hits the 100+ kph mark on GPS & LCD
Fastest Electric Scooters by Rated Top speed
The Wolf King Grand Tourer Electric Scooter
Kaabo appears to be taking another step towards extreme performance by upgrading the Wolf Warrior to go faster and further. Kaabo Philippines dropped two posts on their Facebook page touting the next iteration of the Wolf.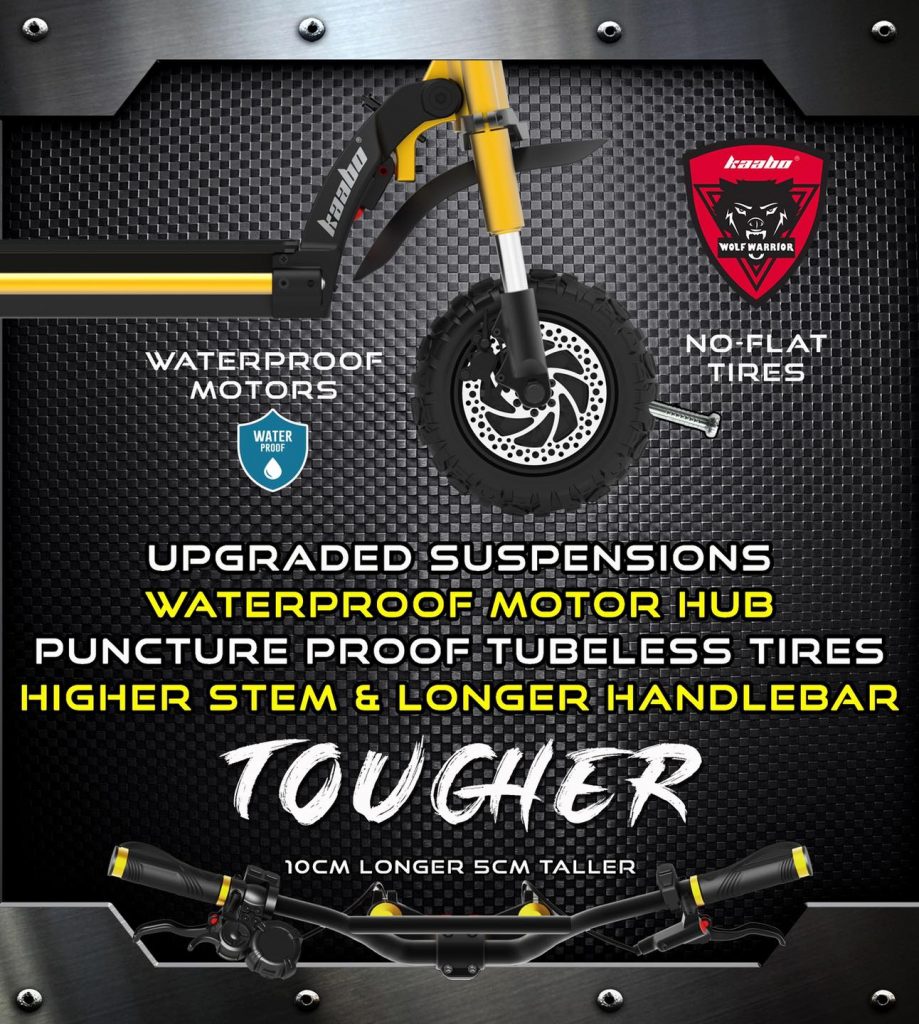 A waterproof motor hub & puncture proof tires will make our ride worry-free
We also look forward on the upgraded suspensions, higher stem, & longer handlebar for better ride comfort
The New Wolf King will make our scooter dreams come true
Kaabo is not done yet & here are the other features that are worth mentioning
Built-in turn signals & light indicator switch for safety & convenience
The First Waterproof ECU box that will house the controllers & connectors. It will be placed in front of the stem for easy access & to get enough airflow to prevent overheating on long rides.
The New Wolf King will set the new standard of an Outstanding Electric Scooter
The Wolf King GT will go FARTHER
Kaabo upgraded the deck size to fit the 72v 35ah Battery Capacity ??The New Wolf King will use LG M50 21700 cells which has High Drain & Longer Life Span ?It can drive farther up to 180kms ??❤️
The Wolf King GT will go FASTER
The new Wolf King will be the fastest Electric Scooter we have ever built ???
? 72 Volts 50a x 2 Controllers
? 2000w x 2 Motor Hub
? 8400w Peak Power
? Max Speed up to 120kph ?

Wolf King GT Technical Specs:
Top Speed: 62 mph (96.5 km/h)
Range: 70 mi (112 km)
Acceleration: 4.8 s (0-50 mph)
Hill Climb Angle: 50 degrees
Max Load: 330 lb (150 kg)
Item Weight: 115 lb (52 kg)
Motor: 2000 watt (2)
Controller: 50A sine wave controller (2)
Battery: 72V 35 Ah LG or Samsung battery
Charge Time: 7 hours
Throttle: Thumb throttle
Tire Type: Front and rear 11" tubeless street
Brakes: Front and rear hydraulic
Suspension:Front hydraulic shock and rear spring
Display: TFT display
Lights: LED headlight, deck headlights, deck sidelights, turn signals, brake light
Water Rating: Rated IPX5
Dimensions Folded: 61.1 x 29.5 x 18.5in
Dimensions Unfolded: 49.6 x 29.5 x 51.2in
Best Value 72V Extreme Performance Electric Scooter
With the 50A controllers and 35AH battery, the Wolf will give its 72V classmates a run for their money. Equipped with the comparable drivetrain as the Nami Burn-E, Bronco, and Ultra 2, the next Wolf Warrior will make a desirable option for its price and performance output.
Will you consider the next Wolf Warrior? Let me know in the comment section below!
You may also like:
Best Value Escooter Headlights, Magicshine MJ906
Disclaimer: The information presented in this article is derived from extensive research, user reviews, and publicly available information. Our aim is to provide accurate and up-to-date content; however, it is crucial to understand that the opinions expressed are based on the information available at the time of writing. We strongly encourage readers to conduct their own thorough research and carefully evaluate their individual needs before making any purchasing decisions.
eWheels 2023 Summer Deals and New Launches are here!!!
Cheap, reliable, and powerful! TurboAnt Electric Scooters 2023 Sale!
Hi guys! This post may contain affiliate links, sponsored content, and advertisements. We get a small commission for covering topics that interest us (helps us keep the doors open). For more information, please see our privacy policy and disclaimer. Ride safe yall!
2023 Electric Unicycles:
Coupons & Deals:
Apollo Scooters: Get $50 USD worth of free accessories, upgrades, or spare parts with the purchase of a scooter. Code: VROOOMIN
REV Rides: Save $50 off Scooters and EUC's, Code: VROOOMIN
EVOLV Electric Scooters: Free Folding Lock (worth C$80) for every EVOLV model! Use Code: VROOOMIN-LOCK
To keep the site running and information flowing, Vrooomin.com participates in affiliate linking programs. We're also an Amazon Associate, which means we get paid for referring people to Amazon. Please support the channel by clicking on our links.