Begode Master Pro gets an update.
In their most recent media push, Lukas Lu shared updated videos and photos of the Begode Master Pro electric unicycle.
Some community members dislike the new look and feel, while others welcome the new hard case battery packs. Can Begode explain the front lighting choice?
The new lamps give the wheel a shark-like, cyclops-like appearance, but many are still unsure about the design decision. Many riders disagree with switching from 4 smaller beams to one large one.
Do the hard-hitting EDM music and high-speed suspension riding videos make you want to buy the sequel to a highly praised 4800WH wheel?
Who knows what comes after this massive wheel; it's already the largest battery on the market with the most extended ride range. Even though it is only January 2023, with Begode's track record, double-digit releases are imminent.
Begode Master Pro Update Video
Begode releases the Begode Master X (3600WH) and Master Pro (4800WH)
The Master X weighs 105 lb, and the Master Pro weighs 116 lb, light enough for you?
In typical Begode fashion, they released an additional high-performance wheel overnight. Along with the Master Pro, the Begode Master X is another version that uses the Master series' developing design language. This platform doesn't have an external shell, so the battery pack is visible and exposed. This lets Begode make more products by "reusing" designs with different specs and similar parts.
Big Range
Do you have the will and lower body strength to rock with a wheel that has 3600WH or 4800WH battery packs? This is not a wheel for beginners; to ride it well, you will need a lot of experience and road miles to handle its sheer weight and power.
A far cry from the Inmotion V13 Features
A 4800WH & 3600WH X and Pro are Master variants with pure performance
This is something I cannot say with certainty. However, based on our online platform's user engagement metrics, I believe that the Master Pro and X are still not as popular as the V13 Challenger.
But why?
Performance/lower quality VS. Innovation/lower performance
Is it the price, the size, the weight, the lack of features, the sketchy reputation for quality assurance, or the battery life? Many riders want a wheel that offers more than just capacity; they want one that provides depth, innovation, excitement, and progression. Others, on the other hand, prioritize raw high-speed performance over quality control, treating it as an afterthought. Which do you place a higher value on, new technology standards or raw performance alone?
New Battery Specs
Begode Master Pro: 4800WH Battery Pack
Begode Master X: 3600WH Battery Pack
Big Capacity
3600WH is a lot of battery, 4800WH is even more
Begode was the first company to make an electric unicycle with a huge battery for fans who wanted to ride fast and far. The battery's capacity in the original Monster Pro was 3600WH. The Master Pro has a sizeable tank of 4800 WH and many wheels for its price of $4,600. However, this comes at the expense of portability, and the price is relatively high.
Which model, the X or the Pro, best suits your requirements, and how vital is portability to you? Both wheels will have a higher price tag attached to them.
The Monster X should make things easier, more accessible, and less expensive. Could this be your sweet spot? Whether they like it or not, some riders who preordered other wheels suffer from buyer's remorse.
Can't time this.
Begode Release Cycle Fatigue
This is true for every electric unicycle we shop for; there is always something newer and better on the horizon, always another dragon to chase, though they are never caught. In the case of Begode, there is no way to time the market for better or worse.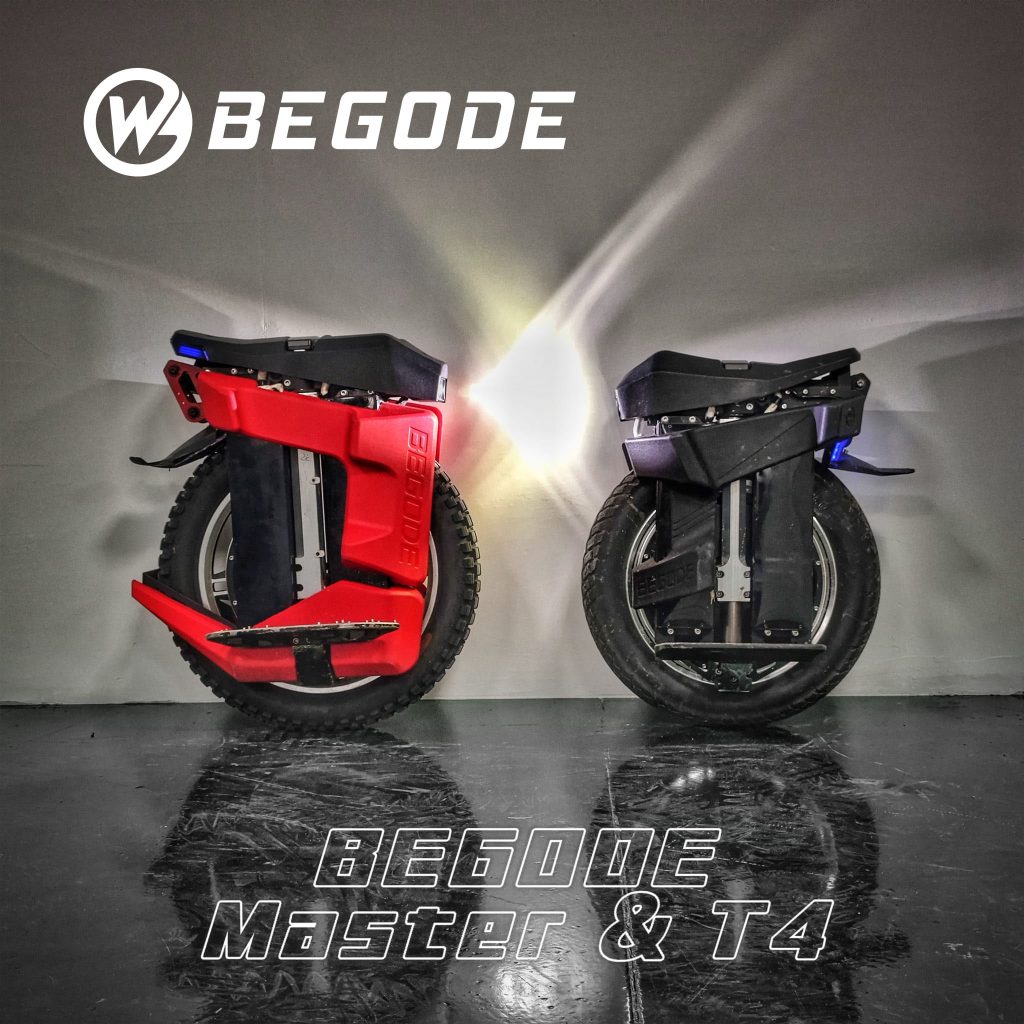 Begode Electric Unicycles
Sorry, I want to change my preorder
The speed with which high-performance wheels are made, sold, and fixed can be both a blessing and a curse for distributors. How can they keep up with the tempo? They'll have to deplete what they have left to welcome the new wheels. At Jamba Juice, we called this FIFO, first in, first out.
The Challenger gets challenged.
The Undisputed 53kg 134V Full suspension Unicycle
In typical Begode style, the Master Pro and X are designed to beat the recently released Inmotion V13 as the best-performing and most range-extending wheel on the market. Who are you putting your money on?
Big Performance
The Master Pro can go faster than any other wheel because it has a massive 4800Wh 134V battery powering a 4500W motor that free-spins to 122 kmh thanks to its massive 22″ wheel. It has a more robust suspension system, a top-mounted display, and the option of street or off-road tires, just like the original Masters that have yet to hit the market.
Wheel of all wheels?
This unit's specifications and weight are overwhelming.
For new riders, the Master Pro may be the most exhaustive, highest-performing, and longest-range electric unicycle on the planet. There is no doubt that the elusive Inmotion V13 led to the emergence of the Master Pro overnight.
Battery: Pick between High power or High range battery packs. Largest 4,800Wh battery pack with the Samsung 50E cells, or 3,840Wh consisting of the high-powered 40T pack
BMS: Improved battery/BMS system with temperature sensors for safety.
Motor: largest high torque 4500W motor, the no-load max rotational speed of 75.8MPH (not riding speed!)
Suspension: The suspension shock system with the rebound, provides up to 80mm of travel to make 22″ riding experience even smoother.
Tires: Pick your adventure, Choice of 22″ knobby or street tire for any riding need.
Pedals: Fitted with XL spiked pedals for grip, easy acceleration, and braking.
Shipping from US is expected sometime in December
The expected release price of $4,599
Big Money, Big Stability, Big Weight
eWheels is now excepting $1,000 deposits for new units
The Master Pro might be the best option if you seek the most comfortable, long-distance ride available. For a wheel to weigh 118 lbs and cost $4,600, there's a high price to pay for weight and currency. Few people are interested in wheels of this caliber, but for those that are, you get what you pay for.
Performance Vs. Technology
Now, the question remains, highest range or highest quality innovation and construction?
You had better boost your batter capacity if going up against Begode. Inmotion is tough to match if you want the best technology, finishes, and quality.
22″ Tires
For me, anything over 80 lbs is off the bar counter, and I'm sticking with my Begode 40T Master whenever that comes in. I will have to purchase a set of fairings and power pads; this irks me. You will experience a similar situation with the Master Pro, Master, or T4. But is it worth it?
Because let's face it, Begode is all brawn with lower quality.
Mind the gap
Why is a gap between the seat and side pads on the Master, Master Pro, and T4? The renderings are blacked out, giving them a polished, seamless appearance. The units appear to be quite flimsy and exposed in photographs. Clark and Grizzla have developed fairing sets to compensate for the inadequate shell protection. However, Begode needs to get its act together and rectify these design problems.
They could have the perfect wheel if they spent more resources on better-quality components.
Performance Over Quality Control
Nevertheless, these wheels are quicker than quick, so you'll need to add a few hundred dollars to the purchase price to compensate for the safety flaws.
Let me check my bank account.
I'm cautious with any first-generation wheel. If I spend $5,000 on a wheel, it's not to serve as a beta tester. I'm not signing up to deal with customer service, blown boards, or first-generation-related problems. I want the wheel to spin safely. I want my money's worth.
More Extreme Performance EUC's
Disclaimer: The information presented in this article is derived from extensive research, user reviews, and publicly available information. Our aim is to provide accurate and up-to-date content; however, it is crucial to understand that the opinions expressed are based on the information available at the time of writing. We strongly encourage readers to conduct their own thorough research and carefully evaluate their individual needs before making any purchasing decisions.
eWheels 2023 Summer Deals and New Launches are here!!!
Cheap, reliable, and powerful! TurboAnt Electric Scooters 2023 Sale!
Hi guys! This post may contain affiliate links, sponsored content, and advertisements. We get a small commission for covering topics that interest us (helps us keep the doors open). For more information, please see our privacy policy and disclaimer. Ride safe yall!
2023 Electric Unicycles:
Coupons & Deals:
Apollo Scooters: Get $50 USD worth of free accessories, upgrades, or spare parts with the purchase of a scooter. Code: VROOOMIN
REV Rides: Save $50 off Scooters and EUC's, Code: VROOOMIN
EVOLV Electric Scooters: Free Folding Lock (worth C$80) for every EVOLV model! Use Code: VROOOMIN-LOCK
To keep the site running and information flowing, Vrooomin.com participates in affiliate linking programs. We're also an Amazon Associate, which means we get paid for referring people to Amazon. Please support the channel by clicking on our links.