The Begode RS is big, bad, & back with some beefy upgrades
Whether you want a high-speed city wheel or a high-torque country mouse off-roader, the RS is a great contender in both categories. The previous MSP was a formidable machine, but the new RS wheels take things further with more polished features.
NEW: now shipped with the higher-power Molicel P42A battery packs
Fitted with CST-186 knobby tire & spiked pedal upgrade as standard equipment
New hollow 2,600W motor, new look, larger pedals, lighting scheme
1,496Wh battery with up to 55 miles of range, 35/40MPH top speed.
Weight: 59.5lb
Max Cruising Speed: ~35/40MPH
Charge Time: <1.5 hrs to 80% With a 8A fast-charger
Max Load: 325 lbs
Battery Capacity: 1800Wh
Range: ~60 miles
The Legend of MSP Electric Unicycles
The MSP line debuted in 2015, quickly becoming a cult classic within the EUC community. This big foul 18″ was capable of high speed on the road while handling like a champion off-road, according to the EUC community. The MSP line could take care of everything. The RS line was created due to the MSP legacy's challenges and successes.
View the Most Extreme Performance Electric Unicycles 2022
Begode RS 19″ Upgraded Features
Larger Pedals
Updated LED strips
Under handle lift button
Dual charging ports (8A max)
Upgraded Headlights
New Mudguard
Begode RS New Hollow Motor Design
One of the RS's standout features is its all-new hollow motor design. Traditional axle motors had a limit on phase wire size. Smaller wires could fit but had a restriction on power output. If larger phase wires are used, this will create a structural weakness in the motor axel. The hollow motors allow any gauge wire size, making higher-powered applications unimaginable.
Larger phase wires and higher currents are possible with hollow motors.
Older motors use smaller phase wires and draw less current.
Both the HS and HT variants are ideal for commuting, errands, and getting some fresh air.
Begode RS 19″ Electric Unicycle
The Begode RS is a monster of an electric scooter with a mid-sized frame, tremendous torque, and high speed. Not too large, not too small, but the appropriate size for high-speed or off-road use.
Power – 2,600W Hollow Motor
Battery Pack
Top Speed – 35 MPH/40 MPH
Range – 60 Miles
Build Quality
Ride Comfort –
Price – $2,250
Weight – 59.5 lbs
Features
Warranty & Customer Service – eWheels
Summary
The Begode RS is a ready and eager beast, ready to be ripped, with a 2.6KW motor, 100V 1800WH battery pack, and a penchant for both fast speed and high torque. It's difficult to find this much performance for such a low price, with a starting price of $2,250.

For similar electric unicycles, check out the Most Extreme Performance EUC's.

View the Most Extreme Performance Electric Unicycles 2022
Do I want High Speed? Or do I need High Torque?
Even if you've never ridden an electric unicycle, seasoned riders are torn between having their cake and eating it. Whether your slice involves off-road, high torque riding, or smashing down a smooth runway at high speed, Begode has two RS's to take you down either path. For a slice of high torque, the HT models feature thicker windings to take you up the steepest of inclines. The HT model has a top speed of 35 MPH; for the speed demons, the HS models get another 5 MPH on top to keep your Spidey Senses tingly.
Begode RS's are in stock and shipping now
The RS was initially priced at $2,150, but with the latest enhancements and inflation, the $2,250 price tag is a steal, given the quality, performance, and customer service you get. The RS is merely a click away from speed freaks and torque monsters. Put on your boots and a full-face helmet because your RS adventure is about to begin.
View the Most Extreme Performance Electric Unicycles 2022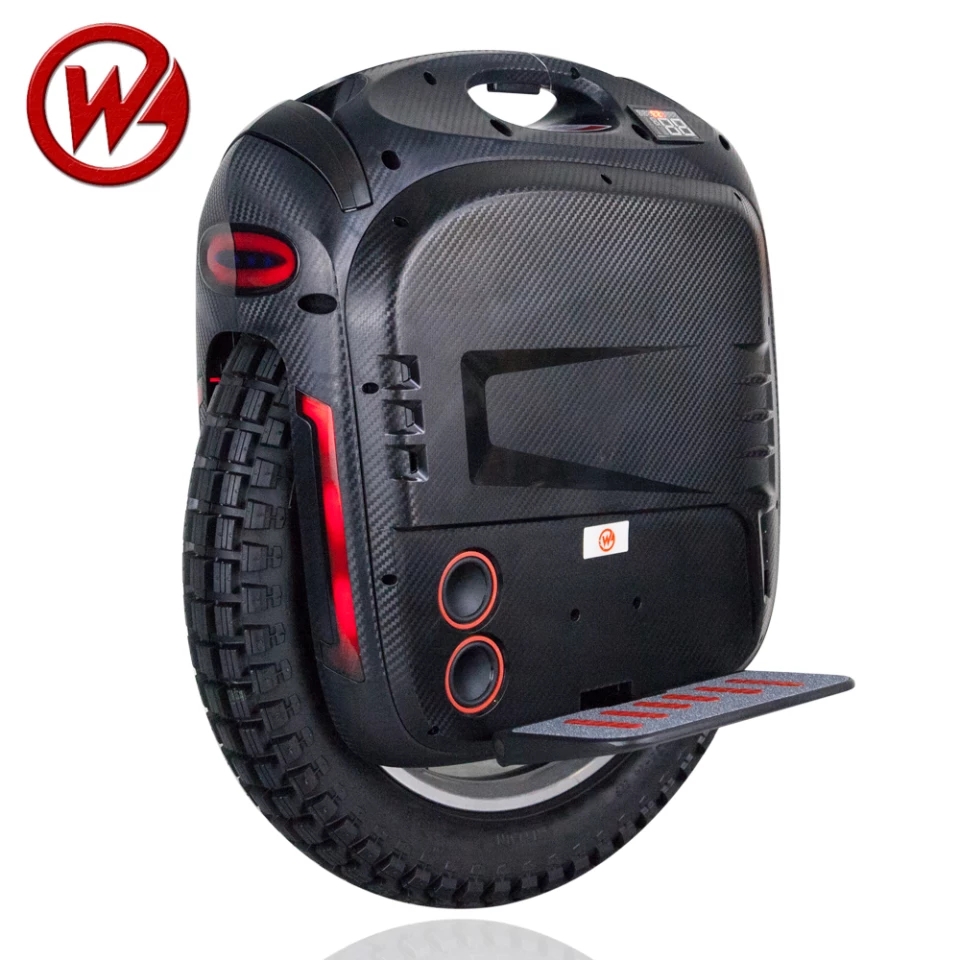 Begode RS HT/HS Electric Unicycle
PRICE: $2,150
SPEED: 35/40 MPH
RANGE: 60 Miles
POWER: 2,600W
VOLTAGE: 100V
CHARGE: 16 Hours
TIRES: 19″
MAX LOAD: 325 lbs
WEIGHT: 59 lbs
SUSPENSION: No
TYPE: Advanced
View the Most Extreme Performance Electric Unicycles 2022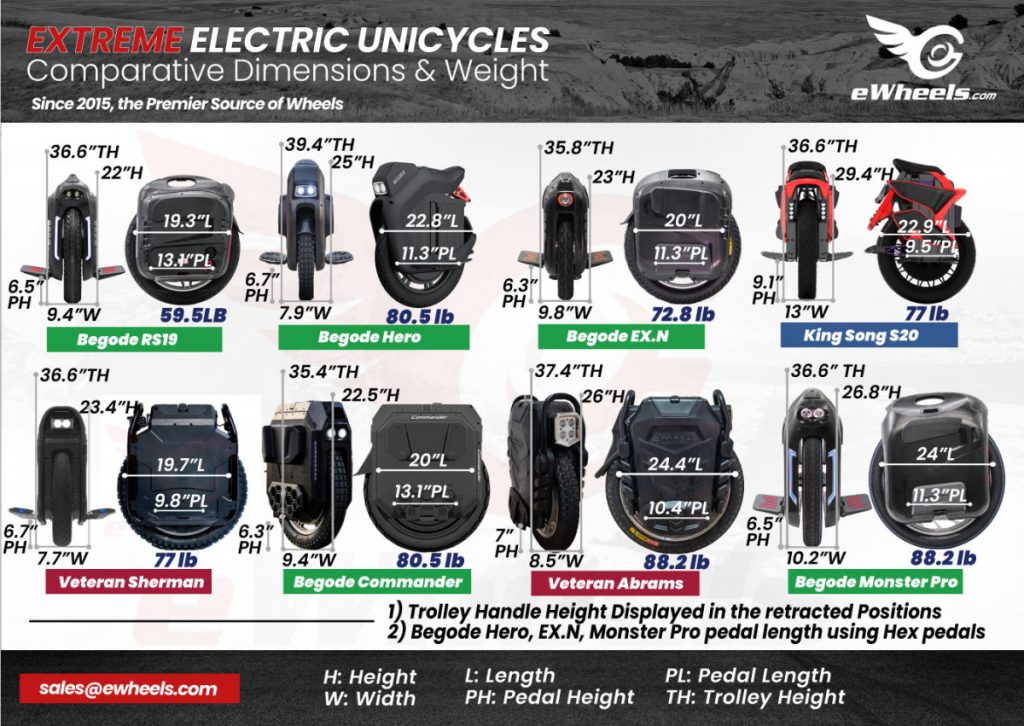 Gotway RS 19″, An Evolution in the Wheel
From eWheels
Gotway first introduced its 18″ Wheel back in 2015. This line of Gotways has proven to be among the most popular choice amongst Wheel enthusiasts; it is capable of high-speed operation on smooth surfaces while also handling exceptionally well off-road. There's an intrinsic trade-off between an enormous Monster-sized tire for silky smooth cruising & maneuverability, making sharp turns, negotiating obstacles, etc.; this sized Wheel seems to fit the optimum size for most Riders.
With the RS, Gotway continues the tradition they have established for continual product innovation & development; unlike their counterparts, these models continue to improve!
Some of the improvements on the RS include:
Larger Pedals: these have the same appearance as the earlier MSX pedals, with the red rubber center contact strips, but are now .75″ longer, measuring 9.5″x5″, compared to 8.75×4.5″ on the MSX/MSP.
Cool Effect Lighting: gone are the rainbow color LED strips, replaced with a continuous LED color band that gives the RS a  new sleek look.
Under-handle Lift Button: the MSP retrofitted side lift button has been replaced with the standard under-handle lift switch
Dual-input Charge Ports: now equipped with 2x 5-pin input ports for using two chargers at once, up to 8A (max recommended) of charging current—the charge ports are also better protected from the elements with a new flap design.
Brighter Headlights: each headlight element has an output rating of 3000Lm, 6000Lm combined, a comparable luminosity intensity to the new V11.
Mud-guard Included: the RS will include the Gotway mud-guard as standard equipment.
An All New Hollow Motor Design
One of the main problems of a traditional axle motor was the limitation of a large enough wire gauge to fit through the motor axle—if the bore were too small, the wires would be insufficient to support the ever-increasing power output levels of these motors; on the other hand, to large a bore would introduce structural weakness to the axle. A hollow motor permits nearly any sized gauge wiring, as it no longer depends on the axle diameter.
Another benefit is that this design eliminates a common tendency for the Gotway brackets to become slack over time.
Battery Level
How does one choose between the High-Torque & High-Speed motor types? The RS 19″ High-Speed has a 5-7″ MPH higher top-end speed than the High-Torque variant. The primary benefit of the high-torque type is that this motor provides significantly greater hill-climbing power, supporting heavier riders & increased safety margin—provided one stays within the speed operating window. 
IMPORTANT: It should also be noted that this max speed value is NOT the recommended riding speed. There have been cases of Riders experiencing cut-outs below the 'max speed' threshold. The programmed max speed is simply the value at which the triple-tone alert is activated from within the Gotway firmware. The capabilities of the Wheel will vary on several factors, such as the weight of the Rider, aggressiveness of acceleration, ambient temperature, & terrain incline. Please make sure you're protected adequately before setting off.  
What is the primary difference between the High Torque & High-Speed motors?
The HT motor has thicker motor windings for greater power/torque; it was designed for those needing a Wheel to handle off-roading & tackling those steep inclines. The high-speed variant was created by Customers who were a bit disappointed at the reduced speed potential from the earlier MSX 2000W motor type. The generally accepted operating max speed limit is 35MPH with the RS/MSP High Torque vs. 40MPH with the High-Speed variant—battery level, weight, and terrain are all factors affecting the max speed. For choosing which Wheels is the right one for you, if <35MPH is sufficient for your needs, then the consensus is that the high-torque type provides a superior ride experience. However, if you're more of an adrenaline junkie, then the High-Speed type has a higher top-end upper-limit potential.
Is the motor power output rating 2,600W for both the High Torque & High-Speed types?
In the prior MSP, the High-Speed motor had a rating of 2,000W; now, with the RS, according to GW, this too has the same nominal power output as the High-Torque motor @ 2,600W.
How water-resistant is the RS? Can I use it in the rain? 
The Wheel housing is completely enclosed; if any water enters the retractable handle chamber, it should harmlessly drain through. For the electronics, an epoxy film coating is applied over the control-board; this provides an additional measure of weather protection.
Despite these design features, it is generally recommended not to use in heavy rain or have prolonged exposure to moisture, and try to avoid puddles & standing water. With the new hollow motor bearings, it has yet to be determined how they will hold up in wet conditions.
More EUC's Like the Begode RS
Disclaimer: The information presented in this article is derived from extensive research, user reviews, and publicly available information. Our aim is to provide accurate and up-to-date content; however, it is crucial to understand that the opinions expressed are based on the information available at the time of writing. We strongly encourage readers to conduct their own thorough research and carefully evaluate their individual needs before making any purchasing decisions.
eWheels 2023 Summer Deals and New Launches are here!!!
Cheap, reliable, and powerful! TurboAnt Electric Scooters 2023 Sale!
Hi guys! This post may contain affiliate links, sponsored content, and advertisements. We get a small commission for covering topics that interest us (helps us keep the doors open). For more information, please see our privacy policy and disclaimer. Ride safe yall!
2023 Electric Unicycles:
Coupons & Deals:
Apollo Scooters: Get $50 USD worth of free accessories, upgrades, or spare parts with the purchase of a scooter. Code: VROOOMIN
REV Rides: Save $50 off Scooters and EUC's, Code: VROOOMIN
EVOLV Electric Scooters: Free Folding Lock (worth C$80) for every EVOLV model! Use Code: VROOOMIN-LOCK
To keep the site running and information flowing, Vrooomin.com participates in affiliate linking programs. We're also an Amazon Associate, which means we get paid for referring people to Amazon. Please support the channel by clicking on our links.