Extreme performance EUC's are powerful, fast, heavy and boast a minimum of 100V Battery Packs +2.5 KW drivetrains.
To people like us, electric unicycles are the pinnacle of the personal electric vehicle kingdom. They are powerful, fast, portable, nimble, and in most cases, quite luxurious. They come in all shapes, sizes, diameters, and are equipped with drivetrains that can take riders from 0 to 40 MPH in a blink of an eye.
Most Anticipated Electric Unicycles for 2021-2022
Extreme Bull Commander
Inmotion V12
Begode Ex.N

Begode RS HS/HT

Veteran Sherman
Begode Hero
Veteran Abrams
King Song S20 Eagle
Whether you care about high speed, high torque, or suspension, our rankings and reviews will help you find what you need.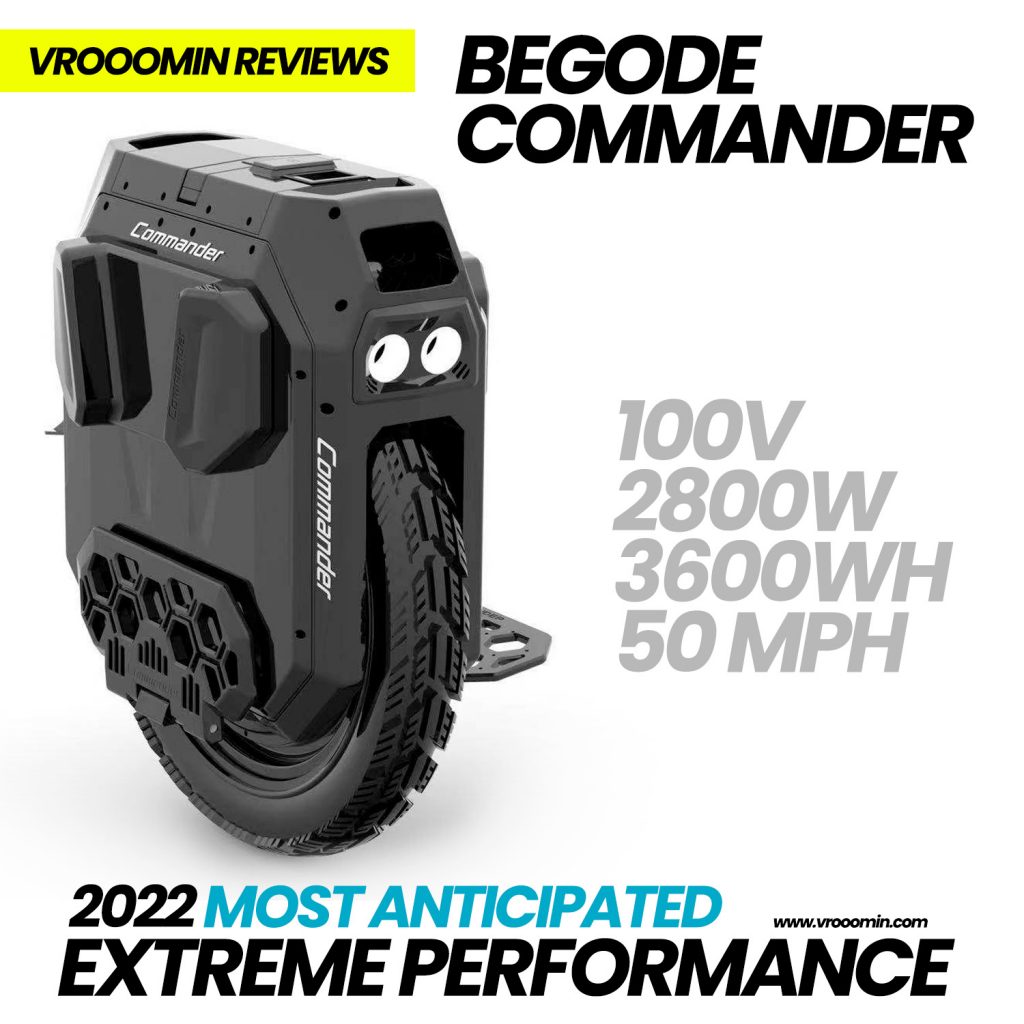 Heavy Duty, +50MPH Street Demon – Coming in October
There's no denying that the Commander is one mean looking EUC. It's lines, geometry, and design seem to be heavily inspired by (Rhymes with "letterman herman"), and also packs a bigger punch by upping the ante with a 2,800W motor and 3,600WH battery. This big boy EUC comes in at 85lbs but also packs a 50 MPH drivetrain, one of the highest top speeds in the current market. The Commander will come in both High Torque and High Speed versions, allowing riders to pick their poison.
Price: Estimated release price for $3,999
Preorders have opened up at with an Initial $100 deposit
Tires:

 Choice of 20″ street/knobby tire

Battery Pack: 3,600WH Samsung 21700 50E or LG M50T 21700
Power: 2,800W motor
Top Speed: +40/+50 MPH
Models: available in either HS/HT motor types
Accessories: Includes fitted CNC pedals
Weight: 85 lbs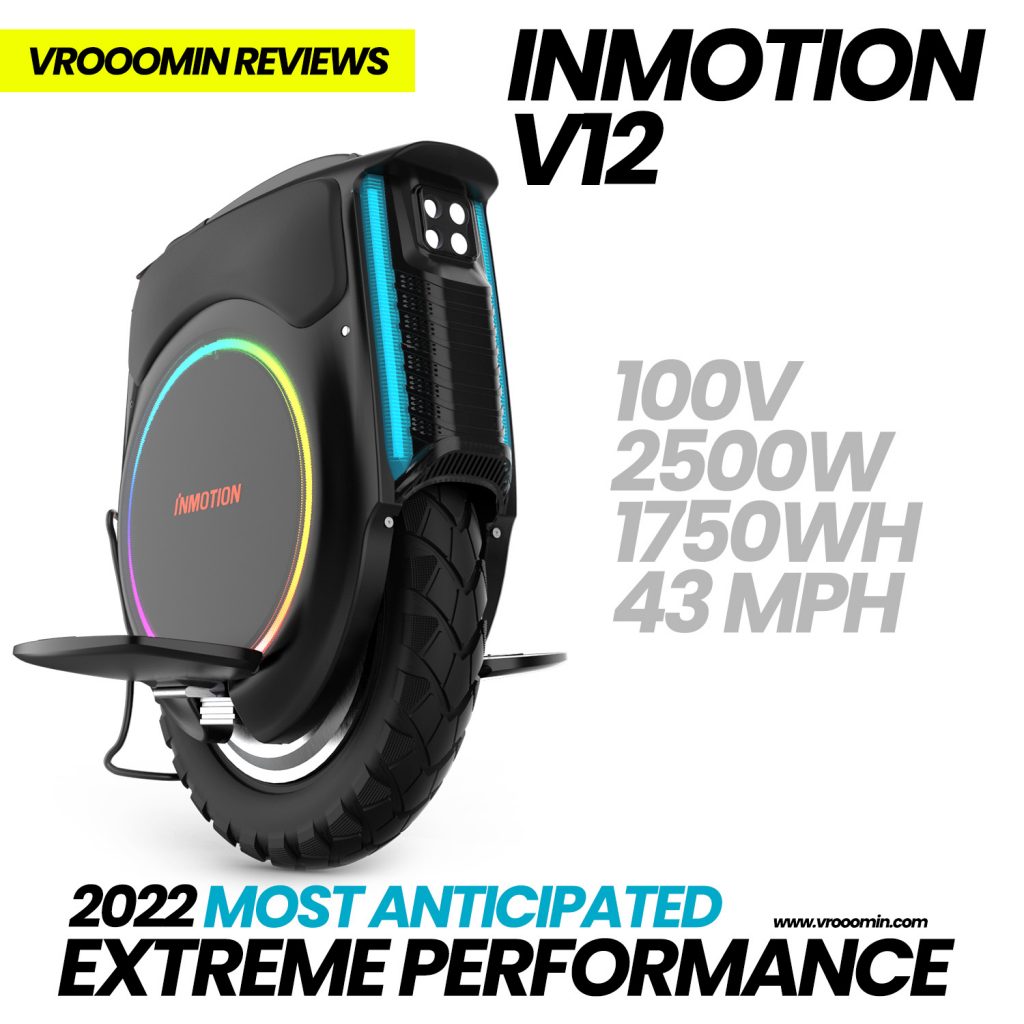 Fastest 16″ Electric Unicycle, both beauty and beast
Looking for the all around, commuter champion? The Inmotion V12 is the latest flagship offering to provide riders the most control and safety. Sporting a max 5KW motor and a 1,750WH battery pack, the V12 is the top dog in the Inmotion electric unicycle line up and may be the next must have wheel of 2021.
Price: $2,199
Power

: 2.5KW/5KW motor

Top Speed: 43.5 MPH
Range: 70 Miles
Battery: 100.8V, 1,750Wh
Weight: 64lbs
Features: Color touchscreen display, Bluetooth speaker, atmospheric LED lighting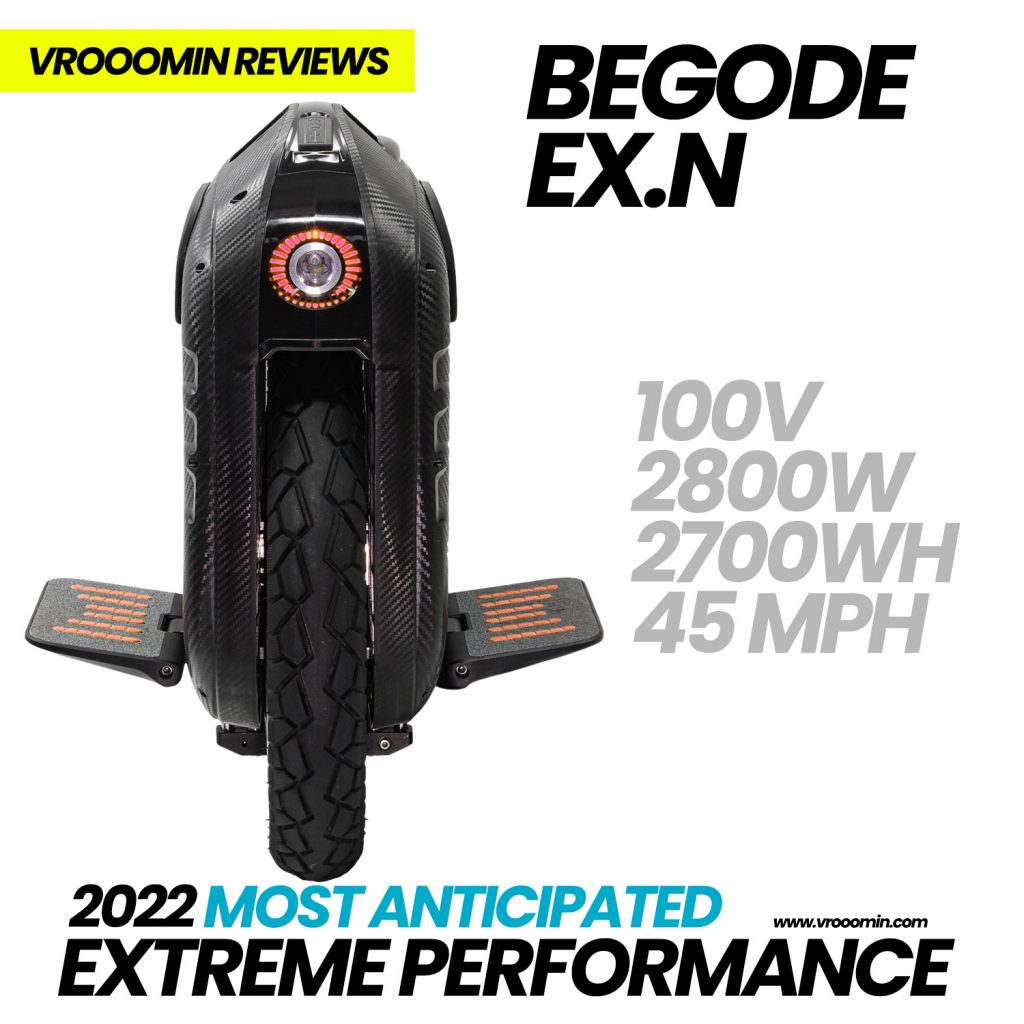 Not too big, not too small, just right.
No suspension necessary. Sitting between the Begode RS and the Begode Monster Pro, the Begode Ex.N sits right in the middle of the Begode pecking order, and the perfect power, weight, to range ratio in this Goldilocks selection. The Ex.N is not too big, not too small, not too slow and not too heavy, the 45 MPH top speed is just right! The latest version features the updated black controller, improved 'small bearings' & has better water resistance to boot.
Price: $2,999
Power: 2.8KW
Top Speed: 45 MPH
Range: 100 Miles
Battery: 100.8V, 2,700Wh
Max Load: 325lb
Weight: 72lb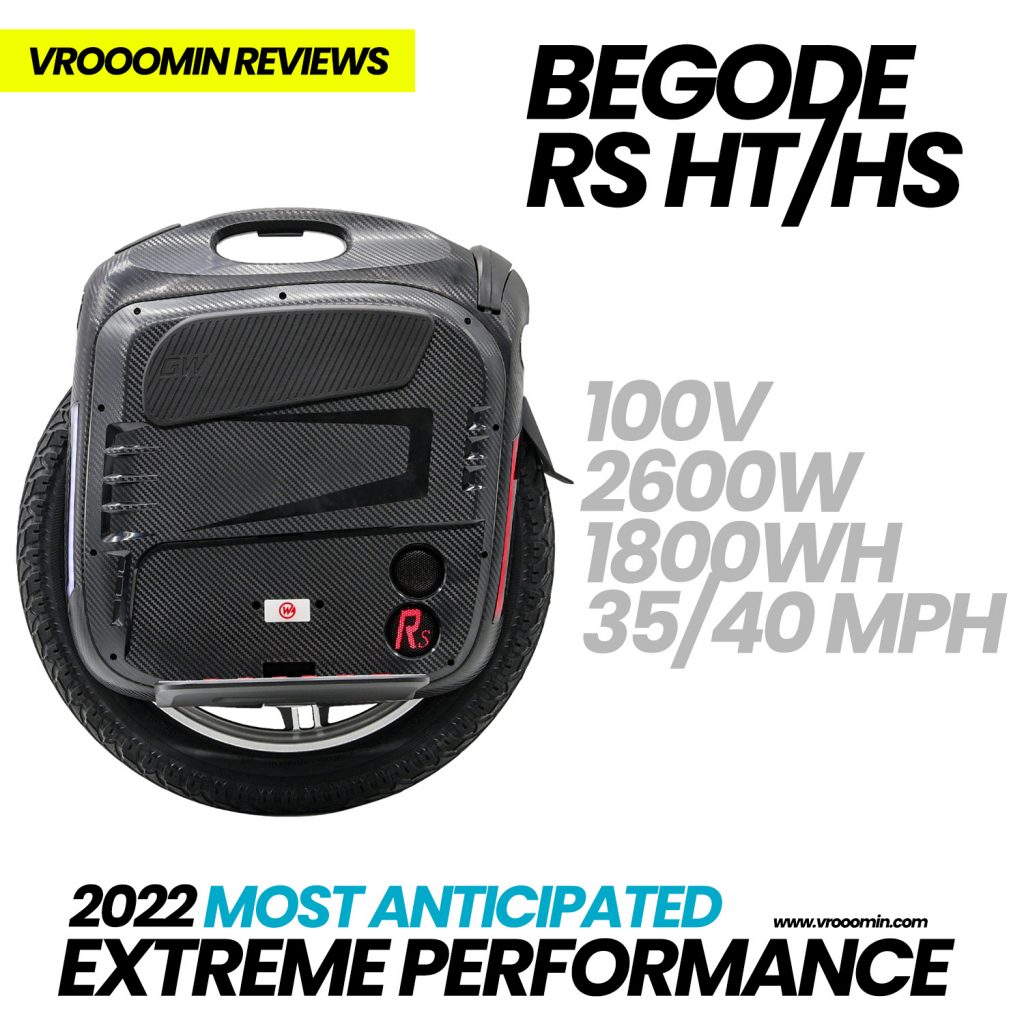 Best Entry Level Extreme Performance Wheel
High Torque or High Speed? The Begode RS is an all around great entry level and stepping stone to extreme performance level electric unicycles. Whether if it's zipping through traffic or commuting steep hills to work, the RS is a reliable, powerful and dependable choice for low end, high torque, or high speed riding. The wheels 60lb chassis makes the RS both powerful and nimble for daily use without breaking the bank.
Price: $2,199
Power: 2.6KW
Top Speed: 35/40 MPH
Battery: 100V, 1,800Wh
Range: 60 Miles
Max Load: 325lb
Weight: 59lb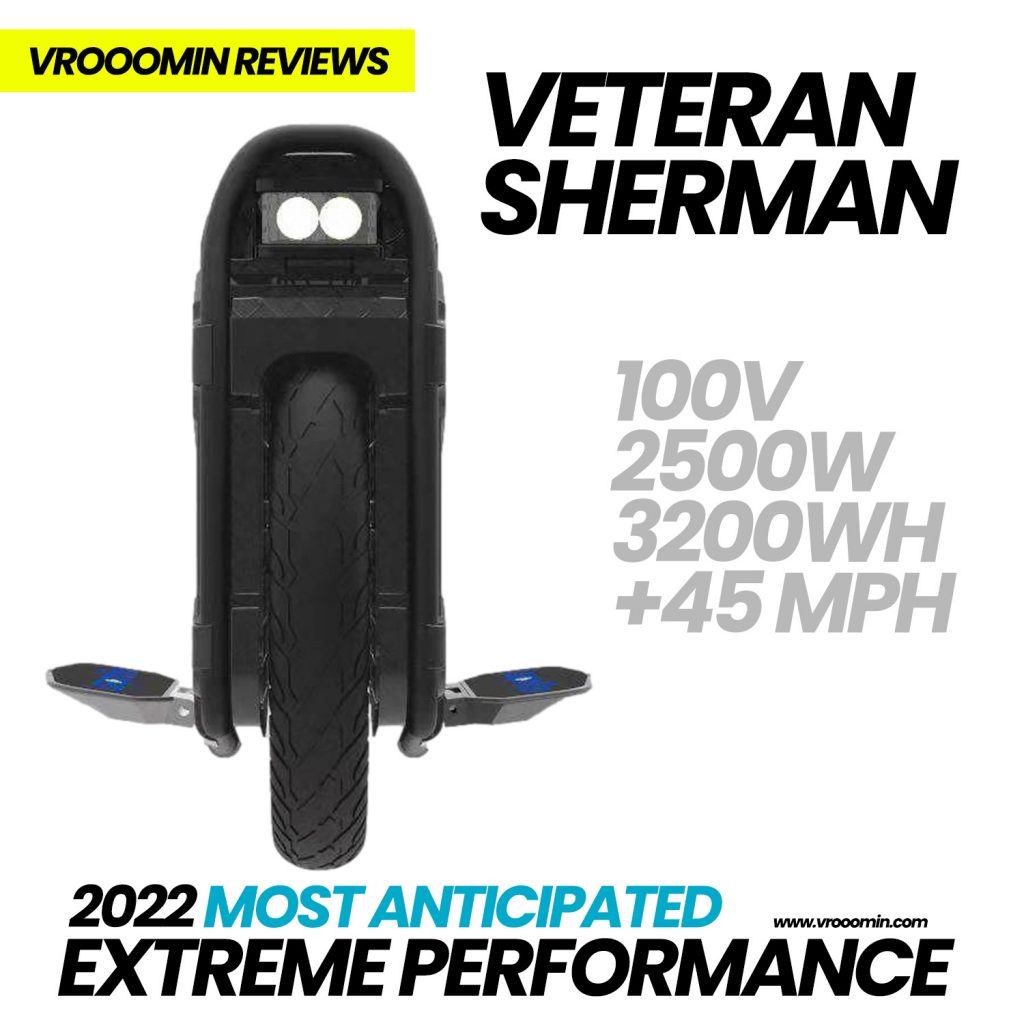 Former Fastest Electric Unicycle, the Mighty Veteran Sherman
Sherman, reporting for duty. This tank of an electric unicycle is all performance, high wattage, no frills, and built to satisfy the select few who dare mounting an EUC of this caliber. The Sherman's sheer mass, weight, power, and speed should only be accessed by seasoned and veteran riders.
Price: $3,700
Power: 2.5KW
Top Speed: +45 MPH
Battery: 100.8V, 3,200Wh
Range: 128 Miles
Max Load: 330lb
Weight: 77lb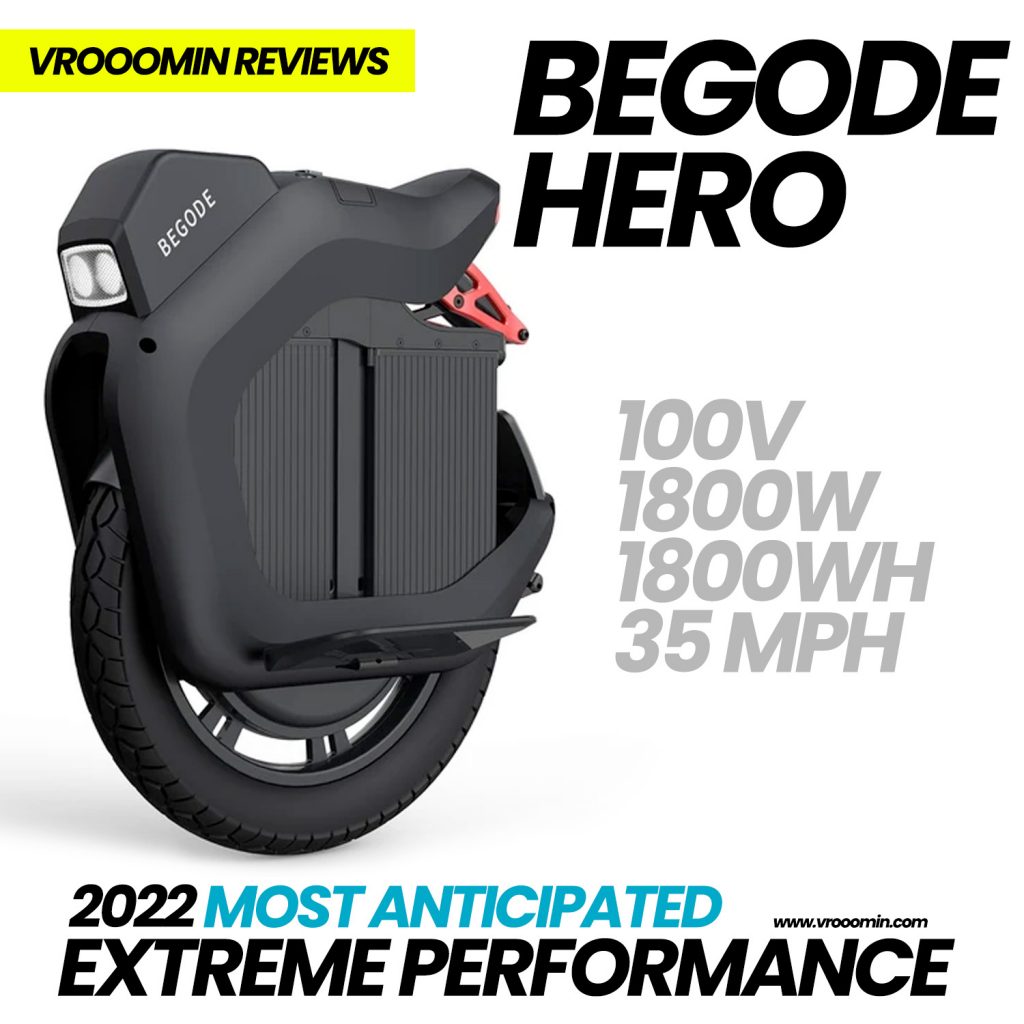 Begode Suspension Off-Road Beast
Not all hero's wear capes, some don suspensions springs. The Hero is the latest entry into Begode suspension wheels, and this one packs a punch. Harnessing the S18 style suspension, updated chassis, and a RS19 Torque inspired drivetrain, this 100V, 2800W, juggernaut will send you ripping through trails off-road or paths in the inner city.
Price: $4,100
Power: 2.8KW
Top Speed: 35 MPH
Battery: 100V, 1,800Wh
Range: 60 Miles
Max Load: 325lb
Weight: 78lb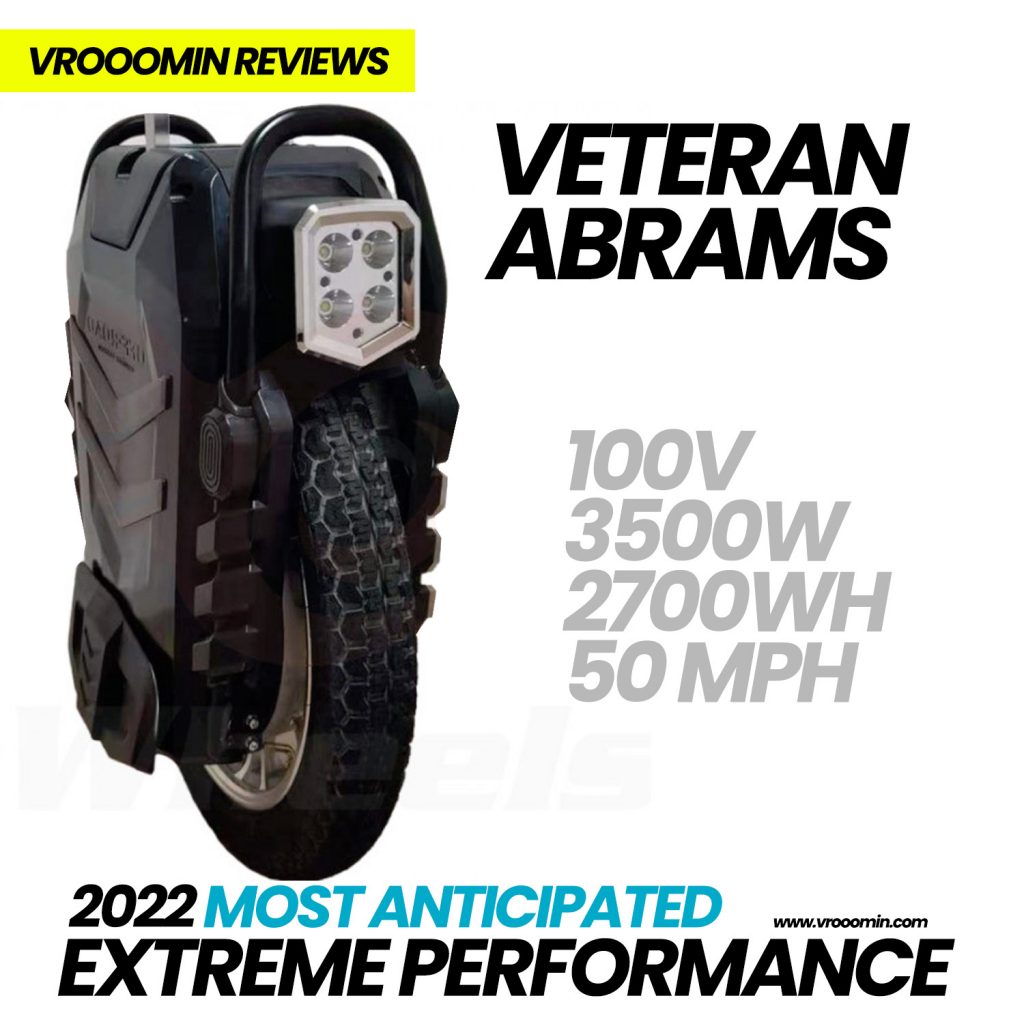 High Torque, High Speed, Off-Road Demon
The Abrams is some thing else. It's strengths are both in its high torque (3,500W), high speed (50MPH top speed), and it's sheer mass (88lb). There's no doubt that any rider who even dares to mount the Abrams, will be anything short of a spectacle, but a testament to the advancement of electric unicycle power, stability, and off-road performance.
Price: $3,499
Power: 3.5KW
Top Speed: +50MPH
Battery: 100.8V, 2,700Wh
Range: 128 Miles
Max Load: 330lb
Weight: 88lb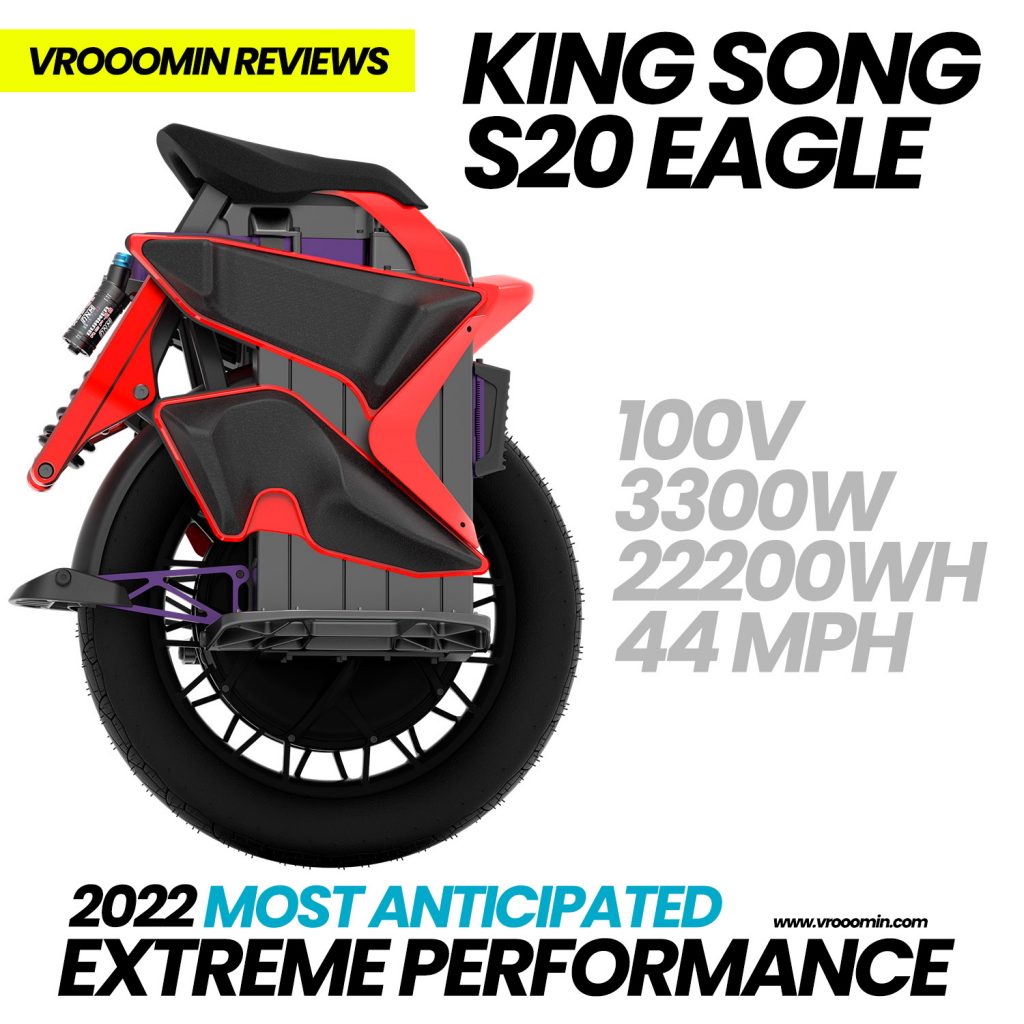 The most complete Suspension EUC
The King Song S20 Eagle may be the most, pound for pound, dollar for dollar, most anticipated unicycle of 2022. The S20 has everything from it's 126V drivetrain, upgraded suspension, 3,300W Motor, 45 MPH top speed, and countless added features that make it the best bang for you buck, extreme performance EUC on the market. If the S20 delivers on its hype, the S20 may be the best looking and best value EUC for 2022.
Price: $3,200
Max Speed: 43 MPH
Battery: 126V 2220wh, Smart BMS
Motor: 3300W
Suspension: 130mm suspension -75mm spring travel
Display: Integrated Display
Features: Spiked Pedals, Custom Power Pads, Replaceable Bumper, Integrated Kickstand
Lighting: Rear Turn Signals
Which Extreme Performance Electric Unicycle is for you?
Whether you dream of full sending down the boulevard in a Veteran Sherman or ripping through the back roads on an S20 Eagle, there is likely one extreme performance EUC that can fulfill your wants and needs. Let us know which EUC you would choose in the comment section below.