Los Angeles, California – The popularity of Kaabo's is at an all-time high. And it's no surprise that these high-performance electric scooters make commuting more accessible and, in some cases, more enjoyable for riders looking for a unique social outlet and a cost-effective mode of transportation. The 60V Off-Road Wolf Warrior is back, better, and stronger than ever, with many riders looking for the best electric scooter for their needs and budget.
Latest Scooter News & Deals
Power, Speed & Range
The first-generation Wolf Warriors' 5,400W and 50 MPH peak speed made them famous. The 2nd generation Wolf is distinguished by its sine-wave controllers, which provide buttery smooth acceleration from 0 to 50 MPH. The Wolf's life force is fueled by the same substantial 60V 35AH battery pack (LG or Samsung), which may provide riders with a range of up to 60 miles at moderate cruising speeds.
50 MPH top speed, 60 mile range, 5.4KW max output,
NEW anti-glare 4.2" TFT display for current speed, battery percentage, settings and more
Upgraded Cockpit – Ergonomic thumb throttle, brake handles, max power output and light switches make for capable handling and fatigue free riding
Upgraded external 60V 40A Sine-wave Controllers, smoother acceleration than most of the square-wave controllers on the market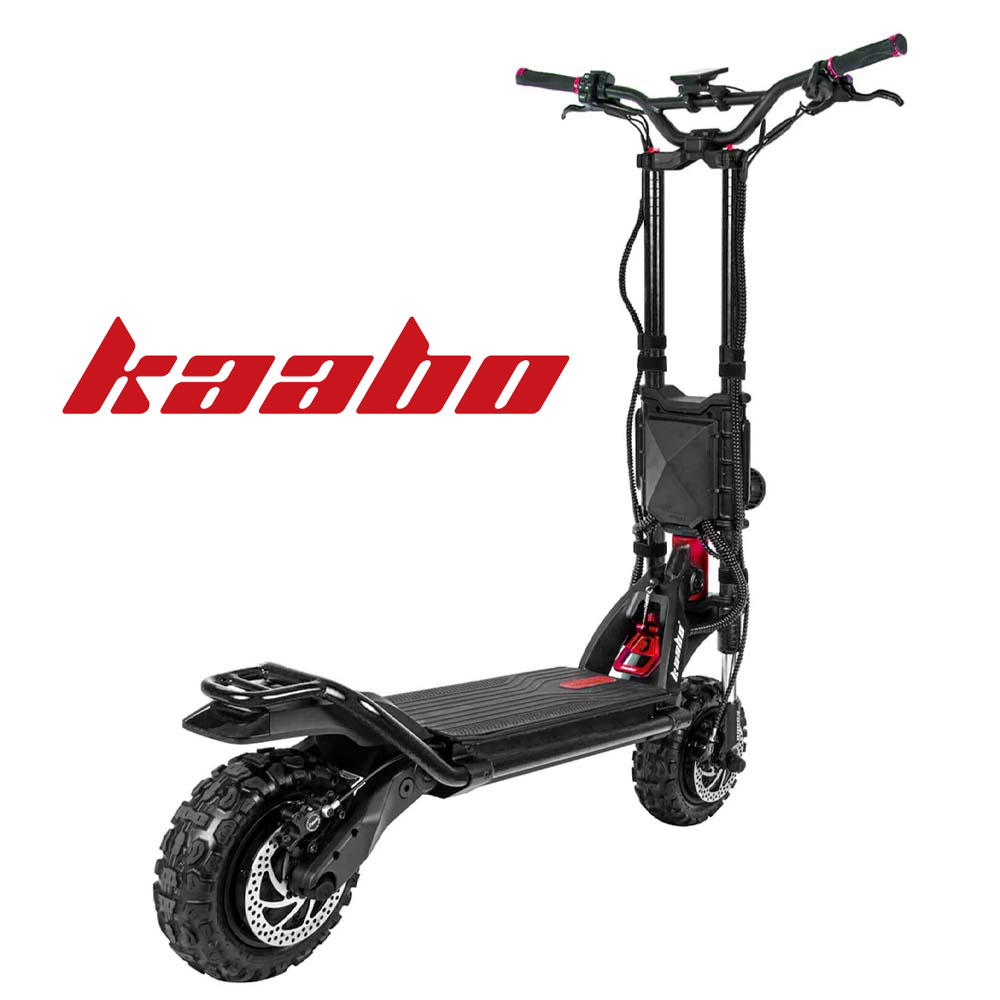 On road and Off-Road Utility Scooter
While the Wolf is by no means a portable scooter, this beefy 110 lbs full suspension off-road sports utility scooter can take you places no car can squeeze into. The Wolf series is impossible to ignore if comfort is what you're after. The Warrior GT Pro has motorcycle-grade suspension, rear dual spring suspension, and 11×4″ tubeless tires to eliminate bumps and uneven surfaces. Equipped with full hydraulic brakes, ABS, and regen braking, Kaabo ensures ride safety when riding at low and high speeds.
Great Utility – Great scooter to enjoy in the back-roads and inner city
Dual stem with motorcycle grade front and rear spring suspension for ultimate comfort
Powerful stopping power – Full hydraulic, ABS, & regenerative braking
Are you ready to join the pack?
Lace-up your ride boots and strap on your full-face helmet. The GT Pro commands serious power and demands serious protective gear to enjoy safely. For riders who seek 50 MPH performance and channel their inner warrior, the Wolf Pack is an excellent place to start your journey. In Greater Los Angeles or New York City, you can drop by Voro Motors to view and test the Wolf Warriors in person. Make sure to drop them a message before visiting.
For a little more pepper, check out the Wolf King GT, the bigger and badder older brother of the Warrior GT Pro.
Top Speed: 50 mph (80.46 km/h)
Range: 60 mi (96 km)
Acceleration: TBD
Hill Climb Angle: TBD
Max Load: 330 lbs (150 kg)
Item Weight: 110 lbs (50 kg)
Motor: Dual 1200W
Charge Time: 8-10 hours
Battery: 60V 35Ah LG or Samsung
Controller: 40A sine wave
Throttle: Thumb Throttle
Display: TFT Display
Tire Type: 11″ Tubeless tires
Brakes: Hydraulic Suspension
(f) Hydraulic | (r) Dual Spring
Water Rating: IPX5
Headlights: Yes
Deck Lights: Yes
Brake Lights: Yes
Signal Lights: Yes
Dimensions Folded: 59" x 11" x 19"
Dimensions Upright: 50" x 24.6" x 49.2"
What's the Wolf Warriors top speed?
The Wolf's highest speed is around 50 MPH with a full battery and maximum performance settings. Riders who are heavier or who are traveling up hilly routes may notice a reduction in top speed.
What's Wolf Warriors true battery range?
Under normal cruising conditions, the Wolf Warrior has a range of 60 miles. Riders who stop and go at 10-15 MPH might expect a range of 40-60 miles. Riders who accelerate quickly should expect a range of 30-45 miles.
Does the Wolf Warrior include lighting?
Headlights, taillights, signals, side LEDS, and brake lights are all included on the Wolf Warrior.
You may also like:
Disclaimer: The information presented in this article is derived from extensive research, user reviews, and publicly available information. Our aim is to provide accurate and up-to-date content; however, it is crucial to understand that the opinions expressed are based on the information available at the time of writing. We strongly encourage readers to conduct their own thorough research and carefully evaluate their individual needs before making any purchasing decisions.
eWheels 2023 Summer Deals and New Launches are here!!!
Cheap, reliable, and powerful! TurboAnt Electric Scooters 2023 Sale!
Hi guys! This post may contain affiliate links, sponsored content, and advertisements. We get a small commission for covering topics that interest us (helps us keep the doors open). For more information, please see our privacy policy and disclaimer. Ride safe yall!
2023 Electric Unicycles:
Coupons & Deals:
Apollo Scooters: Get $50 USD worth of free accessories, upgrades, or spare parts with the purchase of a scooter. Code: VROOOMIN
REV Rides: Save $50 off Scooters and EUC's, Code: VROOOMIN
EVOLV Electric Scooters: Free Folding Lock (worth C$80) for every EVOLV model! Use Code: VROOOMIN-LOCK
To keep the site running and information flowing, Vrooomin.com participates in affiliate linking programs. We're also an Amazon Associate, which means we get paid for referring people to Amazon. Please support the channel by clicking on our links.