Dualtron Victor Luxury Electric Scooter
The 40 MPH mid-size sports electric scooter has arrived. The 60V 4KW luxury sports electric scooter may be appropriate for riders who desire to dominate the streets while riding in style. With ample range and features, the Dualtron Victor Luxury electric scooter can replace your vehicle, bus, and subway. It is compact enough to fit your car, workplace, or living room.
With design improvements that also serve as safety measures, the Victor Luxury is an improved version of the Victor, the longest-range twin motor scooter under 80 lbs. It is a sport tourer electric scooter that can propel you over 40 mph on your daily commute.
Have a Dualtron Addiction?
Thanks to its 60V 30Ah battery, the Dualtron Victor Luxury has an eco mode range of up to 62 miles. It has two fast release sliding collars, 10 x 3 wide tube tires, and complete hydraulic Zoom brakes.
You'll have additional options to posture for speed and style thanks to the new rubber deck, footrest with a built-in taillight, and programmable LED lights on the swing arms, side, and under deck lighting. Be prepared to break necks when you zoom through the crowds on the Victor Luxury.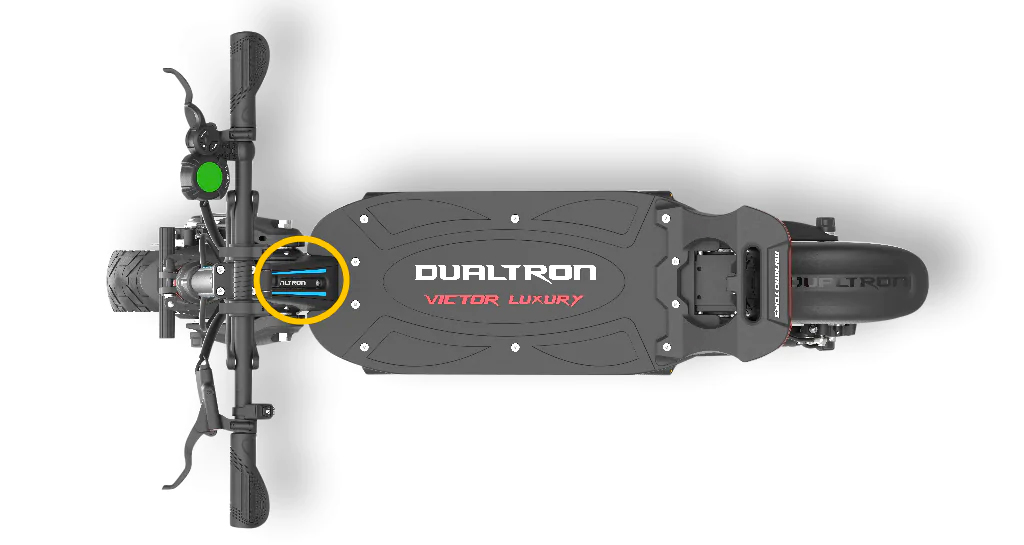 Sports Electric Scooter
The Dualtron Victor Luxury is no exception to Dualtron's reputation for producing some of the highest quality sports electric scooters.
4kw motor for speeds up to +40 mph
Dual bldc motors powered by 1800WH LG battery pack
20 hour charge time with standard charger
In addition to providing somewhat greater room for riders to buffer against off-line torque, the new footrest also secures the stem to the deck and includes a handrail for more straightforward folding, making any commute and storage simple.
Mid Range Sports Commuter
A more advanced version, the luxury sports a 4KW motor, an 1800 Wh LG battery pack, a peak speed of +40 MPH, and Dualtron's renowned chassis. With a weight of 73 lbs, this mid-size sports scooter was made with thrill-seeking, long-distance commuters in mind; it is not intended for novices or stairways.
Max range of 62 miles
High-speed range of 30 miles
43% climb gradient for steep hills
40 MPH Electric Scooter
The victorious luxury is one carbon emission-free vehicle that can get any rider to their desired destination if they want to tickle their pickle and accelerate their travels over 40 mph.
Zoom hydraulic brakes for safety
Max load is 265 lbs
73 lbs aviation aluminum alloy chassis
Dualtron build quality and materials
The Dualtron Victor Luxury is a step up from the entry-level $2,000 scooters on the market, thanks to Victor's exceptional build quality and a layer of refinement. The Luxury is a no-brainer if you search for speed, power, range, and portability.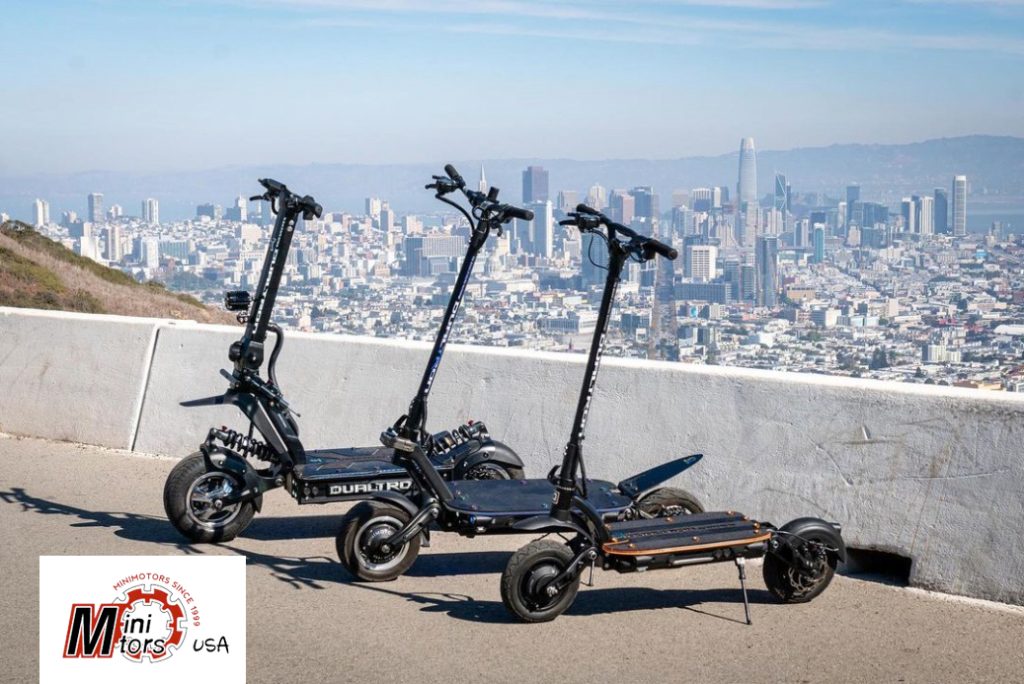 Dualtron Victor Luxury Technical Specs:
Motor: MAX 4,000 watt BLDC dual hub motors
Battery: 60 volt – 30 Ah – 1,800Wh – LG 5000 cells
Charge time: 20 hours with standard charger, 10 hours with 2 standard chargers, 4.6 hours with the quick charger
Max mileage: 62 miles (mileage may vary depending on rider weight and road conditions)
Max Speed: 45+ mph
Climbing Grade: 43% or 23 degrees depending on rider weight and state of charge
Braking System: Front and Rear Zoom Hydraulic Disc Brake with ABS Standard
Max Load: 265 lbs
Scooter Weight: 73 lbs
Product Material: Frame and Handle are aviation grade 6082-T6 aluminum alloy, the shaft is SCM440 steel, and plastic covers
2022 MiniMotors Electric Scooters
Disclaimer: The information presented in this article is derived from extensive research, user reviews, and publicly available information. Our aim is to provide accurate and up-to-date content; however, it is crucial to understand that the opinions expressed are based on the information available at the time of writing. We strongly encourage readers to conduct their own thorough research and carefully evaluate their individual needs before making any purchasing decisions.
eWheels 2023 Summer Deals and New Launches are here!!!
Cheap, reliable, and powerful! TurboAnt Electric Scooters 2023 Sale!
Hi guys! This post may contain affiliate links, sponsored content, and advertisements. We get a small commission for covering topics that interest us (helps us keep the doors open). For more information, please see our privacy policy and disclaimer. Ride safe yall!
2023 Electric Unicycles:
Coupons & Deals:
Apollo Scooters: Get $50 USD worth of free accessories, upgrades, or spare parts with the purchase of a scooter. Code: VROOOMIN
REV Rides: Save $50 off Scooters and EUC's, Code: VROOOMIN
EVOLV Electric Scooters: Free Folding Lock (worth C$80) for every EVOLV model! Use Code: VROOOMIN-LOCK
To keep the site running and information flowing, Vrooomin.com participates in affiliate linking programs. We're also an Amazon Associate, which means we get paid for referring people to Amazon. Please support the channel by clicking on our links.