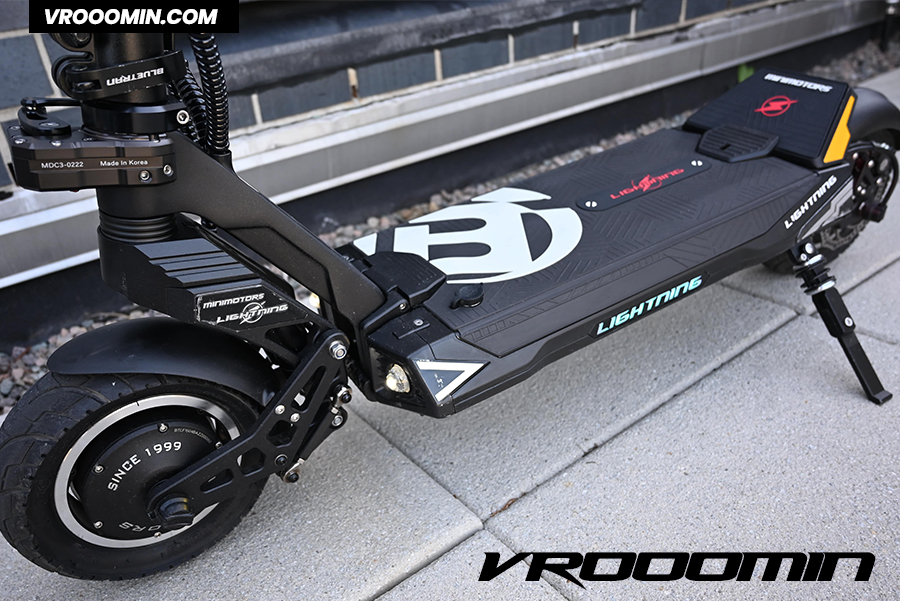 Bluetran Lightning Electric Scooter Review
The Complete Package, 53+ MPH Sports Electric Scooter
Do you want 50+ MPH performance, a sexy sports body, horn, headlights, turn signals, a kick tail, and a lot of range? Look no further. The best 10″ sports electric scooter for 2022 is here. I've ridden the Bluetran Lightning for over 500+ miles and must say that this 72V 10-inch electric scooter is well worth the price tag. The Lightning's design, build quality, electronics, and performance all combine to make it one of the best value scooters on the market.
With a top speed of about 53 mph and a 5040W powertrain, the 88-pound Bluetran Lightning is an entry-level Extreme Performance electric scooter. Extreme Performance scooters are large, powerful, fast, and fun for riders who have never ridden an electric scooter. The elegant and speedy Lightning is one of the most popular ten-inch electric scooters today.
While it is not recommended for complete novices, the 72V Lightning is an excellent option for advanced riders wishing to push the envelope of acceleration and long-range commuting. Consider how this enormous 2304WH (32 AH variant) machine can deliver over 80 miles of enjoyable riding while saving you time and money.
Reasons To Buy:
Most powerful 53+ mph (GPS) Sports Electric Scooter
Strongest 10″ electric scooter on the market
55-80 Miles real-world range (32AH model)
3 models to choose from, $2,600 -$3,100
2304WH battery pack that provides 55 miles of real-world range
Insane torque and off the line accelerations
Reliable and tested model
Reasons To Avoid:
At 88 lbs, the scooter is not portable by any means
$2,699 can be pricey, you can find lower powered affordable models with 40+ MPH performance
Not a beginner or portable scooter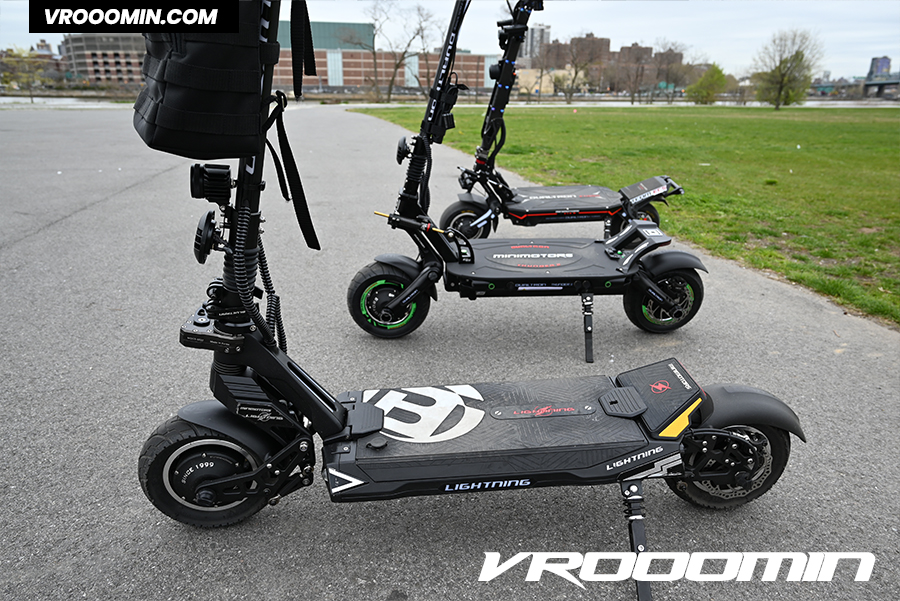 Similar Scooters:
For similar models in the Lightning Category, consider the Bronco Xtreme, Dualtron Storm, Dualtron Ultra 2, Wolf Warrior King GT, and Dualtron X2.
News & Deals:
Performance
In addition to time and environmental savings, electric scooter riders are obsessed with motor wattage specifications, torque, and top speed. The Bluetran Lightning's dual BLDC 5040W motors reach a top speed of 53+ mph, allowing you to save money and time on your daily commute.
This ten-inch electric scooter's torque, acceleration, and top speed are unequaled by any other electric scooter. When you pull the throttle, it nearly seems like a roller-coaster drop. While typical dual-motor 10″ scooters have a top speed of around 40 miles per hour, the Lightning's 72v 5KW system can reach speeds of up to 45 miles per hour and past 50 miles per hour with the proper amount of runway.
While Lightning riders may not always cruise at 53+ mph, most individuals will move at a speed of approximately 20-25 mph to make it to work on time. The Lightning is a powerful torque machine powered by a 5040W max 72 30a controller capable of effortlessly propelling riders over rugged 31-degree hills. The Lightning is powered by Bluetran's patented EYE trigger throttle, enabling users to tailor the scooter's torque, acceleration, and battery performance modes.
Riders can opt for either rubber-burning acceleration or smooth cruising to conserve battery power on extended commutes.
Additionally, The Lightning features Full Zoom Hydraulic (Regen/ABS) brakes for added safety, allowing riders to stop on a dime and maintain perfect pace control. I've never had a problem with the Lightning. You can anticipate riding for several years without needing to service or bleed the hydraulic brakes.
At 88 pounds, the Lightning is a hefty, high-performance electric scooter. While it can take short trips to the grocery store, it is ideally suited for long-distance, high-speed rides. I ride this scooter for all my everyday trips since it is a powerful, joyful ride that makes even the most monotonous portions of life more enjoyable.
There is no other sensation quite like it when a rider clicks the turbo button, cranks the throttle, and feels the surge of 5KW of acceleration flowing through the phase wires. The Lightning is currently the midpoint of MiniMotors' performance portfolio and is one of the fastest electric scooters for 2022.
Top Speed: The Lightning can reach 53 mph with a full battery. Riders need to adjust the acceleration, battery mode, and power output to reach max speed.
Cruising Speed: Lightning riders average between 15-35 mph of smooth cruising speeds. Most riders average between 15-28 mph in local neighborhoods.
Motor Power: 5040W Dual BLDC Motors
Gradient: The Lightning is rated to climb 31-degree slopes and can easily traverse steep hills, bridges, and inclines.
Brakes: Full Zoom Hydraulic (Regen/ABS) brakes provide excellent stopping power.
Controller: MiniMotors 72 30A Controllers, reliable and tested for high-speed applications.
Usage: Short-range, long-range, everyday commuting, steep hills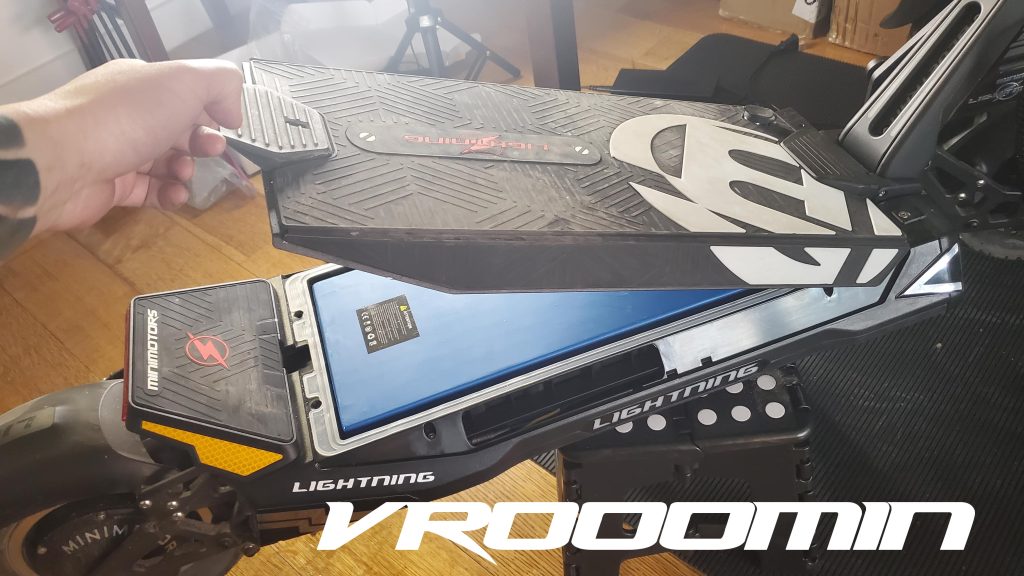 Battery Pack
Any personal electric vehicle's battery pack is the most expensive component. The Bluetran Lightning 32AH is equipped with a 2304WH 72V LG MH1 lithium-ion battery pack rated for an advertised range of 80 miles on a single charge. While some riders may achieve the indicated range, most riders will reach approximately 60%-80% of the advertised capacity.
My 32AH Bluetran is powered by LG MH1 cells with a capacity of 3200mAh and a discharge rate of 10A. LG cells are among the best in the industry, with a good reputation for durability and a life expectancy of well over 400 charge cycles before performance degrades noticeably.
After around 500 miles, the Bluetran's maximum range was 55 miles on medium settings. Riders who increase their speed settings will experience a reduction in range. Riders gain range by lowering their performance settings. By and large, medium settings are ideal for my speed requirements in New York City.
As far as charging, remember to set it before your ride. You won't be able to finish an entire battery in a day unless you ride for hours. The add-on fast charger is excellent if you're on a group ride or need to recharge in a pinch.
Battery Pack: 72V 26AH, 32AH, 35AH LG MJ1/MH1/Sincpower battery pack options
Charge Ports: GX20-3P Support 10a Charging
Charger: 72V 1.5A Stock charger
Fast Charger: Available as an add on
Charge Time: 22 Hours
Advertised Range: 80 Miles
Real World Tested Range: 55 Miles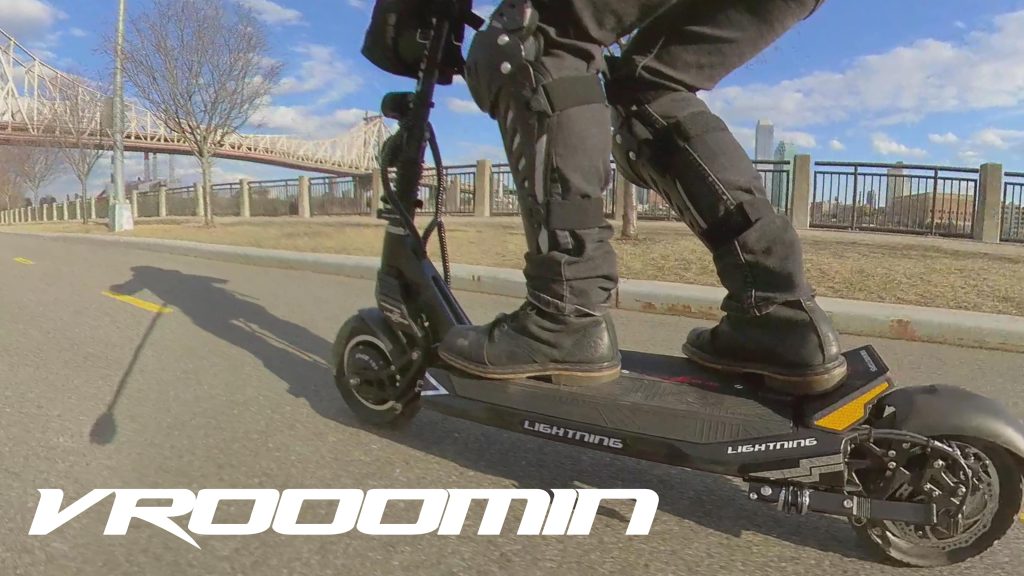 Handling, comfort, and Ride Features
When putting hundreds of miles on the road, handling, ride comfort, and the latest ride features make all the difference.
The Lightning is fitted with an ergonomic EYE finger throttle, folding handlebars, and rubber grips that provide unmatched control while cruising through parks or racing down the boulevard. The Lightning's 10×3″ wide tubeless tires and Spring Air Shocks Suspension smooth out uneven roads and eliminate road vibrations when navigating challenging terrain.
When traveling along long highways at a modest speed, utilize the cruise control option, which maintains a constant speed without tiring your index finger.
For safety and the best ride experience, the Lightning is loaded with features for you to be seen (and heard.) For lighting, the Lightning includes Handlebar sides LED lights, Dual LED headlight & Taillight, a Brake light, turn signals, and a horn.
Throttle: Finger Throttle for accurate acceleration control
Grips: Rubber grips for firm control over handlebars.
Suspension: Spring Air Shocks Suspension system that allows for off-road and high-speed applications
Tires: 10×3″ wide tubeless for improved grip, comfort, and acceleration.
Headlights: Front deck lights for ride path visibility.
Taillights: Rear deck lights for braking and visibility. Ambient Lights: Stem, side deck lighting for ambiance and visibility.
Turning Signals: Integrated turn signal system and handlebar module for safety and visibility.
Horn: Integrated horns for commuting safety
Handling
I recently added an ERREX damper to the motor/front stem's end. This provides considerably greater steering control at high speeds. While the damper is not required for most Lightning riders, I believe it is well worth the money. Consider it superpower steering for sports electric scooters, especially if you enjoy exceeding speed limits.
Build Quality, Chassis, Maintenance
Lightning's chassis, design, geometry, and materials all scream for high-speed performance. The Lightning is a powerful machine with a solid reputation for quality and dependability in construction. Numerous riders have logged thousands of miles on the Lightning, making it a crowd favorite for high-speed riding.
Riders may be confident that the design, manufacture, quality assurance, and materials used by MiniMotors result in a durable scooter that will endure thousands of miles on the road. Each scooter is based on MiniMotor's existing intellectual property, allowing for easy maintenance and availability to spare parts. When you spend $3000 on a sports electric scooter, you want one that is made to last and is simple to fix.
Design: Sports-tuned geometry for speed and off-road capability. The Lightning has the looks and performance chops to justify its high price.
Build Materials: The Lightning chassis is built with aviation-grade aluminum alloy, SCM440 steel, and hard plastics. Aviation-grade aluminum is commonly used for highly stressed applications: bridges, cranes, air crafts, etc. MiniMotor's scooters are built to last – some riders report putting well over 10,0000 on their scooters.
Maintenance: Compared to car, the Lightning is generally easy to maintain. Riders would need the right tools to perform brake pad and tire changes. There are plenty of online videos for reference.
Spare Parts: MiniMotors USA has a vast stockpile of spare parts for all their customers. Most common replacement parts include tires, brake pads, accessories, etc.
Weight: At 88 lbs, the Lightning is a heavy scooter, great for high-speed stability. It's not the best for portability or transporting between busses or climbing stairways.
Electronics and Drivetrain: Bluetran batteries, controllers, and motors have a long life span. Their engines, controllers, and batteries cans last years before needing to be swapped. Owners will rarely repair individual drivetrain components. Changing faulty parts with new ones is safer and more accessible.
Maxload: The Lightning Chassis can support riders up to 265 lbs, covering more than enough weight for most riders. The heavier the rider, the less top speed and range can be expected.
Handlebars: Folding handlebars, adjustable height for taller riders
Folding Mechanism: The Bluetran uses a dual quick release clamp that provides solid, secure, and easy folding for storage.
Portability: At 88 lbs, the Lightning is on the heavier side. It can fit in car trunks, office spaces, and apartments without a problem. For riders who need to move the scooter up a flight of stairs, 88 can be quite heavy to lift daily.
After Market Upgrades: Optional aftermarket upgrades include dampers, stem clamps, MTB handlebars
Chassis Improvements: The Lightning features a 4th generation Bluetran chassis that has improvements over the folding hinge, folding clamp, swing arms, kickstand, deck size, and led kick tail.
Bluetran Lighting Review Video and Unboxing
Is the Bluetran Lightning right for you?
The Lightning has developed a sizable, loyal following, which is understandable. The Lightning is hard to beat if you want a fast, strong, powerful, and reliable sports electric scooter. Other scooters in this price range are comparable, but none match Lightning's appearance, features, and performance. The Lightning is a powerful and pricey investment, costing $2,699 before taxes.
More 2022 MiniMotors Electric Scooters:
Technical Specs:
Motor: MAX 5040W BLDC DUAL HUB MOTOR
Battery: 72V35Ah (LG MJ1 18650) / 72V32Ah (LG MH1 18650) / 72V26Ah (CN 18650)
Charge Time: (35Ah) 25 hours with standard charger, 7 hours with quick charger / (32Ah) 22 hours with standard charger, 6 hours with quick charger / (26Ah) 18 hours with standard charger, 5 hours with quick charger
Max mileage: 90 miles (35Ah) / 80 miles (32Ah) / 65 miles (26Ah) Mileage may vary depending on rider weight, road conditions, and ambient temperature
Max Speed: 47+ mph (depending on rider weight, road conditions, state of charge, and ambient temperature)
Climbing Grade: 60% or 31 degrees (depending on rider weight and state of charge)
Braking System: Front and rear hydraulic brakes + electric ABS
Lighting: Handlebar sides LED lights, Dual LED headlight & Taillight, Brake light
Max Load: 265lbs
Scooter Weight: 88 lbs
Tire: 10″x3″ tube tire
Suspension: Quad spring air suspension for front and rear
Features: Turn signals / Lights / Horn / Hazards / Eco-Turbo / Adjustable bar height/ Adjustable ride height
Charge port: GX20-3P Support 10a Charging
Optional Parts: Fingerprint, Fast Charger
Product Material: Frame and Handle are aviation grade 6082-T6 aluminum alloy, the shaft is SCM440 steel, and plastic covers
Disclaimer: The information presented in this article is derived from extensive research, user reviews, and publicly available information. Our aim is to provide accurate and up-to-date content; however, it is crucial to understand that the opinions expressed are based on the information available at the time of writing. We strongly encourage readers to conduct their own thorough research and carefully evaluate their individual needs before making any purchasing decisions.
eWheels 2023 Summer Deals and New Launches are here!!!
Cheap, reliable, and powerful! TurboAnt Electric Scooters 2023 Sale!
Hi guys! This post may contain affiliate links, sponsored content, and advertisements. We get a small commission for covering topics that interest us (helps us keep the doors open). For more information, please see our privacy policy and disclaimer. Ride safe yall!
2023 Electric Unicycles:
Coupons & Deals:
Apollo Scooters: Get $50 USD worth of free accessories, upgrades, or spare parts with the purchase of a scooter. Code: VROOOMIN
REV Rides: Save $50 off Scooters and EUC's, Code: VROOOMIN
EVOLV Electric Scooters: Free Folding Lock (worth C$80) for every EVOLV model! Use Code: VROOOMIN-LOCK
To keep the site running and information flowing, Vrooomin.com participates in affiliate linking programs. We're also an Amazon Associate, which means we get paid for referring people to Amazon. Please support the channel by clicking on our links.