Hi guys! This post may contain affiliate links, sponsored content, and advertisements. We get a small commission for covering topics that interest us (helps us keep the doors open). For more information, please see our privacy policy and disclaimer. Ride safe yall!

Electric Unicycle Beginners Buying Guide
The pedal grips your foot, the cold, firm shell presses against your inner calf, you step up, the left heel lands, you lean in, the adrenaline kicks in, you lean in more, and you're now in a state of acceleration bliss.
Nothing else compares to the rush we get from free falling forward and soaring through our city streets under the night sky, for now, nothing else matters. But what if you're new to the EUC game?
Fear not, newbs, we were once there too.
We can all agree that riding a wheel changes your life, but to get there, riders must first pinpoint their first electric wheel. Is it a pain in the neck or a rite of passage? Guys, don't worry, chill out; we're here to catch you up to speed, soup to nuts, wheel sizes to battery packs.
EUCs are some of the funniest personal electric vehicles on the market
The power, range, and portability of EUC wheels are unmatched
EUC wheels are fun to ride, and challenging to research
For detailed EUC technical information, check out eWheels for comprehensive buyers guide; these guys are the best in the business
Top 14 Tips for Buying an Electric Unicycle
Owning a wheel is life-changing
Here are our 14 tips, tricks, features, and specs to consider when researching an electric unicycle. For more detailed technical information, check out the eWheels EUC buyer's guide for all things related to electric unicycles for the most significant resources on wheels.
In this post, we've referenced many eWheels work (pioneers of the EUC movement in North America) and put our spin on the most often researched parameters for researching wheels. Please let me know in the comment section below if you have any questions. Now let's get started!
1. Understand the Different Sizes of EUC wheels
Size matters for acceleration, speed, and portability
Electric unicycles exist in various forms and sizes, each wheel serving a unique purpose. Larger wheels are better at handling road imperfections like bumps, potholes, and bends, as well as having greater power and larger battery packs. Smaller wheels tend to accelerate faster (less distance from the center of rotation, more immediate off-the-line torque). Still, they are less stable at higher speeds and over uneven pavement. The sweet spot for power, range, portability, handling, and comfort is medium wheels.
Size, Acceleration, Portability:
Small wheels are lightweight, have high torque, and are easy to move.
Medium wheels have it all: power, speed, range, and portability
Large wheels have extreme performance, are challenging to master, and are pretty heavy and "slower" off the line.
Popular Wheels:
2. Understand Battery Packs
The Battery Pack is the most expensive component of any portable electric vehicle.
The backbone of an electric unicycle is the battery pack, which comes in various sizes, cell types, configurations, and battery management systems. Most riders choose the most significant battery packs for the most extended range, while others prioritize mobility and look for wheels with enough capacity, content, and weight. The general rule is that larger wheels are heavier, more powerful, more stable, more extended range, and have higher top speed.
Battery Specs:
Watt Hours (WH) = Voltage(V) x AH(Amp Hours)
Bigger battery packs = bigger max riding range
Battery packs are usually rated for 400 full cycles before performance degradation
Bigger range = heavier in weight = higher speed = less portable!
EUC's deal in fully charged battery voltage specs
Most Common Battery Packs:
View the Most Extreme Performance Electric Unicycles 2022
3. Motor Power Rating
More power, more speed
Older EUC motors used 500w and could only run 12 mph, but currently, 800w is the minimum, 2KW is the new standard, and top-tier EUC is rated above 3KW! Higher watts equals faster acceleration. Riders often seek motors with the highest wattage rating, although this does not always imply "higher torque" or off-the-line acceleration. Modern wheels are available in high-torque or high-speed variants, allowing riders to select between speed and torque.
Motors and Cut Outs
Higher wattage doesn't always translate to superior torque, owing to large wheels and controller board
Smaller wheels tend to have faster acceleration and better hill climbing abilities due to their smaller diameter and weight
Higher wattage motors tend to have higher top speed
Thicker phase wires can handle more current than old-school wire configurations
Hollow bore motors are the latest trend of motors for allowing power set ups unimaginable before
High speed motors are built for riders looking for more speed, please be mindful of audible beeps and wheel tilt back
High torque motors feature thicker motor windings, allowing greater power up inclines and off-road
EUC Motor Ratings
View the Most Best Electric Unicycles 2022
4. Max Cruising Speed
Cruise below max speed to be safe
The advertised maximum speed is the top speed the wheels can achieve in their highest performance settings. Some wheels allow for a speed buffer before a revolution "cuts out," while some manufacturers advertise the speed right before the motor cuts out, which is quite risky. When the wheels reach their full safe speed, they usually engage a "tilt" back motion, which allows the wheel to lean the rider backward to avoid a "cut out." Audible beeps will also sound out when riders reach the max cruising speed.
Cut outs (electronics shut down while riding) are dangerous and can lead to injury
Audible beeps warn riders to lean off the throttle
Tilt back is the last safety feature to keep riders from "cutting out"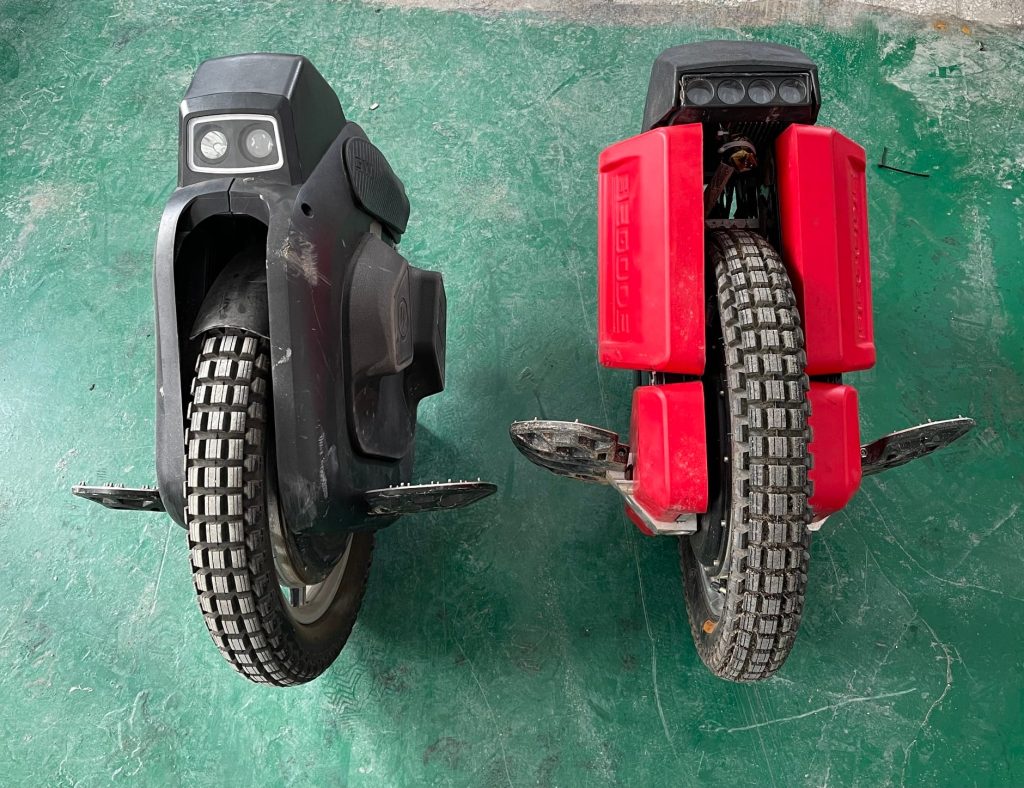 5. Max Rider Weight
Let's be realistic, heavy riders need heavy wheels!
The chassis and drivetrain can withstand a maximum rider weight for each wheel. To sustain yourself, your load, and your acceleration habits, it's essential to have a substantial weight cushion and buffer wheel. Smaller commuter wheels are better for lighter riders, but most heavy-duty wheels can handle the heaviest of riders.
EUC Max Weight:
View the Most Best Electric Unicycles 2022
6. Wheel Weight, Trolley, & Handle
Can you handle it?
When transporting or climbing a flight of stairs, the weight of a wheel is critical. As a general rule, the heavier the wheel, the larger the motor and battery, and the longer the range and higher the speed. Range and top speed come at a cost-are you strong enough to carry this wheel yourself? When comparing a Begode MTEN3 to a Veteran Sherman Max, the weight difference and the high-level performance is substantial. I've had to carry a Veteran Sherman up two lights of subway stairs on a few occasions, and it's not enjoyable.
Most wheels incorporate a retractable trolley handle for lateral movement, making off-pedal mobility a breeze.
Simply keep the wheel one, retract the handle, and go about your business.
Except when turning and handling, weight is not a significant factor when riding your wheel at speed.
Consider the S18, 16X, Tesla, or V11 for reasonable high-performance wheels that are both lower in weight but still powerful.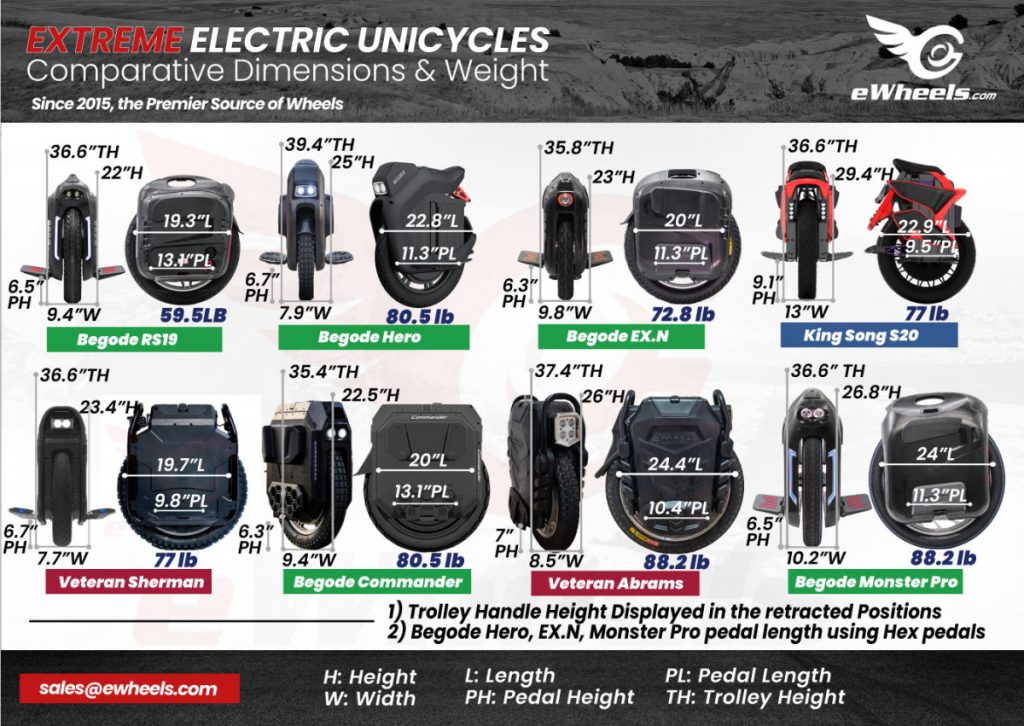 7. Bluetooth Speakers
Moving and grooving!
Bluetooth speakers, popularized by King Song, have become a standard feature and selling point for riders who want to ride, glide, groove, and even listen to podcasts while on the road. To keep the good times and excellent sounds rolling, the wheels are equipped with multiple 5W speakers. Not all speakers are created equal; the Begode MCM5 has some lower-quality speakers that crack at high volumes. It's better than nothing if you don't own a set of portable speakers.
Bluetooth speakers are nice added feature
Some wheels remove them due to added weight, and complexity
Not a deal breaker some riders prefer their own speakers over built in one, some prefer included speakers
8. USB Charging Outlet
Hold my phone!
The Bluetooth outlet, which can be found on many Begode and King song wheels, is a fantastic addition that allows riders to charge their phones, cameras, lights, and other USB-powered gadgets. Although not standard on all wheels, it is a convenient feature for recharging your devices on the go.
Standard on most King Song and Begode wheels
Nice for charging road accessories
Does use a little amount of power from the main battery, but this shouldn't be an issue if you're using recharge breaks on the road!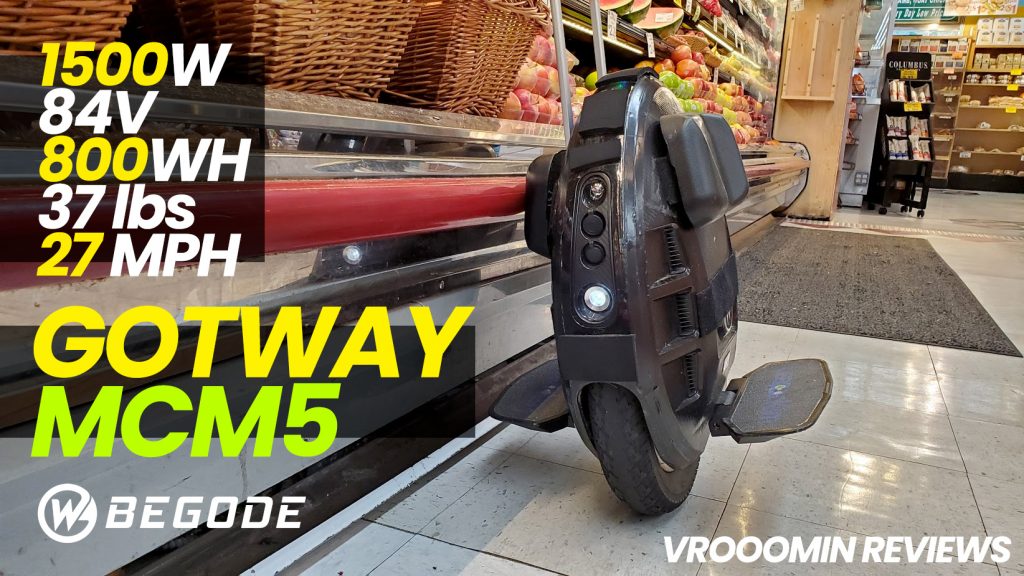 9. Front & Rear Lighting
They can see me right?
Day and nighttime riding safety are both dependent on lighting. Riding a PEV is difficult enough without competing for space on the road with cyclists, pedestrians, vehicles, and traffic. Wheels come standard with tail and headlights these days, making visibility a top priority for safe daily and night rides.
All modern wheels have lighting for safety
For visibility, most wheels feature at least a headlight/taillight combo, and some with atmospheric LED's
10. Color LED Lighting
Untz untz untz
Like the Bluetooth speaker component, LED lighting is not a deal breaker when riding your wheel, but it is a nice touch for riders who like to be illuminated under the night sky. Wheels may come equipped with led strips that are adjustable through wheel controls; some riders even go as far as customizing their wheels with external lights for added visibility.
11. Pedal Height, Pedal Shape, Pedal dips
Pedals are your wheels "throttle" and "brakes"
Pedal height, weight, and dips are factors to showcase how well a wheel can control sharp turns, steep climbs, and hard leaning turns. Riders have various riding styles, road conditions, and uses, and the scraping of the pedals can be an annoyance in their ride experience. Manufacturers have offered new firmware updates and manual calibration to improve their wheel's stability during operation, while some riders have adjusted their riding style to address the pedal issue.
Practice makes perfect, be mindful of you riding habits, inclines, and route when riding
Firmware updates and recalibrations are used to address pedal dipping
12. Durability & Build Quality
Built tough to last
Like all things in life, not all wheels are created equal. Several wheels have come out of the box with issues, malfunctions, and minor flaws. Remember that most revolutions aren't perfect, with first-generation wheels particularly prone to introducing new complications.
Not all wheels are equal
New wheels come with bugs and defects
Safe riders seek tested wheels in their 2-3rd generations
Adventurous riders seek the newest, fastest, and also untested wheels on the market
Preproduction EUC prototypes are toured for the community to try wheels and log defects for final production
Wear safety gear when riding any wheel, new, old and tested!
Some brands have better build materials than others: Inmotion, King Song, Leaperkim have high quality shells and electronics. Begode (Gotway) are some of the most performant, but their shells and software isn't as high as the former
All manufactures have dealt with either production recalls, hardware failure, and even battery fires on rare occasions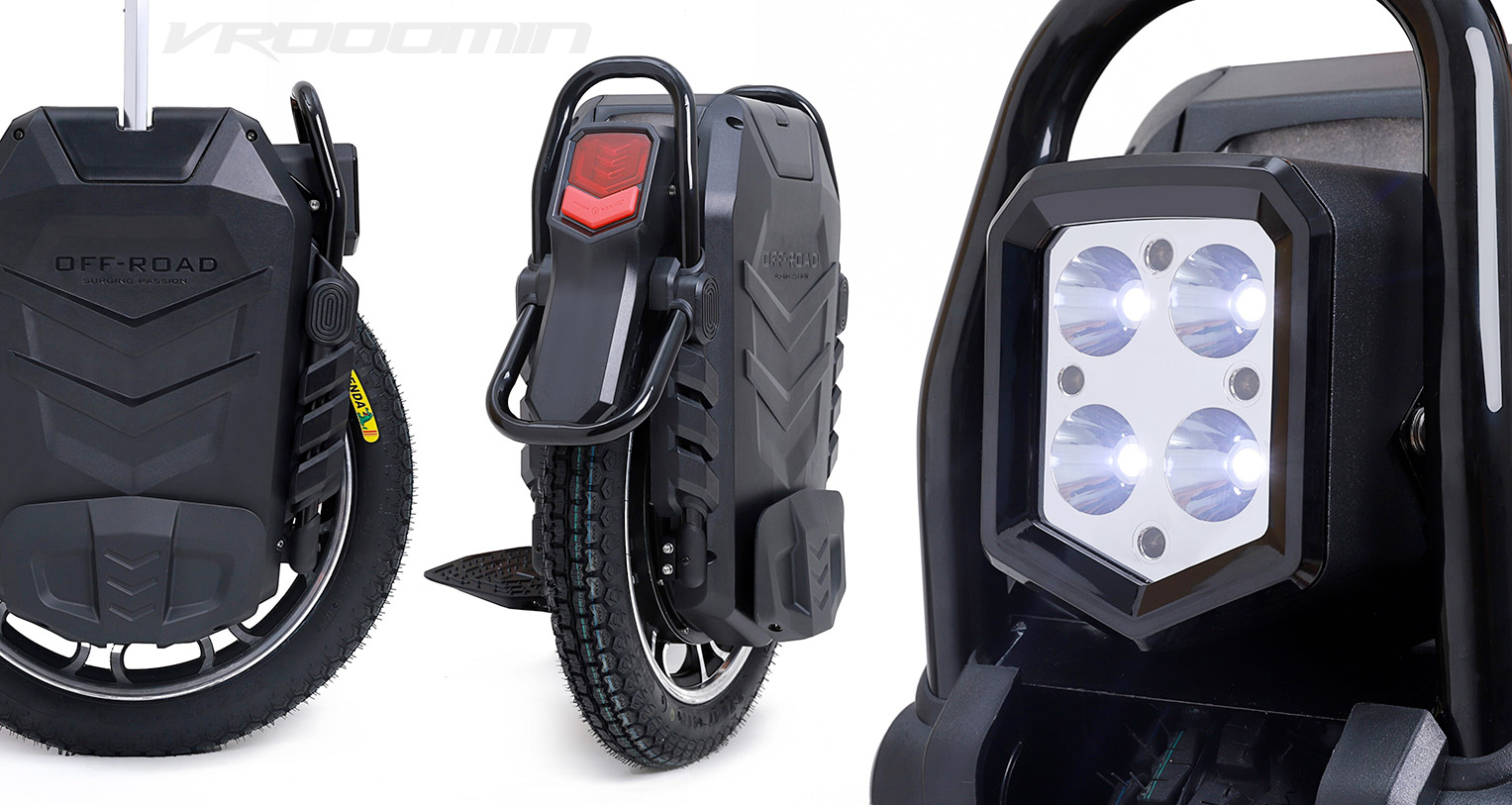 13. Water Resistance
The truth is that no EUC is waterproof, but some are very water resistant. This implies that, if possible, you should avoid riding in the rain. Light rain rides are perfectly acceptable because none of us live in a world where it rarely showers. On the other hand, submerging your wheel in water might cause difficulties, corrosion, and even battery fires down the road. I just opened up my Begode MCM5 and discovered dust, dirt, and unnatural substances that I had assumed would never be able to penetrate its tightly sealed shell. Things happen all the time, but you can reduce the likelihood of them becoming a hazard.
Do not ride in heavy rain. Light rain is fine
Main board controllers are sealed with a thin epoxy for added protection
Water damage can introduce severe issues with your wheels performance
Do not store your wheels outdoors
14. Budget, Price, Finances
It's a pricey hobby
Let's face it, riding electric unicycles is an expensive hobby and a severe form of transportation (some call it an obsession). Most EUCs charge less than ten cents, and they last 30 to 50 miles before recharging. Owning an electric unicycle will quickly pay for itself for riders trying to save money at the gas pump. No more dealing with parking lots, traffic, or the subway; take control of your daily commute by riding and gliding to your next destination on your terms. Did we mention that electric unicycles require little upkeep? All you have to do is charge your battery, keep your tire inflated, and replace it every few thousand miles. It's straightforward!
What's the Best Electric Unicycle for 2022?
Ride safe out there guys!
I recommend any wheel you can afford because every rider is different, as are their riding conditions, finances, and tastes. The King Song s20 is a popular wheel, as it has been the most reviews and road tests and has been most sought after in the past year. For more great options, consider the Begode MCM5, Begode Tesla, King Song s18, king song s16x, Inmotion v11, Begode RS, Begode EX.N, and Veteran Sherman MAX.
What is an electric unicycle?
An electric unicycle is a type of personal transportation device that runs on a single wheel, shell, and pedals and is powered by an electric motor, high-discharge lithium battery pack, and electric speed controller.
How does an electric unicycle work?
A built-in motor and a battery pack power the single wheel of an electric unicycle. The rider stands on the unicycle and steers with their body weight. The unicycle is controlled by leaning forward or backward on the gyroscopic sensing throttle. Riders typically use side pads and grippy pedals to gain more control and grip on their electric unicycles.
How fast can an electric unicycle go?
The maximum speed of an electric unicycle varies according to the model and its performance specifications. Electric unicycles can travel from 10 to 55 miles per hour. The battery packs and motors on faster electric unicycles are larger. The bigger the wheel, the heavier and more expensive the unicycle.
How far can an electric unicycle travel on a single charge?
The distance an electric unicycle can travel on a single charge varies depending on the model and battery specifications. Most electric unicycles can travel 10 to +100 miles further on a single charge.
Is it challenging to learn to ride an electric unicycle?
Riding an electric unicycle can be difficult at first because it requires the development of new balance, coordination, and foot muscles. Most people, however, can learn to ride an electric unicycle with relative ease with practice. Most riders can learn to ride safely in one to three weeks.
Are electric unicycles safe to ride?
If used responsibly and following the manufacturer's instructions, electric unicycles can be safe to ride. Wearing a full-face helmet, knee pads, wrist guards, and other protective gear, as with any personal transportation device, is essential, as is adhering to local traffic laws and regulations.
2022 Best Electric Unicycles
Inmotion V12HT Electric Unicycle Review Video
To keep the site running and information flowing, Vrooomin.com participates in affiliate linking programs. We're also an Amazon Associate, which means we get paid for referring people to Amazon. Please support the channel by clicking on our links.