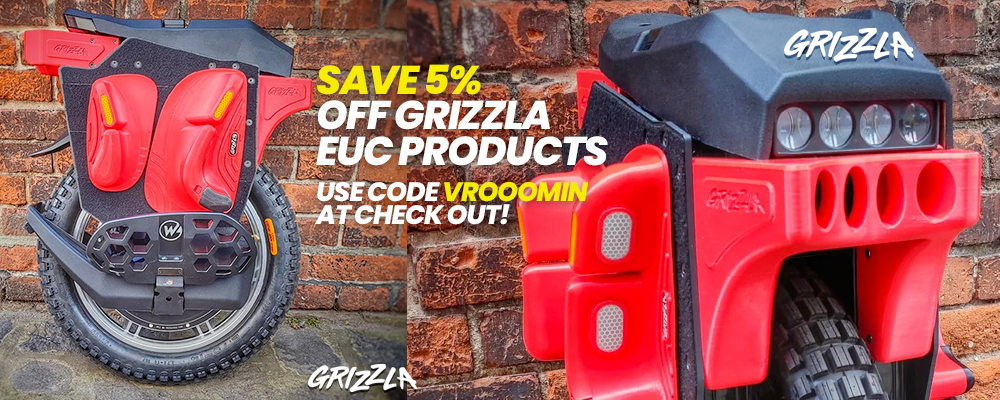 Grizzla is Here to Change the Game of EUC Performance Riding
Bumpers and Fairings to protect your Electric Unicycle and enable smooth installation of Power Pads
Have you ever ridden an electric unicycle and thought, "Damn, these stock pads are garbage?" Do you want better control, acceleration, braking, and hill-climbing while you ride your wheel?
Us too!
The good guys at Grizzla are here to transform the way you move, groove, and brake on your electric unicycle. Grizzla pads are available in different categories and a variety of colors. To match your personal needs, there are a few shapes to pick from baby, classic, extensive, and custom.
Please kindly note that due to high demand, Grizzla will need ~9-14 days to make and ship your pads!
Save 5% off Grizzla products, use Code VROOOMIN at Checkout
Not much, but anything helps for these premium pads
We've teamed up with Grizzla to offer a small discount on any pads, fairings, and more. Visit Grizzla to get the latest information on colors, sizing, and protection systems. Use code VROOOMIN to save 5% off your next purchase.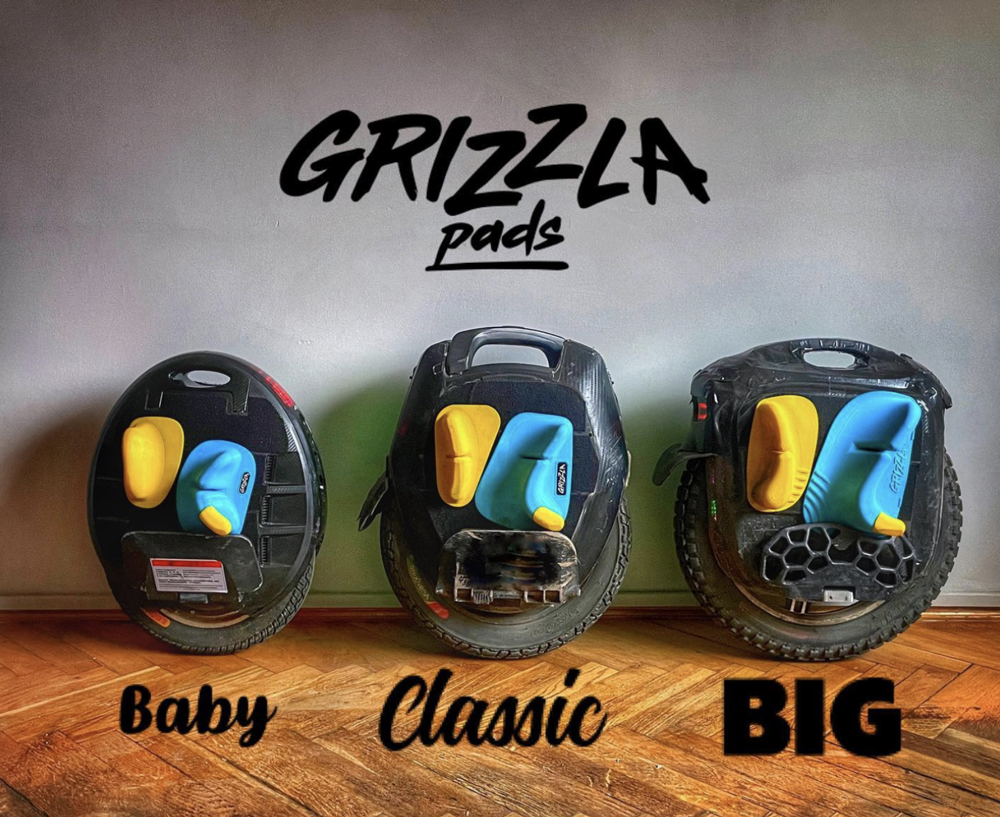 Custom Color Pads
Choose your colors carefully, we like the classic schemes, and some go for sports themes. Riders can also opt to add reflective markers, and velcro sets up for an additional cost.
Each pad is created to order, and riders can select their color schemes and order spare bumpers if necessary. Your orders are entirely customizable. To make each pad your own, carefully examine the color and size guidelines.
Grizzla Fairings and Bumpers for Begode Master and King Song S22
Grizzla has also produced fairing and bumper systems for riders who possess a Begode Master or a King Song S22 to increase each model's protection, pad placement, and appearance. My jaw dropped in delight when I first spotted these EUC aftermarket add-ons online.
Grizzla Pads – Big, Classic, Baby are available
Bigger is better? Mainly for the bigger wheels and taller riders. Other sizes are available for different needs.
Modular side-pads (power pads) enhance all aspects of the EUC experience, including steering control and confidence. The rubber material is both comfy and durable.
Features
Faster Acceleration (without overleaning!)
Better Incline abilities
Increased Braking power
Foot Stability on bumps or uneven surfaces
Jumping with the wheel (e.g. on curbs and ramps, pump or single tracks)
Maneuverability
Wheel protection – pads working as an active bumper during falls/crashes/accidents
More Visibility – assuming you've chosen eye-catching colors and/or pads version with reflective straps version
In Box
2x Front pads (L+R)
2x Rear pads (L+R)
2x Bumpers/Caps (L+R)
Self-adhesive fastener tape (Hooks) – to be adhered to the bottom part of GP
Self-adhesive fastener tape (Loops) – to be installed to the side-shell of your EUC
Manual (digital copy)
Solving Inadequacies
EUC companies need to add more external protection. Until then, we can rely on Grizzla for the protection we need
We can all agree that wheels nowadays do not provide adequate external protection, and companies intend to keep their production costs as low as possible. These fairings and bumpers, like a smartphone case, are a must-have if you want to take your wheel into the wild and extreme performance riding.
We're pleased with the Grizzla aftermarket parts because the designs, molds, colors, and materials appear to be of the highest quality. These people have a keen sense of design.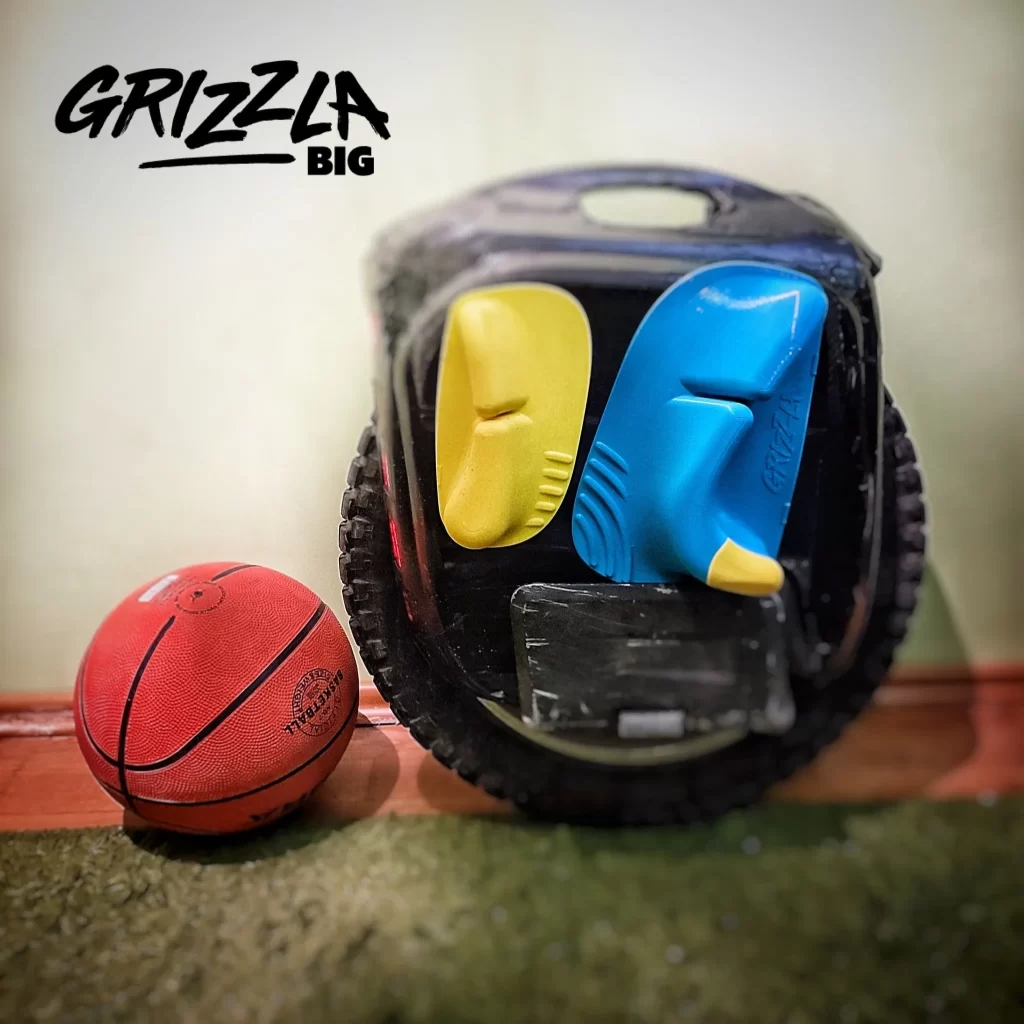 Craftsmanship
Quality products, quality protection
The symmetry, colors, artwork, and craftsmanship set this unit apart from the competition. These parts are more expensive because they ship from the EU, but we believe they are worthwhile. Why not get the best of the best if you're already paying $2,000 or more on a wheel or a primary source of transportation for some?
Remember you can save 5% by using code VROOOMIN at checkout. We're looking to order a few sets as soon as our preorders are ready for shipping. Which colors and for which model? More on that soon!
More Extreme Performance EUC's
Disclaimer: The information presented in this article is derived from extensive research, user reviews, and publicly available information. Our aim is to provide accurate and up-to-date content; however, it is crucial to understand that the opinions expressed are based on the information available at the time of writing. We strongly encourage readers to conduct their own thorough research and carefully evaluate their individual needs before making any purchasing decisions.
eWheels 2023 Summer Deals and New Launches are here!!!
Cheap, reliable, and powerful! TurboAnt Electric Scooters 2023 Sale!
Hi guys! This post may contain affiliate links, sponsored content, and advertisements. We get a small commission for covering topics that interest us (helps us keep the doors open). For more information, please see our privacy policy and disclaimer. Ride safe yall!
2023 Electric Unicycles:
Coupons & Deals:
Apollo Scooters: Get $50 USD worth of free accessories, upgrades, or spare parts with the purchase of a scooter. Code: VROOOMIN
REV Rides: Save $50 off Scooters and EUC's, Code: VROOOMIN
EVOLV Electric Scooters: Free Folding Lock (worth C$80) for every EVOLV model! Use Code: VROOOMIN-LOCK
To keep the site running and information flowing, Vrooomin.com participates in affiliate linking programs. We're also an Amazon Associate, which means we get paid for referring people to Amazon. Please support the channel by clicking on our links.