Based in NYC, Kaiden is a Software Engineer who loves talking about delicious food, Thai boxing, grappling arts, and fast electric vehicles. His main go-to weekend must-haves were mouthwatering pizza, cheesy burgers, snappy unicycles, and ice-cold libations. Although lately, he's been consuming unsalted air fryer chicken, filtered tap water, and green smoothies, walking to work because he's in his late 30s and his metabolism just isn't the same. He is finally accepting it.
Want an Electric Scooter? 220 lb. club member? You've arrived.
Bigger Guys, Bigger Power, Bigger Scooters, Bigger Performance!
Electric scooters are an economical, quiet, easy, and pleasant mode of transportation for people of all sizes. From slender guys to the big bosses, electric scooters are simple to operate, don't require a driver's license, and may be charged for as little as $0.02 to $0.40! Who wants to spend $4.00 on gas when a single scooter battery may provide a range of up to 30 miles each charge?
More Battery, More Power, More Comfort
While no two scooters are same, neither are any two riders. Some scooters are designed to travel shorter distances with a lighter rider, while others have large batteries that allow them to travel further and faster with heavier riders.
News & Deals
Battery, Power, Range, and Deck Space
The drivetrain, weight capacity, and deck area will all play a role in determining the ideal scooter for bigger riders. The more powerful the scooter, the larger the battery, and the wider the deck space, the more comfortable it is for riders of all sizes and weights.
Higher Wattage – High wattage Electric scooters feature more torque, more power, and a higher top speed overall. The scooter can transport heavier workloads with more energy.
Weight capacity – The maximum weight that can be safely ridden on a scooter is determined by its weight capacity. All electric scooters have a payload limit that takes into account the rider's weight, safety equipment, and baggage.
Deck Space – The size of the battery determines the amount of deck space available. The larger the battery, the more amperage/energy available for movement, and thus the larger the deck. For riding comfort, heavier riders demand more vertical and horizontal deck area. Narrow scooters have a "tight rope" riding stance that is uncomfortable.
Riding Comfort
Narrow decks on lower-cost scooters with lower-powered batteries make for a highly unpleasant riding stance. Larger decks are used on stronger scooters with premium batteries to accommodate the battery while also providing greater standing room.
Best Electric Scooters for Heavy Adults
Dualtron City Electric Scooter
Dualtron Victor Electric Scooter
WEPED GTR Electric Scooter

VSETT 11+ Electric Scooter

Wolf Warrior GT Pro Electric Scooter
Dualtron Thunder 2 Electric Scooter
Wolf King GT Electric Scooter
Dualtron Achilleus Electric Scooter
Dualtron Ultra 2 Electric Scooter
Bronco Xtreme 11 Electric Scooter
WEPED SST Electric Scooter
Dualtron X2 Electric Scooter
EVOLV Corsa Electric Scooter
Heavyweight Riders Deserve Heavyweight Scooters
Big Scooters for Big Guys!
Now that you know how deck space, batteries, weight capacity, and power are related, let's look at the best electric scooters for heavier riders. These electric scooters are sorted according to their price, features, and weight capacity.
MiniMotors Most Wanted Middle Weight Electric Scooter
Are you ready to go places? Dualtron City's massive body was designed to transport you there. The City's 3.9KW drivetrain and 265 lbs will get you anywhere you need to go, whether you're big or small, short or tall. The Dualtron City's 15″ motors will provide you with the ultimate comfort at maximum speed, whether going up or downhill or across town.
Top Speed: +45 MPH
Power: 3,984W
Range: 55 Miles
Battery Pack: 60V 25AH
Weight: 91 lbs
Max Load: 265 lbs
Dualtron City Review Vide: First Look for the big guys!
All Around Middle Weight Performance Champion
The Victor's glorious power will carry even the heaviest riders to the mountain's summit. The Victor is equipped with a 4KW drivetrain, a 60V 30AH battery pack, and a 265 lbs maximum payload to help you traverse any gradient, hill, or climb that life can throw at you. With the Dualtron Victor, a medium weight champion electric scooter, you can climb higher and faster.
Top Speed: 50 MPH
Power: 4000W
Range: 62 miles
Battery Pack: 60V 30AH
Weight: 73 lbs
Max Load: 265 lbs
20KW Sports Electric Scooter
Even for the heaviest of riders, the WEPED GTR goes above and beyond. What type of rider would use 20KW on their daily commute? While not the type of power you need to get to the corner store, heavy riders can use all the extra current they can get to arrive where they need to go. The GTR provides a plentiful 20KW +60 MPH drive experience that few seek. Oh and by the way, the GTR also has a 300 lbs max weight limit.
Top Speed: 60 MPH
Power: 20,000W
Range: 80 Miles
Battery Pack: 60V 45AH
Weight: 77 lbs
Max Load: 300 lbs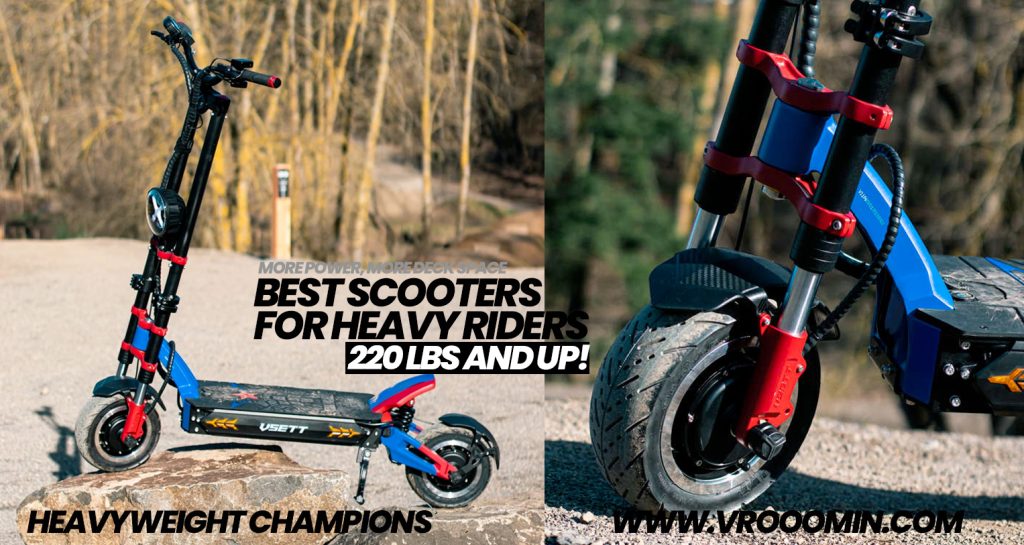 Bigger in size, Better in comfort.
Bigger is better for comfort and performance. VSETT's latest Goliath has a 6KW drivetrain, an 1872WH battery pack, and a 128 pound chassis to carry the heaviest of the heavy. This powerhouse of comfort, equipped with a front fork and rear spring suspension, is ready to take on any heavyweight rider without hesitation.
Top Speed: 53 MPH
Power: 6000W
Range: 85 Miles
Battery Pack: 60V 31.2AH
Weight: 128 lbs
Max Load: 330 lbs
60V Sine-Wave Electric Scooter
The market's smoothest 60V scooter was designed for the smoothest and heaviest riders. This off-road capable machine has a 5,400W drivetrain, a 60V 35AH battery pack, and a maximum payload of 330 lbs. The Warrior is the market's smoothest, strongest, and only 60V sine wave powered scooter.
Top Speed: 50 MPH
Power: 5,400W
Range: 60 Miles
Battery Pack: 60V 35AH
Weight: 110 lbs
Max Load: 330 lbs
Thunder and Lighting
A high-performance scooter for anyone brave enough to ride it. The Thunder 2 is the latest iteration of the Thunder franchise, with a top speed of 62 MPH, a 10KW drivetrain, and a maximum payload of 265 lbs. The Thunder 2 comes with a massive pack, massive engines, and massive deck to accommodate all riders, big, small, tall, and short. The Thunder 2 is the popular choice and a strong contender for the best electric scooter in 2022.
Top Speed: 62 MPH
Power: 10,080W
Range: 107 Miles
Battery Pack: 72V 40AH
Weight: 105 lbs
Max Load: 265 lbs
The King of Kings
The King GT, as the name suggests, is the wolf pack's apex predator. Even the most heaviest of riders are no match for the Kings GT's 62 MPH top speed, 8.4KW drivetrain, and 330 pound maximum load. Legends of the Wolf King will be told and songs will be sung about this Wolf's raw performance.
Top Speed: 62 MPH
Power: 8,400W
Range: 70 Miles
Battery Pack: 72V 35AH
Weight: 115 lbs
Max Load: 330 lbs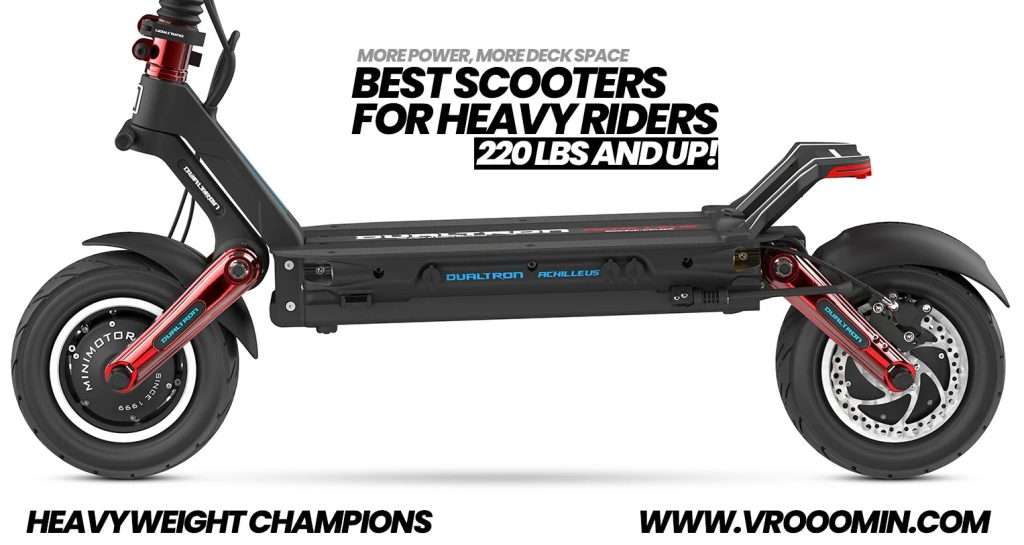 For the Bold and Brave
The 60V Achilleus, arguably one of the most visually appealing electric scooters on this list, has performance qualities that extend beyond the surface. The Achilleus is a warrior in its own right, capable of taking the heaviest of riders past +40 MPH thanks to its high performance 4.6KW drivetrain, 2100WH battery pack, and 265 lbs. max load. The Achilleus is a reborn Thunder, upgraded with 5th generation features and slimmer in size.
Top Speed: +45 MPH
Power: 4,648W
Range: 75 Miles
Battery Pack: 60V 35AH
Weight: 89 lbs
Max Load: 265 lbs
The Mountain Climber
The Ultra 1 was once the fastest scooter in the world, and it is still among the fastest scooters on the market. Heavy riders who value performance and dependability seek the Ultra 2's +55 MPH top speed, 6,640W drivetrain, and 265 lbs max load for short and long-distance adventures. The Ultra 2's performance is well-known both on and off the road.
Top Speed: +55 MPH
Battery Pack: 72V 35AH
Weight: 88 lbs
Max Load: 330 lbs
Extreme Performance Electric Scooter
The Bronco Xtreme is one of the strongest 72V electric scooters on the market, the first production scooter to utilize sine-wave controllers. The Bronco has a powerful 8.4KW drivetrain that can propel the lightest of riders up to 70 MPH and carry the heaviest of riders up the steepest of slopes.
Top Speed: 70 MPH
Battery Pack: 72V 35AH
Weight: 105 lbs
Max Load: 330 lbs
Power, Range, and Size.
30KW is 30KW, whether you're a big guy or a little guy. That's not a typo, and this isn't your average electric scooter. The SST is the pinnacle of electric scooter performance, with a payload of 300 pounds and a top speed of 80 miles per hour. The SST is a track star option to consider for riders who are top heavy and want a little more top speed.
Top Speed: 80 MPH
Power: 30,000W
Range: 80 Miles
Battery Pack: 72V 45AH
Weight: 115 lbs
Max Load: 300 lbs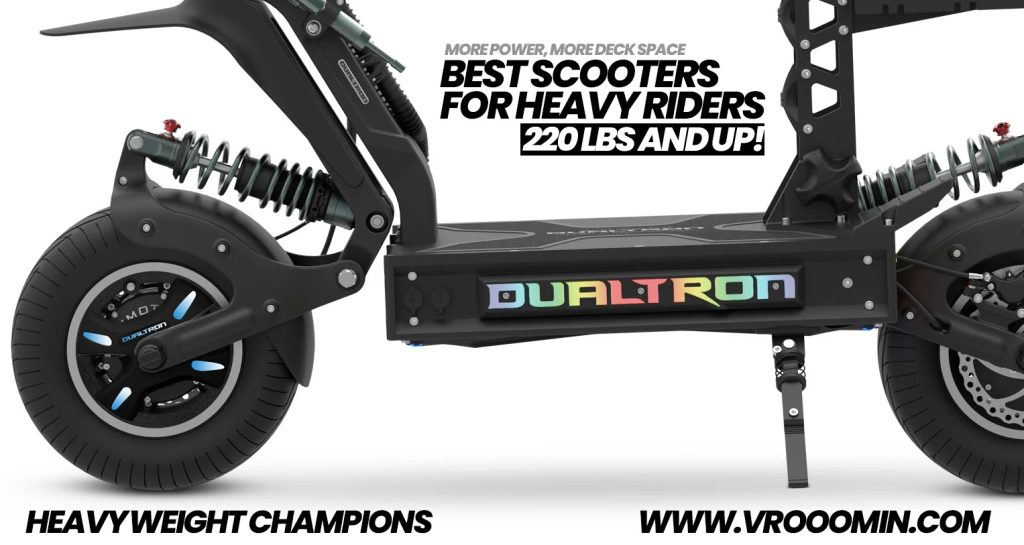 King of the Streets
The X2 is the Cadillac of electric scooters in terms of power, speed, range, and size. Riders of all sizes appreciate the X2's full hydraulic suspension, top speed of +60 MPH, and massive 3024WH battery pack. The X2 is the largest, boldest, and visually loudest electric scooter on the market, as well as one of the most expensive and comfortable.
Top Speed: +60 MPH
Battery Pack: 72V 42AH
Weight: 145 lbs
Max Load: 265 lbs
Price: $2,785 – Dealer: Urban Machina – Top Speed: +44 MPH – Power: 2,400W – Range: 37 Miles – Weight: 99 lbs
For the big guys, the highly tuned Corsa might be the one to take you to the moon and back. The Corsa is a 99-pound scooter with some of the toughest materials to keep you on the main street and at top speeds. It's the progression of the legendary EVOLV PRO-R. The Corsa is a 99-pound monstrosity with a top speed of 44 mph, a range of 37 miles, and some of the best ride quality components on the market to keep you comfortable and progressing. The Corsa comes standard with full suspension, hydraulic brakes, halo led front lights, tail, signal, and side lights. Tubeless 11″ tires are made for grooving, moving, and avoiding flats. If you want to take your electric scooter game to the next level, the Corsa will take you far and fast.
Which Heavyweight Electric Scooter is right for you?
While some riders recommend lower voltage scooters for heavy riders, I would strongly recommend at least a 60V drivetrain for heavy riders. Some 48V and 52V scooters can handle heavy riders at the top end, you'll usually want some breathing room at full load. This will extend the life of the drivetrain and make steeper gradient climbs easier. Furthermore, smaller batteries have less deck space, resulting in a "tight rope" riding stance. Any heavy rider who has tried a $500/rental scooter can attest to the discomfort. Let me know which scooter is your favorite in the comments section below.
More Heavy Weight Performance Electric Scooters:
💪 Hi friends! We hope you find our content useful! Make sure to use our affiliate links, it helps support our site and keep the fresh content, apps, videos, and updates coming. Ride safe!

- Team VROOOMIN
⚡New: 2022 Best Electric Scooters
⚡New: 2022 Best Electric Unicycles
Editor's Note: VROOOMIN.COM reports the advertised speed and range from the manufacturer. The exact results will vary depending on the rider's weight, overall payload, road conditions, and charge level. Most PEVs will deliver at least 60-70 percent of the quoted range, if not more. The top speed and range will be decreased for heavier riders.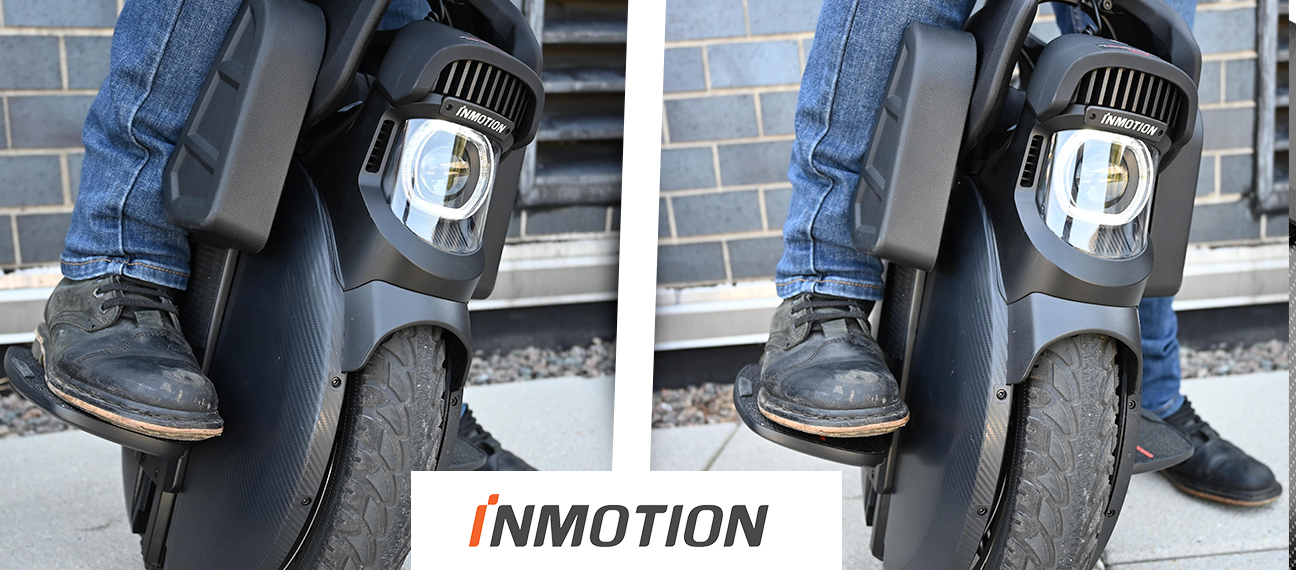 2022 Electric Scooters:
2022 Electric Unicycles:
Coupons & Deals:
Apollo Scooters: Get $50 USD worth of free accessories, upgrades, or spare parts with the purchase of a scooter. Code: VROOOMIN
REV Rides: Save $50 off Scooters and EUC's, Code: VROOOMIN
EVOLV Electric Scooters: Free Folding Lock (worth C$80) for every EVOLV model! Use Code: VROOOMIN-LOCK
To keep the site running and information flowing, Vrooomin.com participates in affiliate linking programs. We're also an Amazon Associate, which means we get paid for referring people to Amazon. Please support the channel by clicking on our links.