Mention Code "VROOOMIN" for possible discounts to your dealer!
Coupon Codes & Deals:
eWheels Spring Sale on electric scooters and electric unicycles
Save $50 off Kaabo and EMOVE electric scooters with Code: VROOOMIN
Save $50 off VSETT, Begode, King Song, Segway with Code: VROOOMIN
Get $50 worth of accessories at Apollo scooters with Code: VROOOMIN

eWheels announces the latest Begode Hero, 20″ Suspension Electric Unicycle
After the latest Inmotion V12 and the upcoming releases of the Kingsong S20 Eagle, Veteran Abrams, and The Commander, Begode Stuns the EUC community with another suspension wheel, the Hero Electric Unicycle.
Technical Specs:
A Special Edition of the Begode Hero, with High-Powered LiTech Battery Packs
Available in either High-Speed, or High-Torque variants
Improved Kenda 340A [for HS]/or Knobby 262 [for HT] tires preinstalled
Fitted with the upgrade Begode adjustable shocks, with rebound support
Rapid-charge capable, up to 12A
FAQ
With all the new models coming onto the market over the past few months, is there still a value proposition in the Hero?
Yes, we believe there's still a niche for this machine: it is built like a tank, has a good reliability track record, is more compact than the Master, & when paired with a high-powered battery pack, is still a compelling suspension Wheel—think of it in terms of an RS, but with excellent suspensions system.
Why has it taken so long to bring the Hero to market?
With the spat of recent launch troubles, we wanted to cover our bases, ensuring there were no surprises. Developing the LiTech battery pack BMS took several months. Meanwhile, Begode had made some iterative improvements to the model, improved shock supporting heavier Riders, controller upgrades & some other minor product changes.  
What are the performance differences between the High-Torque (C38) & High-Speed (C30) variants?
The motor stators are wound differently, offering more low-speed torque in the HT, but a reduced max [recommended] operating speed of about 35MPH. At the same time, the HS has thinner stator windings that result in higher rotational speed potential, which sacrifices some of the torque. If you're a heavier >225lb Rider or plan on using the machine in hilly environments, the HT may be a more suitable choice; otherwise, having some more speed margin potential—even if you do not initially plan to ride in this region—is typically preferable.  
Are these Heros fitted with the CST-186 tire?
No, we requested/paid Begode to use a combination of the Kenda 340As for the HS & the more popular K262 with the high-torque variant.
Before shipping, can I have my tire swapped out for another one, e.g., K340A for HT or K262 for HS?
Usually this wouldn't be a problem, but with the current queue for reworking several new models, e.g. fitting S22s with new motors, we can't take on tire swaps at the moment—this will likely improve as we head into the slower season.   
Will Begode be discontinuing parts for the Hero shortly?
The company has committed to maintaining parts for this model over the next 12+ months. We are also strategically stocking up on the most common parts of this model to continue supporting the model over the next few years.
What is the max rate of charge? Can I use both the 8A & stock 3A chargers simultaneously?
The upper-limit of the 40T cell is 6A x 4 parallels = 24A of the system, but in practice, the BMS and input charge wires all play a factor; charging should not exceed a total of 12A.
The principles of battery selection on PEVs is complex but can be distilled down to a general rule of 'the smaller the battery pack, the more power is demanded from the cells'. The Hero battery pack comprises 24 cells in series & 4 parallels (24s5p). In this class of high-performance >2.8KW machine, the system must be provided with sufficient peak power throughout the discharge curve; this is why we elected to equip the Hero with our exclusive LiTech Samsung 40T battery packs. 
There is also the peace of mind of the intrinsic safety properties of the high-powered packs; they are designed for this demanding usage, and the risks of premature degradation/spontaneous fires are significantly reduced.  
Beyond the safety/performance benefits, other advantages of a high-performance 40T battery pack include: faster-charging potential (up to 8-10A), superior pack longevity, cooler operation, increased performance, more efficient utilization of energy from the pack—for hard riding, mountain/trail use, the usable range from the 1,440Wh packs may be greater than a higher nominal 1,800Wh set. 
Looking for a way to get off the beaten path? The Begode Hero covers you.
Begode has just announced its new 100v 20″ suspension wheel, the Begode Hero Electric Unicycle, for riders who want to take their electric unicycle riding to the next level. The Hero has a 78-pound chassis and a 100V 1800WH, 2800W high torque motor. The Begode Hero is no slouch and was designed to handle the most challenging routes, climbs, leaps, and roads, based on the specs.
News and Deals
The first shipment from the factory, expected to arrive in the US by late October 2021, has been pushed off to January 2021. The eWheels models come with custom Samsung LiTECH battery packs and fitted CNC pedals. Check with Jason and the team about shipping times.
Preorder: Initial $100 deposit
Cost: Estimated release price $4,100
Tires: Choice of 20″ street/knobby tire
Battery Pack: 1,800Wh Samsung 21700 50E cells (eWheels improved battery packs)
Suspension: Similar to the S18 system
Motor: 2800W High Torque
Accessories: Includes fitted CNC pedals
Top Speed: +35 MPH
Weight: 78 lb
2800W High Torque C38 Motor
The C38 is the same motor on the RS HT, making it the perfect pairing with the Hero's Suspension. Off-Road Riders will appreciate this winning performance combo.
35 MPH Top Speed
The High Torque Hero was built for low-end torque but had respectable top-end speed. For riders looking for more pepper off the line, the Hero has plenty to give, on and off the road.
1800WH Samsung Battery Pack
Samsung custom eWheels packs will give you plenty of power to get you where you need to go. While the Hero lacks the 3600WH pack on many other large high-speed wheels, the 1800WH is still plenty of range for all-day off-road adventure.
Suspension Upgrade
Begode takes a page from King Song's book and gives the Hero Chassis an adjustable 80mm suspension. Suspension dampening will provide a cushy ride, and your knees and feet will appreciate it.
New Display:
A big, top-mounted display is now standard on this generation of wheels, allowing for convenient monitoring of speed, charge, and temperature.
Suspension Race with High Torque Archetype
The truth is that King's Song has fundamentally altered the landscape of electric unicycles. As a result of the S18's comfort and popularity, a new paradigm of off-road, high-torque suspension wheels has emerged. Wheels like the Begode EX2S, Begode Hero, Begode Master, and King Song's sophomore suspension, the King Song S20 Eagle. Could HT suspension models be the final frontier? Riders sometimes appear torn between high torque and fast speed; most of us can't have it both ways.
Best Electric Unicycles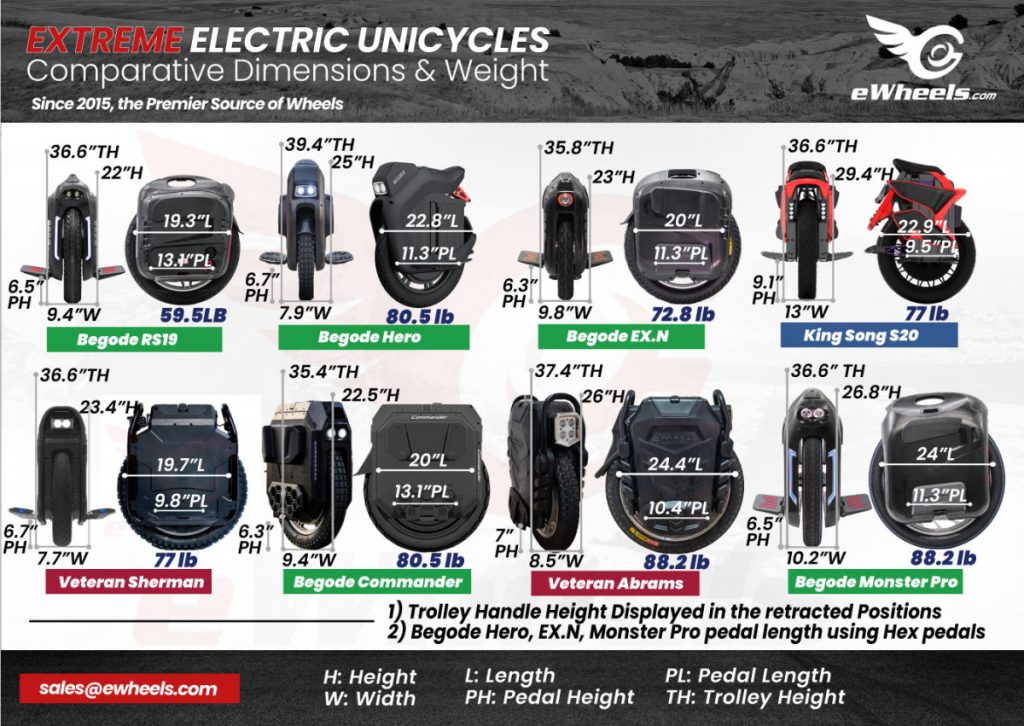 eWheels 2023 Spring Deals and New Launches are here!!!
Cheap, reliable, and powerful! TurboAnt Electric Scooters 2023 Sale!
Hi guys! This post may contain affiliate links, sponsored content, and advertisements. We get a small commission for covering topics that interest us (helps us keep the doors open). For more information, please see our privacy policy and disclaimer. Ride safe yall!
2023 Electric Unicycles:
Coupons & Deals:
Apollo Scooters: Get $50 USD worth of free accessories, upgrades, or spare parts with the purchase of a scooter. Code: VROOOMIN
REV Rides: Save $50 off Scooters and EUC's, Code: VROOOMIN
EVOLV Electric Scooters: Free Folding Lock (worth C$80) for every EVOLV model! Use Code: VROOOMIN-LOCK
To keep the site running and information flowing, Vrooomin.com participates in affiliate linking programs. We're also an Amazon Associate, which means we get paid for referring people to Amazon. Please support the channel by clicking on our links.