EVOLV Corsa Electric Scooter Preview Video
Are you looking for a serious upgrade to your daily commute?
The Corsa was designed for riders who want to go faster than 40 mph and travel on long range distances
We can all agree that riding electric scooters to work and school is a fun, cost-effective, and enjoyable way to get around, but after riding lowered-powered scooters for a while, we hunger for a little more power, torque, and top speed. Ready to take your electric scooter performance to the next level? Any rider looking to go from a 500W to a 2400W twin-motor performance scooter should check out what EVOLV has.
News & Deals:
Off Road Ready
+40 MPH 2400W Dual Hub Motors
We all crave speed, power, consistency, and good times. Why wait for the bus or get lost in traffic when the Corsa can zoom through bike lanes and get you where you need to go on your schedule, not someone else's? There will be no subway stations, parking spaces, or bus stops since Corsa's top speed of +40 MPH will get you where you need to go fast, on the road, off the road, up steep hills and bridges. Full suspension and high torque 2,400W dual hub motors are standard on the Corsa, allowing you to ride quickly, now, and comfortably on your terms.
Great for Big and Tall Riders
Rougher Terrain
High Torque for hill climbing
Long Range Capable
No more high-priced gas stations, a full charge on the Corsa costs less than ten cents.
High-quality batteries and controllers are required to go the distance. The Corsa is equipped with a 60v26AH battery pack that can travel up to 37 miles before recharging. Thirty-seven miles is a significant range; that's a lot of commute without dealing with traffic or finding a parking spot. The best thing is that the battery can be swapped out; if riders forget to charge or want more range for the day, they can swap out their extra battery and be back on the road in no time. The battery compartment has a customizable pin code access to keep your battery safe and secure.
Go On-road, Off-road, Any-road.
All Road Ready.
We've all experienced various levels of comfort in our lives. Whether it was a pair of shoes that were one size too small, a couple of jeans that were too tight, or even a narrow deck lower-powered electric scooter without suspension, the Corsa was meant to provide maximum comfort when riding on two wheels. Designed with any road condition in mind, the Corsa is an all-terrain vehicle with off-road tires, full suspension, full hydraulic brakes, and high torque motors. Please take it to work or for a drive in the countryside; the Corsa can do it all, no problem!
Ready for the Upgrade?
The EVOLV Corsa is packed with features that have yet to be revealed. Check out Urban Machina for more information about EVOLV and the Corsa; their shop is the EVOLV global distributor. Preorders for this product will begin in late March or early April. The riding season of 2022 will be exciting, so check out the Top Electric Scooters of 2022 for more commuting possibilities.
Technical Specifications
Range
55 – 60 km / 34 – 37 mi
Charge Time
7 hrs
Battery
60V 26Ah
Top Speed
Dual Mode: 70 km/h / 44 mph
Weight
45 kg / 99 lbs
Max Load
150 kg / 330 lbs
Foldable Size
130 X 56 X 128 cm / 51 X 22 X 50 inches
Suspension
Front and Rear Suspension
Brakes
Front and Rear Hydraulic Disc Brakes
Powertrain
1200W Nominal per Motor
2400W Dual Motors
Color
Dark Grey
Lights
Dual Halo LED Front Lights, in-deck lights & taillight / Rear brake lights / Turn Signals
Tire Size
11″ inch Front and Rear Pneumatic
Tire Pressure
50 PSI to 55 PSI
Water Resistance
IP54 Official Certified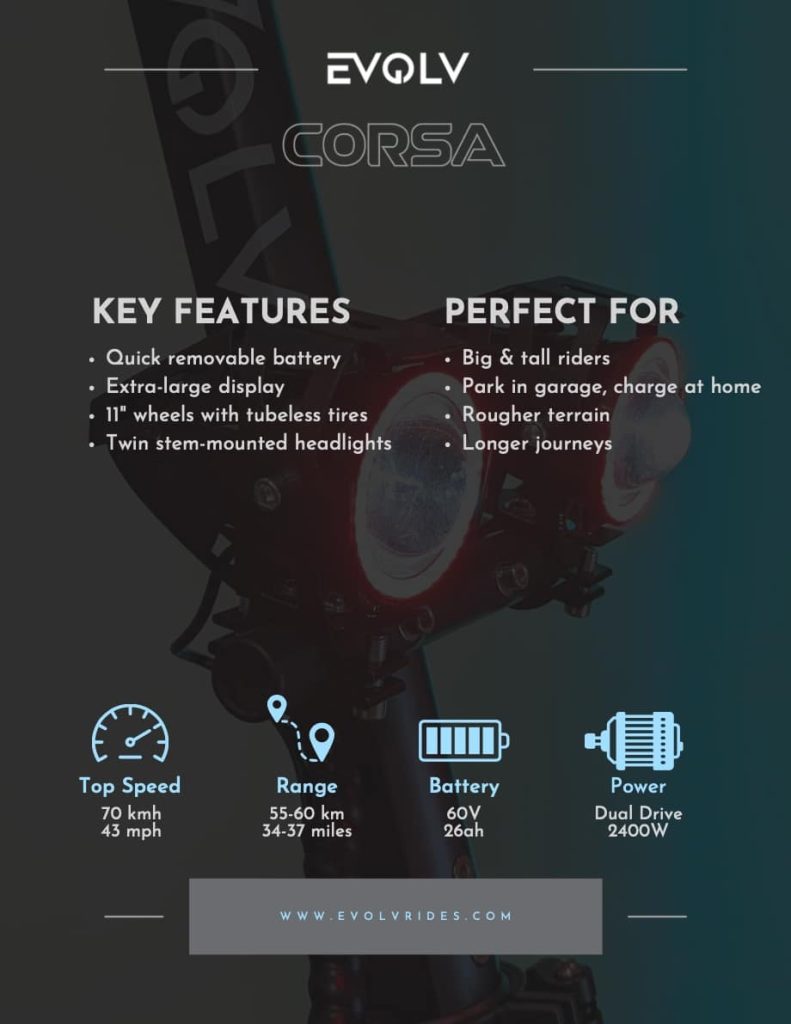 2022 EVOLV Electric Scooters Catalog
Disclaimer: The information presented in this article is derived from extensive research, user reviews, and publicly available information. Our aim is to provide accurate and up-to-date content; however, it is crucial to understand that the opinions expressed are based on the information available at the time of writing. We strongly encourage readers to conduct their own thorough research and carefully evaluate their individual needs before making any purchasing decisions.
eWheels 2023 Summer Deals and New Launches are here!!!
Cheap, reliable, and powerful! TurboAnt Electric Scooters 2023 Sale!
Hi guys! This post may contain affiliate links, sponsored content, and advertisements. We get a small commission for covering topics that interest us (helps us keep the doors open). For more information, please see our privacy policy and disclaimer. Ride safe yall!
2023 Electric Unicycles:
Coupons & Deals:
Apollo Scooters: Get $50 USD worth of free accessories, upgrades, or spare parts with the purchase of a scooter. Code: VROOOMIN
REV Rides: Save $50 off Scooters and EUC's, Code: VROOOMIN
EVOLV Electric Scooters: Free Folding Lock (worth C$80) for every EVOLV model! Use Code: VROOOMIN-LOCK
To keep the site running and information flowing, Vrooomin.com participates in affiliate linking programs. We're also an Amazon Associate, which means we get paid for referring people to Amazon. Please support the channel by clicking on our links.