Segway Ninebot GT1 and GT2 SuperScooters
Segway has become an icon of personal mobility even though the industry is still in its infancy.
Segway may be well-known for its inexpensive scooters, but the company recently introduced its SuperScooter GT Series, which includes the GT1 and GT2 electric scooter models.
The top-tier GT series distinguishes itself from the rest of the current budget range with its unique blend of speed, performance, and innovation.
The top speeds for Segway's GT1 and GT2 models are 37 and 43 miles per hour, respectively. That is not bad, considering their previous vehicles averaged about 20 miles per hour at peak speed. Features like wider footboards, front and rear suspension, 11-inch pneumatic tires, a digital display, hydraulic brakes, and a redesigned powertrain provide riders of the GT Series unparalleled stability and control.
High Performance
Some riders go leisurely, while others zip around at top speed.
The GT series was created for thrill seekers who like to take their scooters to their limits. There will be no shortage of velocities if that's what you want. With their rapid performance and explosive top speeds, the GT1 and GT2 e-scooters provide riders with a sensation unlike any other.
The GT1 scooter is driven by a high-output rear-hub motor that can provide up to 1,400 Watts power. The scooter can go from 0 to 30 mph in 7.5 seconds and has a top speed of 37 mph—an advantageous option for those who are frequently late for work or have unexpected errands.
The GT2 scooter's motors are potent, at 1500W each. These motors can produce a combined 6000W, allowing the scooter to attain speeds of up to 43 mph (70 kph) and to accelerate from 0 to 30 mph in just 3.9 seconds. The GT2 justifies its higher price tag if you have a flexible budget.
Battery Packs
The battery pack is an electric scooter's most costly and integral component.
Regarding battery life and speed, the GT series stands head and shoulders above the rest in the market. With its vast 1008WH battery pack, the GT1 can go an impressive 43 miles on a single charge.
In contrast, the GT2 scooter has a massive battery pack that can keep going for 55 miles between charges owing to its 1512WH capacity.
In addition to the battery cells, Segway has included a state-of-the-art battery management system (BMS) with many safety measures to ensure their durability, dependability, and safety.
Hydraulic Braking System
If you want to ride fast, you must stop on a dime.
Due to the staggering top speeds of the scooters in the GT series, a high-performance braking system is required to bring them to a complete stop.
With this in mind, Segway has equipped the front and rear motors of the e-scooters with a cutting-edge hydraulic braking system, which provides exceptional stopping power and accurate control. Timely and secure arrival at your location should be your primary priority.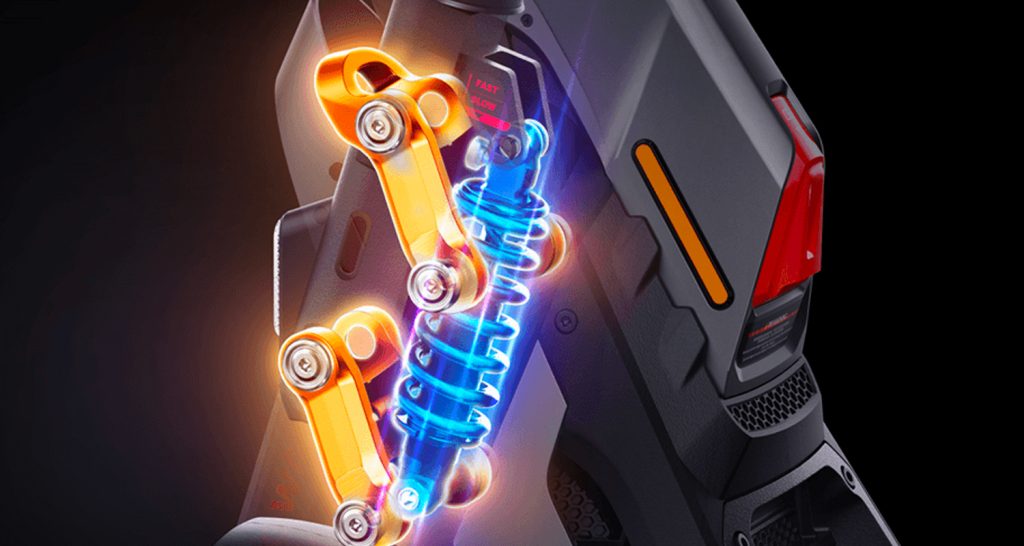 Full Suspension
When transitioning from on-road to off-road, you'll want the most effective suspension system to dampen vibrations.
The GT series is equipped with cutting-edge suspension technology that offers a smooth and pleasant ride regardless of the terrain or road conditions.
The front of the scooter is equipped with a double-wishbone suspension, while the rear features a trailing arm suspension that provides robust support when necessary. The hydraulic shocks enable 15 degrees of damper adjustment for supreme off-road performance and riding comfort.
Big Motors & Tires
The 11-inch tires are one of the most striking characteristics of the GT series.
The GT series is equipped with 11-inch-wide, all-season, tubeless tires that provide a soft-to-the-touch ride through uneven terrain and rugged off-road conditions.
The tires are fitted with self-healing seals to prevent punctures and are crafted from high-quality rubber for excellent road grip and traction. When riding the GT series, it is comforting to know that flat tires are no longer a concern.
Build Quality
Segway's fleets have finally embarked on a new chapter, shattering preconceived notions.
The contemporary design, awe-inspiring aesthetics, and imposing geometry of the GT scooters give them a commanding presence on the road. In addition to the eye-catching looks, the construction quality is exceptional and significantly improved over their current standard.
Segway has manufactured the entire frame from aircraft-grade aluminum alloy for increased strength, durability, and stability.
The updated frame is more robust, can traverse challenging terrain easily, and was constructed to withstand years of continuous use.
We are thrilled to see Segway reach a new era of performance. Why so many riders chose Segway electric scooters as their first vehicles is not surprising. With the developments in battery technology, BLDC motors, and control boards, we anticipate Segway to provide a peek of what mass manufacturing of personal electric vehicles is capable of.
Segway-Ninebot GT1 SuperScooter Specs
General Dimensions Unfold: 1486 x 650 x 1300 mm
Length x width x height Fold: 1486 x 650 x 861 mm
Net Weight: 47.5 kg
Wheel Base: 1148 mm
Tires: 11 in (2794 mm)
Max. Speed: 60 km/h
Acceleration (0-48 km/h): 7.5 s
Typical Range: Approx. 50 km
Drive System: One-wheel-drive
Max. Slope: Approx. 23%
Payload: 150 kg
Operating Temperature: -10-40ºC
IP Rating: IPX4
Charge Time About:Approx. 12 h
Battery Capacity: 1008 Wh
Max. Charging Voltage: 58.8 v
Motor Rated Power: 1400W
Max. Power: 3000W
Segway-Ninebot GT2 SuperScooter Specs
General Dimensions Unfold: 1486 x 650 x 1308 mm
Length x width x height Fold: 1486 x 650 x 861 mm
Net Weight: 52.5 kg
Wheel Base: 45.2 in (1148 mm)
Tires: 11 in (2794 mm)
Color: Gold
Max. Speed: 70 km/h
Acceleration (0-48 km/h): 3.9 s
Typical Range: Approx. 60 km
Drive System: One-wheel-drive
Max. Slope: Approx. 30%
Payload: 150 kg
Operating Temperature: -10-40ºC
IP Rating: IPX4
Charge Time About: Approx. 8 h
Battery Capacity: 1512 Wh
Max. Charging Voltage: 58.8 v
Motor Rated Power: 3000W (1500w*2)
Max. Power: 6000 W (3000w*2)
Disclaimer: The information presented in this article is derived from extensive research, user reviews, and publicly available information. Our aim is to provide accurate and up-to-date content; however, it is crucial to understand that the opinions expressed are based on the information available at the time of writing. We strongly encourage readers to conduct their own thorough research and carefully evaluate their individual needs before making any purchasing decisions.
eWheels 2023 Summer Deals and New Launches are here!!!
Cheap, reliable, and powerful! TurboAnt Electric Scooters 2023 Sale!
Hi guys! This post may contain affiliate links, sponsored content, and advertisements. We get a small commission for covering topics that interest us (helps us keep the doors open). For more information, please see our privacy policy and disclaimer. Ride safe yall!
2023 Electric Unicycles:
Coupons & Deals:
Apollo Scooters: Get $50 USD worth of free accessories, upgrades, or spare parts with the purchase of a scooter. Code: VROOOMIN
REV Rides: Save $50 off Scooters and EUC's, Code: VROOOMIN
EVOLV Electric Scooters: Free Folding Lock (worth C$80) for every EVOLV model! Use Code: VROOOMIN-LOCK
To keep the site running and information flowing, Vrooomin.com participates in affiliate linking programs. We're also an Amazon Associate, which means we get paid for referring people to Amazon. Please support the channel by clicking on our links.